This post contains affiliate links, meaning I get a commission if you decide to make a purchase through my links, at no cost to you. Please read my disclosure page for more details.
Category: Toulouse Area
Jennifer Jerzyk, my guest on today's podcast visited Narbonne and the Mediterranean coast in 2022. She travelled mostly by train because she finds it peaceful and relaxing. She also enjoyed the fact that Narbonne is a great gateway into the Mediterranean and such value! That's because Narbonne is not touristy. As a matter of fact, she wondered if she was the only tourist there!
For the travel question of the week, Annie explains why people who take the RER between the airport and the city are asking for trouble. That's 49 minutes into the episode and you should listen to it and heed my advice!
Tips for a Visit to Narbonne and the Mediterranean Coast
Narbonne is a great place from which to explore the "other Riviera". The Mediterranean coast between Montpellier and Collioure. For example you could go to Agde, Sète, Port Vendres, Banyuls-sur-Mer, etc. Some of these places don't have a train station, but you might get there on a regional bus or by renting a car.
Recommended in this Episode
For your own peace of mind, you may want to lock your suitcase to the travel rack using a retractable lock. You can see one in Annie's Join Us in France Favs.
L'estagnol Restaurant in Narbonne where they serve wonderful seafood and where she also went back for a wine event hosted by the wine maker.
Hôtel de la Cité or Best Western in Carcassonne.
Restaurant La Voile in Collioure
In the conversation we mentioned Les Grands Buffets but they've since announced that the restaurant is moving but haven't announced where yet. Stay tuned, I will talk about it once the move has happened.
FOLLOW US ON:
Discussed in this Episode
Languedoc-Roussillon
Narbonne
Carcassonne
Collioure
Clos de la Lombarde archeological dig
Subscribe to the Podcast
Apple
Google
Spotify
RSS
Support the Show
Tip Your Guides
Extras
Patreon
Audio Tours
If you enjoyed this episode, you should also listen to related episode(s):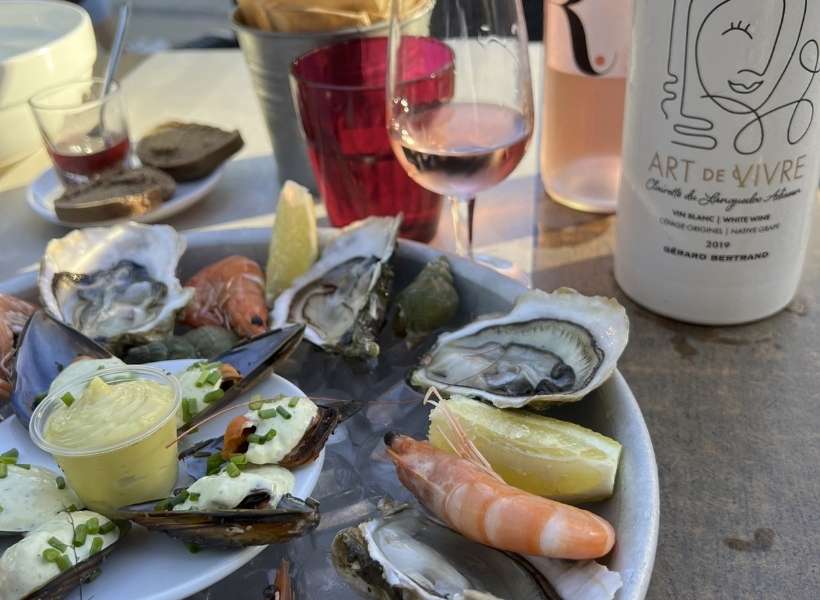 Read more about this episode
Transcript
Guest Notes
Category: Toulouse Area