This post contains affiliate links, meaning I get a commission if you decide to make a purchase through my links, at no cost to you. Please read my disclosure page for more details.
Categories: France How To, France on a Budget
In this episode of the podcast, Annie Sargent talks to Heidi Hunter about her month in France on a budget. Most of us limit expenses by having shorter vacations. But Heidi and her husband stayed for a month and visited Paris, Nice, Marseille, Annecy, Lyon and Strasbourg! They also went to the Mont-Saint-Michel as a day trip from Paris, to Eze and Colmar on the train. How did they do all that on a budget? Click play and listen to Heidi explain.
They started their trip in Paris and worked their way around the country: Nice, Marseille, Annecy, Strasbourg. Their main cost-cutting decision was to stay at hostels and pensions instead of hotels. In Paris they wanted to stay in a central location so they splurged for a hotel. However, there is a very good hostel in central Paris that Annie recommends from personal experience.
This is where you need to go to get your Pass Sanitaire starting in November 2021
Hostels and Budget Hotels Recommended in this Episode
In hostels sometimes you have to share a bathroom, sometimes there are no elevators. But, often they have other amenities that make up for those inconveniences: hostels often have a kitchen and laundry facilities. Bedrooms are smaller in hostels than in hotels (although in Paris that's not always true). With hostels it is best to book in advance because the best ones get booked up.
Hostels are not just for young people. Heidi and her husband are in their mid-40s and they weren't the only ones in that age-range. What makes hostels great is that you talk to the other visitors which people typically don't do at hotels, especially the fancy ones. There are usually kitchens in hostels and when people use a kitchen together they usually talk and get to know each other.
French people of all walks of life and all ages stay at hostels when they go on choir trips or family trips where they need to keep the cost down.
Budget Hotels in Paris
Annie recommends Hôtel Marignan in the Latin Quarter near Notre Dame de Paris.  Book 6 months + in advance, this is a popular hôtel/hostel!
In Paris Heidi stayed at the Hôtel des Grands Hommes  near the Pantheon, a great location and a great value.
Budget Hotel in Annecy
Guest VIP Annecy Lake was really nice because their room had its own little kitchen. They were able to shop just like a local, make their own breakfast and meals which feels great after you've been on the road for a while.
Hostel in Lyon
Away Hostel and Coffee Shop. This was a nice place and Lyon was a fun city. They particularly liked the Traboules and the Museum of Cinema and Miniatures.
Hostel in Strasbourg
In Strasbourg they stayed at Ciarus for 5 nights. It was a great location and a good hostel. The Rooster and Hen are on Rue de la Nuée Bleu in Strasbourg and you can see them going off at noon every day.
Other Budget Strategies
You don't need to have a strict itinerary, but you need a game plan for each day. Lots of places give you a discount if you buy your tickets online. They had most of their tickets, including train tickets booked before they arrived in France.
Eat a good breakfast in the morning and look for places where breakfast is included. Fill up at breakfast, have some snacks in the afternoon and only eat out once a day.
Walk as much as you can if the weather is good.
Use the train, it is very cost-effective if you buy in advance and aren't traveling around school vacations.
For the Mont Saint Michel they booked a tour with City Wonders and went on a bus where a guide talked to them on the way there then let them loose for the day.
Enjoy all the free things in Paris: Parks and gardens (Luxembourg, Jardin des Plantes), monuments such as the Flame of Liberty, city Museums (Carnavalet for example). Annie's self-guided walking tours are inexpensive.
Travel light so you don't have much room to buy a ton of things to bring home.
Share a bottle of wine in a café or in a park instead of going to a restaurant.
Take the time to observe people going to work and kids going to school while sitting at a café.
Good Ideas for France on a Budget
They did not eat out very much but one place they recommend is the Cactus Café in Eze. Great salads on a hot day.
Watch the sunset from the Saint Marie Basilica in Marseille.
Rent a bike in Annecy so you can go around the lake and enjoy all the little villages and markets. Gorgeous place with the mountains and the flowers, it's picture-perfect! The biking trails are better than the walking trails around the Annecy lake.
FOLLOW US ON:
Discussed in this Episode
Budget travel: where it makes sense to trim the cost and where it doesn't
Having a game plan helps save money
Not speaking French was never a problem
French people were extremely welcoming and helpful
Feeling safe in Paris and in France in general
Self-cleaning bathrooms in France
Water stations in Nice
After the interview Annie talks about her own 4-day itinerary in Paris
Subscribe to the Podcast
Apple
Google
Spotify
RSS
Support the Show
Tip Your Guides
Extras
Patreon
Audio Tours
If you enjoyed this episode, you should also listen to related episode(s):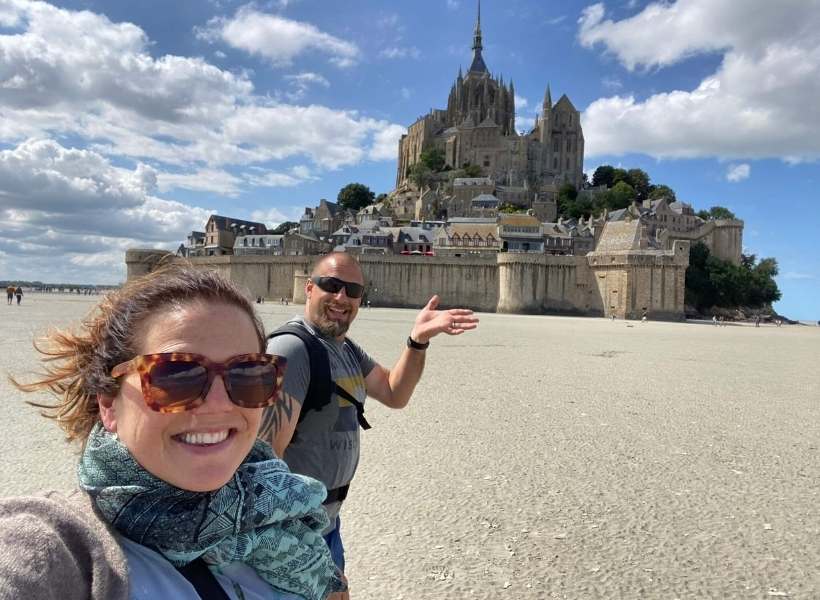 Read more about this episode
Guest Notes
Categories: France How To, France on a Budget