Categories: France How To, France on a Budget
Discussed in this Episode
Budget travel: where it makes sense to trim the cost and where it doesn't
Having a game plan helps save money
Not speaking French was never a problem
French people were extremely welcoming and helpful
Feeling safe in Paris and in France in general
Self-cleaning bathrooms in France
Water stations in Nice
After the interview Annie talks about her own 4-day itinerary in Paris
A month in France on a budget
I live in Oshkosh, Wisconsin. I discovered your podcast in 2019. You helped me learn so much about France in a short amount of time. My husband and I speak very little French, but we didn't let that intimidate us though. We did try to learn a few phrases beforehand. As soon as we said bonjour to a French person, they usually started speaking to us in English. Ha-ha! This was great for us. I think they liked that we tried though.
This was our first time to France, and for an entire month, we took full advantage of it being open for business. We visited Paris, Mont Saint-Michel, Nice, Eze, Marseille, Annecy, Lyon, Colmar, and Strasbourg. We ended in Munich, Germany in hopes of enjoying Octoberfest. Unfortunately, this was the 2nd year of the festival being canceled due to the COVID-19 pandemic.
We traveled throughout France using the train systems. We purchased most of our tickets before arriving in France. Eze and Colmar tickets we bought while over in France.
Our original itinerary was to go to Paris, then move around to Belgium, Germany, and Austria in 2020. Well, that didn't happen due to COVID. With the pandemic and things changing all the time, we decided to just do our traveling in France as it was open. We are so happy we did! France is gorgeous.
PARIS
My husband and I arrived in Paris August 24. We took a taxi to our hotel. *Great advice from you Annie. Easy and fast. More money but so worth it for the convenience. The cost from the Airport to the Left bank was 56 euros. We didn't want to mess with trains after flying for 8 plus hours.
We checked in our Hotel des Grande Hommes. We were there for 8 nights. This is a nice hotel in the Latin Quarter, right by the Pantheon. This was a great area for our home base in Paris.
While in Paris, some of the spots we visited: Luxembourg Gardens, I just loved this park. The bright orange and purple flowers. The store La Samaritan. This is a pretty department store that just was recently renovated. Trocadéro Gardens is a great spot to watch people take selfies with the Eiffel Tower. We toured the Eiffel Tower. I loved watching it twinkle on the hour. We also toured Arc de Triomphe. It was under construction for it to be wrapped in fabric. We walked around Le Marais, Saint-Germain-des-Prés neighborhoods, and many others. They were all so charming. We walked and we walked. Ha-ha!
The Louvre Museum. We got lost in here and it was amazing. Tuileries Garden is a great place to take a break. Jardin des Plantes, has nice roses and flowers. I bet it's amazing in the rose season. We visited Notre-Dame Cathedral. They're working hard to repair her. The Catacombs, this was interesting and unique. We went the top of Sacré-Cœur. The views from here were amazing. We visited Jim Morrison's grave at Père Lachaise Cemetery. This cemetery is so elegant and peaceful. Seine River cruise was another great prescriptive of Paris. The public self-cleaning restrooms in Paris were an experience too.
We DIDN'T take any public transportation, except the taxi from the airport. We were prepared to use it, but the weather was so great we wanted to see as much as possible and we both love to walk. So, we walked everywhere and felt like we saw so much more. The metro system looked easy enough to use but we didn't need it. If it would've been raining, we would've used it. Europe's public transportation is awesome and always user friendly.
While we were in Paris we took a day trip to Mont St-Michel. It sounds like we really lucked out with blue skies. I highly recommend a trip to Mont St-Michel. It's absolutely stunning. We went through a tour group. I booked through Get your Guide. The tour company was City Wonders. Our guide Addie was so cool and knowledgeable. This tour company basically bused us there. Our guide gave us the history and answered questions. They cut us loose to explore by ourselves. This was perfect for us. My husband and I struggle with tours sometimes. We like to figure it out for ourselves
NICE
We stayed at Hostel Meyerbeer Beach for 4 nights. Everything we needed. Clean, safe and great location. This hostel had an all-age clientele. We met some cool travelers here. This is one of my favorite hostel/pensions I stayed at in France. Maybe it was the travelers we met along the way?
While in Nice, we took the first full day as a relaxing beach day. We rented the umbrella and cots at one of the private beaches. We did this because I need shade, otherwise, the beach has no shade. There are many free beaches for those who don't mind not having shade. Nice has a beautiful ambience on the ocean, but the beaches are all rocks. Just keep that in mind. It's not that soft sand that people think with beaches. We knew this, and really enjoyed relaxing on the water. Nice is such a beautiful French Rivera city.
We walked to St Nicholas Russian Orthodox Cathedral. We went down to Old Town Nice (Vieux Nice) and ran across a nice flower market (Marché aux Fleurs). This market goes back 100 + years. Many beautiful flowers of all colors. We hiked to the top of Castle Hill. This park offers gorgeous views of Nice.
We walked down to the Old Port of Nice. The seafood is fabulous! I didn't keep track of where I ate. The best advertising is looking at what people are eating at restaurants as we'd walk by. My husband and I found these water stations you could fill your bottles with water. One side was still water the other side had sparkling water.
We took a day trip to Eze. Some of our new hostel friends were talking about it, and I remembered listening to a podcast on Eze. Seriously, Eze was amazing! It was warm that day. I remember hiking up thinking this better be good.
The gardens at the top were well worth it. It wasn't a bad hike but bring plenty of water when it's warm and start early. There are some nice shops and places to eat up there too. We ate at the Cactus Cafe. They have delicious salads served on these cool cork plates. On a hot day, it was just what we needed.
We took the train in and hiked up. Seemed the easiest way for us. I highly recommend Eze.
MARSEILLE
While in Marseille we stayed at Greet Hôtel Marseille Centre Saint-Charles. We were there 4 nights. We visited the Old Port (Vieux Port) We spent a lot of time down there. We ran across a fresh fish market one day. My husband is a fisherman, so he loves seeing the fruits of their labor. We ate lots of seafood and fish. It was all very tasty. I wanted to visit the soap museum in Marseille, but it was closed on Mondays and Tuesdays. This didn't stop me from buying the famous Marseille soap.
We hiked up to Cathédrale La Major. A truly beautiful Roman cathedral. This church has great views of the city too. Beautiful sunsets from here also. We took a boat tour that took us to the Massif des Calanques. Beautiful, rugged cliffs that are protected, like a National Park. This was a different prospective of the Marseille area. We really enjoyed it.
While we were in Marseille, it was warm. So, we took a boat out to Château d'If. The old prison built in the 1500's but is famous for the novel The Count of Monte Cristo by Alexandre Dumas. It was cool to picture the story unfolding here. If you are fans of the book, you'll like it. After this it was time to hit the beach. We were picked up and dropped off at Frioul island. We then walked about 25 minutes to Plage de Saint-Estève. It's a small but pretty beach. It was everything we needed. We swam for hours.
NOTE: We bought our tickets for the tour of the Calanques and the ferry ride out to the islands right in the old fishing port. The tour was maybe 36 euro per person. The ferry ride for the day was maybe 15 euro per person.
ANNECY
We stayed at Guest VIP Annecy Lake for 4 nights. It's a nice little studio apartment with a great location. It was small but everything we needed. We like being able to get groceries and make our own meals. Getting some fresh produce from the farmers'market in Annecy was amazing. The markets are on Tuesday, Friday, and Sundays. I highly recommend the Farmers Market. It's right in the heart of Old Town.
We rented bikes in Annecy from Cyclable. We went with E-bikes. We biked around the whole lake and explored many of the little towns. We put on over 34 miles. This bike trip was amazing. I couldn't take enough photos while in Annecy. The color of the lake with the mountains and the flowers. If I could live anywhere in France, I'd pick Annecy. I love the mountains and the water. The best of both worlds.
LYON
We stayed 3 nights in Lyon at Away Hostel and Coffee Shop. This was a nice place with a great breakfast and good location.
While in Lyon we visited the old renaissance quarters that dates back to when the silk industry was thriving. The passageways or the Traboules. The beautiful Fourvière Basilica at the top. The old Roman amphitheater Gallo-Roman Museum of Lyon-Fourvière. The city murals. Musée Cinéma et Miniature was so cool if you're into movies. I personally loved the detail of the miniature scenes. I've never seen anything like this. We walked through Parc de la Tête d'Or. It has some pretty flowers at even the end of the season. Cathédrale Saint-Jean-Baptiste. I see the church doors open and must go in. We had a really good time in Lyon.
STRASBOURG
We stayed at Ciarus, in Strasbourg for 5 nights. This hostel was in a great location also. While is Strasbourg we went to Alsatian Museum. I love seeing how people lived back then. CathédraleNotre Dame de Strasbourg, we took the steps up to the top. Really great views of the city from here. The cathedral is gorgeous inside. There is a cool clock inside. It reminds me of the clock in Prague. The church itself reminds me of the Cologne Cathedral.
The Ponts Couverts. The 4 towers with 3 bridges make a nice photo back drop. Really pretty. We went to Cave des Hospices Strasbourg. A vaulted cellar from 1395. It was cool seeing all the big old wine barrels. We bought a very nice Reisling from here.
We found a mechanic rooster and hen in Strasbourg. The rooster is on one side of the street and the hen on the other. At noon, the rooster sounds off then the hen lays golden eggs. It's quirky but we thought it was funny.
We took a day trip to Colmar. Once again, Colmar was stunning. While in Colmar we took the day to just relax, shop, and walk the old town. The old fishmonger's district has brightly painted timbered buildings. I couldn't take enough photos once again. This happened to me all over France. Ha-ha!! Colmar was a perfect day trip.
We stayed on budget by staying in pensions and hostels. Shopping for groceries at local markets and packing picnics. We walked everywhere since the weather was so nice.
France is a beautiful country. We had a truly amazing experience the whole way through.
My favorite moments in France that really stand out:
The French gardens. There is so much pride in them. I love seeing locals exercising and just hanging out with friends and family. Luxembourg Gardens in Paris really stands out for me.. I'm glad our hotel was close to it. We spent many evenings here with a bottle of wine here.
The Cafes. There is nothing like having a coffee with fresh squeezed orange juice at a Cafe in France. People watching at its finest. Watching the tourists, French people going to work,and French families and friends just living. We loved watching the fashion and different style bikes.
The food. We really enjoyed many of the French foods in France. I'm not that adventurous, but I do try. I did try escargot . This was way outside of my comfort level. THEY WERE DELICIOUS!!! So good that I ordered them a second time. Cheese of all kinds from cheese stores and local markets we ran across. European bakeries are my weakness. We'd go to the local bakery in the morning. So tasty and fresh. Crepes were so good. French wine was delicious. We didn't have anything that wasn't delicious while in France. Even other ethnic foods. We did Chinese, Italian, and Indian while in France. You can tell they all take a lot of pride in their food.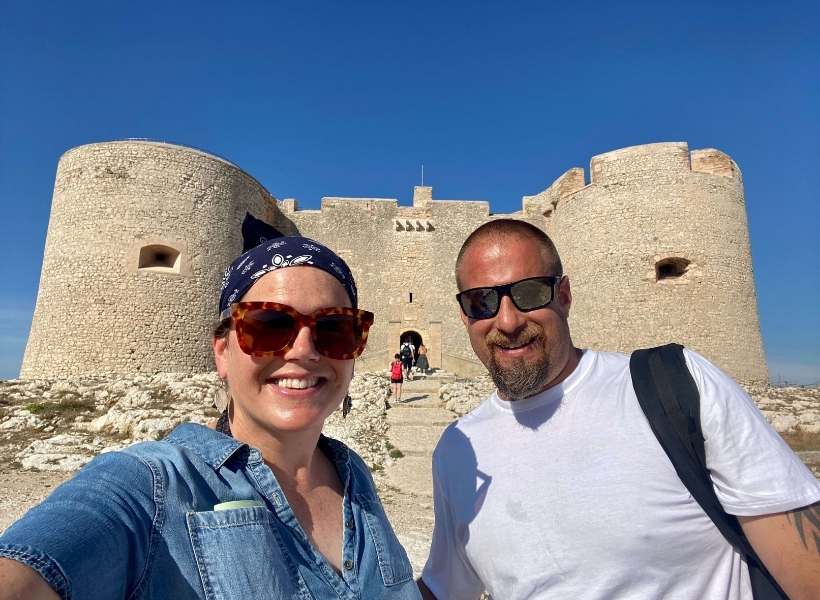 Subscribe to the Podcast
Apple
Google
Spotify
RSS
Support the Show
Tip Your Guides
Extras
Patreon
Audio Tours
Read more about this guest-notes
Episode Page
Categories: France How To, France on a Budget