Table of Contents for this Episode
This post contains affiliate links, meaning I get a commission if you decide to make a purchase through my links, at no cost to you. Please read my disclosure page for more details.
Categories: Active Vacations in France, Lyon Area, Off the Beaten Track in France
Discussed in this Episode
Tour du Mont Blanc Trip Report
An episode with Lachlan Cooke of  TangoNomad
Active Vacations in France
We've had several episodes on the podcast talking about active vacations in France including some about running marathons, cycling and hiking.
Tour du Mont Blanc is a great walk!
Lachlan had done the Camino de Santiago previously and this is how he got interested in doing another walk in France, but shorter.
Tour du Mont Blanc Is Not as Famous as Compostella
The Camino is getting to be a little bit of a mad-house now with 250,000 to 300,000 doing the Camino every year. He did the whole Camino in three stages on 3 different tris of 2 weeks each, two of them walking and one cycling.
How Do the Camino and the Tour du Mont Blanc Compare?
Tour du Mont Blanc is harder in a shorter duration. It's more like a sprint whereas the Camino is a marathon. With the Camino you do a half marathon distance for 30 to 35 days. The Tour du Mont Blanc is over in 8 to 10 days, but it's an intense 8 to 10 days.
Lachlan's Blog about the Tour du Mont Blanc
This is where you can read Lachlan's blog on the Tour du Mont Blanc and here's where you can find out about his other adventures such as Compostella and how he rode between Paris and Mont Saint Michel called Vélo scénique.
What Is the Tour du Mont Blanc?
The Tour du Mont Blanc is a long walk around the Mont Blanc, circling around it, not climbing up it. Mont Blanc is the tallest mountain in Western Europe, it was first climbed in 1767. The Tour du Mont Blanc is approximately 170 kilometers and you gain about 32,800 ft in altitude. The first time this was accomplished was in 1758.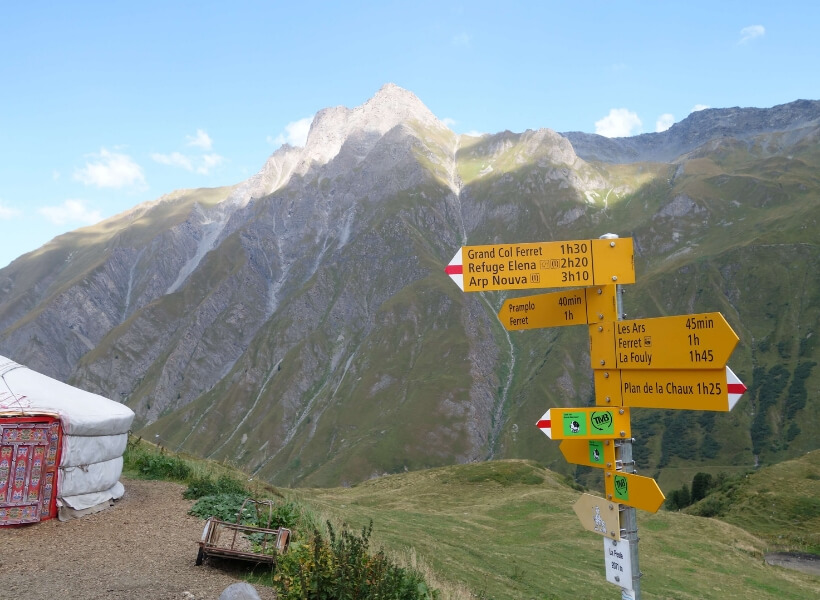 Most People Start in Chamonix
Most people who do the Tour du Mont Blanc start in Chamonix and walk counter clock-wise. Chamonix is easy to get to and a good place to find anything you might need.
Your basic day is to walk most of the day. Usually you walk up some kind of "col" or pass and then down the other side into the next valley. And there's usually a town that you spend the night in. There are plenty of alpine huts or refuges also, they are handy to stop to eat lunch or take a break.
What You'll Find at the Alpine Refuges Varies Greatly
Refugio Bonati was very nice, others are really basic with 4 people sharing a mattress. Some have private rooms, some just have a basic kitchen and tables. It varies greatly. You can call ahead and reserve a private room or you can take your chances.
How Popular Is the Tour du Mont Blanc?
It is really popular in August when Europeans take their holidays. If you decide to go in August, reserve. Late June early July or September are great because you miss the crowds.
On a typical day you will walk past several of these refuges or hotels. One around lunch time and later in the day get to a town where you can eat and sleep.
The way markings are really well done, they indicate how long it will take you to get to the next place.
Do You Need to Pack Food or a Tent?
You don't need to pack food or a stove or a tent or anything like that. You can pack some snacks, but if you finish your walking day by 3:30 or 4:00 and stop at a hotel where you could choose demi-pension"" which means your dinner and breakfast are included. The food is pretty good.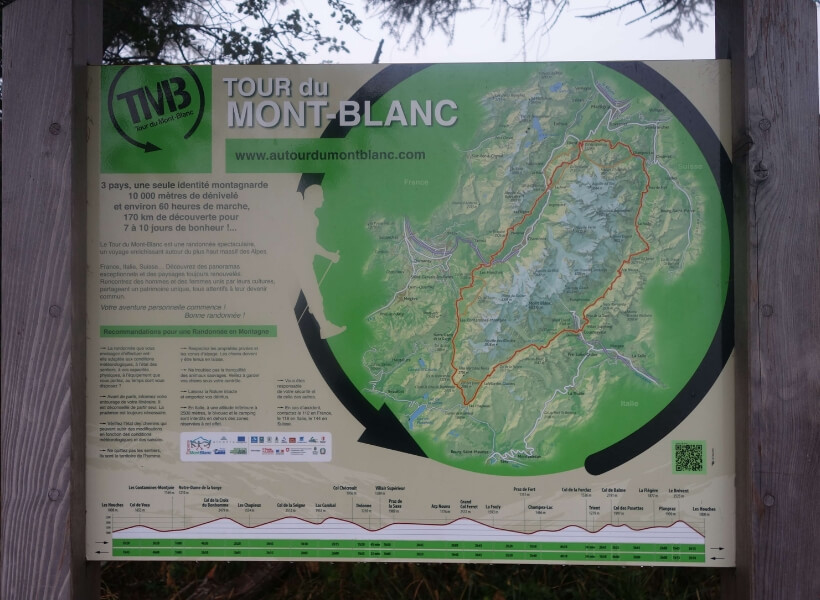 Spend a Day in Chamonix to Acclimate
Chamonix is a great place to spend a day before you set off for your Tour du Mont Blanc because it will let you acclimate to the altitude. Be careful going up the Aiguille du Midi the day you arrive, you may get dizzy.
Les Huches to Les Contamines-Montjoie
Take the bus down to Les Huches and take a lift up that will save you a couple of slogging up the hill. Then you walk all day long and end-up in Les Contamines-Montjoie (alpine hamlet with a few places to stay, café, cheese shop). He stayed at Hotel Gai Soleil and they offered to take them up the road to the next launching point. That saved an hour of walking along the road, which was great.
Les Contamines-Montjoie to Les Chapieux
This is the toughest day because you do 4,000 ft up and 3,000 ft down. You end up in a tiny hamlet called Les Chapieux that has no internet or cell phone coverage.
What About Clothing and Packing?
You need to bring all the clothes you'll need for the hiking days. The advantage of getting high-tech wool t-shirts is you can wash them in the sink at night and they'll be dry by morning.
The secret to this is to bring wool t-shirts that don't get smelly and keep you warm even if they get wet.
You need to keep your pack weight to under 10% of your body weight. If your pack is too heavy you can hire transfers that will taxi your pack to the next destination for you. In that case you can just wear a day pack. One company that does this is Taxi Besson. They were very reliable, but it's about $35 per day to move your bag.
You can also hire a company that arranges an "unguided tour". They book all your hotels for you, arrange your bag transfer, and give you a tour book that tells you where you need to go each day. They are called Alpine Hikers and they are really well organized. There's also Alpenventures that offers those kinds of services.
This Hike Takes Some Physical Preparation
If you sit at a desk all day, prepare by walking some steep hills. Walk with a pack if you're going to carry a pack. You will want some poles especially for the descent because they help take strain off your knees. Bring a puffy jacket, it is cold at times! There are no bugs, but you will want rain gear because it can be wet up in the clouds.
Courmayeur on the Italian Side
Courmayeur is a good place to take a day off and take a lift to the top of the mountain where the view is spectacular. From there you hike along the Balcony Trail, gorgeous!
Most Places Take Credit Cards
Most places take credit cards, if you reserve on Booking you won't even have that problem. Do bring some cash for the places where they don't have internet access.
You Can Walk Sections on the Trail from a Base in Chamonix
From Chamonix you can do a few sections of this trail then take lifts or buses to get back to your hotel.
The Tour du Mont Blanc Is a Friendly Place
As you walk the trail you'll start recognizing some people and make trail friends. This is one of the pleasant things about doing this, fraternizing with other hikers.  The vibe here is very different from the Camino, no spiritual over-tones.
There are water fountains along the way, Lachlan carried 1.5 L and that was sufficient. Look for signs that say "eau potable" which means it's drinking water.
You can leave most of your stuff at the hotel in Chamonix where you'll start and stop, they'll put it in their luggage storage for you.
Things to Bring With You
Puffy jacket
Warm hat
Sun screen
Flip-flops
Sleep sac sheet
Microfiber towel
Wool t-shirts
You Can Do Stand-Alone Sections
Some sections are easier to shortcut than others. There are 3 sections right around Chamonix that you can do while staying in Chamonix. The city of Chamonix has great transit up the valley.  You can take the bus almost to Argentière,  and take the lift up to La Tour and do a section there. Look at the map, it makes it obvious. Grand Balcon Sud is gorgeous.
Another section that's easy to do is to do the section out of Courmayeur to Refugio Bonati, have a meal at Bonati, then walk down the hill or take the bus back to Courmayeur.
One section that doesn't have a lot of altitude gain is between La Fouly and Champeix, buses can take you there, but it's an easy beautiful part, so it's best to walk it.
What If You Want to Do Some but Are Not in Great Shape?
Someone like Annie who likes to hike but is not in great shape could do some of the balcony trails out of Chamonix. Could do the section from the top of the lift at Les Huches to Les Contamines. Then she could either bus or taxi back to Chamonix.
Final Words
Don't wear jeans
Take rain gear
Get travel insurance (with evacuation and major medical)
Take the lifts up when you can
You can rent mountain bikes
You can go on a parapente" flight (glider)
Restaurant L'athmosphère right next to the post office
You could also do the Tour du Grand Combin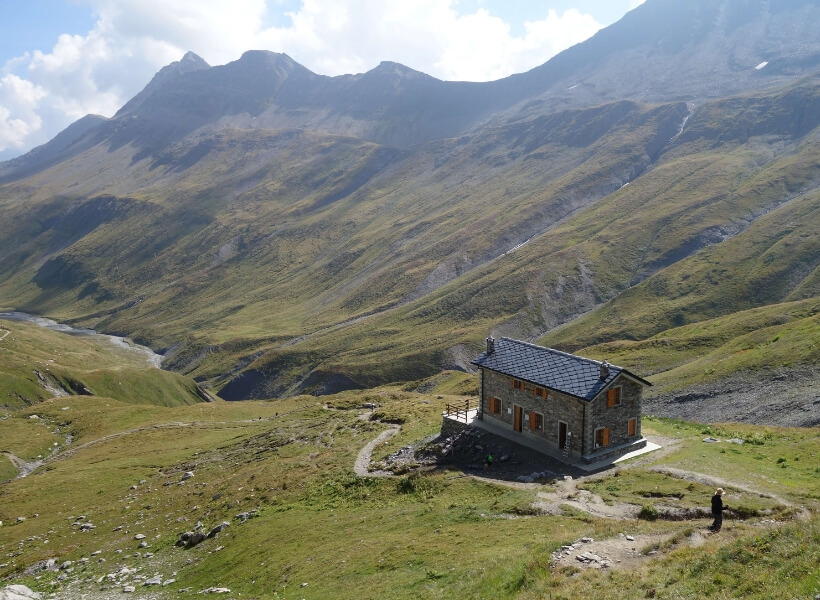 Subscribe to the Podcast
Apple
Google
Spotify
RSS
Support the Show
Tip Your Guides
Extras
Patreon
Audio Tours
Read more about this show-notes
Episode Page
Guest Notes
Categories: Active Vacations in France, Lyon Area, Off the Beaten Track in France