This post contains affiliate links, meaning I get a commission if you decide to make a purchase through my links, at no cost to you. Please read my disclosure page for more details.
Categories: First Time in Paris, France How To
I googled the phrase "the dark side of Airbnb" and the first thing that came up was a scary story about someone who got terribly sick when she rented a place in LA that had mold hidden underneath the carpet. She was in LA for medical treatment so given her cough her doctors advised her to vacate the premises right away and when she did that it voided the terms of the refund policy. So she was stuck for a large Airbnb charge that wouldn't get refunded. When you stay at a hotel and you run into a problem you call the front desk and they handle it for you. Airbnb will make you write email after email for days on end with no idea if and when the issue will get solved.
Then you have all the stories of people who reserve months in advance and get a cancellation notice a few days before their trip. That sort of problem has been reported several times on the Join Us in France Closed Group on Facebook, it happens a lot.
But for full joy you can go to airbnbhell.com yes, it's a thing! I'm not going to go into those stories, but there are a lot of them. So, I searched for France and only found 4 horror stories. I thought, oh, that's not so bad. I went back to the search bar and typed in Paris, ooh, there are pages and pages and pages of horror stories about Airbnb in Paris. Again, I'll let you be the judge, airbnehell.com has them all!
But that's not the reason why I posted my original thoughts about Airbnb on the Facebook group. I was thinking about the effect of Airbnb on rental prices, especially in areas that attract a lot of visitors like Paris or Nice. This is not just in France, any large city with a lot of visitors say Venice, Barcelona,  New York and San Francisco, they are deal with the Airbnb effect.
Housing is a market just like any other. It is subject to supply and demand. Let me give you a simple example: As I've mentioned on the podcast a few times, I inherited an apartment near Barcelona from my parents. This apartment has been empty 90% of time over the last 10 years or more. What are my choices as an owner?
Keep it for myself. I still have to pay for utilities and taxes year round, and I'm not a rich person who can afford to do that forever. This also puts pressure on the rental market because it reduces the number of housing units available to rent or buy. It's just sitting there.
Put it on the normal long-term rental pool for residents of that city. I'd stop paying the utilities, but this is not an area where rents are high and I might get bad renters, so it's not an attractive option.
Put it on the short-term rental pool with Airbnb and other vendors. Rent would be much higher that way AND these people wouldn't stick around for too long, so even if I get a bad apple they'll go away. Plus, I get to save dates for myself.
What to do? And if this apartment were in Barcelona proper or Paris or some other city that gets lots of tourists, temptation would be even greater for me to develop an Airbnb rental. Those things don't happen overnight, you have to  treat your visitors right, but eventually I'd get good reviews. There are a lot of people in that same situation in France. We hang on to "vacation" homes even if we rarely use them.
Airbnb launched their website in 2009. It was really basic and ugly back then. I took snapshots using WayBackMachine aka the web archive. Their first moto was "travel like a human". And below in bold letters it said Find a place to stay. Rent nightly from real people in 775 cities in 72 countries.
In 2011 their slogan is "List your space" and they boast 14,145 cities in 183 countries".
2012 their site looks a lot better with a big slider of beautiful apartments on top and the navigation bar said 24/7 support how it works sign up log in list your space and a widget for popular cities and what's new.
2013 now they have Neighborhood guides 34,000 cities and 192 countries.
2014 the slogan is Welcome Home Rent unique places to stay from local hosts in 190 countries. And the header is a video!
2015 the slogan is Belong Anywhere
2016 The slogan is Live There. Book homes from local hosts in 191+ countries and experience a place like you live there.
2017 Book unique homes and experience a city like a local
2018 Book unique homes and experiences all over the world
2019 Book unique places to stay and things to do
2020 Get the latest on our Covid-19 response
2021 Made possible by hosts
By now Airbnb rents more rooms than Hilton, Intercontinental and Marriott combined and the only thing they have to do maintenance on is their website. They don't own anything. They are selling convenience.
Why do we love Airbnb so much?
Renting an apartment makes us feel like we're not really tourists. It feels like we're "post-tourists", more authentic. It's true that it's more natural to go to an apartment after a long day of visits than to go to a hotel room. And when you're traveling as a family and need several rooms or you want to have your own kitchen, you can't beat Airbnb.
However, local residents worldwide have started to complain about negative impacts of Airbnb-rentals in their neighbourhood. Nuisance complaints range from noise caused by visitors (e.g. loud parties and drunken behaviour), to issues with traffic, parking and waste management, and safety concerns when strangers enter the neighbourhood and buildings.
Tourism contributes to gentrification, especially with Airbnb in the game.
Research in New York, for example, has shown that a doubling of Airbnb locations has led to a rise in property values of 6–11% (Sheppard & Udell, 2016). Although beneficial to homeowners, the rising values are detrimental to residents who can no longer afford to pay rent and are driven out of the neighbourhood.
I'll link to an article in Forbes magazine that explores this issue.
The Airbnb Effect On Housing And Rent (forbes.com)
Our point in doing this episode is not to shame you into never using Airbnb again because there are times when it's the best choice and why wouldn't you pick it?
What I'd like to do is offer alternatives that don't necessarily pop to mind, but are well-worth exploring.
Bed & Breakfasts in France.
If you typ in bedandbreakfast.com you get redirected to Vrbo which is a company in competition with Airbnb and in France I only find apartment or house rentals.
That's not what a Bed & Breakfast is, is it? How do you find a bed & breakfast in France?
On booking.com you can search for B&B and Homestays, so if you're really after the home experience you'll find it.
I am an affiliate so if you start your search on booking from JoinUsinFrance I will earn a commission. Why did I sign up with booking? Because I loooooove their website and I use it! You can filter and search by all sorts of things like: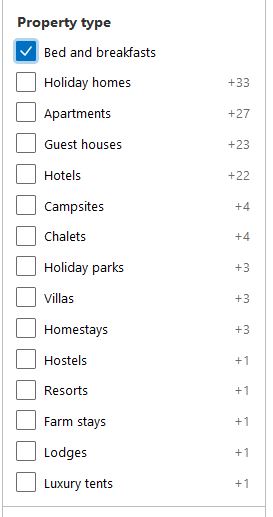 You can also filter by city. For instance, you'd like to explore the Lot because you've heard us gush about it. Enter LOT in the search bar and then on the left it'll let you narrow it down to specific towns.
You can filter by price range, free cancellation, no prepayment, type of bed, parking, restaurant, pets allowed, yada yada, it's ALL there!
Now by contrast on Airbnb to find information you need to read through 10 pages of reviews. They have reviews too on Booking, but you can start with the stuff you really care about and then read the reviews.
Alternatives to Airbnb
Subscribe to the Podcast
Apple
Google
Spotify
RSS
Support the Show
Tip Your Guides
Extras
Patreon
Audio Tours
Read more about this show-notes
Episode Page
Categories: First Time in Paris, France How To