Table of Contents for this Episode
Categories: First Time in Paris, Paris
How Do Parisians Give Directions?
If you ask locals for directions, they'll direct you by landmark, not by cardinal points. Get a simple map that they can point to and ask them to point in the general directions you need to go to. And if you're used to navigating by cardinal points, install a compass App on your smartphone before you get to France.
Get Printed Maps, Just in Case
Get a booklet with maps and street names. Get one once you get to Paris. News-stands usually stock several versions of the same type of book. I paid 6€ for mine and it never left my pocket. This booklet will include street names, but also metro, bus, RER, Vélib' (bike rentals), monuments, landmarks. If you're going to be looking for specific addresses you'll NEED this.
You Can't Always Find a Metro Station By Walking Around
If you're wandering the streets of Ile de la Cité or Ile Saint-Louis there's only one metro stop called Cité near Notre Dame. On the "islands", unlike the rest of Paris, you won't run into a metro stop just by walking around some more.
When You Should Take the RER
If you need to cross Paris, take the RER, not the metro. It'll be much faster and the RER is also a little more comfortable than the metro, at least if you go at a time when you find a place to sit.
What Ticket Should You Use?
What metro ticket do you need to get? You'll have to choose between Paris Visite (for tourists) and Navigo card. Navigo will cost you 5€ to establish but it's quick to do and there's no paperwork to fill out (how bizarre for France!) and you'll need a small photo of your face, but it'll let you travel to any Paris zone (including Versailles) on week-ends and holidays. For Paris Visit you don't need any of that but it won't give you any freebies.
One big advantage of Paris Visite is that it can start any day of the week whereas a Navigo Pass is always Monday morning until Sunday night.
How Do You Know What Train Is in Front of You in Paris?
How do you know what metro or RER is sitting there at the station when you run onto the platform? You look at the map over the metro/RER door!
What's Left Bank and Right Bank in Paris?
Are you on the left bank or on the right bank? It's all explained in the show, but let me summarize: if you're facing Notre Dame Cathedral the left bank is to your left and the right bank is to your right.
Take the Bus in Paris!
Take the bus! Lines 69, 68, 28, and 96 are particularly useful. Look at where they go in your book!
Hop On Hop Off Buses
HOHO buses. Not the fastest or the cheapest way to get around, but they get the job done. If you only have a couple of days in Paris, that's the way to go.
TUK-TUK Bikes
TUK-TUK bikes. They are all over Paris these days and they are not cheap, but they'll get the job done. And some of those guys know Paris inside and out, so they might be a good person to talk to if you're looking for local tips.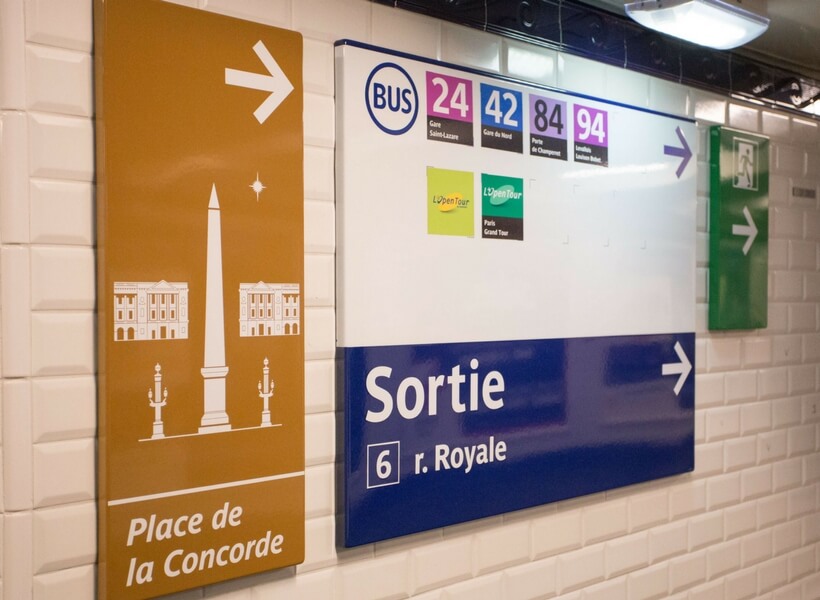 Subscribe to the Podcast
Apple
Google
Spotify
RSS
Support the Show
Tip Your Guides
Extras
Patreon
Audio Tours
Read more about this show-notes
Episode Page
Categories: First Time in Paris, Paris