Categories: Active Vacations in France, France How To
Discussed in this Episode
Mountaintop finish
Mountain pass
Start town
Team time trial
Finish in Paris
Alpes d'Huez. Tourmalet
Galibier
Mont Vantoux
Rent a bike or bring your own bikes? Livre de Route
As I was driving home from work this afternoon, I thought about what you said about the Tour de France podcast.  I love the Tour de France, so it always brings back great memories for me.
A few initial thoughts: (actually, once I started typing, I couldn't stop)
A podcast on le Tour at the end of September or first of October would be ideal for trip planning purposes. The tour route is announced sometime in October, not sure of the date.
If someone is planning to go and they want to see some mountain stages, the sooner the better to book hotels. As soon as the route is announced the hotels in the small towns and villages book quickly.  Tour fans are competing not only with other cycling fans but also with the cycling teams and all support personnel associated with the Tour.  In 2010, began booking our hotels as soon as it was announced.  In some cases, we were still miles from where we wanted to be and had to either drive long distances or walk several kilometers.
And, if someone wants to test their bike climbing skills and ride some of the famous climbs, determining whether they want bring their bike or renting takes some logistical planning.

If renting, will it be for a day or a week or longer. Finding a bike shop near the area/region you plan on visiting that have bikes that meet your criteria (size, type, brakes, etc.) can have its challenges.  While a lot of places in large cities speak English, this is not always a definite in more rural areas.  Getting the correct adjustments and/or switching out equipment (saddle) may or may not be easy.  Communicating with bike shops can be challenging, and bikes along the route will rent out fast.
If bringing your own bike, be sure to practice before you leave on taking it apart and putting it back together. Also, make sure you find a good travel case.  They can be quite pricey, depending on the type.  Plus, based on experience, airlines don't always seem to be consistent on pricing the extra baggage. And, what if the bike does not arrive with you?  If that happens, do you have the cushion built into your itinerary to wait for your bike or are you going to need to take off so as not to miss the tour.

In 2010 we both brought our bikes and we had a train connection at CDG. Luckily, they both arrived.  But getting the bikes and our luggage onto the train for the 3 hour + trip to Grenoble with a connection in Lyon, was not fun.
In 2013, only my husband brought his bike. Unfortunately, his bike did not arrive in Nice when we did.  They left us a message in French on the voicemail.  Difficult to understand.  Then, trying to obtain the bike at the airport was even more difficult.  The hours of the office were limited and it took some navigating to make that work since it is located in the area of arriving flights.  The taxi from our hotel back to the airport did not want to take us to the arriving of flights since taxis are only permitted to enter into the departing area.  We got lucky and had a taxi driver who was willing to take up the challenge.  He had to engage in some heated exchanges with the guards.  Plus, entering in place where your are only supposed to exit could have ended with conversations with the police.  We tipped our taxi driver well.

And, you're going to need a bike rack or a large van to carry your bike. Also, think hard how you are going to get around in areas that may or may not be secure.  You'll either need to have a sturdy lock or ensure that your hotel has a secure storage room or will allow you to bring them into your room.  We stayed in a place in Carcassonne, a bed and breakfast, that did not have onsite parking, only street parallel parking, and did not want us to bring them into the B&B.  We had to convince the owner that our bikes were expensive and would not be safe on the back of the car.  He finally allowed us to store them off to the side of the interior courtyard.

And, speaking of bike rack, we found one that can easily be disassembled and carried in a suitcase.

Also, don't forget, you'll need tools and extra tubes.
There will be A LOT of cyclists riding the course prior to the caravan. Be prepared to be stuck up on a mountain not being able to turn around until after le Tour has passed.  This can be hours.  Once the caravan starts, no one is allow to go the opposite direction.  This may be OK if you are riding with friends at the same pace, but if one is stronger than the other, then that can cause a problem.  On mountain stages there can easily be THOUSANDS of people on the mountain.  It is super easy to get separated.

The mountain stages are so much fun! For some, we road our bikes, for others we walked into town and took the gondola up the mountain, and then for another we drove as far as we could before the road closed and found a great spot to park in a small village not too far from the finish.

There are people from all over, representing their nation, and their favorite team and rider. Everyone is pretty relaxed.
Once you find your spot, especially if it is near the finish and the organizers have barricaded the sides, be sure to stand your ground. It can get crowded and people will start attempting to slowly elbow their way in.  It happened to us, where these 60-70+ grandmotherly type came in behind us and then started elbowing everyone who had been at the rails for hours.  We still laugh about that to this day.
Be sure to plan on waking up EARLY to get to the mountain. Roads do close.  We got up about 4am while staying in Lourdes to drive, with our friends, to the top of the Tourmalet.  When we got to the car in the basement garage, the exit gate was locked.  Then, once we were able to get a hotel employee to open it, a bread truck was then blocking the narrow road out to the main road.  The weather was so bad that we ended up in a small town at the base of the Terrible Mountain.

So, go with an open mind and realize that not everything is going to go as planned.
However, that day goes down as one of the most epic days of my life. It's been 12 years and we still laugh about the multiple things that happened that day.

When it comes to the finish in Paris, there are some places to watch that are just so much better than others. While they do make several laps on the Champs, they are going so fast.  When we were last there, it was before they starting going around the Arc de Triumphe and we based ourselves at the spot where they made the turn to go back down the Champs.

And, once the race is finished, stick around. The teams make a slow turn around the course to greet the fans and enjoy the moment and success of finishing the grueling race.

The overall energy of the tour is wonderful. Before the riders even arrive, you know exactly when they are coming because you will first see and hear the helicopters.
If you do decide you want to go to France to see le Tour, study the map, decide which stages you want to see and where you want to be on that stage.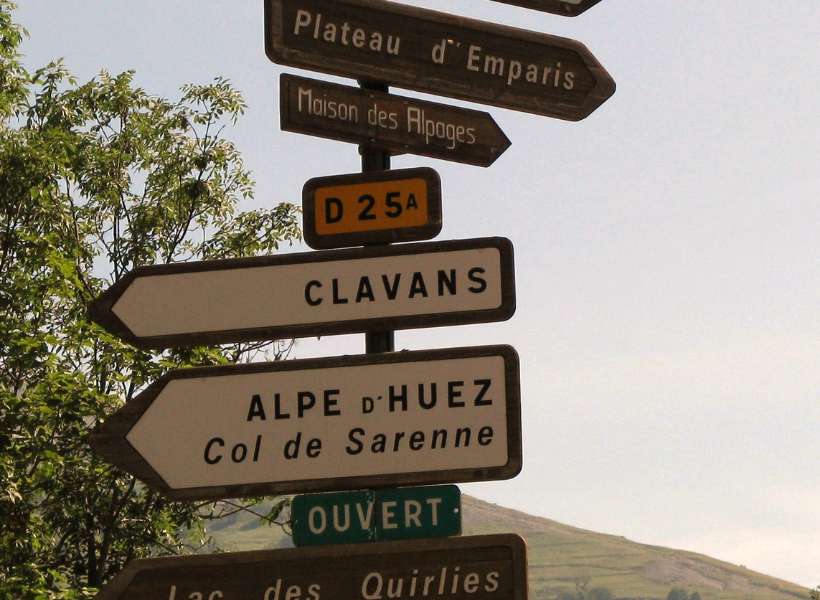 Subscribe to the Podcast
Apple
Google
Spotify
RSS
Support the Show
Tip Your Guides
Extras
Patreon
Audio Tours
Read more about this guest-notes
Episode Page
Transcript
Categories: Active Vacations in France, France How To