Categories: France How To, Paris
Discussed in this Episode
Lyon
Annecy
Chamonix
Beanne
Paris
Bad Airbnb experience
10e Arrondissement the hip area
Areas you want to avoid in Paris
Avoid the area between Gare du Nord and Gare de l'Est
Avoid Barbès
Baptism at the Armenian Cathedral in Paris
Celebration at the Créatures Restaurant on top of the Galleries Lafayette
Asnière-sur-Seine
La Rentrée
Forum des Associations
Gaillac
Lyon, April 27 – May 1
Stayed in an AirBnb near Part Deux train station
Went to Les Halles Lyon Paul Bocuse several times.

Ate at Chex Leon – Seafood raw bar, oysters
Bakeries, charcuterie, cheese (not too into lyonese cheese), dessert

Went to Tet-d'Or Park – Amazing park, went in the green house, rented a little boat, went to the zoo
Basilica Notre Dame then walked to the Roman Forum. Walked back down to the city using a nature path.
Rhone and Saone – Confluence and Museum
Old Lyon and traboules – Croix – Rousse, Favorite part of Lyon, artisanal shops, a bit hipster
We ate at Le Poelon d'Or for a traditional Bouchon Lyonese
Annecy, May 1-May 5th
Spent the day in Annecy – Beautiful town, amazing park on the lake. We wanted to rent a boat, but it was a bit too cold.
We went to go check into our Chalet Airbnb and it was a disaster (booked a new hotel in Annecy)
The next day we went Yvoire, beautiful Medieval town, with my family from Geneva, we went to a restaurant called Restaurant Du Port. This restaurant is a tradition for my family. Anyone who used to visit my great aunt in Geneva, she would take them to this restaurant. She passed away a few years ago, and her kids took us there. We have been multiple times, and it is always amazing. The specialty is fried lake perch in a lemon sauce with fries.
We went to Jardin De Cinq Sens – it was a sensory experience where you can use all your senses, including tasting some plants.
Next day we went to Chamonix, we walked around the town and had fondue. Apparently, most places close the first 2 weeks of May between the Ski Season and Summer Season. So maybe not the best time to go there. But the town was beautiful.

We ate at Le Monchu – Chamonix – Fondue

We decided to take the Mont Blanc tunnel to drive into Italy and we went to Aosta. A beautiful Italian Alpine town with many Roman Ruins.
The Next day we planned on going to Aux Le Baines, but it was raining that day, and we didn't think we would enjoy it, so we went to Geneva instead. We went to their Art's district have a very expensive lunch (Everything is expensive in Geneva), then we walked around town and had dinner at my family's house. Perfect for a rainy day.
Beaune, May 5-6
We started our drive from Annecy to Paris, and we went halfway and stayed in Beaune.
We had the entire day in Beaune where we walked around the town and went to the hospice.
On our way into Beaune, we were listening to one of your podcasts about Beaune, and you mentioned a non-touristic restaurant on the outskirt of the city. I googled where the restaurant was, and we were a few min away and we stopped in. The restaurant was Au Raisin Gourmand. We had all the traditional items like the eggs in the wine sauce, escargot, beouf bourginion. It was fantastic and affordable. That evening we had a fancy dinner at Caveau Des Arches. It was in a wine cave, and the food and service were great!
Paris, May 6-18
On our way from Beaune to Paris we stopped in Chateau Fontainebleau. We were listing to your podcast about day trips from Paris when we saw on the highway sign that we were going to pass by, so we popped in. We didn't spend too much time here, we walked the gardens, and also walked through the chateau. Next time I would like to spend some time in the forest around the chateau.
We got into Paris and checked into our AirBnb in the Battignoles neighborhood in the 17th AR, near La Forche metro stop.
We fell in love with this neighborhood. It was not touristic at all, and a lot of young families. It is neighboring some gentrifying neighborhoods like Clichy, and the 18th Because this was a 5th time in Paris, we didn't plan on doing too many touristic things, we just wanted to get the sense of living there. There is a fantastic little park in the neighborhood, and also a large new park, named Martin Luther King. The restaurants in the neighborhood were fantastic. Here were some that we went to were:

Gazette – upscale brasserie, excellent everything
Les Puces Des Battignole – A refreshing lite take on traditional cuisine, very lively, good music.
Calypso – This was one of our favorite meals, it was a fusion of Reunion, Madagascar and French Mediterranean seafood cuisine. Very interesting flavors with a mix of Asian, African and French techniques. We learned that there is a fairly large Chinese influence in Reunion.
Le Costaud Des Battignolles – Modern French, we had salmon tartar that had mango mixed in it, and a fantastic Duck Confit burger
Andrea – French/Italian – Very good Pizza
Cucuzza – (there place had Pizza that looked amazing, but we could never get a table)

My wife loves the 10th AR so we spent a decent amount of time there over the years. The restaurant La Valmy, is our go to everytime we go. Very local, very French, very well priced, loud, and friendly. It is right on the canal.
Other notable restaurants

Immersion Republique – Kind of American Brunch – Republique
Chez Marianne – Isreali Faladels – Mirai
Le Blomb du Cantal – Aligot – Montparnesse

We took two day trips

Versailles, which my only gripe was that the gardens needed a lot of help. It felt like they haven't recovered from covid, or they weren't totally ready yet.
Auvers Sur Oise, where Van Gogh spent the last few months of his life there. This was a great experience. At first, we were disappointed because we went on a Tuesday and many things are closed. But then we were delighted by the fact that there weren't busloads of tourists, and the wheat fields, the church, the tombs, we had to ourselves, and it was nice to walk in the wheat fields and just listen to the wind going over the wheat.

During our entire trip we averaged like 20K steps a day, so we kept walking all over the place.
Since we are pretty seasoned travelers in Paris, we know which areas to generally avoid. While the area around Montemarte and Pigalle have largely become cleaner, some areas around Gare Du Nord, and north should be avoided by travelers. We did find ourselves in Barbes for a hot minute and could not get out fast enough!
We celebrated our daughter's baptism in Paris. We had her Baptism at the Armenian Cathedral, which is near the Arc De Triomphe, it is a beautiful church built in 1902 in the heart of the golden triangle. We had the baptism lunch at a restaurant called Creatures Paris, which is on the roof of the Galleries Lafayette in Opera. We usually would not go to such a touristic spot, but this restaurant has possible the best views in all of Paris. With unobstructed views of Sacre Couer, Toure Effiel, Notre Dame, Opera, and just about everywhere else. The food is vegetarian Mediterranean.
We also celebrated our daughter's 1st birthday in Paris. We had a picnic, just the 3 of us at Jardin de Luxembourg. We spent a lot of time in parks so our daughter could spread her legs.
The weather the entire time, barring one day was amazing!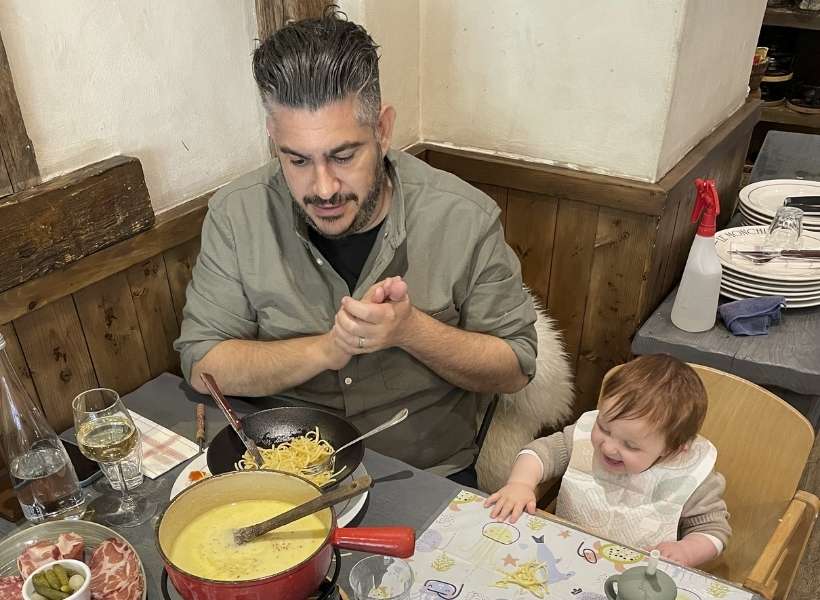 Subscribe to the Podcast
Apple
Google
Spotify
RSS
Support the Show
Tip Your Guides
Extras
Patreon
Audio Tours
Read more about this guest-notes
Episode Page
Transcript
Categories: France How To, Paris