Categories: First Time in Paris, France How To
On today's episode, Annie shares 10 tips for people who are traveling to Europe or France for the first time. After spending time in Germany and England recently she noticed a several things that are likely to throw you off if this is your first time in Europe. And, of course, all of these differences apply in France as well as the rest of Europe!
What You Need to Know Before Your First Time in Europe
If you haven't visited Europe before or if it's been a long time since your last visit, you need to listen so you're not caught off guard! It's pretty easy to handle, we give you a list of a few things to put in your suitcase so you don't have to go running off to the store as soon as you arrive!
#1 Hotel Beds Won't Have a Top Sheet
Instead of a top sheet and blanket you'll get a comforter with a duvet cover. If you get too hot with the heavy comforter you may want a top sheet.
#2 No Toiletries in Budget Hotels
Budget hotels will have zero toiletries for you when you arrive. Not even a stick of soap. You can usually tell if you read the reviews, but just in case, bring travel size toiletries.
#3 No Washcloths in Hotels
Bring your own wash cloth because unless you're staying at a luxury hotel, there will not be a washcloth for you in the room. No loofah either!
#4 Hotel Rooms Are Tiny in Europe!
Everything in North America is over-sized. When you arrive in France or England or Germany, you will think you've landed in the land of Lilliput!
#5 Turning Things On in European Hotel Rooms
In England you have to turn every plug with a switch. In France and Germany you have to insert your hotel magnetic card into a reader before the lights or heating/cooling will work.
#6 Open Windows for Ventilation
In Europe we often don't have fans you can turn on for ventilation. Some hotel rooms will have constant ventilation, some have none and you're supposed to open the windows.
#7 No Carpet in Most Hotel Rooms in Europe
Hotel rooms in Europe usually have wood floors, tile, or linoleum. You may find short commercial carpet, but it will be the exception, not the rule.
#8 Security Searches in Europe
There will be security lines everywhere you go in Europe. Travel light and plan on opening your bag for security!
#9 Check to See If You Need a Power Converter
Depending on what you bring on your trip, you may or may not need a power converter. Check your charger with a magnifying glass! If your appliance can take 230V you don't need one.
#10 You Need Travel Plug Adapters!
Your US/Canada plug will not fit in any socket in Europe. Bring a travel plug adapter or two so you can charge your phone as soon as you arrive.
Answer to a Listener Question
What to Do If People Cut In Line in Front of You in France?
At the end of the episode, Annie also answers the age-old question: what do I do if people cut in line in front of my in France? This is not a common problem, but it can happen. No need to get into a fight, you can fix it really easily!
Learn More: First Time in Paris, France How-to
FOLLOW US ON:
Discussed in this Episode
No top sheets in hotels
No soap in budget hotels
No washcloth or loofah in hotels
Hotel rooms are tiny in Europe!
Auto turn-off in hotel rooms in Europe
Bathroom ventilation in Europe
No carpet in hotel rooms
There are security lines everywhere in Europe
Will you need a power converter?
You will need a travel plug adapter! What to do if people cut in line in front of you in France?
Subscribe to the Podcast
Apple
Google
Spotify
RSS
Support the Show
Tip Your Guides
Extras
Patreon
Audio Tours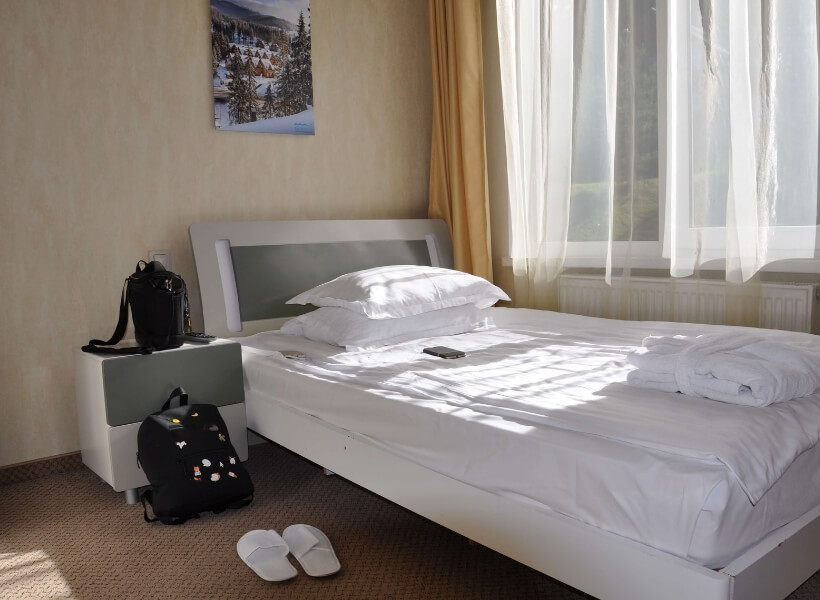 Read more about this episode
Show Notes
Categories: First Time in Paris, France How To