Categories: First Time in Paris, Paris
This episode features our frequent and very popular guest Elyse Rivin. If you enjoy her episodes, please consider supporting her on Patreon.
Visiting Paris in August
On today's episode, Annie and Elyse chat about the pitfalls and joys of visiting Paris in August. Things are different in Paris in the summer months and we review them all in this episode of the podcast!
What Closes in Paris in the Summer?
People who are coming to Paris for the first time in August or in the summer wonder what's going to be open and closed? It's a fair question and I caution you against relying on information that started circulating decades ago that somehow still gets repeated today: No, Paris does NOT shut down in the summer!
In fact, Paris is teeming with activity in the summer! That's why you should have a strategy to minimize wait time at popular museums, which we explain in this episode.
Airbnb and Pickpockets
Elyse and I also get talking about Air B&B in Paris, there are some things you need to know about that so you can ask the renter important questions that will impact the quality of your stay.
We also recap some quick tips about prevailing against pickpockets in this episode and about the best kinds of bags for a trip to Paris for both your comfort and your safety.
Go to Some Guinguettes!
Visiting Paris in August or in the summer months is a joy! It's a great time to rent bikes because the car traffic is lighter. It is also the time for Guinguettes. Even if you don't remember the word Guinguettes, I'm sure you have seen them pictured in paintings and in the movies!
They are places where locals and visitors alike go to on summer evenings to have some drinks and dance.
There are some famous ones and some not so famous ones all along the Seine River and the Marne River. One we recommend is close to the Eiffel Tower on quai de Suffren.
August in Paris is also the time for walks in neighborhoods you don't know, trying boulangeries and restaurants you've never heard of. You shouldn't be weary of doing that, we have great food all over Paris! One great place to take such a walk would be around the delightful Palais Royal area as we've mentioned in previous episodes.
Ignore at Your Own Peril
We want you to have a wonderful time in Paris in August, which in our mind includes this piece of advice: Yes, you do need Air Conditioning when you are visiting Paris in August, July or maybe even June and September. Having lived in France so long, Elyse is not a fan of Air Conditioning. But even she admits that when the temperatures climb over 95F (which they do, sometimes for days-on-end!), it is really hard to get some rest without AC.
Learn More: First Time in Paris
FOLLOW US ON:
Discussed in this Episode
Guinguettes
Quai de Suffren on the Seine River
Palais Royal Neighborhood in Paris
Subscribe to the Podcast
Apple
Google
Spotify
RSS
Support the Show
Tip Your Guides
Extras
Patreon
Audio Tours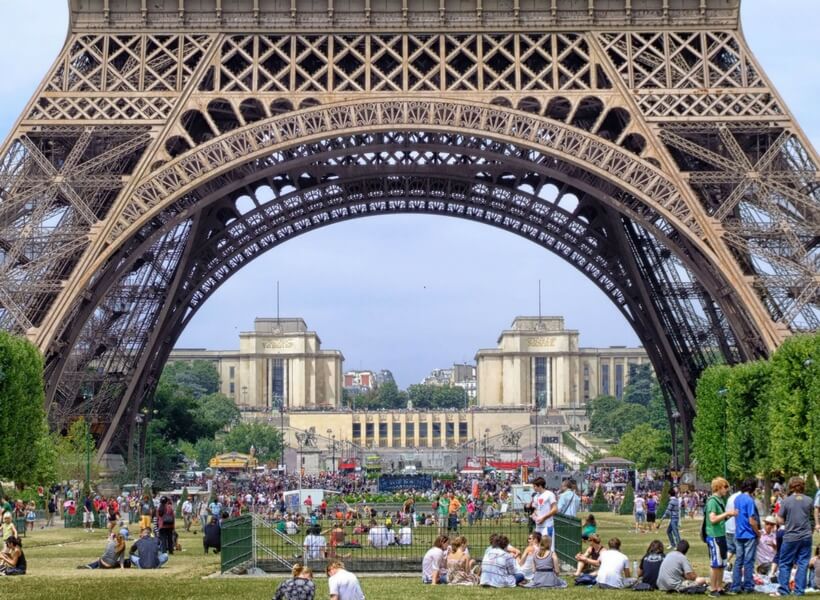 Read more about this episode
Show Notes
Categories: First Time in Paris, Paris