This post contains affiliate links, meaning I get a commission if you decide to make a purchase through my links, at no cost to you. Please read my disclosure page for more details.
Category: Normandy & Brittany
Are you considering visiting D-Day sites with kids? You'll want to listen to this episode! My guests Ginny and Cristina are mother and daughter and the kids were a 12yo boy, a 9yo girl, a 7yo girl, and a 3yo boy. Also on this trip were Ginny's sister and Cristina's husband. They took this trip in October 2019.
We have a conversation about driving in France, etiquette at French restaurants with kids, and also about taking kids to D-Day sites and how that worked out for this family.
What can you do to keep the kids interested?
What is there to do in Normandy besides D-Day sites?
It turns out that this family has a long history with Normandy. Ginny's father served in Normandy in WW2 and they had some letters from him. They went looking for the places where he served, including some places we haven't talked about on the podcast yet.
Tips for Visiting D-Day Sites with Kids
Learn from the best, folks who took the trip and learned the lessons!
About Driving in France
If there are enough adults in your party willing to drive, you might want to rent 2 cars instead of a van. That will allow you to split up if needed.
There are speed traps in France, do not go over the speed limit or you may get a ticket in the mail a month after you get home.
If you pay for the built-in GPS in the rental car it will tell you what the speed limit is in any particular road section.
Everything is far apart in Normandy, you will need to drive. Parking is generally not a problem in Normandy unless you go around D-Day commemorations.
Do Kids Need to Be Quiet at Restaurants in France?
Cristina's children are used to traveling at lot, at least the older ones are. Like anything else, travel gets easier the more you do it and that's true for children too! But still she worried about how her kids would be treated in restaurants in France. She had heard that kids in France need to be quiet at restaurants and she didn't think that was possible.
There is this myth that French children are somehow perfectly well behaved at restaurants. Let's be realistic: French people have kids, they know it's best to serve families with kids promptly and keep them happy. French waiters do not expect perfection from kids at all!
How Were the Kids at D-Day Sites?
Ginny had prepared the kids for Normandy by sharing with them letters that her father had sent to his sister during WW2. Build-up some knowledge about WW2 with the older kids ahead of time. Get them as interested as you can.
The older kids really enjoyed a book called I Survived the Battle of D Day, and there are a lot of books that can help prepare your kids to understand the historical significance of the area.
It's not difficult to find food and snacks the kids will enjoy, go to a grocery store where you'll find a lot of variations on Nutella. There are also lots of cookies and crackers in France. They also love brioche, which is different from what they get at home.
Stay in the Same Place Every Night
They decided to stay in Mondeville near Caen at an Airbnb called Maison Ancienne "style Deauville en Normandie". It was probably the coolest Airbnb Cristina has ever stayed. Everyone had a room and it was wonderful.
Omaha Beach Day with Kids
They never planned on too many things in one day, made sure there was always time for ice cream. Their priority was to go to the American Cemetery at Omaha Beach. It was powerful for the kids to realize that this large field full of crosses is the result of war.
The level of appreciation of French people towards the sacrifices of American soldiers is also palpable.
The orientation table that faces the ocean and shows where all the battles took place on different beaches is great and they spend some time there.
There are no restaurants or cafés at the cemetery per se. But if you drive down to the beach you'll find many services. It's a lovely sandy beach with a monument. There are shells and things on the beach that kids will enjoy. Definitely bring swimming suits if you go in the summer.
They visited a small private museum. It didn't take long at all which is great with kids because it kept their interest.
Cherbourg Day
They wanted to go to Cherbourg because Ginny's father was stationed. They were looking for a museum that had information about the 280th Station Hospital Unit, and they found one.
But before they went to the museum they went to La Cité de la Mer which they really enjoyed. They had some information about the Titanic, they have a submarine you can go into, they have the deepest aquarium tank. The kids loved the interactive exhibit where it's an underwater simulation.
The Musée de la Libération at Fort du Roule was also interesting and they adults would have liked to spend more time there. They had some information about Ginny's dad's unit. They ticket seller didn't know anything about it but she called the director over and he was able to explain more. The director didn't speak English so it wasn't very easy, but they managed anyway.
Ginny and her sister Veronica recognized a cantine from American soldiers displayed at the museum that their dad also had. This was the most meaningful part of the trip for the adults. There is a beautiful view towards Cherbourg from Fort du Roule.
D-Day Experience Museum at Carentan les Marais
They stopped there on their way back from Cherbourg on the way back to their Airbnb. They got there a little bit late so they didn't have time to do everything. This is intense and they kids enjoyed it. The youngest kid told his kindergarten teacher that he was in a plane crash because it was so realistic.
Kid-Tastorphies
Cristina produces a podcast called Kid-Tastrophies and there were some kidtastrophies on this trip! Being in a "plane crash" would be one. Kids upset tummies are another one so always carry extra underwear! Also, keep your expectations low. Don't think your kids will get as much as you'd like them to from the trip.
Cristina's oldest kid got some good WW2 experiences, but don't think just because you took them Normandy they'll now understand the full scope of WW2.
Building family memories is really important, even if kids don't remember the details. Take lots of pictures to remind them of the experience.
It's also important for kids to experience the fact that not everything is the same as what they are used to in their own little corner of the world. It broadens their point of view as much as possible for children.
FOLLOW US ON:
Discussed in this Episode
Subscribe to the Podcast
Apple
Google
Spotify
RSS
Support the Show
Tip Your Guides
Extras
Patreon
Audio Tours
If you enjoyed this episode, you should also listen to related episode(s):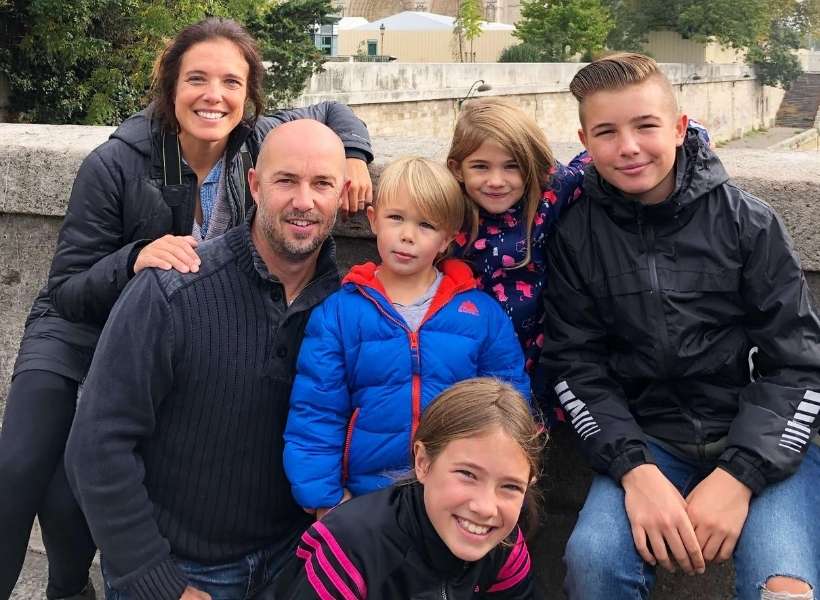 Category: Normandy & Brittany