This post contains affiliate links, meaning I get a commission if you decide to make a purchase through my links, at no cost to you. Please read my disclosure page for more details.
Category: Normandy & Brittany
Etretat in Normandy is not an area I've  ever visited because like most people I usually go to the Mont Saint Michel or the Day-Day beaches which are much further west. Janice visited Etretat in July 2018 because it's a place she always wanted to see but hadn't gotten around to yet.
Janice rented a car to get to Etretat because it's the kind of place where you can't do very much without driving. Janice rented an AirBnB and stayed a week, which was plenty of time.
The AirBnB hostess didn't speak any English which was great because Janice wanted to practice her French. She made wonderful recommendations on things to do and places to visit, especially over the July 14 celebrations. If you want to rent the same place, look for La Bergerie in Étretas.
You will find everything Janice shares about France on her site France Travel Tips
Etretat in Normandy:  Cliffs or Falaises
The town of Étretat is right on the water's edge and to the south is the
"falaise d'aval" (or Porte d'aval). To the north of Étretas is the "falaise d'amont" and the chapelle Notre Dame de la Garde.
The white cliffs are magnificent by themselves, but then with the arches it's even more striking. This is the kind of place where you cannot take a bad photo!
You don't have to be hiker to enjoy Étretas, but you should wear good walking shoes. You can take a walk around the golf course and it takes you south of Étretas and La Manneporte and you get some spectacular views. You can do it as an easy walk, taking your time, and it will take about 2 hours. The AirBnB La Bergerie is right on the golf course, so that made it easy.
In July the weather can be lovely (low to mid 20s Celsius). The rest of France was experiencing a heat wave, but Normandy was just right for summer!
Don't Miss La Manneporte!
Most people get up to the top of the cliff from the board walk. They take the stairs. But that's a shame because when you do that most of them (who don't go far enough south) miss La Manneporte. La Manneporte is the place that Claude Monet loved and painted so many times.
Best Way to Discover Etretat
Start from the top which is where the golf course is. Walk all around to top of the cliffs, then walk down the stairs to the town and explore from the bottom. It is best to start your visit from the golf course. If you come up from the steps it'll be more crowded too because most people don't know about starting at the golf course.
Watch out, there are no barriers to keep you from falling down the cliff! The safe way to get to the edge safely is to shimmy on your bottom, and even then, on a windy day this can be dangerous.
Altogether you can see 3 arches: Porte d'amont, Porte d'aval and Manne porte. The arches are 40 to 50 meters high, they are spectacular.
You Need At Least One Day in Etretat
You can see it in a day if you arrive early and stay until the end of the day. 2 days would be easier to pull off.
If you start from the town, you walk up the stairs, walk to the south side, then take the other direction. Around the Falaise d'Amont there is a little more to see: chapelle de la Garde and a monument to the memory of two men who died trying to cross the ocean. The monument is called L'Oiseau Blanc or white bird.
Jardin d'Étretas
The path that you can take to the north is OK. If you have more time go see the Jardin d'Étretas. A French actress commissioned a gardener to create a garden in this place where Claude Monet used to live and where he painted a lot of pictures. As you walk around you can see displays that show what Monet painted and what it really looks like.
The jardin d'Étretas is really whimsical and fun. It sounds a little strange, but it is wonderful.
Do the Speed Boat Tour!
Go to Fécamp and get on the speed boat. This is a little bumpy, but so worth it! You can also rent a kayak if you wish. The company Janice used is called La Mer pour Tous.
Don't Get Caught by the Tide!
You can see people using the beach in areas that are not easily accessible. The safe way to do it is by using a kayak. If you decide to walk be really careful with the times of the tides that day. 50 people have died because they were caught by the tides at Etretat!
Where to See the Fireworks
The fireworks are usually on July 13, you can see it from the board walk and it's lovely. Even if you're not there for the fireworks they light it up every night. Honfleur is also lovely for the July 13th fireworks, but it was really crowded! These were the best fireworks Janice has seen.
La Route des Abbeyes and Cider Route
If you want to drive around on a theme, consider taking the Abbey road or Cider road. Janice only to a few of them, but it's nice. The Calvados experience is fun even if you don't love the drink. If you have kids with you they'll get some apple juice. Pommeau is calvados + apple juice, that's a lot easier to drink.
Restaurant Recommendations
Dormy House & Restaurant: the food was traditional and nice. It's a bit expensive at night, but it's a good value for lunch or drinks.
Le Homard Bleu: this one is by the boardwalk
Try some of the local apple products. There are nice apple tarts, calvados of course!
How to Visit Etretat from Paris by Train
We didn't discuss this during the episode but I've since found out from a friend who has done this several times that you can take the train to Etretat from Paris. Look for the train to Breauté and then take the shuttle to Etretat on the parking lot (5€). Shuttle times are coordinated with train arrivals. Sounds like a great plan to me! Thank you David Blanc for the tip!
FOLLOW US ON:
Discussed in this Episode
AirBnB La Bergerie in Étretat
Falaise d'Aval
Porte d'Aval
Falaise d'Amont
Porte d'Amont
Chapelle Notre Dame de Garde
La Manne Porte
Manneporte
Golf course in Etretat
Oiseau Blanc Monument
Jardins d'Étretat
La Mer pour Tous speed boat tours in Fécamp
Armistice Fireworks in Honfleur
Bastille Day in Etretat
Route des Abbeyes
Abbey Route
Cider Route
Dangerous tides around Etretat
Calvados
Pommeau de Normandie
Hotel & Restaurant Dormy in Etretat
Le Homard Bleu restaurant in Etreat
Subscribe to the Podcast
Apple
Google
Spotify
RSS
Support the Show
Tip Your Guides
Extras
Patreon
Audio Tours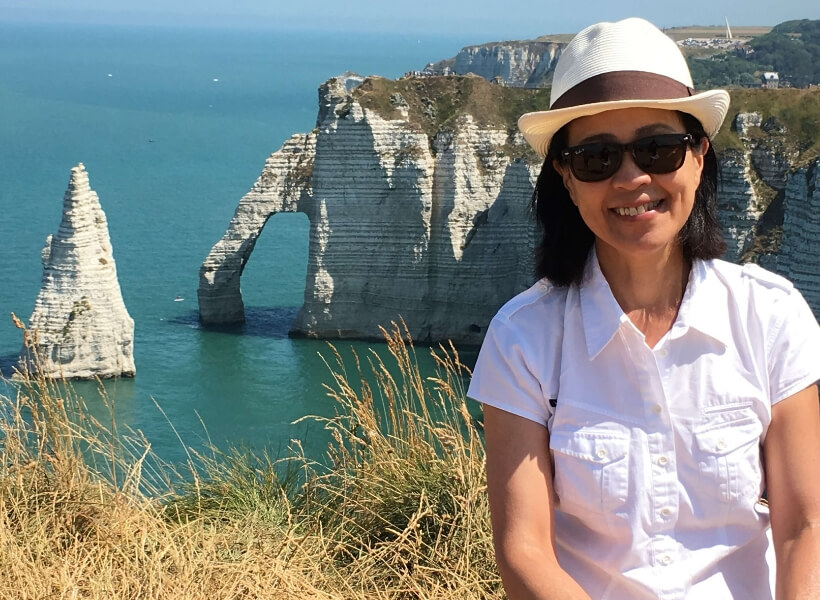 Let's Review
Don't Overlook Etretat! When going to Normandy, most English-speaking visitors only ever see the D-Day beaches and the Mont Saint Michel. If you're into photography or just love to see amazing vistas, you MUST go to Etretat. It will be particularly nice if you can go in July or early August when the weather is more likely to be pleasant. But even Monet who didn't like the wind blowing his canvases every which way loved Etretat year-round.
Read more about this episode
Transcript
Guest Notes
Category: Normandy & Brittany