Category: Normandy & Brittany
Discussed in this Episode
AirBnB La Bergerie in Étretat
Falaise d'Aval
Porte d'Aval
Falaise d'Amont
Porte d'Amont
Chapelle Notre Dame de Garde
La Manne Porte
Manneporte
Golf course in Etretat
Oiseau Blanc Monument
Jardins d'Étretat
La Mer pour Tous speed boat tours in Fécamp
Armistice Fireworks in Honfleur
Bastille Day in Etretat
Route des Abbeyes
Abbey Route
Cider Route
Dangerous tides around Etretat
Calvados
Pommeau de Normandie
Hotel & Restaurant Dormy in Etretat
Le Homard Bleu restaurant in Etreat
Étretat Trip Report by Janice Chung
July 8-15, 2018
-Visited Normandy after a week and a half in the Ardèche and Provence.
-Drove to Normandy from Paris and stayed there for a week—it's about 200 km or 2.5 hours west of Paris
-Normandy is most known for the D-Day beaches, but it also has amazing white chalk cliffs—Côte d'Albâtre (Alabaster coast).
-They remind me of the "white cliffs of Dover" in England and are a photographer's dream—you can't take a bad photo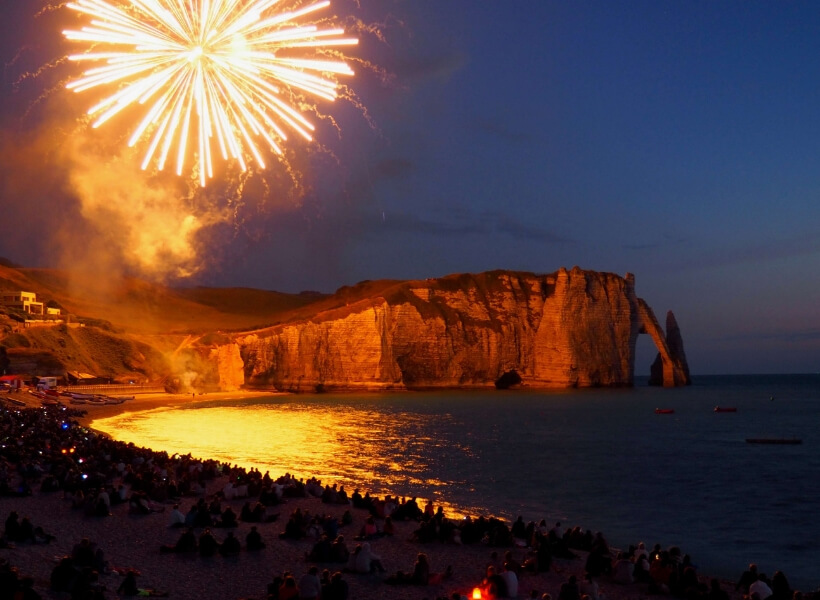 Where are the falaises?
The two key falaises in Normandy are located on either side of the town of Etretat and you can see two of the three natural arches (portes) from the town: Porte d'Aval and Porte d'Amont.
South of Etretat: Falaise d'Aval
-2 arches: Porte d'Aval is 40 metres high and the Manneporte is 50 metres high
-70 metre high Aiguille, a rock that sticks out of the water like a needle.
North of Etretat: Falaise d'Amont
-located on top of this cliff is the Chapelle Notre-Dame de la Garde —rebuilt in 1956. -The original one, built in 1856, was destroyed in 1942. You couldn't go inside and I have read other visitors have also been unable to enter.
-Arch: called Porte d'Amont.
Elephant's Trunk: Porte d'Aval?
Famous French writer Guy de Maupassant lived in Étretat and wrote "Une Vie", describing an elephant's trunk dipping in the English Channel in Étretat. Was it Porte d'Amont or Porte d'Aval?  I really think it's Porte d'Aval.
White Bird Monument
-Right by Chapelle Notre-Dame de la Garde is a monument honouring French pilots Charles Nungesser and François Coli
-monument represents a white arrow pointing to America
-They attempted to make the first flight in their plane, "L'Oiseau Blanc" (White Bird) from Paris to New York City in 1927.
-They never made it. They were last seen over Etretat, Their bodies were never found.
-This monument was built in 1962 as the original one was destroyed by the Nazis
Seeing The Cliffs At Étretat
Easy Walk or Hike
For Falaise d'Aval: From The Boardwalk or Around The Golf Course
-To see the Falaise d'Aval, you cannot drive there.
-You can only walk either from the town's main beach/boardwalk or from the path that goes around the golf course.
-It starts just off the D940 road— take the path (Chemin Petit Valaine)  to the Chemin des Douaniers which is by the coast.
-golf course route takes about 2 hours and you'll see Manneporte, Porte d'Aval, and have excellent views of the Falaise d'Amont and the Chapelle Notre-Dame de la Garde.
For Falaise d'Amont: Walk Or Drive
-from the boardwalk, take the stairs to the top of this chalk cliff or drive up (Avenue Damilaville)
-there as there is a parking space by the Monument "L'Oiseau Blanc".
-you'll get views of Ponte d'Aval and the town of Étretat.
Take A Speed Boat Tour
-"Le Mer Pour Tous" tour company has a boat tour which starts in Fécamp and travels down the coast to Etretat.
-Interesting views because you are at sea level.
-French commentary (with English handouts); tour lasted 2 hours
-speed boat so it goes fast and it's bumpy
-sit at the back for unobstructed views
Danger Warning About The Cliffs
-when walking on top of the cliffs, there are very few barriers near the edge.
-do NOT walk under the arches (portes) as the tide can come in quickly. Over 50 people have died this way.
Where To Stay In Etretat
-I rented an Airbnb ("La Bergerie") which had the "Superhost" designation (high ratings, fast response, more than 10 stays per year, etc)
-1 bedroom cottage that was built in 1878
-free parking, short walking distance to the town, quiet
-owner only spoke French and gave me dining recommendations and told me about the fireworks in Etretat and Le Havre.
Best (Pre) Bastille Day Fireworks In Normandy: In Etretat
-Normandy tourism board publishes a list of all the places that will have fireworks on July 13 or 14
-In Etretat: July 13 the fireworks are right by the cliffs—-photographer's dream
Dining In Etretat
Le Homard Bleu
-Seafood restaurant located right on the boardwalk with unobstructed views of the Falaise d'Aval—great place to see the fireworks, although I ended up going outside and stood on the boardwalk
-sun set at 10:00 and before the fireworks started at 10:30, the falaises were beautifully lit by different lights, so if you aren't there for fireworks, you'll still get a great light show
-not jam packed on the boardwalk, but hundreds of people on the beach—-which is NOT sand.
-fireworks last about 25 minutes
Hotel-Restaurant Dormy House
-recommended by the owner of my Airbnb and located just around the corner from my house
-dropped in without a reservation for lunch
-got a table on the patio with a perfect view of Etretat.
-would be a great place for just a drink before dinner
-they serve traditional French food
Jardins d'Etretat
-located on top of Falaise d'Amont
-French actress Madame Thébault had a villa in the 1900s and commissioned the construction of this garden. She got inspiration from Claude Monet who lived in Etretat
-Gardens were opened to the public in 2016
-not your typical gardens. These are unusual, very artistic and have sculptures of faces showing "emotions", a wind up tree that plays music, and people made of twigs hugging trees
-my favourite: tribute to Monet made out of twigs by Wiktor Szostalo. Monet is seen painting with the falaise d'eval in the background
Excursion To The Calvados Experience
-located in Pont-l'Évêque —centre of the Calvados department
-with the Calvados Experience you learn about the region, history and how Calvados is produced.
-reminds me of La Cité du Vin in Bordeaux and Les Caves du Louvre in Paris aa they all have interactive displays and a tasting at the end.
-at the end there is a tasting bar—-try some aged Calvados
-I also paid for a few tastings of Pommeau (apple juice and Calvados)
-no photos or videotaping allowed
-children can visit too
How I headed back to Paris—I took the Route des Abbayes: https://www.francetraveltips.com/photo-worthy-stops-on-the-route-des-abbayes-in-normandy/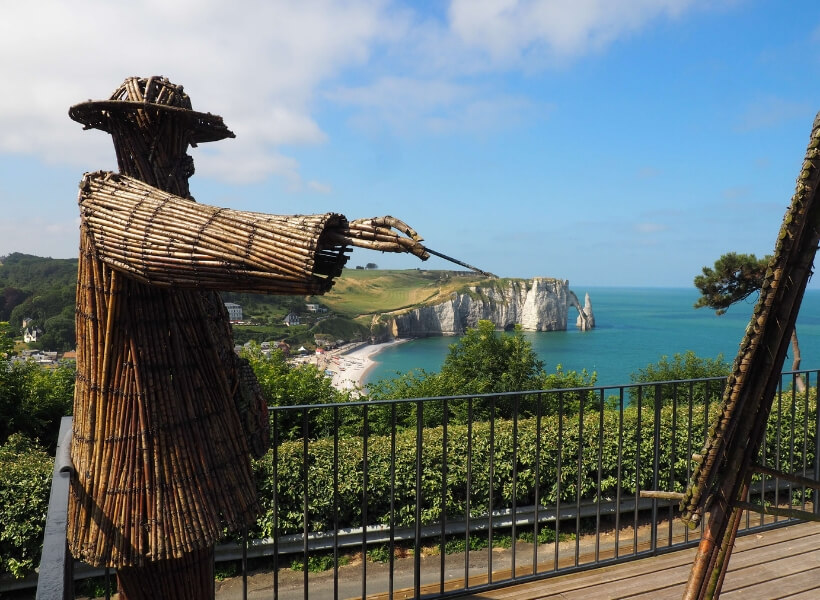 Subscribe to the Podcast
Apple
Google
Spotify
RSS
Support the Show
Tip Your Guides
Extras
Patreon
Audio Tours
Read more about this guest-notes
Episode Page
Transcript
Category: Normandy & Brittany