This post contains affiliate links, meaning I get a commission if you decide to make a purchase through my links, at no cost to you. Please read my disclosure page for more details.
Category: Paris
Today Annie Sargent brings you a conversation with Eva Jorgensen about the Paris Saint-Ouen flea market. It is one of the biggest, most famous flea market in the world. This flea market gets almost 5 million visitors a year which is impressive because it's only open 3 days a week!
In this episode of the podcast, we talk about vintage clothes shopping, antiques, and wonderful old items you could bring back in your suitcase. It's really about the thrill of the hunt, and the wonderful surprises you might find at the Marché aux puces de Saint-Ouen.
Eva is the author of Paris by Design.
I have been hesitant to recommend a visit to this flea market BECAUSE it has a mixed reputation. I don't mean the market per se has a mixed reputation; the market has a great reputation. The issue is the neighborhood.
The Saint-Ouen Market AND the Saint-Denis Cathedral are both "dans le 93" which is the Seine Saint Denis department. It is densely populated, younger than average, has the lowest average income in France, and if you follow French news you hear about problems in the 93 a lot.
Should that stop you? Having talked with Eva and having been in that department myself, I don't think so! BUT this is the sort of place where it's best not to wander around aimlessly.
As you know, there are public transportation options everywhere in Paris. On the map, they all look the same. In reality, some stops are much worse than others and in this case Google maps sends you to the less desirable metro stop! I think there's a right way to get to the Saint-Ouen flea market and a wrong way to get to the Saint-Ouen flea market. Listen up, Eva will tell you how to navigate like a pro!
She also lists her favorite parts of the market so you can go straight to the best and most scenic parts of this large flea market.
10 Pro Tips About the Paris Saint-Ouen Flea Market
Go on a Monday if you'd like to see it on a quiet day.
Fridays: Supposedly the flea market is ONLY open on Friday mornings for dealers. Eva went on a Friday morning and nobody asked if she was a dealer (she's not). So, if you can only go on a Friday, it's also a possibility, but only in the morning.
It's best to AVOID the Porte de Clignancourt metro stop, even though that's the way Google Maps will tell you to go. If you go that way you'll run into the giant highway and all the people who setup on the sidewalk and sell junk and trinkets. Generally, Annie avoids any metro stations called "porte de" around Paris as explained in Episode 194 about Dicey Paris neighborhoods.
You'll have a better experience going to the Garibaldi metro station on line 13. You cross the street and go through the garden on the side of the church (called Notre-Dame-du-Rosaire-Saint-Ouen, it's big, you can't miss it) and you'll exit the garden at rue des Rosiers (93400) turn right and walk 1 kilometer. You'll enter at the back of the Paris Saint-Ouen Flea Market.
Part of Saint-Ouen is definitely sketchy, but if you take this way to the market, you'll walk through a quiet residential neighborhood. Eva walked there by herself and felt totally safe going that way, whereas she didn't enjoy going via the Porte de Clignancourt station. See map below.
If you arrive at the Paris Saint-Ouen Flea Market via the Garibaldi metro station, you'll get to the Marché Paul Bert first. One way to make sure you don't miss it is to tell your favorite map app on your phone to take you to a restaurant called Ma Cocotte.
Stick to the market itself, it is completely safe.
At lunch time notice how several vendors will eat together around a folding table and maybe play some cards or something. It adds to the friendly atmosphere.
At the Paul Bert café don't miss the chocolat chaud à l'ancienne (hot chocolate), Eva also likes the classic bistro lunch like croque-madame with a side salad.
Le Comptoir des Puces is a little hideaway place inside of Marché Serpette, a great place for a break.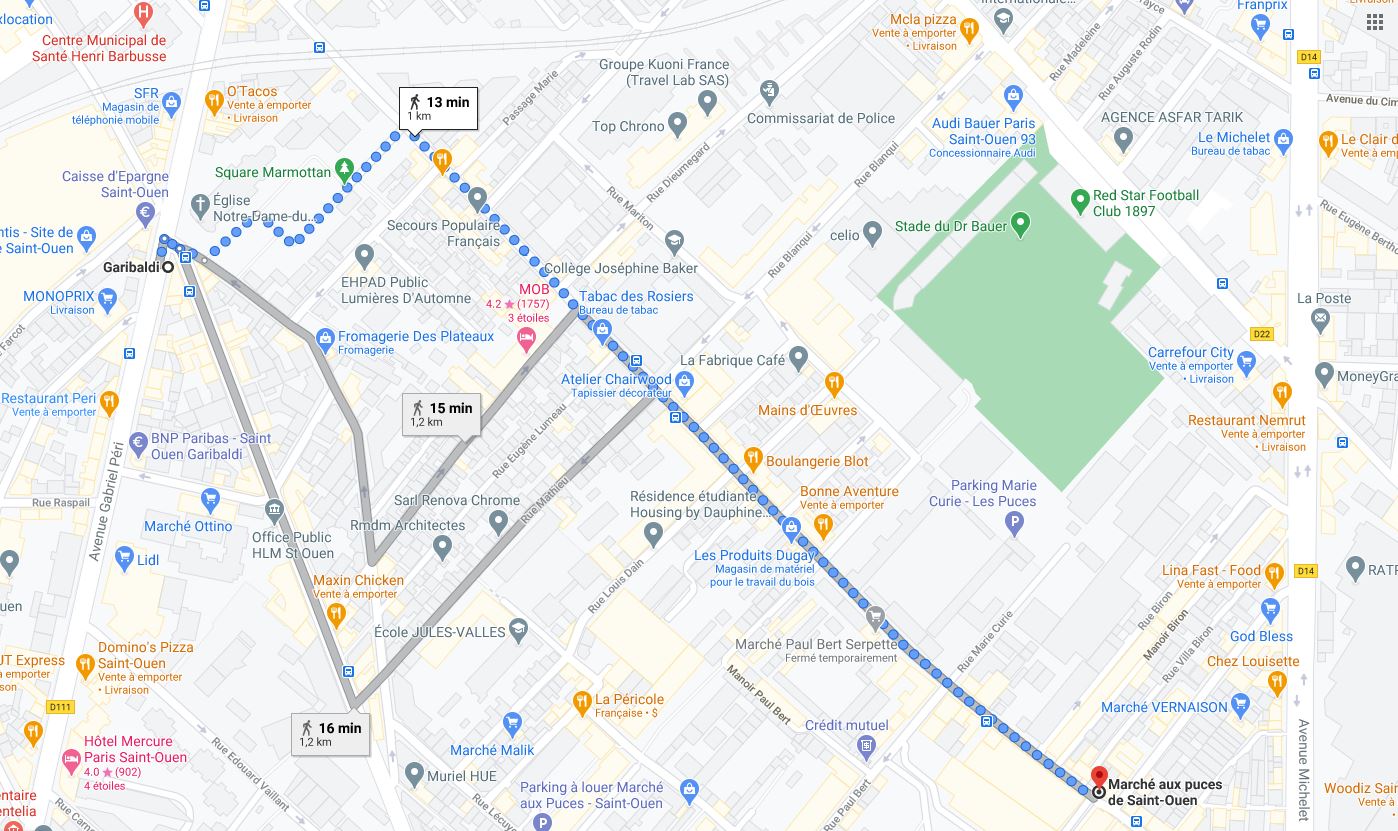 Key Takeaways from this Episode
Don't be intimidated by the location, it's perfectly safe once you know how to get there. And even if you didn't, it would probably be fine even if you walk through the more unsavory parts of town.
You don't need to learn how to bargain in French before you come. It's not that sort of place, even though you could bargain a little bit if you enjoy that.
Most vendors take credit cards, but for the few who may not there is an ATM in the Paul Bert market.
Eva's Favorite Vintage Clothes Stores in Paris
These are not necessarily in the Paris Saint-Ouen Flea Market, but in central Paris for those of you who don't have time to go to the flea market.
Adom for clothing: just a tiny shop, not a thrift store but a vintage clothes place where the clothes are curated carefully. This is in the 11e arrondissement.
Thanks God I'm a VIP: beautiful vintage pieces where all the clothes are arranged by color. It is in the 10e arrondissement.
Guerrisol is a swift store. You can find great cheap deals but you have to dig.
Au Petit Bonheur la Chance: it's a little bric à brac where you can find adorable small vintage items. It is also right in the Marais!
Librairie Alain Brieux: they specialize in antique science books and old scientific instruments and they are in the Saint Germain des Prés area.
FOLLOW US ON:
Subscribe to the Podcast
Apple
Google
Spotify
RSS
Support the Show
Tip Your Guides
Extras
Patreon
Audio Tours
If you enjoyed this episode, you should also listen to related episode(s):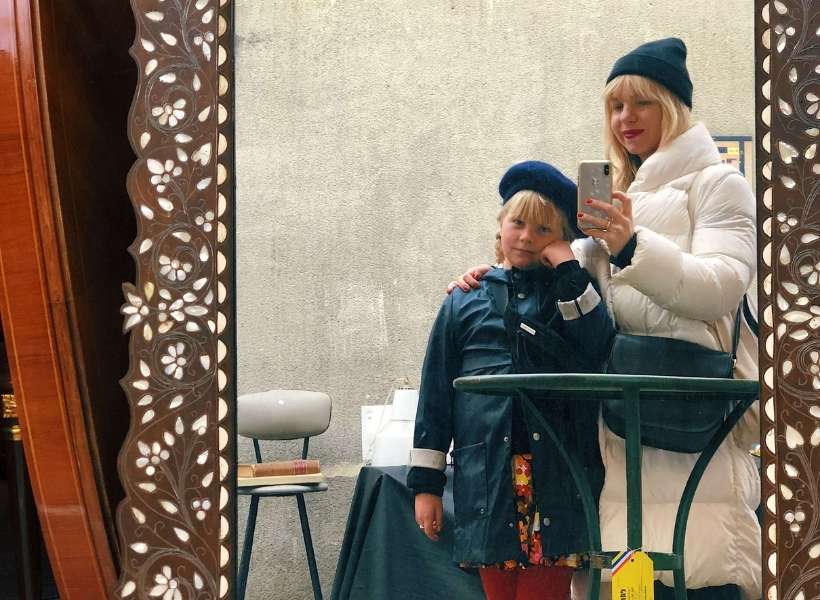 Read more about this episode
Show Notes
Guest Notes
Category: Paris