Categories: Museums in Paris, Paris
This episode features our frequent and very popular guest Elyse Rivin. If you enjoy her episodes, please consider supporting her on Patreon.
This is Join Us in France Episode 343.  Bonjour, I'm Annie Sargent and Join Us in France is the podcast where we look around France so you can best enjoy France as a destination. We talk about French culture, history, gastronomy and everything it takes to have a lovely experience in France. Today I bring you a conversation with Elyse Rivin about the Carnavalet Museum in Paris, we went together recently and have a lot of recommendations about how to best enjoy this fantastic museum.
If you like what we do here at Join Us in France, consider supporting us by visiting my boutique to check out my cookbook, tours and services. I turned off the purchase page for my itinerary reviews until July 21 because I was getting so many orders I couldn't keep up. I'm also taking off for the beach in Spain shortly and while there I want my to-do list to be as empty as possible. I'll keep releasing an episode of the podcast every Sunday and I'll keep making content for patrons, but if you'd like an itinerary review go back to the boutique after July 21st 2021.
And I want to remind you that Elyse who is such an integral part of this podcast and puts a lot of her time and energy into it ALSO has a Patreon page and I would love to see her get more support from all of you. Go to Elyse's Corner to let her know how much you appreciate her! It's just a few dollars a month and it'll make such a big difference!
Follow Addicted to France on Instagram to see my photos of the Carnavalet museum, I took way too many and I'll post them this week on Instagram.
The best way to stay in touch with Annie and with the podcast is to sign up for the newsletter here I'll probably be sharing beach photos (because I'll be going on vacation myself), I hope you can stand it!
About the Carnavalet Museum
The Carnavalet Museum is in the Marais district not far from the Place des Vosges. There are a lot of "hôtels particulier" (private mansion) in the Marais because once the Place des Vosges became the place to be for French royalty, everybody else who had money wanted to be there as well.
Other mansions in the Marais are now museums such as the Picasso Museum, the National Archives, the Sully mansion (you can only go in the courtyard of that one). Carnavalet is on rue de Sévigné, named after Madame de Sévigné the famous author and socialite. The Marquise de Sévigné lived in this gorgeous mansion.
The Best Pieces at the Carnavalet Museum
In French we say these are "incontournables" meaning they are so big you can't go around them. Here is the page of "les incontournables" of the Carnavalet museum. Look at the list and see if you can find them all when you visit in person!
How to find out about events when you're in Paris
All big events get advertised in the metro. Some of the ads are a bit obscure, but many will tell you about plays and concerts, etc. You could also get the Pariscope magazine when you get to Paris.  It's only 50 cents!
Three biggest new venues in Paris in 2021
Paris is reopening to new visitors with 3 exciting new museums:
The Carnavalet Museum that we just talked about at length.
La Bourse du Commerce aka the Pinault private modern and contemporary art collection. Not my cup of tea, but definitely beautiful and interesting.
And le Musée de la Marine which is on the North side of Place de la Concorde and was a hotel particulier in Paris, then transformed into the headquarters of the naval branch of the French army, has been closed to the public for years, totally renovated and is now reopened as a museum and eye candy for both French people and foreign visitors. I haven't been but I really look forward to it.
Even if you've been to Paris several times, there is still more to see and do!
FOLLOW US ON:
Discussed in this Episode
Marquise de Sévigné
Pariscope
La Bourse du Commerce
Le Musée de la Marine
Subscribe to the Podcast
Apple
Google
Spotify
RSS
Support the Show
Tip Your Guides
Extras
Patreon
Audio Tours
If you enjoyed this episode, you should also listen to related episode(s):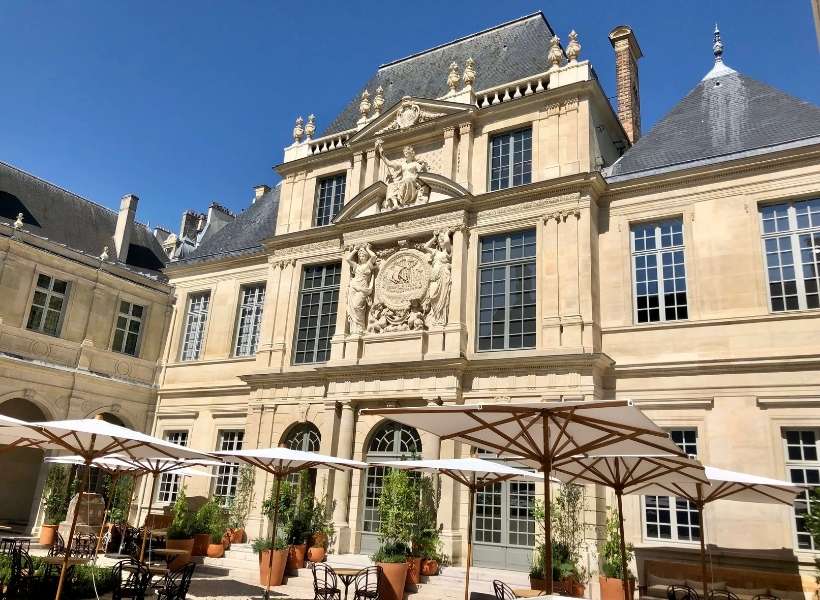 Categories: Museums in Paris, Paris