This post contains affiliate links, meaning I get a commission if you decide to make a purchase through my links, at no cost to you. Please read my disclosure page for more details.
Categories: Normandy & Brittany, Off the Beaten Track in France
Most people know about the fabulous wines we have in France. But how much do you know about the Normandy Cider Route? I didn't know much about it either until I talked to Ria Windcaller who knows all there is to know about cider. Not just the cider you can enjoy in Normandy, buy cider all over the world!
On today's episode Ria shares all her favorite cideries to visit along the Normandy Cider Route and helps us make sense of the appellations you'll encounter when visiting the area.
There is no wine production of any scale in Normandy. But the area is perfect for growing special varieties of apples and pears for cider production. And over the centuries they have definitely perfected the art of making delicious ciders, calvados, and poiré as discussed in this episode.
You Need a Car to Visit the Normandy Cider Route
There are a few places in France where it's impossible to visit an area without a car and the cider route in Normandy is one of them.
Renting an automatic car is not as difficult as it used to be in France, but depending on the place where you'll pickup they may or may not have a car that suits your needs. Shop for your rental car in advance!
Best Times to Visit Normandy
Either go during blossom season in May or in the fall in September. You are more likely to have sunny conditions in September in Normandy than in May. But this is Normandy, it rains a lot! September is a great time to visit Normandy also because the fruit is on the trees and you can taste the fruit that cider is made with. It won't taste as great as eating apples or pears!
You need 4 days to see all the places we've mentioned in this episode. You should plan on stopping at 2 or 3 cideries per day. You don't want to stop at too many unless you have a designated driver!
The Making of Cider
There are specific regions in the world that lend themselves to making cider. There are varieties of apples that are great for cider and others that are not. Cider apples are not the same as eating apples. The same is true with cider pears and wine grapes.
Making cider can be as complicated as making champagne. As a matter of fact some of the producers use the same methods used for champagne!
Cidre Bouché
Cidre Bouché is a bottled cider vs. a barrel cider. They can use a bottle conditioning that's similar to champagne making or use forced carbonation. These methods yield different flavors and sizes of bubbles. These ciders use a traditional method specific to the Pays d'Auge and it's a delightful cider to have with bread and soft cheeses.
Calvados in Normandy
Calvados is distilled cider. They start with a cider made with a specific variety of apples (called Calvados as well) and then distill it to make a strong alcohol that's a little bit like Armagnac. Very strong, very dry.
Cider for Kids in France
In France you will find cider for kids called "cidre doux" and cider for grown ups called "cidre brut". Cidre doux has a little bit of alcohol in it (around 1 or 2 %) so you don't want to serve it too liberally to the little ones.
In France We Mostly Drink Cider with Crêpes
In France it is traditional to order a pitcher of cider (either "doux" or "brut" when you're at a crêperie enjoying either savory or sweet crêpes. It is not something most French people would order at a bar or for a wedding.
Having said that, things are starting to change! Some cider producers are making drier ciders that doesn't have so much of a French Normandy farmhouse funk to them.
Most ciders in France have 6% alcohol which is lower than many Americans ciders. A few French cider producers add hops or hibiscus flowers or peppercorn. It's not happening a lot in France because we're such a traditional country.
Cider in the Basque Country
Cider is also big in the Basque County where you find restaurants that do a whole production about serving cider straight out of a big barrel.  Most serious cider makers credit the Asturias and Basque regions for inventing cider to begin with.
Best Places to Stay to Drive the Normandy Cider Route
Lisieux
Lisieux is a good place to stay when exploring the Normandy Cider Route because it's larger than Cambremer, you have more choices for hotels.
Lisieux is also really close to the stops on the Cider Route, has a large Cathedral, has some nice restaurants. But Lisieux is NOT super scenic as far as French towns go.
Honfleur
A more scenic place to stay when exploring the Cider Route is Honfleur. It is on the coast, so you'll need to do a little bit more driving to get to the tasting rooms, but it is so charming it is probably worth it!
Honfleur is very romantic, the harbor is gorgeous, the old town is amazing. It is a great stepping off point for sight-seeing. There's also a Ferris wheel in Honfleur for kids all through the summer.
Best Places to Buy Cider in Normandy
At grocery stores in France you'll find a large selection of wines, but not so many choices of cider. This is true even in Normandy!
So, buy all the cider you want when you visit the producers, because you may not find that brand again anywhere else in Normandy!
There is a store that specializes in selling French products in Honfleur, you'll find many ciders there.
Otherwise you'll have to go all the way to Carrouges. Carrouges is a small village much further south than the places we're talking about today. It is located inside the Parc Régional Natural Normandie-Maine. There is an impressive chateau you can visit in Carrouges, and also a visitor's center  (Maison du Parc à Carrouges).
Remember, there is cider production all over Normandy and Brittany, not just around Honfleur and the cider route!
Along the Cider Route in Normandy
The official Cider Route in Normandy (La Route du Cidre in French) is about 40 kilometers long. But you can find cider anywhere in Brittany and Normandy. This is just one area that is getting promoted as the cider route.
The Normandy Cider Route is well marked, it's easy to follow. You could easily spend two to four days going around all the cider-making farms.
Cambremer
Cambremer is right in the heart of the Route du Cidre. There are lots of producers right around that area. These are producers that are used to doing tours. They have products like "cidre bouché" and "pommeau".
Cambremer is an exquisite little town of about 2000 that has a little cheese museum. You can go to Pierre Huet cidery for a visit. It is very small, you may find an AirBnbB there, but no hotels.
There are a couple of churches, a "manoir", Simone Veil (famous French politician) had a house there.
Notable Normandy Cider Makers to Put on Your List
Domaine Dupont
Near Cambremer you should visit Domaine Dupont, a famous brand that produces a fantastic calvados and innovative ciders. There's a lovely tasting room on the site. This is a brand connoisseurs of cider will recognize in the US and will definitely want to put on their list.
Père Jules
Also close to Cambremer is Père Jules.  This is a father and son calvados and cider making company. Their tasting room is lovely tasting room and their products are famous and exported to the US as well.
Manoir d'Appreval and Agathe Letellier
One of the few women to make cider, and very successfully so. Manoir d'Appreval is one of Ria's favorite and is located close to Honfleur. Agathe is well-respected in the cider industry and offers great tours including a Normand Buffet. A very inviting and knowledgeable person.
Other Places to Consider Visiting Near the Cider Route
Etretat
There isn't much wine production north of Honfleur, but when you're in the area you should really consider a visit to Etretat. We've done an episode about it, it is one of the most scenic places in the world!
Domfront
In the southern part of Normandy you'll find both cider and poiré, which is a type of cider made with pears. Producers in Domfront are farmers for the most part, their calvados is made from poiré rather than cider and it's very delicate. This is an unknown part of Normandy for Americans, Ria had the first tour for Americans there.
Around Domfront there is a Route du Poiré and there's a Musée du Poiré too, both worth it.
Recommended AirBnB near Domfront
Bagnoles de l'Orne
This is a popular thermal town. They have a cider on tap that is wonderful made by Eric Bordelet who was a famous sommelier and is not applying his know-how to cider. There are also mushroom farms in that area.
Recommended Hotel in Bagnoles:  Hôtel Ô Gayot
Caen
Caen is going to host the World Cider Expo in February 2020, it'll be fun and Ria is hoping to visit.
French Cider Producers Are Reaching Out
French cider producers have traditionally been very low-key. Cider has a quaint image linked to specific areas of France and specific traditional foods. But that's probably going to change as French cider producers are realizing that they have a great product and shouldn't be shy about it.
Pomze Restaurant in Paris
There is a cider-centric restaurant in Paris called Pomze and it's a great place for people who are curious about the cider scene in France.
For more information about Ria's Cider Tours visit Ria's site.
FOLLOW US ON:
Discussed in this Episode
Lisieux
Honfleur
Pays d'Auge
Cambremer
Hard Cider
Cidre Doux
Cidre Brut
Cidre Bouché
Pommeau
Poiré
Calvados
Cider in the Basque Country
Cidery
Cider Mill
Domaine Dupont
Père Jules
Manoir d'Appreval
Subscribe to the Podcast
Apple
Google
Spotify
RSS
Support the Show
Tip Your Guides
Extras
Patreon
Audio Tours
If you enjoyed this episode, you should also listen to related episode(s):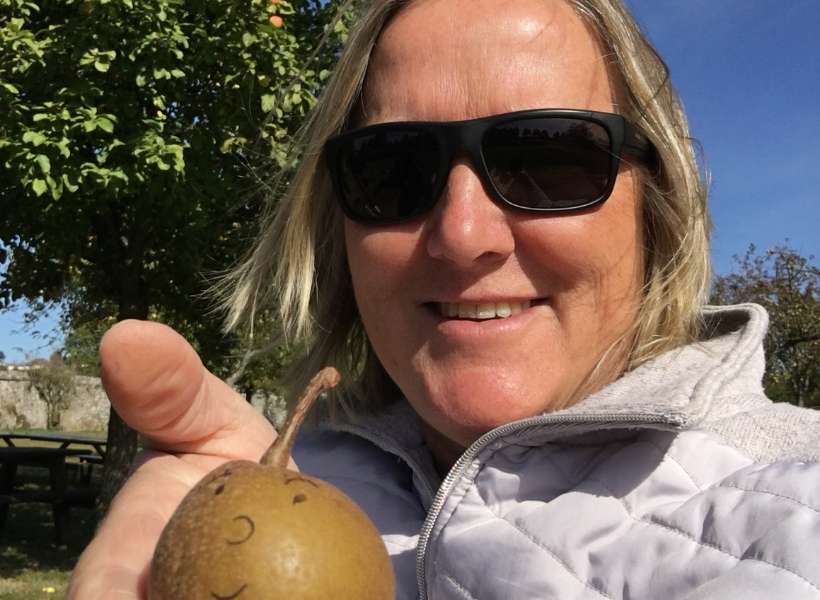 Read more about this episode
Transcript
Categories: Normandy & Brittany, Off the Beaten Track in France