This post contains affiliate links, meaning I get a commission if you decide to make a purchase through my links, at no cost to you. Please read my disclosure page for more details.
Categories: French History, Lyon Area, Off the Beaten Track in France
Today I bring you a trip report with Cindy McBrayer about Le Chambon-sur-Lignon a place of refuge. During WW2 this small town and neighboring villages became a heaven for Jewish children who were on the run from the Germans and from French authorities who collaborated with them.
I'm always surprised by how many novels get released today but are set in WW2! This is a fascinating time period when humanity's best and humanity's worst had to battle it out and decide who was going to come out on top. The folks of Le Chambon sur Lignon made the most generous and courageous choice and we talk about it today.
It's also a lovely place to visit and definitely off the beaten track. I should mention that we often refer to it as Chambon in the episode, but it's Le Chambon-sur-Lignon that we're talking about, there's another town 2.5 hours drive away called Chambon, don't go to the wrong place!
Le Chambon-sur-Lignon, a Place of Refuge
Cindy has been to Le Chambon-sur-Lignon twice. She first heard about it when she visited the Holocaust Museum in Washington DC. She knew it was off the beaten path 1 hour and 40 minutes south of Lyon, but she wanted to make arrangements to go there.
Her first visit to Chambon-sur-Lignon was with a few friends who were also French teachers and needed someone who was comfortable driving in France. On that visit they also went to Lyon and Vichy.
The second visit took place the following year and in the meantime she had learned a lot more about it by reading the books listed below. They had a chance to attend the Protestant church that started this movement to save Jewish children. On that visit they also made several spots having to do with the mustard industry which is a big deal in that part of France.
Chambon-sur-Lignon is in the Ardèche, the landscape is beautiful, you drive on small scenic roads. It's also in a wooded mountainous area with lots of active recreation opportunities.
Recommended in this Episode
Lovely inn in Rochepaule, 30 minutes away from Le Chambon.  Hotel L'Escapade (converted private school).  Owners live on site, and have a well-known, lovely small restaurant "Restaurant Maryse et Eric".   Reservations recommended.
Books About Le Chambon
The latest, and an EXCELLENT book about Le Chambon, then and NOW….is The Plateau, by Maggie Paxon. If you can only read one, make it this one!
Article about Le Chambon from Time Magazine
Village of Secrets, Defying the Nazis in Vichy, France, by Caroline Moorehead
A Good Place to Hide, How One French Village Saved Thousands of Lives during WWII, by Peter Grose. This one is easy to read.
Lest Innocent Blood Be Shed, by Phillip Hallie
Hidden on the Mountain, by Karen Gray Ruelle. (stories from surviving children)
Le Chambon-sur-Lignon, Righteous Among the Nations
When you enter the village you see the plaque where they indicate that this place has received the distinction of being called Righteous Among the Nations. This honor is given by the Yad Washem World Remberance Center in Jerusalem.
After visiting several sites where horrible things had happened like Auschwitz, Le Chambon-sur-Lignon was a bright light in the dark history of WW2.
What You'll See at Le Chambon-sur-Lignon
They have a small museum which is a "Lieu de Mémoire" (a place of dedicated to remembrance) where they hold events year-round. Most things are in French in the museum.
Across the street is where the Protestant church stands and that's where this whole thing started. The minister at this church was a pacifist. His name was  André Trocmé.   One Sunday he started preaching a series of sermon that have become famous under the name Weapons of the Spirit.
The idea was to take care of Jewish children who had been left behind in concentration camps when their parents were deported. Protestants had been prosecuted in France for a long time, they could relate to the plight of the Jews.
You can download a walking tour map of the village here.
Incidently, this is also an area where they had summer camps for kids. It wasn't unusual to have strange kids around. So this was a good place to hide almost in plain sight.
Today the village still has training camps for professional sports teams that go prepare for big events. It's a popular place for French tourists, but not as much for English-speaking visitors. This is a great place to go hiking and biking and swimming, etc.
How the People of Le Chambon-sur-Lignon Saved Children
Local families "adopted" children, changed their names, integrated them into their own families and declared these were their kids. Sometimes it was safest for the children to go hide in various farms when soldiers came around actively looking to make arrests. There was a whole network of families who cooperated and took care of the kids by blending them into the community.
They are credited for saving as many as 5,000 children by doing this. When the Germans came snooping the kids ran off to hide in the woods and the villagers sang songs to let the kids know it was safe to come back.
Heroic Deeds Done Quietly
The villagers did all this without boasting about it. As a matter of fact they kept quiet about it for generations. Maybe they were inspired by the Bible verse "But when you give to someone in need, don't let your left hand know what your right hand is doing." (Matthew 6:3). To this day they don't really talk about it.
The daughter of André Trocmé lives in the US where she's a French teacher and she talks about what happened during WW2 in this video. It's fascinating to see how humble they all were about this.
Not to Miss in Nearby Lyon
WW2 history fans, these are must-see sites!
The Resistance Museum in Lyon (not huge but really interesting, check opening times).
The Montluc Prison where they held and killed Jean Moulin as well as many prisoners of war an Jews. Klaus Barbie, the Butcher of Lyon, was in charge of this prison and was found guilty years later of war crimes her committed there.
Le Chambon-sur-Lignon Is Still a Place Where Refugees Are Welcome
If you look at Le Chambon today, it is still a place where they welcome refugees and bring them into their homes and help them go to school, etc. They took in Spanish refugees during the Spanish Civil War. Now they take refugees from Syria. The spirit of compassion never dies.
Other Places to Visit Nearby
Izieu near Chambéry and not too far from Annecy is a place where there was a boarding house there that also housed Jewish children. They had 44 of children there and Klaus Barbie had them taken and sent to concentration camps where they lost their lives. Only 2 of the children managed to escape. You can still go into the boarding school to see how they lived, it's a sad but beautiful place. The museum there near the school is very good with a lot of information about the trial of Klaus Barbie.
La Grotte de Chauvet is a little south of there, but it has a wonderful reputation and well-worth a visit.
Les Cevennes and the Parc National des Cevennes are beautiful and rural.
Tence is one of the larger small towns in that area, a good place to do some shopping. This is a rural part of France, don't expect stores to keep long hours!
The TV Series Un Village Français takes place in this area as well.
FOLLOW US ON:
Discussed in this Episode
Le Chambon-sur-Lignon
WW2 sites in Lyon
Izieu
Les Cevennes
Tence
WW2 book recommendations
Driving in France
Subscribe to the Podcast
Apple
Google
Spotify
RSS
Support the Show
Tip Your Guides
Extras
Patreon
Audio Tours
If you enjoyed this episode, you should also listen to related episode(s):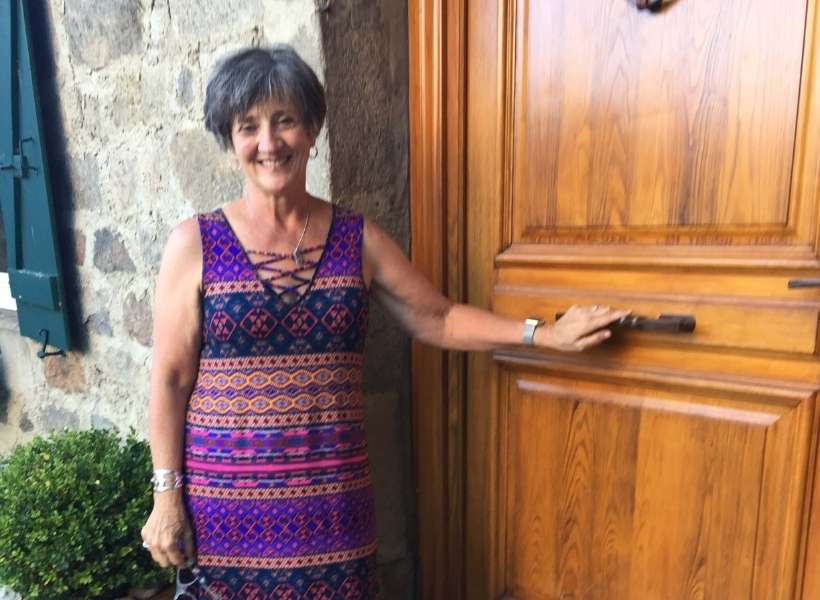 Read more about this episode
Guest Notes
Categories: French History, Lyon Area, Off the Beaten Track in France