Categories: French History, Lyon Area, Off the Beaten Track in France
Discussed in this Episode
Le Chambon-sur-Lignon
WW2 sites in Lyon
Izieu
Les Cevennes
Tence
WW2 book recommendations
Driving in France
I first heard about Le Chambon when I picked up a copy of the French movie at the Holocaust Museum in Washington, D.C.  That is where my interest began.  I always wanted to visit, but it is quite "off the beaten path", and I knew it would take a special circumstance to get me there.
That opportunity came when a couple of my teacher friends received a grant to visit WW2 Nazi and Resistance sites during the summer of 2016.  Since many of the places they wanted to visit were "off the beaten path", they determined that renting a car would be necessary, and asked me to go along and be their driver.  When they told me they planned to visit Lyon, Vichy, and Le Chambon, I knew I had to go!
There are several small roads that will take you to Le Chambon from Lyon, and all are beautiful.  We stopped many times along the way just to take in the quaintness and the scenery.  We bought food to have a picnic when we arrived at Le Chambon.
(1). Plaque at entrance to town…..After visiting several "sad" sights pertaining to WWII  and the Holocaust, it was a blessing to set foot on what truly felt like "holy ground".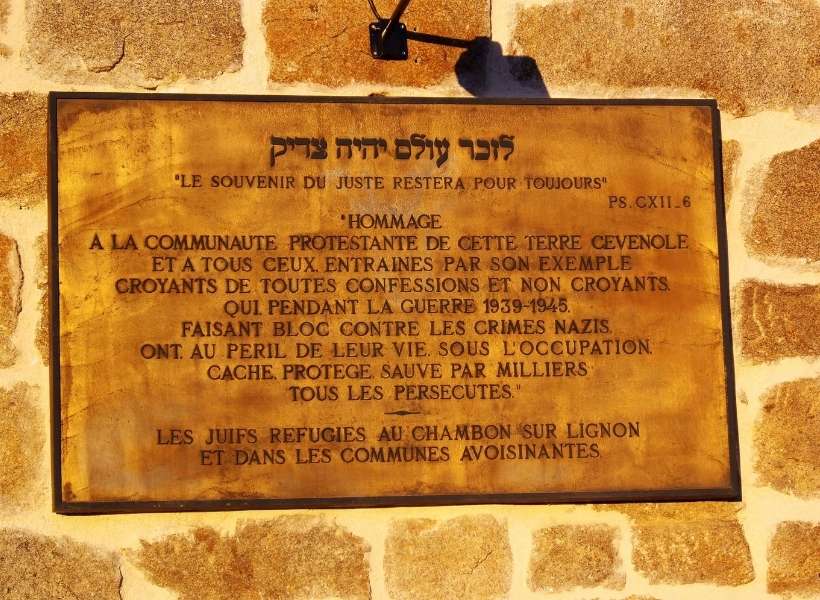 (2). Lieu de Memoire. Small, beautiful museum with a lovely memorial garden. Open March 1 thru November 30. Low Season:  March/April and October/November, Wed-Sat 2-6 p.m. High Season: May thru September, Tues-Sun 8-12:30 and 2-6 p.m. Cost:  5 €
This museum opened in 2013 to accommodate the visitors to Le Chambon who wanted to learn about the history.  As I recall, everything is in French.  They also host speakers, survivors, and temporary exhibits pertaining to the history of Le Chambon.
(3)   Protestant Church (across from Museum) where Andre Trocme preached infamous sermon "Weapons of the Spirit."  Trocme was a pacifist.  Managed to unite the Protestants, Catholics,   Agnostics and Atheists with the common goal of protecting the Jewish children.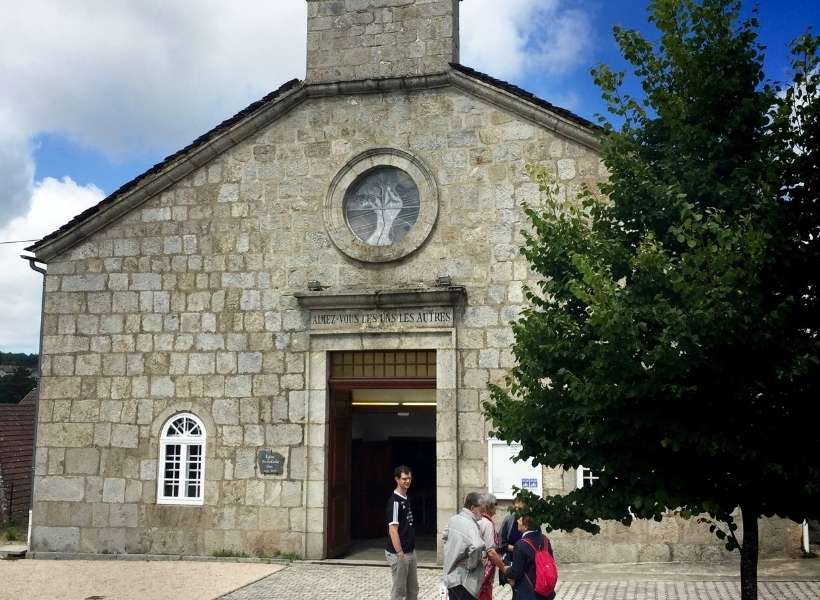 This entire area was an area of summer camps and recreation facilities (summer and winter), and it was not unusual for there to be a lot of children in town who were not from there.  The people took children into their homes, gave them new identities, hid them with farmers in the countryside when the Nazis came snooping, and eventually helped them escape into Switzerland.
The entire community just saw this as "the right thing to do", and didn't think they should take credit get any recognition for it.   It wasn't until 1990 that they accepted the Righteous Among Nations distinction from Yad Vashem in Jerusalem.  (It is still hard to find someone who will talk to you about the historical significance of Le Chambon.)
Second Visit:  After spending a couple of hours that afternoon in Le Chambon, I knew that I wanted to return and spend more time.  (We had a short amount of time there, as we arrived mid-afternoon and things began closing).  I wanted to sit inside the church where Andre Trocme preached his infamous sermon….perhaps even attend a Sunday service there.  I wanted to stay in the area and soak it in.
I read several books about Le Chambon, and became familiar with names of people and places in the town that were instrumental in the efforts to hide children during the War.  These became places I wanted to see on my return visit.
So, the following year we planned another visit.  Flew into Paris, rented a car, drove down to Lyon (via Dijon and Beaune), and re-visited the Resistance Museum in Lyon.  We also visited the Montjuc Prison in Lyon.
(4). Musée de la Résistance et de la Déportation (Museum of the Resistance and Deportation) open Wed-Sun 10-2 and 2-6 admission 8 euros  14 Avenue Berthelot
(5).  Montluc Prison open Wed-Sat 2-5:30 4 Rue Jeanne Hachette.           Jean Moulin was imprisoned there.  (Father of Resistance) Klaus Barbie was imprisoned there after the war.  (Butcher of Lyon)
Drove to the Haute-Plateau area, and stayed in a lovely inn in Rochepaule, 30 minutes away from Le Chambon.  Hotel L'Escapade (converted private school).  Owners live on site, and have a well-known, lovely small restaurant "Restaurant Maryse et Eric".   Reservations recommended.
(6). Hotel L'Escapade….Rochepaule.  (Cash, no credit)
(7). Restaurant Maryse et Eric. (Reservations, 25E menu)
(There ARE hotels in Le Chambon, but we were looking for a more quaint Bed and Breakfast environment.). This one was highly recommended on Trip Advisor, so we decided to give it a chance.  We spent 2 nights there, and it was wonderful.  Perched high on a hill with views all around.)
We planned our trip so we would have time in Le Chambon on a Sunday.  We went to church at the Protestant temple, and then went to the Information Center where we were given a map that showed where the important houses and sites were concerning the WWII activities.  We saw the parsonage where Mr./Mrs. Trocme began receiving refugees.  We saw the farm houses and schools where children were hid.  None of these were well marked, so we had to really use our map skills well.  We traipsed through the cemetery to see if we could find the Trocme family plot (we weren't even sure it was there).  To our delight, we found it rather quickly.
(8). Trocme plot
We ate lunch at a lovely creperie called La Mandarine right off the main square.  We found that the people of Le Chambon were still rather humble about the heroic reputation of the village, but one or two were willing to talk to us and appreciate that we were there to educate ourselves about the history.
Le Chambon is still known for welcoming refugees.  There are refugees there now from Syria…..it is in the DNA of the descendants of the people who sheltered children during WWII.
A recent article in Time Magazine (September 2019) tells of Le Chambon today, and their welcoming attitude to refugees from anywhere and everywhere.
Subscribe to the Podcast
Apple
Google
Spotify
RSS
Support the Show
Tip Your Guides
Extras
Patreon
Audio Tours
Read more about this guest-notes
Episode Page
Categories: French History, Lyon Area, Off the Beaten Track in France