This post contains affiliate links, meaning I get a commission if you decide to make a purchase through my links, at no cost to you. Please read my disclosure page for more details.
Categories: First Time in Paris, Paris
The 5th arrondissement in Paris is one of Annie's favorites. It also goes by the name Latin Quarter which is its historical name. Visitors don't need to worry too much about different names used in this area because often in Paris you change neighborhood just by crossing the street!
Good budget hotel at the edge of the Latin Quarter and Saint Germain des Prés: Le Petit Belloy. The rooms are tiny, but if you can get room 602 or room 603 you'll see the Eiffel Tower from your tiny balcony!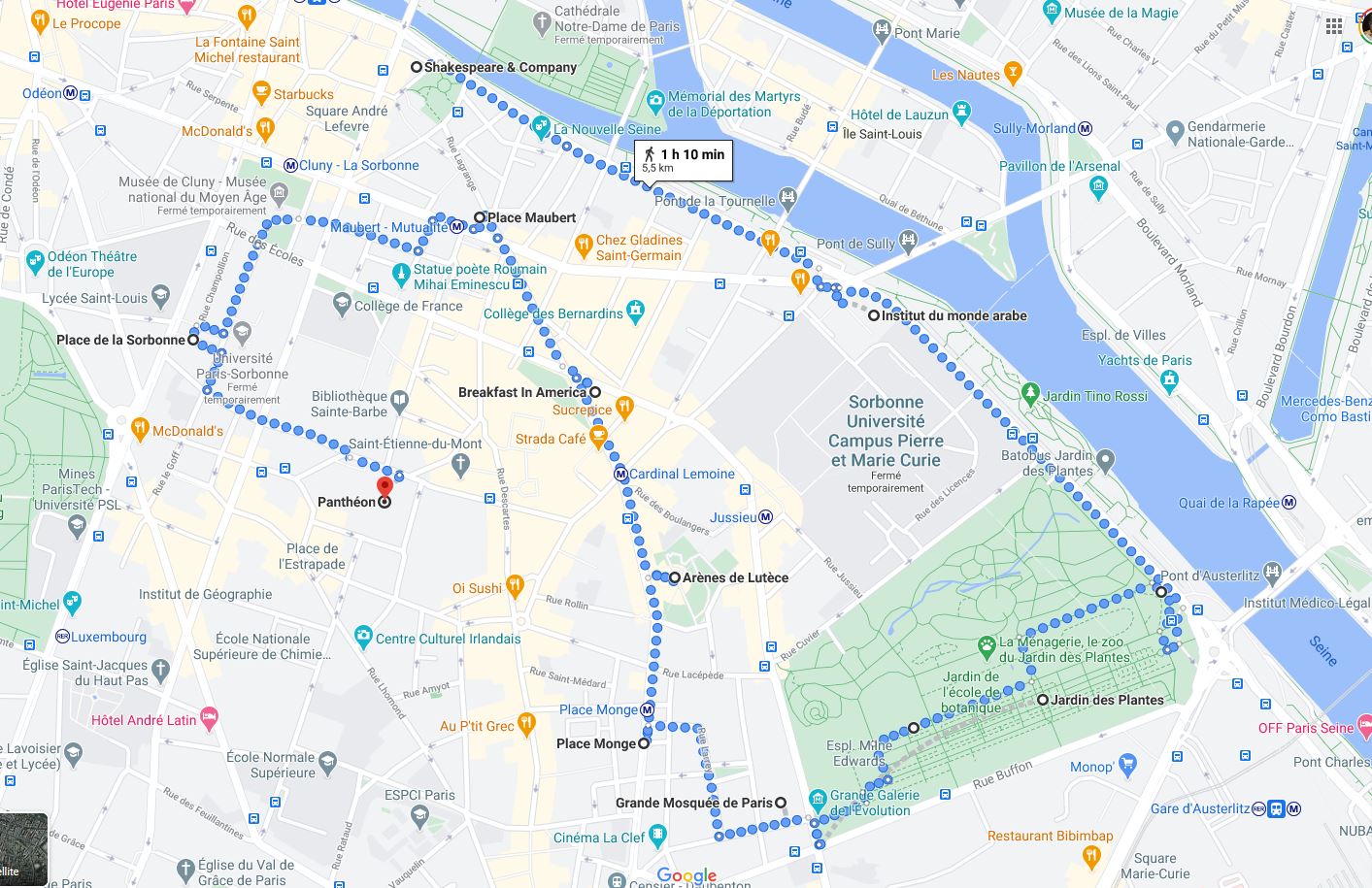 Latin Quarter Highlights
If you're facing the famous bookstore called Shakespeare and Company, you have Notre Dame Cathedral behind you and to your left. To explore the Latin Quarter you'll walk along the Seine river all the way to the Jardin des Plantes.
Along the way you'll come across many "bouquinistes" and their little green book stalls that have been around for over 100 years. The bouquinistes have morphed into souvenir stands to some degree. These are concession stands and some have been in the same hands for a long time.
You walk past the Jardin des Plantes and then you take a right. Along the way you'll walk by Quai Saint Bernard along the Jardin des Plantes and there are often groups of dancers doing the tango. You'll also walk by the Institut du Monde Arabe and its marvelous panoramic terrace that you can access for free. You'll get a great view of the backside of Notre Dame from that terrace.
The Jardin des Plantes Is a Must-See with Children
If you're with children you MUST spend some time at the Jardin des Plantes. Not to be missed is the Galerie de l'Evolution where the building itself is stunning and it's a great place to show how animals have changed over time. The Galerie de Minéralogie is also wonderful. There's a zoo, the garden is beautiful, there are often amazing temporary exhibits. It's free for children but it's not included in the Museum Pass. It is still totally worth it! There are food trucks and lots of places to have a picnic.
La Grande Mosquée de Paris
This mosque was built by the city of Paris to honor the Muslim soldiers who fought with France during WW1. They are closed on Friday and close at various times during the day. The gardens are beautiful, the restaurant Aux Portes de l'Orient that serves great North African food.
Marché Monge
This is one of the quaintest outdoor markets in Paris. It's occupies place Monge, you can get there on the metro because it has its own stop. The market is open Wed, Fri and Sat in the morning. It's not very big, about 40 stalls.
Arènes de Lutèce
Right off rue Monge at number 49 you'll find the entrance to the Arènes de Lutèce. It looks like the entrance to a building, but it is your way into what's left of the old Paris Roman arena. It's a popular place for locals to hang out. You can climb all around. It's not the biggest Roman arena, but it's a fun stop.
Place Maubert
There is another food market on this plaza, it happens on on Tue, Thu and Sat, also in the morning. Mostly food and a cute place. There are all sorts of food shops that are permanently there.
La Sorbonne
On rue des Écoles you'll find an old American diner called Breakfast in America and a boulangerie called Paris and Company that won the prize for best baguette in Paris in 2019.
La Sorbonne is nearby but you can't visit it unless you have an appointment. It's pretty to look around. Make sure to walk to place de la Sorbonne
The Pantheon
This monument is on a lot of people's list. It started out as a church but was quickly turned into a monument to the memory of great French men. And for a long time it was men only. Voltaire, Rousseau, Zola, and a lot of completely unknown generals. I don't think they would ever put a general in the Pantheon today. They are looking for people who have made other sorts of contributions to French life.
Saint Etienne du Mont Church
One of the most beautiful churches in Paris. The church is also very famous because the steps on its side are featured in the movie Midnight in Paris. That's where Gill sits to wait for the magic car. There are stained glass windows that you can see at eye level in this church. It is a gem.
Rue Mouffetard and Plade de la Contrescarpe
This is a narrow partially pedestrian street that has a wonderful vibe. Half way down you'll run into place de la Contrescarpe, with fun cafés and restaurants. Ernest Hemmingway lived nearby. There is a plaque on 74 rue du Cardinal Lemoine. It's an interesting area. Rue du Pot de Fer also has a lot of restaurants.
More Latin Quarter Highlights to Visit
Also worth a stop is the Musée Marie Curie.  The Jardin du Luxembourg is nearby and also definitely a wonderful place to visit. The Cluny Museum is one of the best Museums in Paris. It is closed as I release this episode. The highlights there is the Lady and the Unicorn tapestry and the heads chopped off Notre Dame. Place Saint Michel has a lovely statue of Michael slaying the dragon. This is a famous meeting place.
Bâteaux Parisiens has a stop by Notre Dame where you can take a cruise. Vedettes de Paris are near the Pont Neuf.
FOLLOW US ON:
Subscribe to the Podcast
Apple
Google
Spotify
RSS
Support the Show
Tip Your Guides
Extras
Patreon
Audio Tours
If you enjoyed this episode, you should also listen to related episode(s):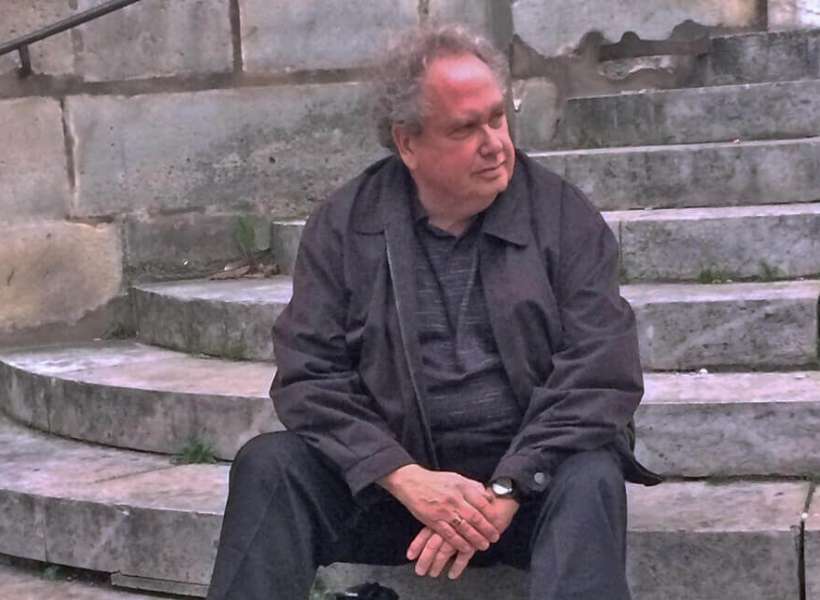 Categories: First Time in Paris, Paris