Categories: Arts & Architecture, French History
Cities all have to make painful decisions sometimes, and Paris is no exception. In the middle of the 1800s, Napoleon III ordered the destruction of many neighborhoods in order to modernize and beautify Paris. And he hired Haussmann to implement his vision. Most people agree that Haussmann avenues and buildings are beautiful. As a result, we forgive them. But we should keep in mind that it must have been painful for the people who lost their homes!
Some Renovation Plans Are Awful
But that is not to say that all renovation plans are all as judicious as what Haussmann did. For example, and this is the topic of today's episode, when the city of Paris considered razing the Marais to build "modern" high-rises, we can all be glad the plan failed. Just look at what they wanted to build below, that alone should persuade you!
How the Marais Neighborhood Was Almost Razed and What Le Corbusier Had to Do With It
Le Corbusier was a controversial and opinionated architect. When the city of Paris called for projects to modernize Le Marais, he jumped at the chance. What he proposed was a totalitarian-style monstrosity that would have solved the unhealthy building problem, but would have created many more.
Everyone loves the Marais neighborhood today, so it is hard to believe that at one point it was on the chopping block. This episode is the story of the circumstances that made such a near miss come about.
If you're interested in Le Corbusier, you may also want to listen to the episode about Marseille and its famous Cité Radieuse: Marseille and Provence with a French Expat, Episode 118
French Tip of the Week
"Avoir du charme à revendre". The Marais has so much charm it could sell some!
Le Halles de Paris Were Razed While the Marais Survived
Sadly, another one of the large historical buildings in the right bank was destroyed: les Halles de Paris or the main Paris food market. Les Halles moved to Rungis in the late 60s and two years later they started demolishing it.
Save
FOLLOW US ON:
Discussed in this Episode
Le Corbusier
Les Halles de Paris
Marais
Paris Urban Renewal
The Marais Neighborhood
Subscribe to the Podcast
Apple
Google
Spotify
RSS
Support the Show
Tip Your Guides
Extras
Patreon
Audio Tours
If you enjoyed this episode, you should also listen to related episode(s):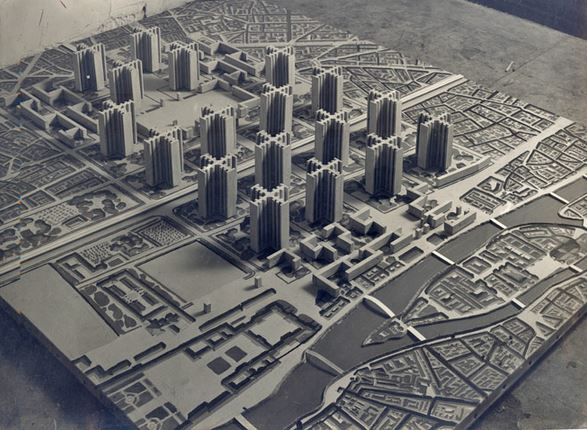 Read more about this episode
Show Notes
Categories: Arts & Architecture, French History