Categories: Day -Trips from Toulouse, Off the Beaten Track in France
This episode features our frequent and very popular guest Elyse Rivin. If you enjoy her episodes, please consider supporting her on Patreon.
Today Annie and Elyse talk about Foix and Niaux in the South West of France. We live nearby in Toulouse so we've been there many times and we know all the fun activities you can do there. Are you ready to visit bucolic countryside in France? This is the episode for you!
Foix and Niaux Are Favorites in this Area
We love the Niaux caves in particular, and the Castle in Foix. We also mention several other things you can do in the area that are particularly fun to do with children. Annie particularly loved the Forges du Pyrène, but she hadn't visited yet when we recorded this episode, so we didn't review it.
Off the Beaten Track in France
Foix and Niaux are not places that attract masses of visitors. The area was economically depressed for a long time, and it's still not as vibrant as they'd like it to be.
This is a place to go enjoy the countryside, take in the fresh air, hiking, hunting, fishing, etc. Go in the summer months or during school vacations in France otherwise you might be the only visitor around! The big attractions like the castle in Foix and Niaux caves are open year-round. Forges du Pyrènes is not open year-round, see their website for details.
A Great Day Trip from Toulouse
We've enjoyed the area many times personally because we live nearby. From Toulouse you can drive to Niaux and find yourself in a cave with paintings that are 15,000 years old within 90 minute's drive!And what a great visit it is!
Château de Foix
The château de Foix: the access ramp to the castle is cobblestone, it's a pretty steep walk that will take an hour or so to walk up, not stroller and wheelchair accessible.
There is a "Son et Lumière" Pageant in Foix in August.
There is also an International Festival of Documentary Film called "Festival Résistances" in July in Foix.
Gabriel Fauré and Pamiers
Musique au Pays de Grabriel Fauré takes place in Pamiers, near Foix. Gabriel Fauré's talent was apparent from a young age, yet he had a hard time making enough money  with his composing alone. He wrote some of Annie's favorite music, including Le Cantique de Jean Racine. Anything by Fauré is genius!
Pre-historical Painted Caves Near Foix
Here's a website (French only) that has information on all of the caves we mentioned in this area. The Ariège is not a touristy part of France, not too many people speak English.
Parc de la préhistoire
A wonderful place to visit with children. It is mostly outdoor, not a great plan on a bad weather day. You'll see a re-creation of some of the art inside the caves of Niaux, recreations of how things used to be.
Grotte de Niaux
You must book tickets in advance (unless there happens to be spots left in the off season). Go here for more information. Well-worth the trouble! Annie has visited many times and never gets tired of it.
Grotte de La Vache
People didn't usually live in painted caves such as Niaux. But they normally lived nearby, like in the Grotte de la Vache. This is a much smaller cave, the visit takes an hour, which includes walking up the hill a little bit. It is not a difficult walk, but not wheelchair accessible and probably difficult with a stroller.
Cave of Bedeilhac
I can't say much about this one because I haven't seen it yet. Have you? Leave a comment below to let us know what you thought!
Lombrives Cave
This cave has vast openings, large enough that Notre Dame de Paris could fit inside!
Underground River of Labouiche
Annie has visited this one. It's pretty nice, but I wouldn't put it on my must-see list. Great if you have the time because it shows how water runs underground and what it can do to rock formations.
Thermal Stations Near Foix
Ussat-les-bains and Aulus-les-bains are the most famous ones. Annie hasn't visited either one of them, so I can't say much here!
Les Forges du Pyrène
I loved my visit there! This is a place where they continue on the old traditions of metal work. They have old giant hammer that operates with water and which they still operate for demonstrations. It is really impressive.
A great place to take your kids if you want them to see how people worked in the 1800s and 1900s. The museum shows old tools and instruments related to various trades. Very fun and a great place to go hide from bad weather.
Foix Area Gastronomy
Local Cheeses
Bethmale, Moulis and Bamalou.
Local Wines
Sweet spicy wine Hyprocras. Not good, I recommend you try it once in your life if you must, but it's not something anyone drinks regularly!
Learn More: Day Trips from Toulouse
FOLLOW US ON:
Discussed in this Episode
Foix
Niaux cave
Gabriel Fauré
Parc de la Préhistoire
La Vache cave
Labouiche underground river
Cave of Bedeilhac
Thermal stations of Ussat-les-bains and Aulus-les-bains
Les Forges du Pyrène
Ariège Department in Occitanie
Subscribe to the Podcast
Apple
Google
Spotify
RSS
Support the Show
Tip Your Guides
Extras
Patreon
Audio Tours
If you enjoyed this episode, you should also listen to related episode(s):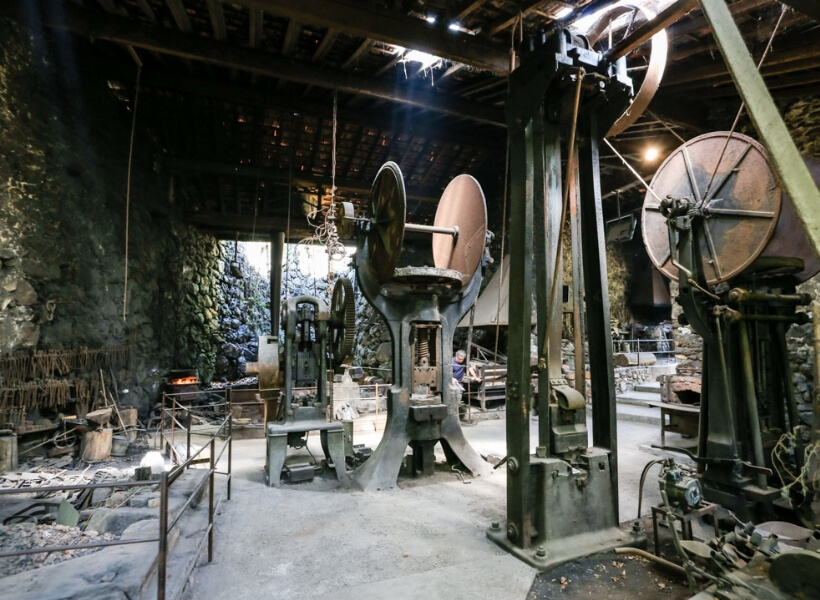 Read more about this episode
Show Notes
Categories: Day -Trips from Toulouse, Off the Beaten Track in France