Categories: First Time in Paris, Paris
For this first time in Paris trip report, Annie Sargent talks to Joni and Steve Goldin. They had booked an itinerary review with Annie, so they were better prepared than most. But they still made a few minor mistakes as we discuss.
Annie was a guest on the podcast FranceFormation, a show for people who want to move to France. Take a listen!
Hotel Recommendation
They chose a little boutique hotel in Saint Germain on Rue des Saint Pères that they recommend: the Da Vinci Hotel.
Generally they went back to their hotel in the middle of the day to rest up a little which allowed them to stay up later and eat later. This is a good strategy if your hotel (like theirs) is centrally located.
Ile de la Cité on their first day, Saint Germain des Prés a few days later and Montmartre towards the end. Podcast listeners can buy these tours at an amazing low price here.
Restaurant Recommendations
Les Antiquaires, great Parisian café for sitting outside and people-watching.
La Place Royale on Place des Vosges.
Bouillon Racine on rue Racine.
Robert & Louise in the Marais (Joni loved the honey roasted duck breast)
Biggest Surprise of their Trip
Biggest surprise of the trip was the Opera Garnier. They had booked a tour in advance on Annie's recommendation, but they didn't expect they'd enjoy it as much as they did. This blew their minds!
Joni was also glad they saw the tunnel where Prince Diana's accident took place and the Flame of Liberty.
Minor Issues They Ran Into
They hadn't scheduled time to go to the Marais because they only had one week and chose Montmartre instead. But they still managed to see it by having a meal at a restaurant called La Place Royale on Place des Vosges. That gave them enough of a flavor for it that they decided they want to come back to Paris and see the Marais.
They wanted to take Annie's VoiceMap tour of Montmartre and tried to start it from the Sacré coeur instead of from the Abbesses metro station as designed.  They made it work, but it complicated things for them.
Want to buy from the vendors along the Seine river? They are called Les Bouquinistes. This is where you will find them, highlighted in yellow: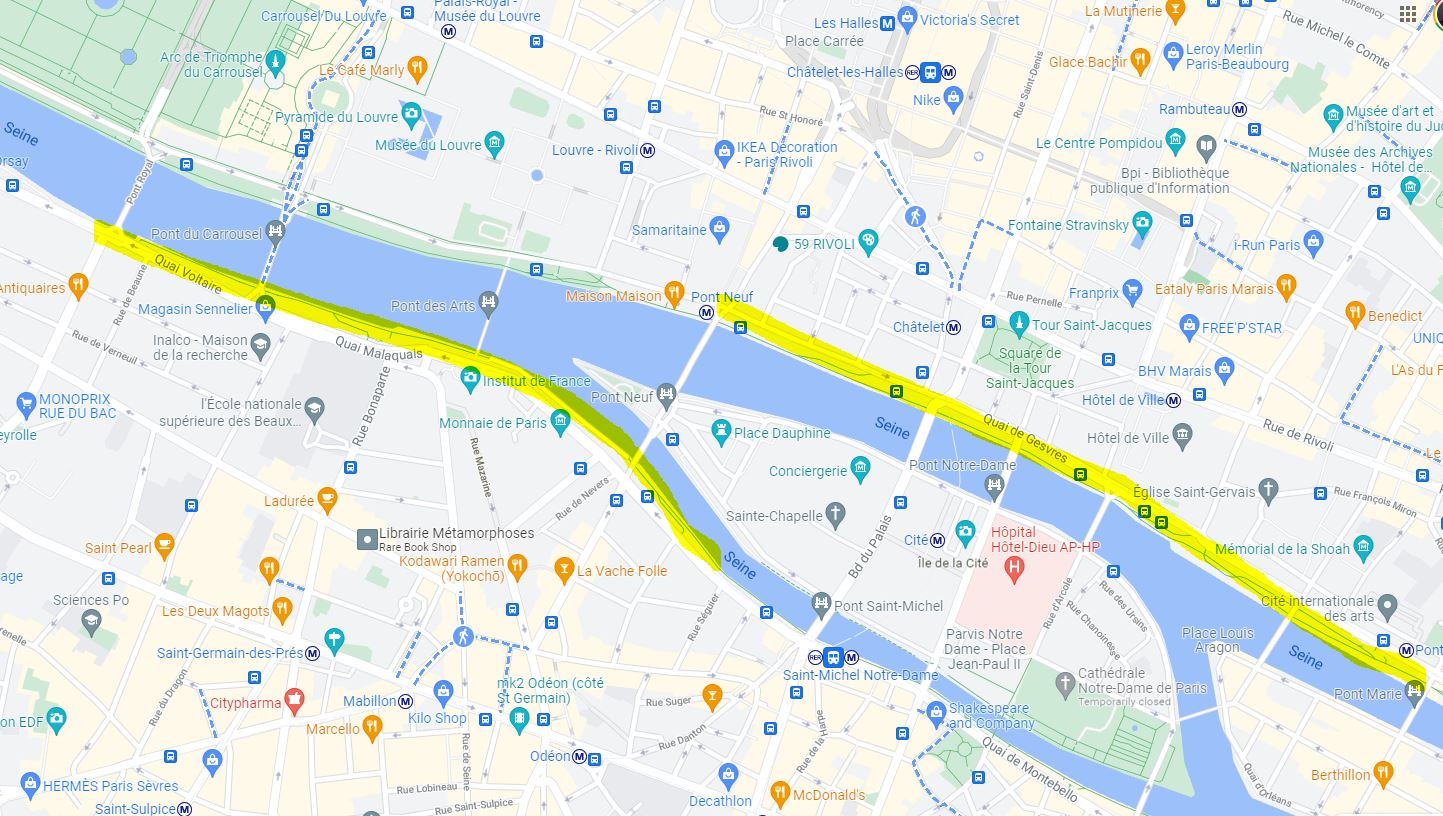 Walking in Montmartre is difficult because it's all cobblestone. Bring super comfortable shoes and do not go with a stroller! Most parts of Montmartre are not accessible  to wheelchairs.
For help with understanding menus, listen to this episode of the podcast: 50 Must-Know French Phrases for Hungry Visitors
The fountains are not on every day at Versailles. Look for "les grandes eaux" events to see them on. It's only a few times a year. If you rent a golf cart, you will not be able to take it all the way to Marie Antoinette's hamlet. Also note that golf carts riding on cobblestone is not pleasant and super slow. Annie does not recommend you do that.
Joni does not recommend the Carrousel du Louvre as a mall because it is very small and there is no food there.  Not a good place to go shopping for gifts unless you're looking for Pandora charms or little trinkets from Pylones. There's also a Bose store in that mall where Annie got some headphoes that were heavily discounted but where the microphone didn't work. The store did not disclose why those headsets were so cheap!
Problems with Going to Paris in August
The Eiffel Tower does not sparkle until late in July and August because it gets dark so late. It's much easier to catch the sparkle (on the hour after dark) if you go in the fall or winter.
Many restaurants close in August every year. You'll still find plenty of places to eat, but if you have your heart set on a classic restaurant, make sure it's open in August.
FOLLOW US ON:
Subscribe to the Podcast
Apple
Google
Spotify
RSS
Support the Show
Tip Your Guides
Extras
Patreon
Audio Tours
If you enjoyed this episode, you should also listen to related episode(s):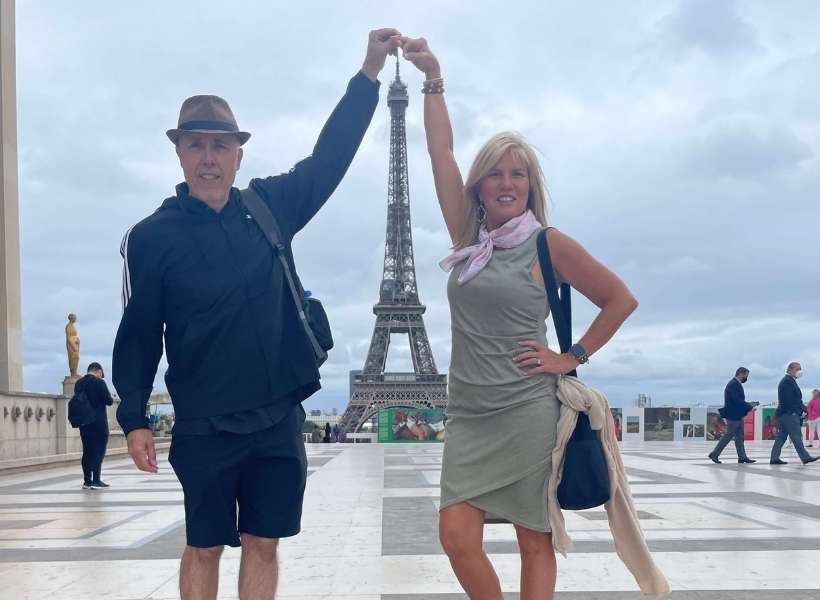 Read more about this episode
Guest Notes
Categories: First Time in Paris, Paris