This post contains affiliate links, meaning I get a commission if you decide to make a purchase through my links, at no cost to you. Please read my disclosure page for more details.
Categories: Day-Trips from Paris, Family Travel, Paris
Laura Knott, my guest on today's episode,  has a passion for parks. She's a landscape architect, and went looking for the best parks in and around Paris.
Laura made two trips to Paris, the first in Aug 2018 and the second in September 2019. The main goal for both of her trips was to explore parks and gardens in and around Paris. She had learned about those parks in graduate school, so seeing them in person was a treat!
Laura travels solo and felt safe everywhere she went in Paris. One thing to keep in mind: when visiting parks you have to remain flexible. Parks can be closed due to a weather event, private parties, or other unpredictable issues.
Movie Recommended in this Episode: A Little Chaos
How to Find the Best Parks In and Around Paris
First, make a list of the parks you're interested in. I'm sure you'll find inspiration by listening to today's episode! Then plot them on a map, then make a schedule to decide which one you'll see on which day.
Make sure you know about closing days! If you use the J'aime Attendre website, you'll be able to figure out what days are the least busy. This is important especially when it comes to visiting super popular places like Versailles.
Parc Monceau
This park was designed in the French picturesque tradition and is quite whimsical. There are "garden rooms" where you can see fake ruins and rugged geography that are meant to evoke an emotional response.
This park was designed for entertainment and they used a lot exotic themes to make it interesting. Originally they had a Chinese bridge, Turkish pavilion, a Dutch mill, Egyptian artifacts, ruined castles, etc. These are often called "follies".
Parc Monceau was designed for the Duke of Chartres who was the Grand Master of the Free Masons in Paris. So it was designed to reflect on the philosophy of the Free Masons in France. In the middle of it was a 3-sided rigid geometric garden surrounded by free-flowing paths full of follies.
This complex design was then simplified. They removed some of the paths and removed some of the curiosities, but not all of them. The park became public after the French Revolution and is now a public park maintained by the city of Paris. The Egyptian pyramid, the grotto, the Chinese bridge and the colonnade (seen above) are still there.
The Park Monceau area is a great neighborhood, not far from the center of Paris. It is a great place to go relax. In the summer they don't close this park until 10 PM. Lots of runners use the park, so watch out! This is not a touristy neighborhood, which makes it a great area to stay if you want to see a slice of French life.
Musée Cernuschi
While you're at Parc Monceau you should also check out the Musée Cernuschi. It is dedicated to Asian arts, specifically China, Japan, Korea and Vietnam. And the building is outstanding too!
Parc des Buttes-Chaumont
Les Buttes-Chaumont was part of the Haussmann renovations of Paris. The city was growing quickly due to industrialization and there was a thirst for nature and "clean air".
The original site was a gypsum mine with deep holes. It was a place people went to dispose of garbage and even dead horses. There were some hangings in the area too. It was not the most pleasant of places before the renovations!
But Buttes-Chaumont is on a big hill and has a lovely natural topography, so it's a wonderful place for a park. The idea was to bring nature into the city and reject the old rigid parks of the ancien regime.
The centerpiece is a lake and there are peaks surrounding this lake. One is the Temple de la Sibylle. Once you've climbed all the stairs you'll enjoy a beautiful view of the city from there!
Locals enjoy going there and it's very lively. It's busy on Wed afternoons and week-ends. There is a guinguette and a few restaurants. You could spend the whole day and not see every corner. This park is not in a posh area like Park Monceau, but it's safe.
Parc de Bercy
A lot of Paris life happens in the Bercy area today, but in the 1970s the place was derelict and in need a some TLC.
There used to be wine warehouses in the area with a rail-road going through it, but they were abandoned and taken over by the city eventually.
Because it was built in the 1990s, it was built on the principles of post-modernism. There was an interest in meeting the socio-economical needs of the residents. They tried to better understand what locals needed in terms of recreation and cultural opportunities.
They also kept fragments of the past and integrate them into the new neighborhood and park. There's a shopping center on one end and a sports arena on the other. This is also where you'll find the Musée des Arts Forains, well-worth a visit!
They have different areas with themes. There's an area dedicated to the wine industry and a vineyard. People go there for fashion shoots. It's a great place to see school groups all wearing their little safety jackets.
There are places for sports, places for walking, there are bridges that connect the different parts of the park. When you go on the bridges you realize that you're really close to the Paris périphérique (belt road). You don't hear it because there are big dirt mounds that dampen the sound.
Parc de Bercy is one that Laura would definitely put on your list as a place to visit as a tourist because there is so much to see and do in the area!
Lets Meet at the Park!
In Paris apartments are generally small and as soon as the weather cooperates locals go to the park. You'll see people with kids, dogs, books, old, young, everyone goes out to the parks! These gardens are Paris' front porch!
And after weeks of being cooped up at home during the pandemic, parisiens were dying to go back to their marvelous public parks!
Bois de Boulogne
When you go to the Louis Vuiton museum (highly recommended!) you should also check out the Bois de Boulogne. Check out the Jardin d'acclimatation which has rides, playgrounds, horse rides, etc. It's kid's paradise!
Parc de Bagatelle
This one is not well-known, but it has several grottoes that are amazing to see.
Bois de Vincennes
There's a botanical garden there, the Chateau de Vincennes, also a great place to hang out.
Parks Outside of Paris
Versailles and Vaux-le-Vicomte have unbelievable gardens. They are outside of Paris, but worth it for their gardens alone.
Versailles
Some of the best and most remarkable bosquets in Versailles are closed to the public most of the time. To see them you have to go on days that are designated as Grandes Eaux or Jardins Musicaux and there's an extra charge to see them.
If you just want to see the gardens (not the bosquets) you can get in to see them for free if you go to entrances besides the main entrance (that one is  always mobbed anyway).
Parc André Citroën, Balloon Ride and Jardin Djendi
Parc André Citroën is also a post-modern design. It is best for large crowds because it has a huge lawn with areas of interest at the periphery. There is a large hot-air balloon at this park that you can ride up and down. The balloon is tethered to the ground, but people love to ride that thing because the view is great!
There is a part of that park called Jardin Eugénie-Djendi (at the far south-east end entrance) dedicated to a woman who was a WW2 hero. It's a sunken garden and it's easy to miss, but it's lovely. This is a great area for intimate picnics. Great place to start your visit to the André Citroën park and you can get there by bus.
FOLLOW US ON:
Discussed in this Episode
[04:29] Parc Monceau
Les Buttes-Chaumont [15:35]
Parc de Bercy [22:26]
Bois de Boulogne and Jardin d'acclimatation [31:33]
Parc de Bagatelle [31:29]
Bois de Vincennes [31:57]
The Bosquets in Versailles [32:39]
Parc André Citroën and the hot air balloon [34:19]
Thank you Patrons and new video Patreon rewards [43:08]
If you've appeared on the podcast and would like to join the secret group email Annie! [45:13]
Elyse's new Patreon page [45:35]
Annie's personal update [46:52]
Update on doing a full immersion French course [47:26]
Update on France re-opening to visitors [48:07]
We're going to be over 300 episode soon after that you'll need to listen to earlier episodes on the website [50:14]
Subscribe to the Podcast
Apple
Google
Spotify
RSS
Support the Show
Tip Your Guides
Extras
Patreon
Audio Tours
If you enjoyed this episode, you should also listen to related episode(s):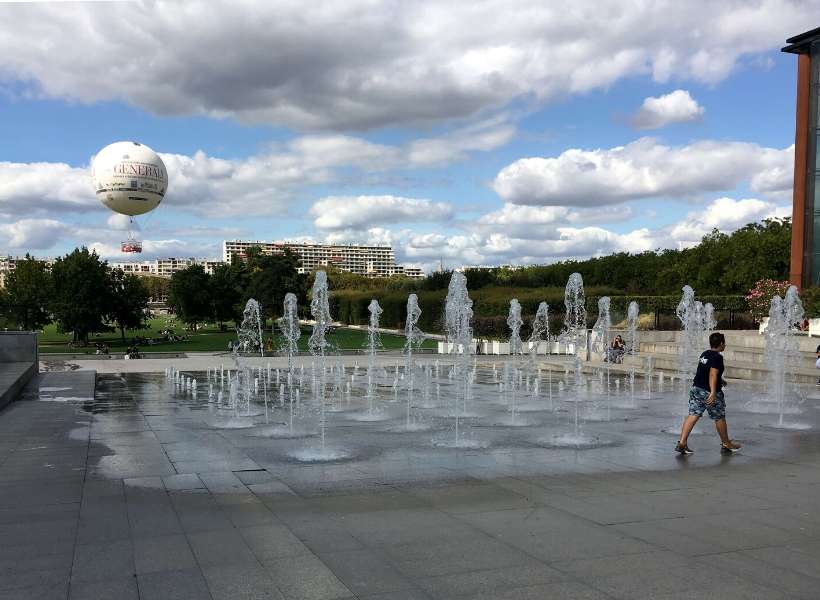 Let's Review
Parks in the United States tend to be focused on sports. In France parks are more sophisticated and have design elements you normally don't see in the US. On the other hand, French parks don't have big pavilions you can rent for a family event. As a French person who has lived in the US for a long time, I wish we had pavilions for rent and more bathrooms in parks!
Read more about this episode
Guest Notes
Categories: Day-Trips from Paris, Family Travel, Paris