This post contains affiliate links, meaning I get a commission if you decide to make a purchase through my links, at no cost to you. Please read my disclosure page for more details.
Category: Provence
This episode features our frequent and very popular guest Elyse Rivin. If you enjoy her episodes, please consider supporting her on Patreon.
Are you thinking about visiting the city of Èze near Nice in Provence? Welcome to the Join Us in France Travel Podcast. We are making a stop in Èze in Provence today!
Annie Sargent brings you a conversation with licensed tour guide Elyse Rivin about the hill-top village of Èze in Provence. We talk about the history of this beautiful place, discuss ways to get there, and a few gotchas you should be warned about. Annie has visited Èze in Provence several times. It's a touristy place, but there's a good reason for that! And once you know the tricks, you'll have a grand time!
French news about the new health pass requirement starts 35 minutes into the episode or scroll down to the bottom to see what's happening.
Tips for Parking in Èze
Parking in Eze is very difficult. Here's one possible alternative, 3 km away but with a shuttle: Parking Oppidum, 2318-2492 Av. des Diables Bleus, 06360 Èze. You can park for the whole day for a set fee (6€ as far as I know) and there's a free shuttle to the perched village, latest departure to get back to your car at 7:30 PM. Enter this in Google Maps: 43.732678593394674, 7.3461346115937864
Different Ways to Get to Èze in Provence
Driving yourself: NOT recommended, parking is really difficult.
Take an Uber from Nice: we paid about 30€ in 2019.
Take a public bus from Nice: this bus is constantly FULL and there's just 2 buses per hour. The only way to be sure you'll get in is to go to the very beginning of the bus line in the foothills of Nice.
The train that goes along the coast stops at the modern village of Èze. From there you can take a bus that will take you up the hill.
Be aware that Èze in Provence is very hilly and that it's cobblestone most of the way. Strollers are NOT recommended. Comfortable shoes are necessary. When you get to the top there's a fee to get into the garden and it's totally worth it. You'll probably spend 2 hours exploring Èze in Provence.
Services in Èze
There's a little grocery store at the bottom of the hill near the bus stop and a bench where you can enjoy a picnic. There's a public bathroom in the parking lot. Annie went into the Fragonard perfume shop and they gave us a quick tour which was lovely. Their soaps are a bit expensive, but not the most outrageous we've seen in tourist shops.
If you happen to drive, you should also go to the town of La Turbie not far from Éze and from there there's an overlook over Monaco and the sea. In La Turbie you should also visit the Trophée d'Auguste.
Èze: A Village Perched Above the Sea
Èze is 17 km from Nice
8 km from Monaco
Reachable by car, train or by foot
The village, famous for its medieval  center and spectacular viewpoints starts at sea level and goes up to 700 m (approximately 2000 feet). Well known for its luxuriant gardens and its picturesque village center.
A Brief History of Èze in Provence
Recent archeological research has discovered vestiges of a huge pre-Roman village, dating from the about 200 bc on the crest of the mountain just above the actual village of Èze.
This ancient settlement, perched all the way up above the town that is there now, had sturdy thick ramparts. It was densely constructed with one major street, and houses made of stone packed one against the other. ALL of them had either a press for olives or for making wine and the vestiges are remarkably well preserved.
Èze, an Ancient Village
It confirms the stories that Èze has been occupied since well before the Romans came through this area. Legend has it that Èze like other small villages nearby was founded by the Phoenicians, who came through this coastal area and finally settled in the region around Marseille and on Corsica.
What is for sure it that the Romans did indeed come through here and also made a settlement which was part of the route of Antonius that followed the coast.
The first official "written" testimony of its existence is in 1241 when it was called Esa (which is the local dialect name) or Eza (which is the Italian version).
Èze Over Time
Over the course of the Middle Ages the village, known for its olive oil, wine and textiles, was controlled by a series of lords; first the rulers of Provence, then of Genoa, and finally of the kingdom of Savoy. It stayed under the control of the kings of Savoy until, like Nice, Èze become part of France, in 1860.
Because of its long past as part of different Italian city-states, the architecture is largely 'Italian' in style. It is filled with narrow winding streets and stone houses which now have been restored. The village is lively with crafts boutiques and cafés and and restaurants, and caters to a large tourist influx.
What You'll See in Èze Today
Above the actual village are the ruins of the "great" chateau which now is home to a large exotic garden with many Mediterranean plants and cacti. From here there is a view over the village to the sea that is remarkable. There is also an ancient cemetery next to the gardens and the remnants of the ancient walls.
There are three chateaux in Èze
The Chateau de L'aiguelta
The Chateau Balsan
The Chateau d'Eza.
Until the 1990's, the Chateau Balsan housed, the Prince of Monaco's sister since Monaco is the "co-owner" of the land around Èze.
There is an ancient flour mill and also a chapel on Ave Poincaré that dates from the 11th century.
The Nietzsche Trail in Èze
One of the most interesting and challenging things to do while visiting Èze, is to walk the Nietzsche Trail. This is a walking trail that starts at sea level and goes to the top of the village. It is relatively difficult because of the large stones that make up some of the steps but the reward is enormous, for once you get to the top you have the MOST spectacular view!
The trail is 2100 m long (about 1 ½ miles) with a climb of 400 meters from bottom to top (about 1200 feet). It takes about 1h30 to go up and about 45 minutes to get down (if you don't walk slowly).
But it is very famous and it is worth doing at least a small part of it especially if you start on the top at the village.
Why is it called the Nietzsche Trail?
Very simply because starting in December of 1883 Frederich Nietzsche, the German philosopher and writer, started spending winters on the Cote d'Azur, staying in Nice. Because he was depressive, sickly and blocked in his writing, (not to mention that his work wasn't selling) he began to take long walks in the fresh Mediterranean air which he loved.
Little by little he found his way up to the village of Èze. He liked this walk so much that he began to do it every day: he said it helped his creativity and boosted his moral. He spent long hours every day exploring the hills and examining the Mediterranean vegetation there.
The physical exertion helped him come out of his depression. He found his inspiration in the hills and the village of Èze.
He returned every year from 1883 to 1888 and finished one of his major works, Thus Spoke Zarathustra, while on the Cote d'Azur.
If you go to Èze now there are signs everywhere to direct you to the Nietzsche Trail aka Sentier de Nietzsche! Perhaps it will also inspire you to do some writing too!
Èze as a Tourist Attraction
Some very famous people have vacation homes in Èze. It has become one of the fashionable places to be – above the sea and the big crowds, but close enough to Nice and the water to go every day. It is known and visited for its gorgeous old houses, for the shopping, for the gardens and the view and for its very spectacular situation on the coast just next to Monaco and Italy.
This Week in French News (late July 2021)
There is now a new mandatory health pass to get into any venue that takes in more than 50 people and while it is straightforward for those of us who have received our covid-19 vaccinations in France or European countries, it is creating a lot of confusion for visitors from outside of Europe.  Let me try to clarify the situation.
If you don't know why this is happening, the idea is to inconvenience French people who are on the fence about getting vaccinated so they will feel pressure and decide it's easier to get vaccinated that to have to get a test stuck up their nose every time they want to do something fun, especially now that they're going to have to start paying for those tests of convenience!
No vaccine mandates except for health professionals at this time, but this could change if not enough people buckle under the pressure. Right now, French vaccination centers are working at full capacity, so it looks like it's going to work. The target is to get to 70% of the population fully vaccinated ASAP.
Hopefully this will make this 4th wave of Covid-19 in France less lethal than the previous 3. We're at 49% of our population being fully vaccinated which puts us at just about the same vaccination rate as the US right now. Overall, despite exporting half of the vaccine doses produced in Europe, the EU has now overtaken the US and the UK in vaccination rates, so we're happy about that and hope it continues.
So, what do you do if you're coming to France with your CDC vaccination card?
Most Americans in France report that they can get into the venues that they want to in Paris with their CDC vaccination card, but that won't work everywhere and it won't work forever. Starting Aug 1st LOTS of places will start asking for the health pass or "pass sanitaire" as we call it in French and everything will go a lot faster if you have the proper QR code. Once you have that piece of paper with the QR code, import it into the TousAntiCovid App and then everything will work for you the same as it does for French people. They'll also take the paper with the QR code if you don't want to install the App, but I really recommend the App.
Doctors and pharmacists who have a health provider login on the French health care system CAN turn your CDC card into a European QR code BUT some of them will not want to spend their time doing that, especially since this is not something they can charge for. Honestly, if I showed up with a French vaccination certificate at an American pharmacy and asked them to turn it into a CDC vaccination card, they'd laugh me out of the room. So, it delights me that so many are willing to do it in France! So, here's what you do. Walk into any pharmacy and see if they'll help you. If not, try another. There are pharmacies all over French cities, you shouldn't have to go far.
My friend Patricia who lives in Paris went to her normal pharmacy to see if she could get a QR code certificate for her sister who will be visiting from the US and will stay for 6 months. Let me read what she wrote:
I was successful getting a EU/FR digital covid certificate for my sister, using her USA vaccination CDC card !  The first pharmacist I talked to wasn't interested in playing, and he went and got another young woman. She had never done this before but she was willing to try.

USA address did not work, so I had her use my French address.  USA phone number was OK.  I scanned and sent to my sister, she can scan the QR code into the tousanticovid app on her phone.  So this system works, but you need a willing pharmacist, no charge.

I did have a copy of her passport and French visa, plus my French ID/ US passport - just in case more ID was requested.  This was a pharmacy where I have gone for years, so not totally random.  The boss lady who I usually talk to was not there, but I think I was lucky to get a young curious pharmacist.
I am reading lots of reports that mass vaccination centers also do this, some that get so many requests that they do it for one day then turn people away. But it's worth trying mass vaccination centers as well as pharmacies.
This official web page gives step-by-step instructions on what health professionals need to do to generate a QR code for foreign nationals.
Paris By Mouth, a tour company, has published a very good blog post about how to do this for people who are in Paris right now.
There are a lot of conversations about this on the Join Us in France Closed Group on Facebook as well.
FOLLOW US ON:
Subscribe to the Podcast
Apple
Google
Spotify
RSS
Support the Show
Tip Your Guides
Extras
Patreon
Audio Tours
If you enjoyed this episode, you should also listen to related episode(s):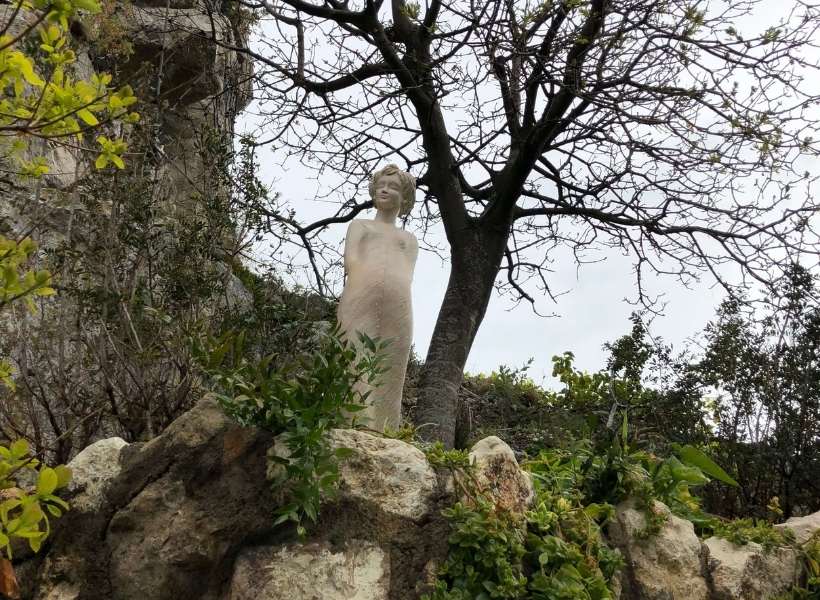 Category: Provence