Table of Contents for this Episode
This post contains affiliate links, meaning I get a commission if you decide to make a purchase through my links, at no cost to you. Please read my disclosure page for more details.
Category: French Food & Wine
Discussed in this Episode
Balsamic Glaze
Foie Gras
Roasted Chestnuts
Tapenade
Pitted Prunes
Truffles
Macarons
Chestnut Soup
Mushroom Soup
Clafoutis
Episode Highlights with time stamps
Typical French Salads that Work Great for Thanksgiving
[08:25] Salade de chèvre chaud. This is a green salad with grilled goat cheese toast on top. To make this recipe, Annie uses a balsamic glaze to decorate the plate first. The goat cheese we mention is pictured below. You don't have to get that brand, but this one works well. I am quite sure I have seen this food item in America at the better grocery stores such as Target.
[12:20] Salade de foie gras. You can get the same foie gras you'd buy in France on Amazon, serve on a bed of lettuce with some lightly toasted white bread.
[14:40] Endive salad with Walnuts and Blue Cheese. Use the white chicory to make this.
French Soups for Thanksgiving
[17:00] Sweet Potato Ginger Soup. In France we can get a variety of sweet potatoes now as well as butternut squash and "potimaron". You can get acorn squash in France so far.
[19:54] French Onion Soup. The secret is a bit of brandy or marsala wine.
[26:06] Soupe Auvergnate aux Chataîgnes. This is made with roasted chestnuts and if you're looking for new yet satisfying flavors, you will love it.
French Side Dishes You Can Make for Thanksgiving
Gratin Dauphinois or Potatoes au Gratin. This one is made mostly of butter, cream and a little bit of cheese, plus sliced potatoes, of course. I recommend you serve that in individual dishes. It is better for portion control.
[27:44] Tapenade is another very French side dish you could serve as a nibble on toast. It is very salty, but if you want to bring a little bit of Provence sunshine into your celebrations, tapenade might be the ticket for you!
[28:19] Oysters on the half shell. Extremely typical of French festive foods. Oysters are the perfect food: tasty, low-calorie, nothing but protein. Of all the foods we've suggested so far, oysters are the healthiest. in France we serve this as a fist course.
[29:05] Pruneaux au lard. Pitted prunes wrapped with bacon. This is typical of the South West of France where Annie is from. If you start adding that to your traditional french thanksgiving recipes roster, people will ask you to make it again and again. The only trick is don't cook the bacon so much that you can't wrap it around the prune!
Traditional French Recipes for Thanksgiving that Work for Vegetarians / Vegans
[29:44] Œuf en cocotte. Would work for vegetarian guests, not vegan. Delicious with small amounts of truffles.
[33:05]  Vegan Stuffing with Chestnuts. This is often done for Christmas, but it would work well for Thanksgiving. Dried bread, chopped up, a can of roasted peeled chestnuts, chopped up apricots. No eggs or meat, cooked inside the turkey, but you could bake it outside of the turkey.
French People Don't Celebrate Thanksgiving
[34:45] Buying whole turkeys in France for Thanksgiving is impossible unless you go to a butcher. You can only find turkey parts until Christmas. And you won't find the nice round Thanksgiving turkey.
[36:32] Another very French thing you could do without too much effort is to go get some fabulous bread to accompany your  Thanksgiving feast. Walnut bread, fig bread, focaccia bread, olive bread.
Traditional French Desserts You Can Use for Thanksgiving
[37:06] A typical French dessert is Clafoutis, and this is something you can make in advance. It's a lighter dessert.
[38:10] Pear Cake with Black Pepper
[39:00] With French-Style Apple Tart you have to slice your apples evenly an
[40:00] Tarte Tatin is very French, but it's more difficult to make at home, but so delicious with ice-cream!
[41:00] Here's something easy: to bring some traditional French recipes for Thanksgiving wherever you live, buy some macarons. The ones from Costco as pretty good. You don't have to tell them they are store-bought! The great thing about macarons is that they are light, will go down easy at the end of a big meal, and everyone wants to try them.
[42:30] Make Walnut Pie instead of Pecan Pie.
[42:00] No pumpkin pies in France!
[43:00] Serve a cheese platter at the end of your meal with some fruit. For important meals in France we serve both a cheese platter at the end of the meal and desserts! Note that we never serve a cheese platter as an appetizer in France. We may have cheese nibbles, but the platter is for the end of the meal.
Conclusion
So, will you do it? Will you include traditional French recipes for Thanksgiving? We think you should because it's fun to bring a new twist to same-old, same-old. Have a wonderful Thanksgiving celebration listeners!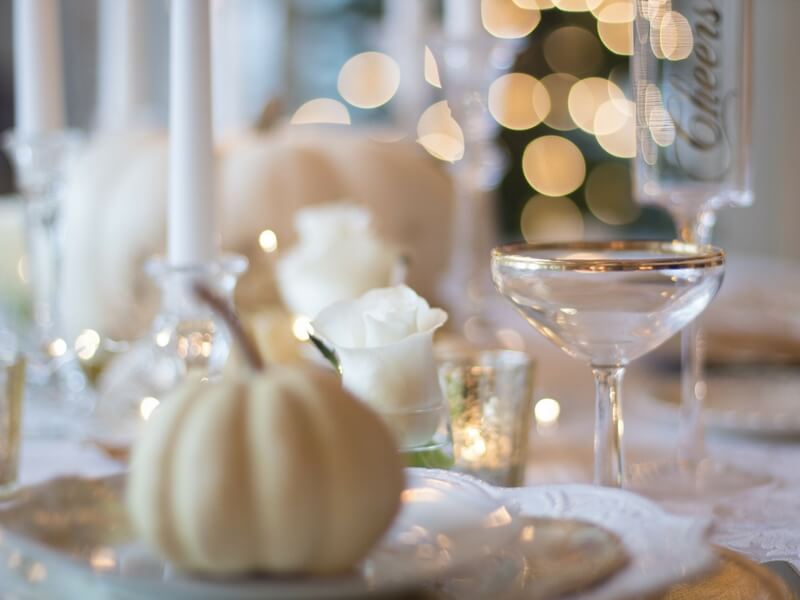 Subscribe to the Podcast
Apple
Google
Spotify
RSS
Support the Show
Tip Your Guides
Extras
Patreon
Audio Tours
Read more about this show-notes
Episode Page
Category: French Food & Wine