Table of Contents for this Episode
Categories: Day -Trips from Toulouse, Off the Beaten Track in France, Toulouse Area
Discussed in this Episode
Basilica of Saint Just Balcarère
Painted neolithic cave of Gargas
Spa resort of Bagnères de Luchon
Roman ruins at Montmaurin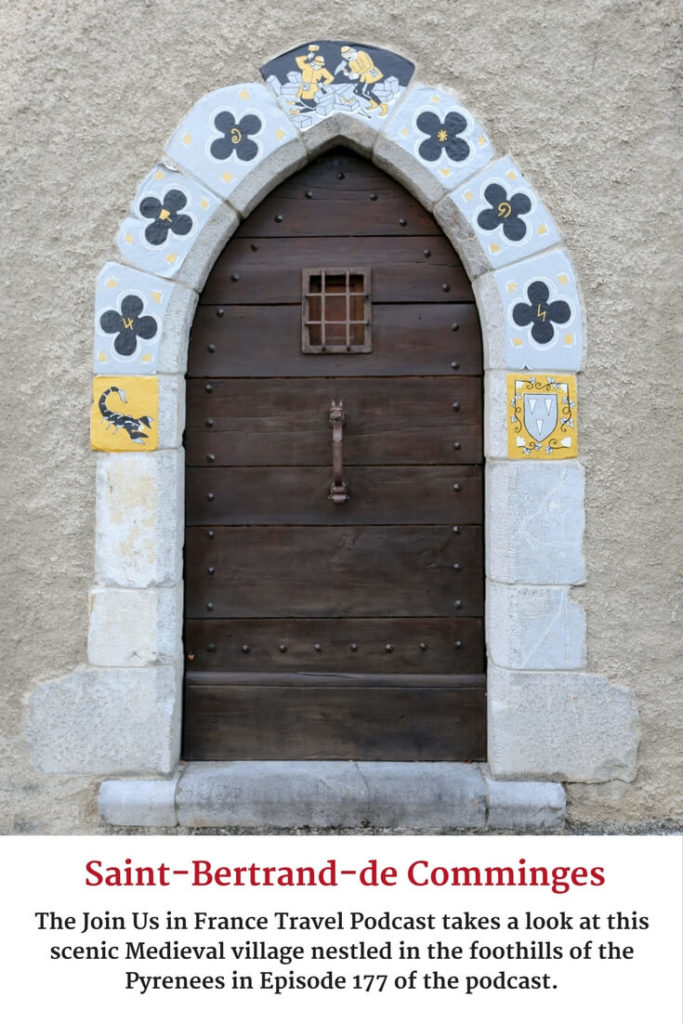 About Join Us in France
[00:00] This is Join Us in France Episode 177. Join Us in France is the podcast for where we talk about France, it's many quirks, it's history, it's language, and of course, destinations in France you might want to visit since you're probably someone who loves to travel. This episode is brought to you by Patreon supporters and Addicted to France, the Tour Company that specializes in small group and custom tours in France. And we've a great tour coming up in May, check it out here.
On Today's Episode: Saint Bertrand de Comminges
[01:05] Bonjour Francophiles, I'm Annie, and on today's show I chat with Elyse about a really small and charming village an hour south of Toulouse called Saint Bertrand de Comminges. Definitely out of the beaten path but at the same time a center of French history and culture. This episode goes entirely to the depth of knowledge we aim to bring to you about France because this is certainly not a place lots of people Google about! But we talk about it anyway because it's interesting to people who love France and want to understand it better.
French History Brief: Richard Coeur de Lion
[01:44] The French History Brief at the end of the episode today is called Richard I of England aka Richard the Lionheart aka "Richard Coeur de Lion". But did you know he also had a nickname? They called him "Oc e no" which spoke to me because that's an Occitan expression, and as you know, that's where I'm from too! More on that after the episode. Here's the song I mention in the episode.
The Show Will Go Dark Between Dec 20th and Jan 10th
[02:14] The next episode coming out next week on Dec 20th is going to be the last of the year and then I'll take a couple of weeks off and will come back with new episodes in the new year starting on January 10th. And now, on to my conversation with Elyse on Saint Bertrand de Comminges!
A Great Day Trip from Toulouse
[03:10] Why Saint Bertrand de Comminges makes for a great day-trip from Toulouse.
An Organ Festival at the Foothills of the Pyrenees
[04:35] The Saint Bertrand de Comminges organ sounds great and the concerts there are top quality.
St Bertrand de Comminges Historical Background
[06:10] St Bertrand used to be on a major trade route under the Romans
Roman Villas Established in the Area
[07:48] Roman traders established lavish villas in the area
Herod the Kind from the Bible in the Comminges
[09:00] Herod the King was kicked out of Palestine with his wife and he took his retirement in the Comminges.
From Roman Baths to Early Christianity
[10:00] St Bertrand de Comminges went from Roman settlement, to early Christianity settlement, to a County overseen by a Count
A Large Cathedral For Its Time
[12:24] The Cathedral at St Bertrand de Comminges is surprisingly large for the time
Geology and Archeology in the Area
[13:54] The area has interesting geology and several active archeology research sites
St Bertrand Is a Low Population Area Today
[14:57] The village has a lot of empty houses today because there are many home owners who only go on week-ends. We recommend you visit on a week-end or during the festival when it'll be more lively.
Roman Ruins
[15:57] Besides the Cathedral, you also have a site of Roman Ruins to visit nearby with beautiful frescoes.
Saint Bertrand de Comminges in the year 1000
[20:00] Bertrand de l'Isle Jourdain was a bishop in the Gers, then went to Rome, built the Cathedral on top of the hill, then as made a Saint.
It's Hilly!
[21:28] Watch out for narrow streets! Most of the houses look really nice.
Best Time to Visit Saint Bertrand de Comminges
[22:50] Go on a week-end or in the summer or on a day when the festival is on.
Saint Just de Valcabrère
[23:45] This is Saint Just de Valcabrère, a beautiful and World Heritage Site. Unfortunately, it was closed when Annie Arrived.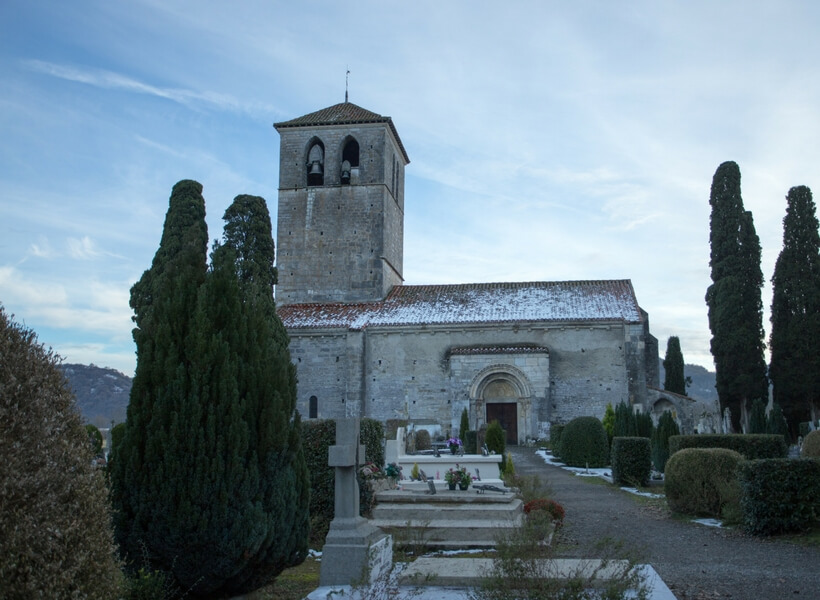 Either Eat on French Time or Bring a Picnic!
[24:35] This is not the sort of place where you can grab a bite to eat any time of the day. Either eat on French restaurant time (arrive at 12:30 PM or 7:30 PM) or bring your own food! We're not even sure there are any restaurants open year-round in St Bertrand
The Cathedral and Cloister
[27:17] The Cathedral and Cloister were commissioned by one of the French Popes in Avignon called Clement V. He had been bishop of the area and when he became pope, he built a large Cathedral there (large for the area, you'll see bigger ones lots of places!). The Monastery has been gone for a long time. The organ and wooden choir is gorgeous.
The Summer Music Festival
[30:19] The Festival is over 40 years old, started out with Organ music, but now they also have chamber music and sacred music. It attracts music connoisseurs who are usually older and better off.
What to Do Nearby: Gargas Painted Cave
[32:04] You can visit the painted cave of Gargas where you get to see the actual ancient paintings, lots of hand prints. (http://www.grottesdegargas.fr/)
[34:19] You can also stop at Martre Tolosan where there are ceramics with nice designs.
[36:09] For an over-nighter you could go to Banières de Luchon where they have spas, thermal baths, go hike in the mountains. Luchon is a lot bigger than St Bertrand de Comminges and has a lot more happening.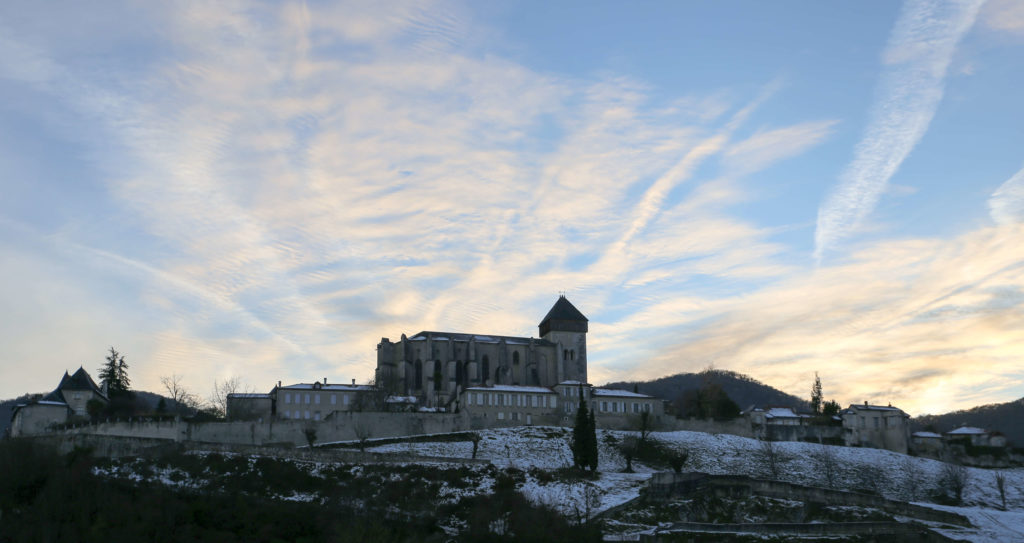 Subscribe to the Podcast
Apple
Google
Spotify
RSS
Support the Show
Tip Your Guides
Extras
Patreon
Audio Tours
Read more about this show-notes
Episode Page
Categories: Day -Trips from Toulouse, Off the Beaten Track in France, Toulouse Area