Category: Active Vacations in France
Discussed in this Episode
First-Time in Paris
Journées du Patrimoine
Paris Marathon Paris Marathon
What You Will Learn About in this Episode with Time-Stamps
[05:00] This was Mike Sheppard's 10th Marathon, but he's been involved in 150+ races. This was his first Marathon outside of the US.
[06:53] How much time did you spend in planning for this Marathon? About 1 year. It was Mike's first time in France.
[07:44] Anything surprised you about the Marathon that you wish you knew before? It is a great race for first-time marathon runners because it is a great course. It is a first Marathon for 37% of the Paris Marathon runners.
[09:30] It's a great 42+ kilometers tour of Paris. You see all the major sights and attractions of Paris: Eiffel Towers, you start on the Champs Elysées and Arc de Triomphe.
[10:45] When you first sign-up to do the race they ask you how long you think it'll take you to complete the race and based on that they put you in different starting times, in different corrals. In Paris, the first starters get going at 8 AM whereas in the US it's typically 6 AM.
[13:28] When do you start your race if you announce you'll finish in 8 hours or something? You start in the way way back!
[13:59] The Paris Marathon also includes people who need adaptive technology, for instance a blind runner with a human guide or wheelchairs, etc. They start before the elite start.
[14:35] How the Paris Marathon Expo works. The Expo takes place at Porte de Versailles, Parc des Expositions. The RATP buses drop you off right in front of the expo. There are a lot of companies there selling clothing and nutrition items. There are a lot of Paris Marathon merchandise there. In Paris you don't get the "free" Paris Marathon finisher shirt that you can only get after you pass the finish line.
[16:20] You MUST have the medical certificate filled out by your physician. If you don't have it, you're going to be out. Your doctor in the US will probably give you a whole physical. They will also ask for your passport. Bring as much photo ID as you can so you can get your bib to start the race. The Expo opens 3 days before race day.
[18:15] The porter-potty situation at the Paris Marathon. In the US, there are lots of porter-potties before you get into the corral. In Paris they put the porter potties inside the corral. This is great because there are fewer people inside the corral than outside.
[19:05] Everybody's bib has their name and country. 70% of the runners are French, 3% from the USA. You will see more bibs from Germany and UK, etc. The ambiance is great, it's a happy and fun time.
[21:20] How was security? Security seemed tight, but not so much that Mike felt worried. This happens at most big races.
[22:10] How was it as far as grabbing water or treats for sugar? There were things, but at a Marathon you don't want to try something you've not tried before. There were sugar cubes, fruit, Vitel water. Drink the water before the marathon because it's good to not be surprised. You may want to bring the stuff you're used to. There are a lot of food and water stops.
[24:44] There are a lot of spectators for this race, 250,000 people come out to cheer you on. There are organizations along the sides in support of various causes and countries. They had one American section, people from Chicago. There is music everywhere. Drum groups, jazz groups, rock groups. There is music all along the course.
[26:20] Be aware that toilets are not as easy to find at the Paris Marathon as they are at other marathons. When you do see a toilet, use it because you may not see another one for a lot of miles. In some parts of the course there is forest and there were a lot of people, both men and women, relieving themselves in the forest.
[27:60] During the course there are photographers, sometimes there is a sign saying there is a photographer up ahead, remember to look up, pose, do whatever you want to do. Careful not to miss too many of them and put a little distance between you and other runners especially at the finish line.
[30:26] The shirts were a good deal at the Expo, around 25-30€ and if you got 2 you got one free.
[31:14] Tell us about the Finish Line! Going through the finish line is always wonderful. You get the Paris Marathon finisher medal. You'll see various signs with different shirt sizes, you go to the size you want and you get the shirt. The drinks and food are after the shirts. This area was really congested. You finish at the Arc de Triomphe also, not far from where you started.
[33:20] The metro and buses in Paris are the best he's ever seen. Efficient, clean (they're not all like that!) It's easy to use the Metro.
[34:00] What are some differences between this marathon and others you've run? The lack of toilets along the route was a negative, but having so many people from so many countries was great. You may not get your best marathon time because you won't have a lot of space where you can take-off because there are so many people. It's a crowded marathon.
[36:00] Tell us about some favorite things you enjoyed in Paris. Mike and his wife didn't want to leave. The podcast helped (glad to hear that!) It's important to get tickets that let you skip the line, the lines can be super long otherwise!
[38:50] Get your tickets before you come to France. It's sometimes intimidating needing to decide what day and what time you want to go do something, but it'll save you so much time once you're there! Schedule 2 things for the day, the rest will fill up with coffee breaks and meals and shopping here and there.
[40:40] Bloggers and websites will make all sorts of recommendations for specific bakeries and restaurants, etc. Annie cautions against going a long distance just to go to a specific bakery. Guess what? In Paris there are fantastic bakeries everywhere! You don't need to go to that one café where somebody famous was spotted! As you walk around Paris you will find good food everywhere! Asking where you can get the best yogurt in Paris is asking the wrong question because there is good yogurt in France period!
[45:35] Was it difficult for you to find food suitable to an athlete's diet in Paris? No, it's easy to find an Italian place and go have some pasta. Mike recommends the dinner cruise on Bâteaux Parisiens because the food was great there. Sometimes there weren't sure what they were ordering, but it always worked out.
[48:30] Everybody was really friendly even though Mike and his wife don't speak French. Saying "bonjour" goes a long way! Bonjour is the magic word in France. We say "bonjour" to bus drivers and everyone.
[49:41] If you say "hello" in the US the same way you do in France, people will wonder what you're up to! In America you don't say hello when you enter into an elevator, but in France you do!
[50:56] Hiring a private photographer in Paris was really nice. The photographer follows you around for 3 hours and they give you the SD card. The photographer does no editing, which saves them a lot of time. This was between 200 € and 300 € for the whole time.
[53:09] In Paris, it's fun just looking at the cars that are going around. You see a lot of Smart cars and Citroën and Peugeot.
[54:35] The Paris Marathon a great for first-tme marathon runners. The average age is 41. Don't be intimidated by the size of it. French people enjoy the ambiance at sports events. It's fun to see everybody getting along.
[60:50] JeFile, the App you need to install to get a spot to walk up the Notre Dame Towers.
[63:15] List of new events on the occasion of the Journées du Patrimoine Sept 16 and 17, 2017. First time opening to the public this year are:
The Cour de Cassation near the Sainte Chapelle
The Paris Catholic Institute
The residence of the Mexican Ambassador in Paris as well as the Mexican Embassy
Maison Lancel
The Movie Studio called Porte des Lilas Cinema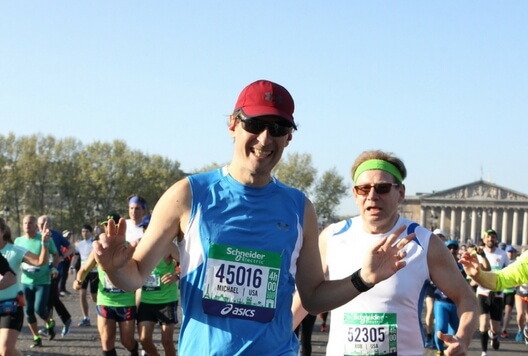 Subscribe to the Podcast
Apple
Google
Spotify
RSS
Support the Show
Tip Your Guides
Extras
Patreon
Audio Tours
Read more about this show-notes
Episode Page
Category: Active Vacations in France