Category: French Food & Wine
A Conversaion about Classic French Soups
Dipping your bread into whatever soup you could was the basis of everyday nutrition in France. It's called « Tremper la soupe ». It was a broth with vegetables, meat if you had some, sometimes you cracked eggs into it as well. It was also customary to dip bread in milk, wine, cider, whatever you had. But for the longest time the biggest part of French people's meal was bread to be eaten with something liquid. Historically, it was common for French people to eat 1 kg of bread per day which is the equivalent of 4 baguettes tradition.
A few facts about bread
How many kilos of bread do you think we eat each year in France? (58 kg) in 1900 it was 328 kg! It's counter-intuitive but Americans eat a little more bread than French people every year. But that includes every sort of bread: bagels, pretzels, focaccia, pita, sourdough, all bread products.
There are 32000 boulangeries in France. How many baguettes do you think they produce every second? 320! Ten billion baguettes are made in France every year.
Emmanuel Macron would like baguette to the patrimoine mondial de l'humanité or World Heritage. But of course the baguette is relatively new as we explained in episode 324 of the podcast called A Conversation about Bread in France.
Famous and not so Famous Classic French Soups
French Onion Soup
Chestnut Soup
Vichyssoise (potatoes, onion, butter, milk, cream leeks, chick broth, served with chives and cream)
Garbure, Pyrénées, made with cabbage and potatoes with duck or any part of the pork or pork bones. This was every day food for field laborers. Plenty of calories, keeping them warm as they went about their business in the rainy Pyrénées.
Bouillabaisse
Tourin (garlic soup, water, oil, flour, vinegar, egg and duck fat): this is the soup you served to newly weds and when you serve it to newly weds you add lots of pepper!)
Consommé
Aigo Boulido (eau bouillie) garlic and sauge. This is the soup served on Christmas Eve in the Provençal tradition
Bajana or Badjana, this is from the Cévènnes area. It is a chestnut soup with a bit of milk or cream
Bourriquette, a soup from the Limousin, oseille (sorrel), shallots and potatoes served with a poached egg
Bréjaude, also from the Limousin. The name comes from the Occitan word bréjer which means écraser or crush in English. You crush the ingredients which can be anything that grows in the dirt, which we call "rave" in French. Like celeri rave (celeriac), potatoes, carrots, any sort of radishes, yams, beets, parnips, turnips, rutabagas, onions, etc. Plus pork, bacon or any part of the pork. In the French countryside families used to raise and kill a pig every year and preserve every bit of it to use throughout the year. In my father's family they exchanged the pig with another family before butchering it.
Brézou from the Auvergne, it's milk soup.
Cousinette aka soupe verte à la mauve. A soup from the Basque country. Green leaves (spinach, swiss chard, sorrell, lettuce, mauve (a wild plant that I've never had), with some pork and veal, with butter and broth served with a thin slice of bread.
Elzekaria, Basque soup with white cabbage, onions, white beans (or fava beans in season), lard, lots of garlic and piment d'Espellette and finished with a tiny bit of wine vinegar.
Fricassé au Tourain, a lard soup with sorrel
Jimboura, from Bergerac, this is a soup they made when they killed the pig each year and made boudin (blood sausage). You take the water you used to boil the sausages , add carrots, leaks, turnips, cabbage, onions and you serve that with bread.
Moiuyzillars au lait is from the Anjou and it's chestnuts with milk
Panade, bread leftovers, water, milk butter and raw egg yolk in the center.
Patranque, this is from the Cantal area, old rye bread in a frying pan with oil to which you add milk, butter, onions, garlic and salt.
La Rotie is an onion soup to which you add red wine. You toast the bread, dip it in red wine, then put it in your onion soup.
Soupe a l'échalote d'Avranches, shallots, potatoes butter, then add flour to thicken. Serve with cream and a light broth so people can have it at whatever consistency they like.
Soupe a la bierre from Alsace, chicken broth, beer, onions, nutmeg no meat!
Soupe de Bricolin, from Bretagne. Bricolins are young cabbage starters, you know when you thin your rows, you make that soup with the young plants. They also sell those at open air markets.
Faire Chabrot or chabrol in Occitan is when you rince off the bowl in which you ate the soup with red wine. It's a fervent tradition of functional alcoholics who like to add wine to every hour of the day.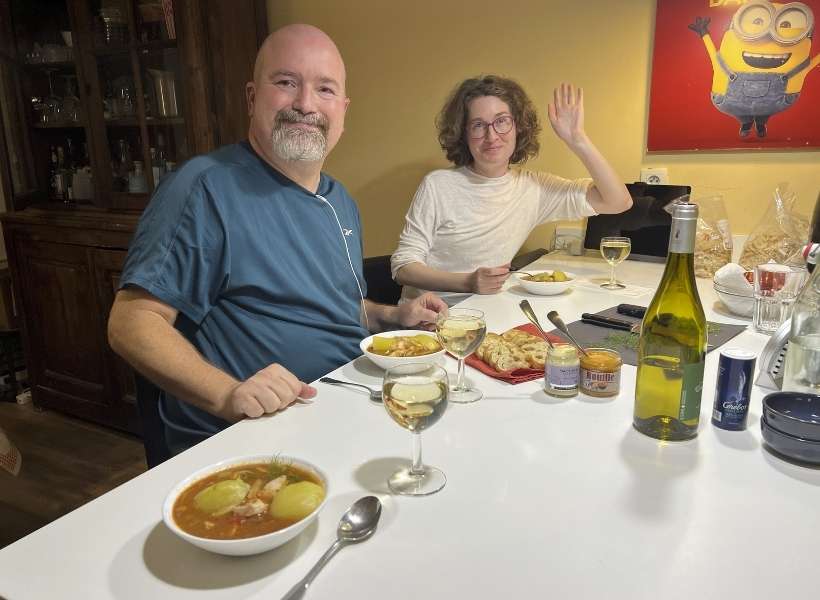 Subscribe to the Podcast
Apple
Google
Spotify
RSS
Support the Show
Tip Your Guides
Extras
Patreon
Audio Tours
Read more about this show-notes
Episode Page
Transcript
Category: French Food & Wine