Table of Contents for this Episode
Categories: French Culture, Paris
The Sad State of Notre Dame During and After the French Revolution
[01:50] Many tour guides will tell you that Victor Hugo single-handedly saved Notre Dame Cathedral from assured destruction. Is that correct?
The Publication of the Hunchback of Notre Dame
[02:35] Published in 1831 with a Story Set in the Late 1400s
[03:14] Why the Hunchback of Notre Dame Was Such a Popular Book
How Notre Dame Was Misused During the French Revolution
[03:45] Notre Dame Turned into the Temple of Reason
[04:08] Wine Storage and a Saltpeter Factory
[05:00] Damage to the Cathedral Everybody Could See
Hunchback of Notre Dame: Hugo Compared to Dickens
[05:41] Hugo and Dickens were both literary geniuses
[06:22] Character Flaws Drive the Plot
[07:30] Opinion: Dickens Was More Conventional Than Hugo
No Time for a Massive Book? Read the Abridged Version!
[08:04] Unless you're a reader of Fantasy or Science Fiction, you're not used to 500+ pages books. But long historical fiction books were all the rage in the 1800s and 1900s.
By today's standards, the length alone makes them intimidating and/or unreadable. Thankfully, classic novels such as The Hunchback of Notre Dame also exist in abridged version. And in the case of this particular book, the abridged version is a complete hit!
Should You Try to Read the Hunchback of Notre Dame in French?
[08:48] Many listeners of the podcast are Francophiles who know French. The question is, how much French do you need to know to be able to enjoy The Hunchback of Notre Dame? A lot! Natives will find it approachable even if Victor Hugo's vocabulary goes deep and wide. Students of the language need to be advanced or they'll just get frustrated and quit.
Hunchback of Notre Dame: What Disney Got Right
[09:16] Disney writers changed the story in significant ways, but they got the visual atmosphere of the novel right, and the music is fun too.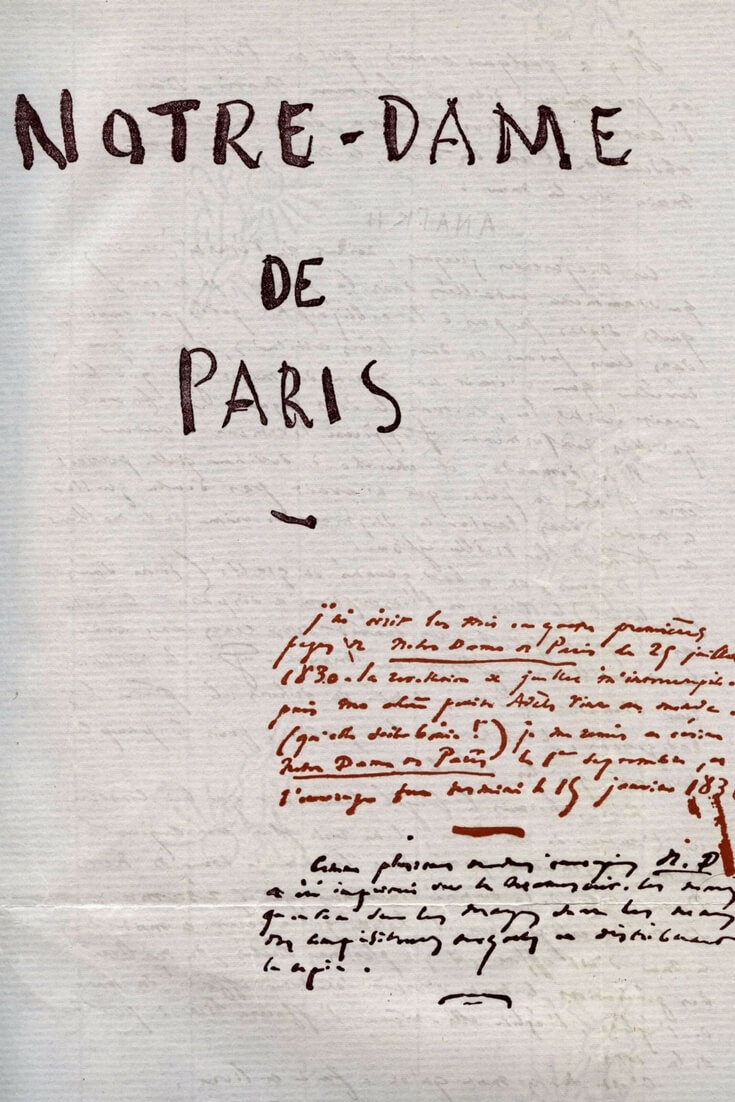 The Hunchback of Notre Dame Plot Summary
[12:09] Esmeralda Saves Gringoire

[13:07] Notre Dame Cathedral Described by Victor Hugo

[14:34] The Threat of Printed Book According to Frollo

[15:19] Druids Didn't Write Anything Down for Fear of Their Knowledge Being Stolen

[16:16] The Day Quasimodo Was Adopted

[17:01] Foundling Babies in Paris During the Middle Ages in Paris

[17:52] Frollo Adopts Quasimodo

[18:24] Quasimodo Becomes the Bell Ringer at Notre Dame

[19:16] Quasimodo Is at Home with the Gargoyles

[19:48] Where the Novel and the Disney Movie Differ the Most

[20:27] Quasimodo Loves His Bells and Frollo

[20:49] Quasimodo Is Tortured and Esmeralda Is Kind to Him

[22:27] Esmeralda Is Compassionate

[22:47] Esmeralda and Phoebus Have a Rendez-Vous

[23:15] Frollo Follows Phoebus

[23:46] Frollo the Creep

[23:30] Frollo Stabs Phoebus

[25:01] Esmeralda Is Condemned to Death

[25:30] Esmeralda's Despair

[25:44] Frollo Visits Esmeralda in Jail

[26:21] Esmeralda Faces Her Accusers in Front of Notre Dame

[27:00] Quasimodo Rescues Esmeralda and Gives Her Asylum

[27:38] Quasimodo Takes Care of Esmeralda

[28:20] How Asylum Worked in France
[29:16] Look for the Ring of Asylum on the Door at Notre Dame

[29:43] Frollo Seethes with Jealousy

[30:17] Frollo Mollests Esmeralda

[30:37] Quasimodo Stops Frollo

[31:10] Clopin Attacks Notre Dame to Rescue Esmeralda

[31:36] Quasimodo Defends His Cathedral

[32:19] Quasimodo's Epic Battle to Save Notre Dame

[32:52] Quasimodo Goes Looking for Esmeralda and Find Frollo

[33:20] Frollo and Quasimodo See Esmeralda Hung on Place de Grève

[33:52] Quasimodo Pushes Frollo Off the Towers of Notre Dame

[34:23] The Hunchback of Notre Dame Ending: Spoiler Alert!
Quasimodo follows Esmeralda's body to the open grave and lets himself die in her arms. When they try to untangle their bodies, he turns to dust.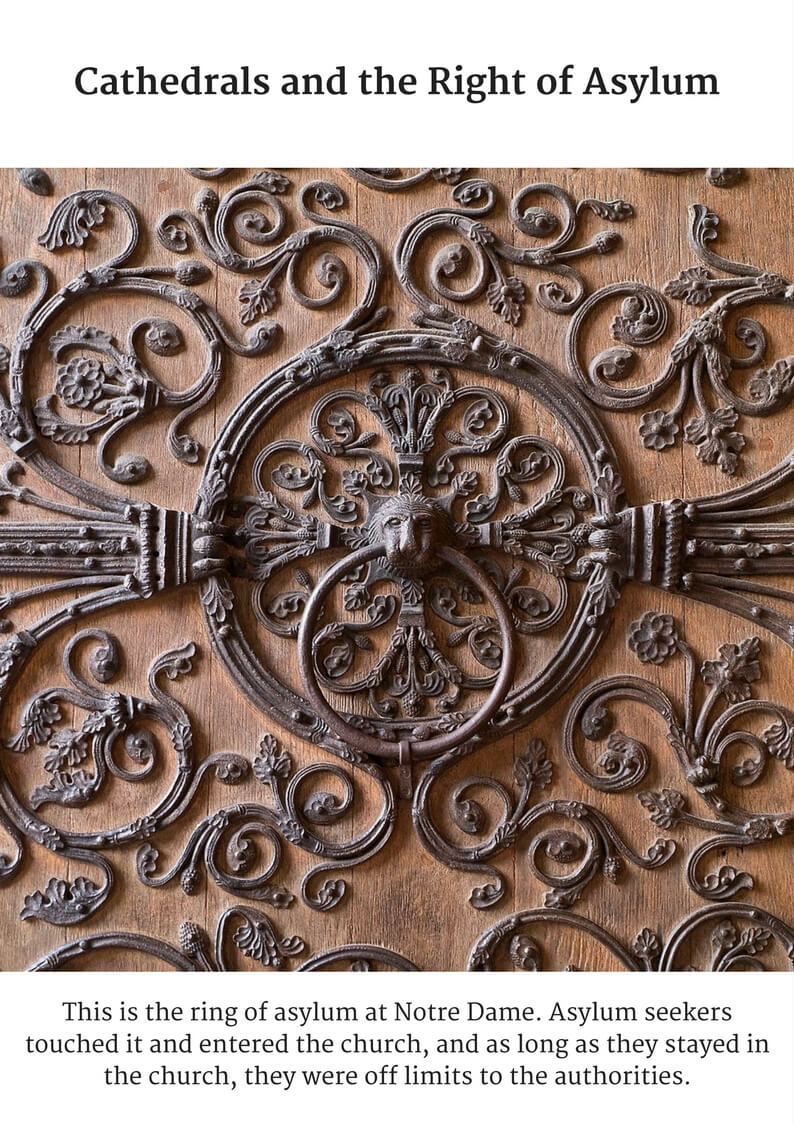 Conclusion
[35:07] The Hunchback of Notre Dame is an emotional beautiful book. By reading it, you will learn a lot about life in France during the Middle Ages as well as about Notre Dame Cathedral. You will laugh and you may cry, but isn't that what makes a novel great?
[36:09] Thank you for your support of the show listeners!
Subscribe to the Podcast
Apple
Google
Spotify
RSS
Support the Show
Tip Your Guides
Extras
Patreon
Audio Tours
Read more about this show-notes
Episode Page
Transcript
Categories: French Culture, Paris