Table of Contents for this Episode
Categories: Day-Trips from Paris, Normandy & Brittany
Discussed in this Episode
Giverny
Monet's Gardens at Giverny
Gare Saint-Lazare
Orangerie Museum in Paris
Marmottan Museum in Paris
Vernon-Giverny Train Station
What You Will Learn About in this Episode w/ Timestamps
Claude Monet, Prolific and Long-Lived
[03:10] Claude Monet was both a prolific and long-lived painter. He didn't paint the waterlilies exclusively, but he painted them a lot over his many years!
Giverny Is in Normandy
[04:12] Monet was born in 1840 and he bought the property that became known as Giverny at age 43. Giverny is technically in Normandy.
How Long Does it Take to Take a Day Trip to Giverny from Paris?
[04:56] By car, it takes an hour to an hour and a half from the center of Paris depending on traffi. By train you get on at Gare Saint Lazare to Vernon-Giverny and then you take a shuttle bus that runs every half hour. Or you could take a little tourist train between the Vernon-Giverny train station and Monet's house. Some websites suggest you could walk it, and probably you could, but why? It's neither short or pretty. When you take the train, you go along the Seine, which is pretty.
Why Monet Settled at Giverny
[08:33] Monet wanted to get out of the city, he was at an age where he was getting to be well-known, but he wasn't super famous yet. He wanted to create a space that he designed (with a gardener) so that anywhere he looked he would have something to paint. Everything is organized by color combination.
Flowers Year-Round, Almost
[12:00] They have 12 or more gardeners these days, there are a LOT of flowers and unless you go in the dead of the winter, you will get a feast for the eyes. The part with the lily pads and the willows and the pond are amazing. It's hard to get a photo of the little green bridge without anybody on it because there are always so many people. Don't go on a Saturday or Sunday if you can. Monday has fewer visitors typically. Overcast days are even better for artists and photographers, so don't worry too much about not having perfect weather on the day you visit.
Where to Go if You Bought Your Tickets Ahead of Time
[15:10] When you get to the parking area you have a 10 minute walk through the village (with nice houses, restaurants, etc.) there is a ticket office on your right. There is a sign off to the right for people who have already bought their tickets on-line, you need to turn to the right before you get to the ticket office.
Giverny Is a Full Day Trip from Paris
[17:50] You can spend a whole leisurely day at Giverny. If you rush, you could do it in 2 hours, 4 hours seems like an ideal amount of time to spend there. If you're into botany, you'll need more time because you'll want to pay closer attention to specific plants.
Giverny Was "Une Ferme de Paysan"
[20:00] When Monet rented Giverny, it was 20 hectares and it was a "ferme de paysan" so a farm. Monet quickly started to transform the farm into a flower garden. Giverny became his life's work, he worked there along with the gardners his whole life.
What You Will Inside the House at Giverny
[21:19] When you go into the house, at first you see the studio room that he used when he was older because he could see into the garden. You see the original furniture in the house, and on the walls you see reproductions of Monet's work by amateur painters. They don't look near as good as the original and anybody can tell! Then you see the bedroom, the blue and white kitchen and the very yellow dining room.
Monet Lived a Charmed Life
[23:34] Monet lived a charmed life other than a couple of tragedies (the untimely death of his first wife and the death of one of his children). When he wasn't painting he entertained his friends. He was a well-centered person. He was very close to all the impressionist painters, close to Alfred Sisley, Camille Pissarro, Berthe Morisot who he took under his wing. He was also very close to French Prime Minister Georges Clémenceau.
Giverny as a Place of Pilgrimage
[25:09] Giverny has now become a place of pilgrimage. In part because Monet's art is so well represented all over the world, but also because he personifies that time period. His legacy has been preserved in part thanks to a lot of American money.
Claude Monet and Georges Clémenceau
[26:29] Claude Monet had the privilege of being best friends with Georges Clémenceau (Président du Conseil) and that's how he was given the space at the Orangerie to do the lily pads. That's also how he got a State Funeral. Sadly, Money died before the Orangerie opened with the lily pads. In many ways Monet was an "official" French artist.
Claude Monet, the Conventional Artist
[28:33] Claude Monet was also a conventional Frenchman. He was grounded, not a thrill seeker. He had his wife and his kids and his work and that fulfilled him. Walking through the gardens and sitting on a bench near the ponds at Giverny can be a meditative experience. It became important for other artists to come visit him and he made people come to him at Giverny.
Also Consider Visiting the Marmottan
[31:00] The Marmottan Monet Museum in Paris has a lot of wonderful pieces by Monet, and also well-worth a visit. But Giverny continues to be the place of pilgrimage where people flock to in order to get a feel for his work and legacy.
Should You Stop at the Musée des Impressionismes at Giverny?
[32:00] The Musée des impressionismes in Giverny is located near the gardens is now open and features impressionist and post-impressionist artists. The space itself is lovely, not very big, it is dedicated to other artists who worked at the same time as Monet or were influenced by him. It will take an hour or so to visit and is recommended if you have the time.
How to Schedule Your Day at Giverny
[33:50] Elyse and her sisters took the 8:30 AM train out of Gare Saint-Lazare and took the 5:30 PM train back to Paris. This means they got to Giverny by 10 AM which is about when it opens. There are nice places where you can get some breakfast and lunch as you walk to the entrance.
The Gift Shop at Giverny
[35:40] The gift show at Giverny is pretty big, they have a little of everything, but also garden books and seeds. It's a great place to bring little souvenirs.
Giverny as a Photographer's Paradise
[38:00] Giverny is not a place that needs a lot of talking or explaining. It is a place of contemplation. If you want more details on the plants there are books and their website is also very good at giving the names of the plants. It's a photographer's paradise and a place that appeals to the senses.
Bought Your Ticket in Advance? Don't Miss the Entrance!
If you bought your ticket in advance, you do not need to stand in the long sloooooooow line at the end of the street. There's a special line for ticket holders, but most people walk right past it and don't see it! Or maybe they misunderstand the sign. "Coupe file" doesn't mean cutting the line and being rude, it means it's for people who bought their ticket on-line. Look out for this sign, and if you get to the long line you've gone too far!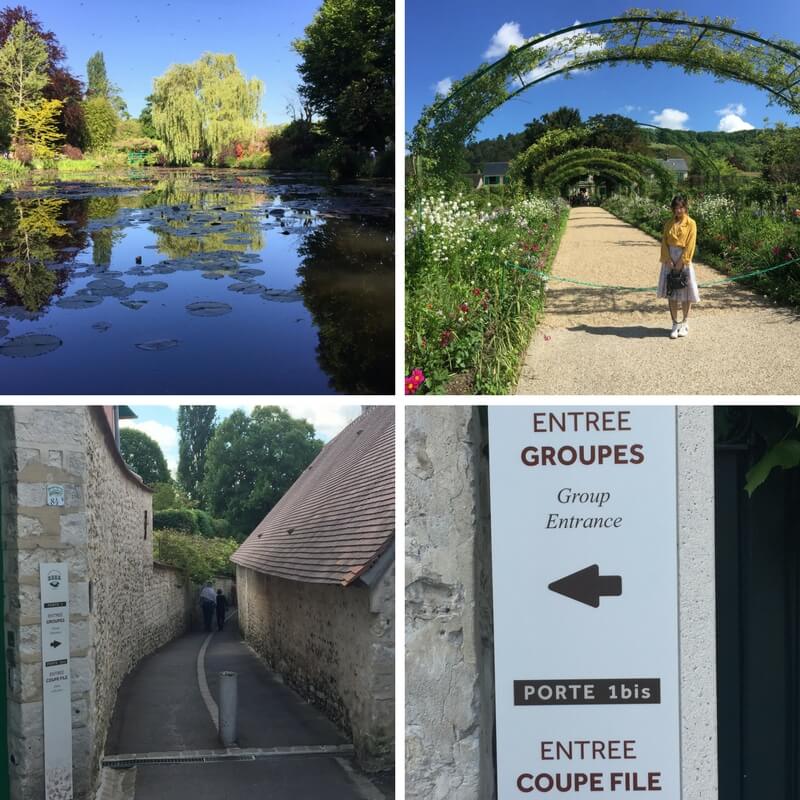 Subscribe to the Podcast
Apple
Google
Spotify
RSS
Support the Show
Tip Your Guides
Extras
Patreon
Audio Tours
Read more about this show-notes
Episode Page
Categories: Day-Trips from Paris, Normandy & Brittany