Categories: Day-Trips from Paris, Paris
Discussed in this Episode
Nancy
Château Malmaison
Monet's Gardens at Giverny
Saint-Malo
Mont-Saint-Michel
Dinan
Chambord
Chenonceau
Cheverny
and Reims
What You Will Learn About in this Episode w/ Timestamps
In this episode, Kin outlines six day trips from Paris that you can do without renting a car. Pay close attention to how she did it because some of these are tricky to pull off.
[The segment on Kim's day trip to Nancy starts at 3″50′]
Day Trip to Nancy from Paris
Nancy is only 1 hour and 40 minutes away from Paris by TGV. Kim booked all her train tickets from her home in Australia using the SNCF website, which she found it easy to use and where she got good rates because she was booking ahead of time. Trains to Nancy leave from the Gare de l'Est in Paris.
She left Paris at 8 AM and was in Nancy by 9:40 AM. Kim's main objective in going to Nancy was to visit the Musée de l'école de Nancy, one of the best places in the world to see Art Nouveau. Between the train station and the museum, she chose to get a taxi (less than 10€ each way).
This museum used to be the home of Jean-Baptiste Corbin  who was an Art Nouveau collector. In his home, you will see original Art Nouveau furniture, glass by Gallé, beautiful staircase with stained glass ceiling, marvelous woodwork, altogether a wonderful and unique collection. Plan to spend one hour.
Then head to the Place Stanislas. It is often cited as THE most beautiful plaza in France with a stunning gate by Jean Lamour. There were repairs going on some of the buildings, as always happens, but it was gorgeous in spite of that. Place Stanislas is a good place to get some lunch, then walk around the neighborhood to discover quaint small streets.
She also went to the Parc de la Pépinière, a lovely park not far from the center of Nancy. Then Kim went back to place Stanislas to visit the Nancy Fine Arts Museum (Musée des Beaux-Arts de Nancy) where she saw an exhibit on self-portraits, including some by Monet and Cézanne. This museum also contains a large collection of glass by Daum and Gallé.
Other Things You Can Do in Nancy
Visit the Musée Lorrain (housed inside the Palais des Ducs de Lorraine)
Visit the Nancy Cathedral (named Cathédrale Notre-Dame-de-l'Annonciation et Saint-Sigisbert, a mouthful even for French people!)
Villa Majorelle, also Art Nouveau, but only open on weekends.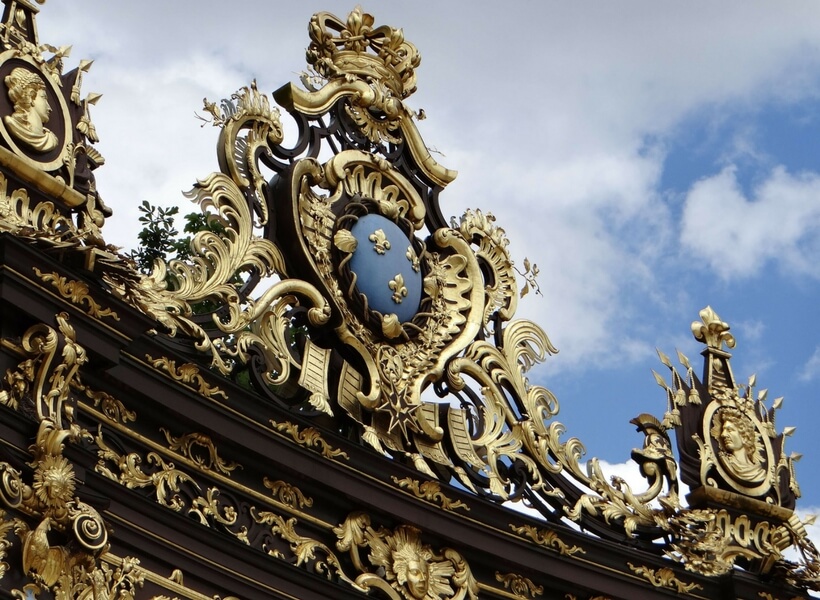 Half-Day Trip to Château Malmaison
[The segment on Kim's day trip to Malmaison starts at 17″20′]
This visit only takes a half day because this chateau is smaller, but it is very nice and has some unique features. To get to Château Malmaison, take the métro to La Défence, and go to the bus station underground. You need city bus #258 and stop at "Le Château". Kim spent a couple of hours there. It was Josephine's house, but Napoleon spent time there.
The library is full of well-kept books, a billiards room, you can see the bedrooms, including some entirely done in red, quite unusual and interesting. The kitchen at Malmaison is also different with beautiful gold crockery. This chateau has a lot of furnishings, which makes it more interesting than somewhere there isn't very much left. Kim found it interesting and better than she had anticipated.
You can also take a short walk to Rueil-Malmaison where you can  see the church where Josephine is entombed. Easy, pleasant walk into the town of Rueil-Malmaison, which is also a good place to get some lunch.
Day Trip to Monet's Garden at Giverny from Paris
[The segment on Kim's Day trip to Giverny starts at 27″19′]
It is possible to do this on your own using public transportation (from Saint Lazare catch a train to Vernon on the line Paris-Rouen-Le Havre, then walk or take a taxi for the last 6 km. ), but Kim chose to go with an organized tour. Most organized bus tours in Paris leave from the Tourist Office at 29, rue de Rivoli. And you can book it in advance here.  The bus ride takes about an hour, but it makes it very easy.
You can visit the inside of the home also, and it's well-worth seeing, but no photography is allowed in there. The kitchen is bright yellow, the views from the windows to the gardens are amazing.
The lily pond is across the street and there were many visitors, but it is very serene all the same. There are a few shops and a restaurant in the village right outside of the house.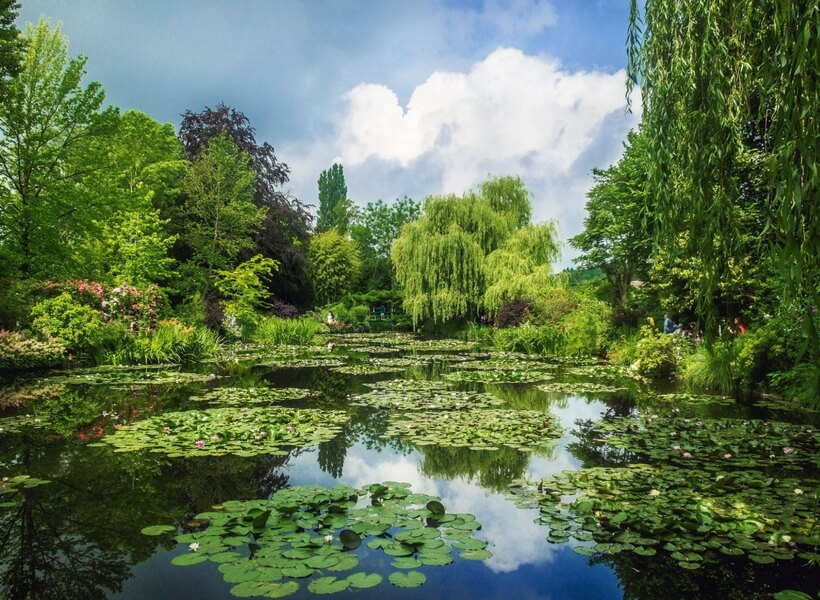 Day Trip to Mont Saint Michel from Paris
[The segment on Kim's day trip to Saint-Malo, Mont-Saint-Michel, and Dinan starts at 33″48′]
One way to do a day-trip to Mont-Saint-Michel from Paris is to book a bus tour from the Paris Tourist Office. This tour leaves from the Pyramides Tourist office on 2, rue des Pyramides.
But Kim chose to do it using the TGV. She left from Gare de l'Est at 7:30 AM and caught the TGV to Saint-Malo. There she had arranged to be picked up by a tour guide with a mini van for 8 people. First, the guide took them to the lovely walled city of Saint-Malo. The weather was not very nice that day (it IS Saint-Malo, be warned!) but they wandered around the city and saw many shops and restaurants of all sorts. Saint-Malo is a gorgeous city, especially if you happen to go on a sunny day!
Then the guide took them to the Mont-Saint-Michel through the smaller roads, which is the way the pilgrims would have walked, they stopped along the way for photos, and then they had to park and take a shuttle.  You can have a bite to eat near the shuttle bus if you're worried about running out of time once on the Mont.
How a Visit to the Mont Saint-Michel Is Conducted
Most of the fun in going to the Mont-Saint-Michel is the walk up to the Abbey, look around the small streets, and looking out onto the ocean. Kim spent about 3 hours at the Mont, which is enough, unless you want to have a sit-down meal at one of the restaurants, in which case you should plan to be there the whole day or stay overnight.
Next, the tour guide took them to the gorgeous and quaint city of Dinan. This city is extremely picturesque, but not as famous because the nearby Mont-Saint-Michel is a lot more famous.  But Kim got to spend an hour there and was impressed by how beautiful it is. Then the tour guide took her back to Rennes where she could catch the TGV back to Paris. By the time she got back to Paris it was 10:30 PM, so a long day, but worth the effort!
Please note that the photo on top of the page is not realistic. There are no train tracks leading to the Mont Saint-Michel!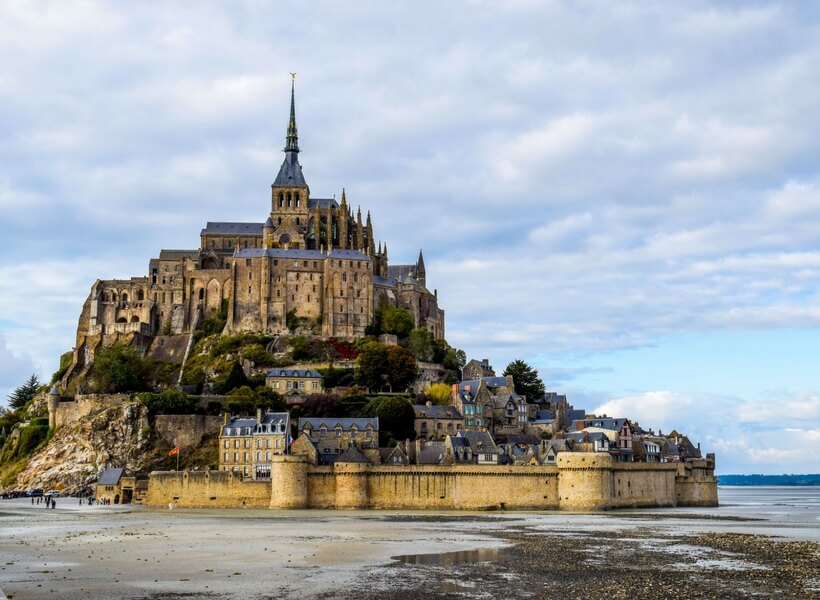 Day Trip to Chambord, Chenonceau, and Cheverny on the Loire Valley
[The segment on Kim's Day  in Chambord, Chenonceau and Cheverny starts at 44″46′]
This one was also an organized tour from Paris (possibly this one,  Kim didn't say). This was another long day, with an early start and they didn't get back until 8 or 9 PM, which made it a full day.
Chambord is the biggest of Loire Valley châteaux, but it's probably the one with the least furniture. The roof is gorgeous and you should walk up and stand on it if you can. Chenonceau is not the biggest one, but it's Kim's favorite (and Annie would have to agree). There is a lot more to see inside, a great café/restaurant, and beautiful views outside. It is also one of the most beautiful Châteaux on the Loire valley, do not miss it if you can only see one! Cheverny is known for its dog kennel, but it is also one of the most beautifully decorated chateaux, with tapestries and period clothes. Kim didn't think Cheverny had as much to offer as some of the others.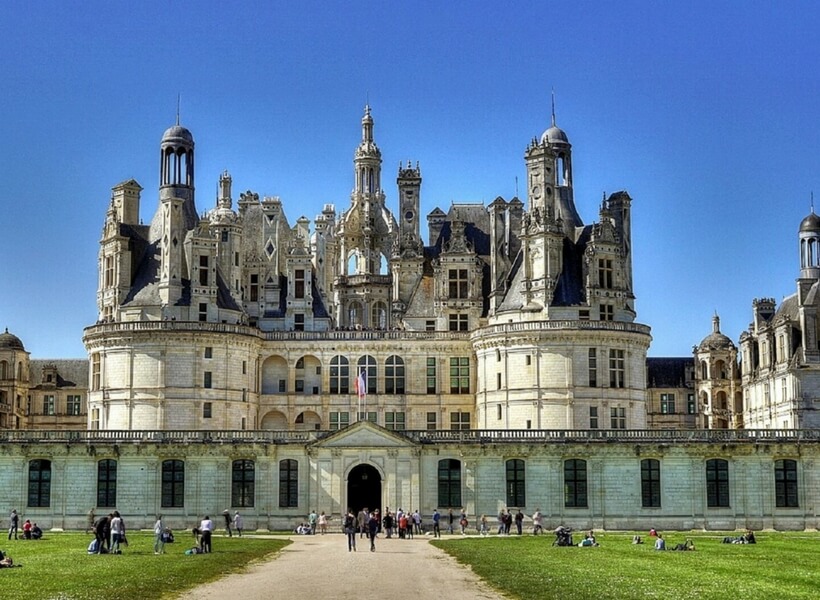 Day Trip to Reims from Paris
[The segment on Kim's Day Trip to Reims starts at 55″30′]
Reims a very easy to visit on the train from Paris. The station is very close to the town, and Kim wanted to see Veuve Clicquot specifically. She booked her tour ahead of time and was very impressed with the way Veuve Clicquot operates. Reims is also famous for its Cathedral where all the kings of France were crowned.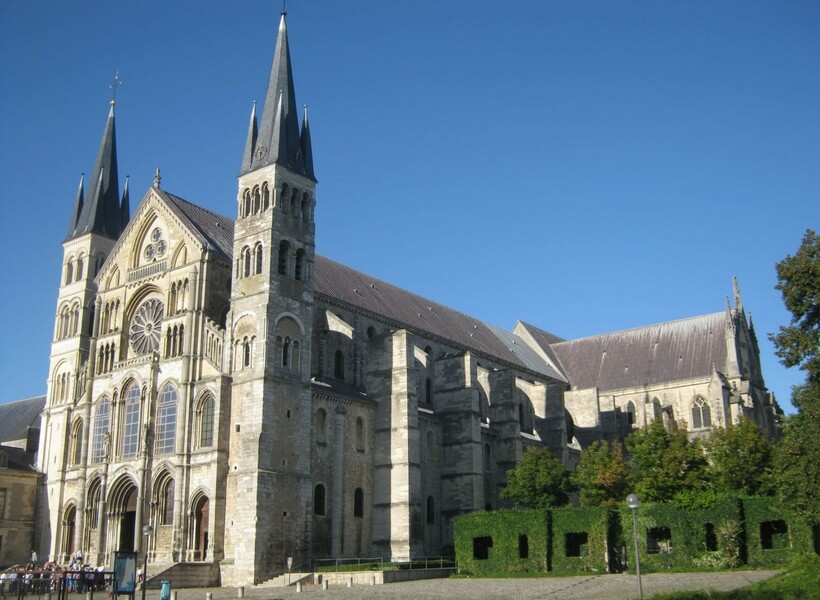 Annie's Tip for Getting the Most Out of Visiting a Cathedral
Look for something specific. I always like to look for gore and guts in a Cathedral. Whatever it is that interests you, look for that. It could be a statue of Joan of Arc or a specific saint or Bible story. Most people walk about a Cathedral like they are hypnotized. Be alert and attentive to a detail. Kim suggests that another thing you can do is sit down and look up!
Save
Subscribe to the Podcast
Apple
Google
Spotify
RSS
Support the Show
Tip Your Guides
Extras
Patreon
Audio Tours
Read more about this show-notes
Episode Page
Categories: Day-Trips from Paris, Paris