Categories: Active Vacations in France, Lyon Area
Robin and Raymond Chamonix Trip Report
Who was traveling? Ages?
Date of trip?
What do you think we should name the episode? What's a good theme for our conversation?
In love with the French Alps.
Where did your trip start and where did it end? Where did you stop along the way?
From our home near New York's Adirondack Mountains we flew in and out of Geneva, just an hour's drive from Chamonix.
Chamonix was our home for the entire trip. We made a day trip to Courmayeur and another to Cervinia where we snowboarded to and from Zermatt.
Rank your favorite activities and places on this trip (list at least 10)
Raymond
Parapante off of Le Bré
Snowboarding Vallee Blanche
Street music in Chamonix: Poil O'Brass Band
Aiguille du midi
Dinner and conversation with Chef Chris at Bivouac
Gondola ride home with boys in ski school at Le Bré
Cheese, baguette and wine in apartment.
Snowboarding Zermatt
PBJ and bubbly on veranda.
Snowboarding at Grande Montet
Robin
Parapente **
Vallée Blanche with Nasir **
Through the fogs to Il rifugio Maison Vieille di Giacomo **
Cervinia to Zermatt and back by snowboard **
Aguille du midi **
Poil O'Brass Band *
Snowboardjoring back to car. *
Cog train back to Chamonix. *
Did you stay at hotels or apartments? Please list them and write a sentence or two of what you liked and didn't like about each.
VRBO apartment.

Loved the location in the heart of Chamonix. Walking distance to nearly everything.
With a view.
Management company provided so many great recommendations.
Washer/dryer was key. Beats a hotel.
A very good value.
Did you have favorite restaurants? Please list them and say what city they were in.
Raymond
Bivouac – Chamonix
Omeletterie La Poele – Chamonix
Rifugio Maison Vieille di Giacomo – Courmayeur
Farmerhaus – Zermatt
Josephines – Chamonix
La Calèche – Chamonix
Munchie – Chamonix
Moo Bar – Chamonix
Robin
La Calèche – Chamonix
Joséphine's – Chamonix
Omeletterie La Poele – Chamonix
Il rifugio Maison Vieille di Giacomo – Courmayeur
Farmerhaus – Zermatt
What were your favorite foods on this trip?
Raymond
Bleu du Val d'Aillon from Le Refuge Payot – Chamonix
Fondu in Zermatt – Farmerhaus – Zermatt
Oysters on the half shell with a jug of wine, followed by scallops and Croque-Monsieur- Josephine's – Chamonix
Omelettes at Omeletterie La Poele – Chamonix
Anchovy and caper pizza at Rifugio Maison Vieille – Courmayeur
Robin
Raclette at La Calèche – Chamonix.
Anything at Le Fournil Chamoniard – Chamonix
Croque-Monsieur- Josephine's – Chamonix
How did you get around? Trains? Car rental? Metros? Walk?
Mostly on foot.
Rental car, trams, snowboards and tourist train down from the mer de Glace.
What did you learn about France on this trip?
Raymond
The French do not have cues. Ski lift lines are a free-for-all.
Expected more people to be smoking.
People were very personable.
Robin
The meal times are very rigid.
Did you make any mistakes on this trip?
Raymond
We didn't have a plan for our short grocery trip to Annecy so we spent time circling around instead of sightseeing or grocery shopping.
Robin
We ate peanut butter and jelly.
Is there something you didn't like very much and wouldn't recommend?
What tips do you want to share with other visitors?
Raymond
Eat out. The food is great and a good value. You can cook French recipes once you get home.
Don't bother with the preset dinner times. Preset times require reservations, waiting in line to get in, being part of a crowd and getting less than stellar service. It's much more relaxed if you eat earlier, plus, you're not famished by waiting so late.
Wine is cheap. Order the house wine.
Adventure trip insurance was cheap and gave us peace of mind.
Robin
Don't do the high thrills package on the parapente if you're over thirty.
If we stayed in a hotel, we wouldn't have had a washer/dryer and a boot dryer which are necessary for skiers/snowboarders.
Overall was your trip restful or stressful?
It wasn't stressful yet we weren't looking to rest. We were looking for a fun exploration. Here's my adjectives.

Adventurous
Relaxing
Pleasurable
How did the podcast and other trip reports help you prepare for your trip?
I liked all the little tips about travel, tolls, money, tipping, dining, French customs, etc.
Feel free to add anything else you think would be helpful to prepare for our conversation.
We travel at bit for snowboarding and there is no place like this. This year we visited twenty resorts in four states and four countries and nothing else comes close to Chamonix.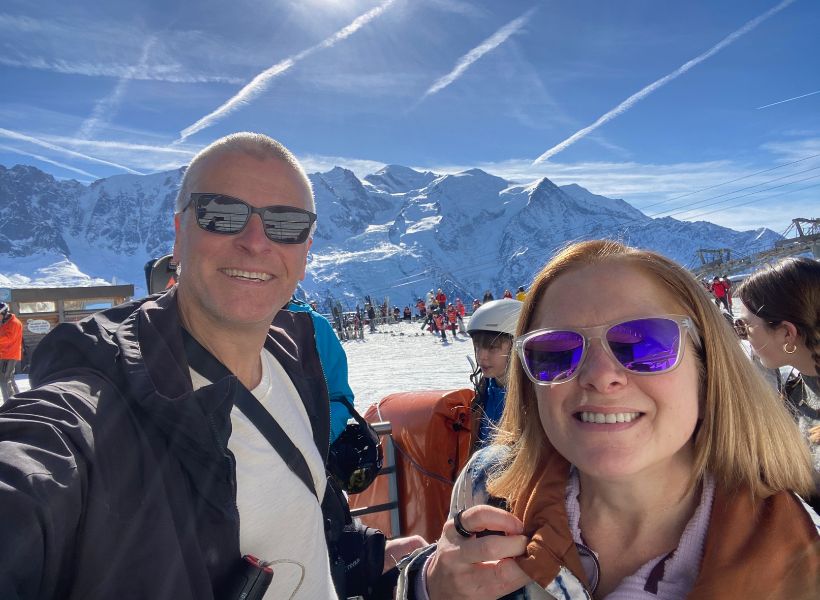 Subscribe to the Podcast
Apple
Google
Spotify
RSS
Support the Show
Tip Your Guides
Extras
Patreon
Audio Tours
Read more about this guest-notes
Episode Page
Transcript
Categories: Active Vacations in France, Lyon Area