Categories: Active Vacations in France, Lyon Area
Raymond Can and Robin Murray are in love with the French Alps. They love a thrill and in this trip report they share their best tips for having a wonderful active vacation in France! Ready for some snowboarding and parasailing? Click play and go on your own exciting ride!
In love with the French Alps
Both seasoned travelers, Robin and Raymond bring unique perspectives to the table: Robin as a middle school French teacher and Raymond with his past visits to the area. Flying into Geneva, the couple rented a car for their 10-day trip, which also included stops in Annecy and plans to visit Switzerland and Italy.
Paragliding and Snowboarding
The episode kicks off with the couple's thrilling paragliding adventure off Le Brévent. Does that say in love with the French Alps or what? Though quick, they describe the experience as breathtaking. While they witnessed another paraglider having trouble, the couple felt completely safe throughout their flight. Annie confessed she'd be too afraid to try it herself.
Shifting the spotlight to Chamonix, Robin and Raymond wax eloquent about snowboarding on the glaciers of La Vallée Blanche, accessible via the Aiguille du Midi. Stressing the significance of hiring a guide for safety against crevasses and ice bridges, the couple were struck by the awe-inspiring vistas. They visited Aiguille du Midi twice: first to snowboard and then for the sole purpose of sightseeing. They emphasized the necessity of advanced bookings and weather checks for this popular destination.
Music, Food and great People
For music lovers, the episode touches on local street music. The couple were captivated by the Poil O'Brass Band, a 12-piece ensemble that performs on Saturdays. They found this impromptu musical delight to be a trip highlight.
When it comes to ski passes, the couple advocate for the ICON and EPIC passes, both of which offer numerous perks in Chamonix. Their $60 upgrade yielded benefits worth several hundred dollars, demonstrating the value of research for potential skiers.
Dining out is a big part of their travel experience, and the couple had an unforgettable meal at Bivouac. They describe Chef Chris, a 10th-generation local, as an energetic host who brings an eclectic touch to the restaurant, offering a homemade wildflower liqueur to guests.
Annie, Robin, and Raymond also share a multicultural experience they had in a gondola ride with a ski instructor and a group of linguistically diverse young boys. The trio discusses their food preferences, mentioning how they alternated between eating out and enjoying simple meals like cheese, baguettes, and wine at their rented apartment.
Practical Concerns
The podcast also addresses some practical concerns, like border control within the EU and the value of researching local etiquette and tips. Robin and Raymond find France reasonably priced, contradicting some popular notions. They end with travel tips tailored for different kinds of travelers, discussing the benefits of dining out to fully immerse in local cuisine and debunking myths related to the cost of travel in France.
This episode is a treasure trove of practical information and inspirational experiences, sure to benefit anyone planning a trip to the French Alps. Whether you're an adventure junkie, a foodie, or someone simply looking to unwind, there's something in it for everyone.
The 2024 Bootcamp is Confirmed!
I want to confirm that there will be a 2024 bootcamp in Toulouse. It will start at 10 AM on Saturday, May 11th, 2024, next year. And will end at 9:30PM on Sunday, May 19th. So if you'd like to participate, you should be in Toulouse between May 10th and May 20th.
I have many people on a waiting list for this bootcamp, and they'll get the link to the reservation page first. It's not ready yet, but as soon as it's ready, they'll get it first. Then my patrons will get their chance to secure their spot, and then I'll open it up to everyone on my email list. I only have 40 spots for this bootcamp, and it sold out very quickly last year.
Table of Contents for this Episode
#FrenchAlps, #TravelTips, #AdventureTravel, #Paragliding, #Snowboarding, #LaValléeBlanche, #LocalCulture, #StreetMusic, #SkiPasses, #ICONPass, #EPICPass, #DiningInFrance, #BivouacRestaurant, #MulticulturalExperience, #PracticalTravel, #EUTravel, #Chamonix, #LeBrévent, #AiguilleDuMidi, #TravelPodcast, #ActiveVacation
FOLLOW US ON:
Subscribe to the Podcast
Apple
Google
Spotify
RSS
Support the Show
Tip Your Guides
Extras
Patreon
Audio Tours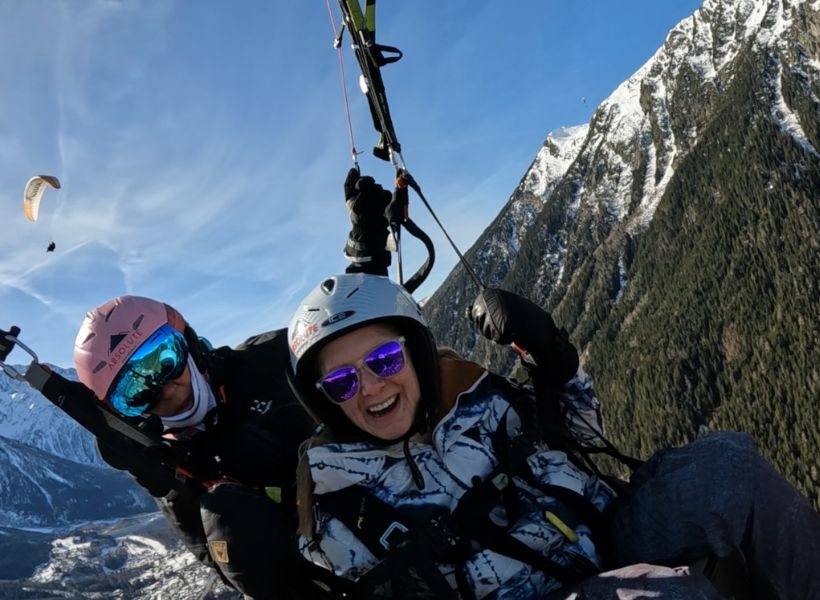 Read more about this episode
Transcript
Guest Notes
Categories: Active Vacations in France, Lyon Area