Category: France How To
A guide to regional trains in Ile-de-France (surrounding Paris)
There are many smaller towns in the Ile-de-France (IDF) region that make for interesting day trips from Paris. For example:
Provins – medieval trading hub with well-preserved medieval buildings. On the weekends there is a market and people dressed in medieval garb. Would be a good place for kids interested in this time period.
Versailles – the famous chateau
Rambouillet – Chateau that was used by French kings and Napoleon. Also the shell cottage (literally covered in shells) is worth the walk from the chateau.
Fontainbleau – Very large chateau used by French kings and Napoleon. There's also a royal forest if you're looking for a hike not too far from Paris.
Rosa Bonheur's chateau is in the town of Thomery and can be reached by train. The chateau requires a reservation.  They do have audioguides in English. If you are interested in her as a person, this is an interesting day trip.
Chateau de Vaux-le-Vicomte – this building was the inspiration for Versailles. It's a bit harder to get to because you take the train to nearby Melun and then there is a shuttle bus to the chateau, requiring a reservation on their website.
Auvers-sur-Oise – the small town where Vincent Van Gogh spent the last few months of his life. This route sometimes requires a train change, or you can walk the last 30 min to the town. Excellent for Van Gogh fans.
Sceaux – a chateau that holds a cherry blossom festival in the spring.
If you would like to visit any of these places by train from Paris, you either need a paper ticket or a day/week/month Navigo pass for regions 1-5. The Navigo pass can be loaded to most Samsung phones (iPhones are theoretically coming sometime in 2023) on the Bonjour RATP app, or you can buy a Navigo Decouverte card, which requires a small ID photograph and costs 5 euros.  Once you have the Navigo Decouverte you can load the pass using the Bonjour RATP app (holding the pass to the back of your phone), or you can load it at machines for that purpose in a train or metro station.
Photos of buying a paper "origin-destination" ticket at a station
You can buy a paper ticket at any metro/RER/train station in Paris that has a functional machine or an open window. Below is a pretty typical arrangement. On the left you have two machines to buy tickets. The machine on the left is "hors service" or out of order, which is also pretty typical. The purple machine on the far right is for loading daily/weekly/monthly Navigo passes if you don't have a smartphone. In the center is a window, where you can walk up and ask to buy a ticket to a particular destination.  There's no guarantee that the people here will speak English, but it's a good opportunity to practice your French! The maximum price for a single paper ticket to or from Paris and the surrounding IDF area is 5 euros, except for the airports, which are more expensive. That 5 euros includes train (not bus) connections within Paris for up to two hours from the time you validate your paper ticket until you arrive at your destination.  If you are far enough away that it will take longer than two hours, just use a T+ ticket to get from anywhere in Paris to the station where the regional train departs and then buy a 5 euro origin-destination ticket at the entrance to that station.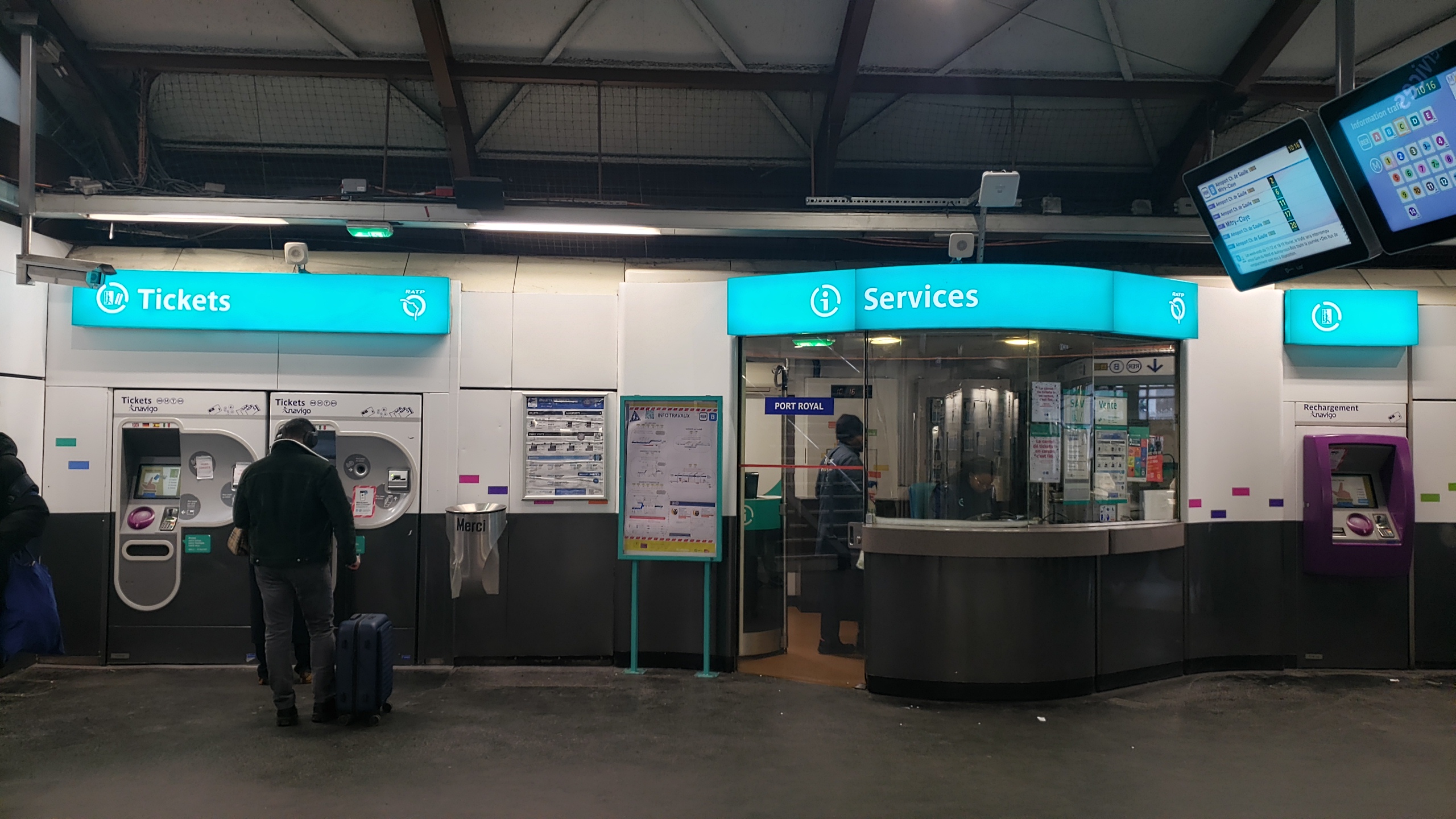 Let's take a closer look: Do not try to use the machine below! "Hors service" means out of order.
Here's a functional machine.  This is one of the newer machines with a touch screen. As you can see, there is a place to pay with coins or bills, and also a credit card slot. You have to use the slot. I've never seen one of these machines with touchless pay capability. I have, however, used American credit cards without any problem. The tickets will be dispensed within the oval opening below the screen.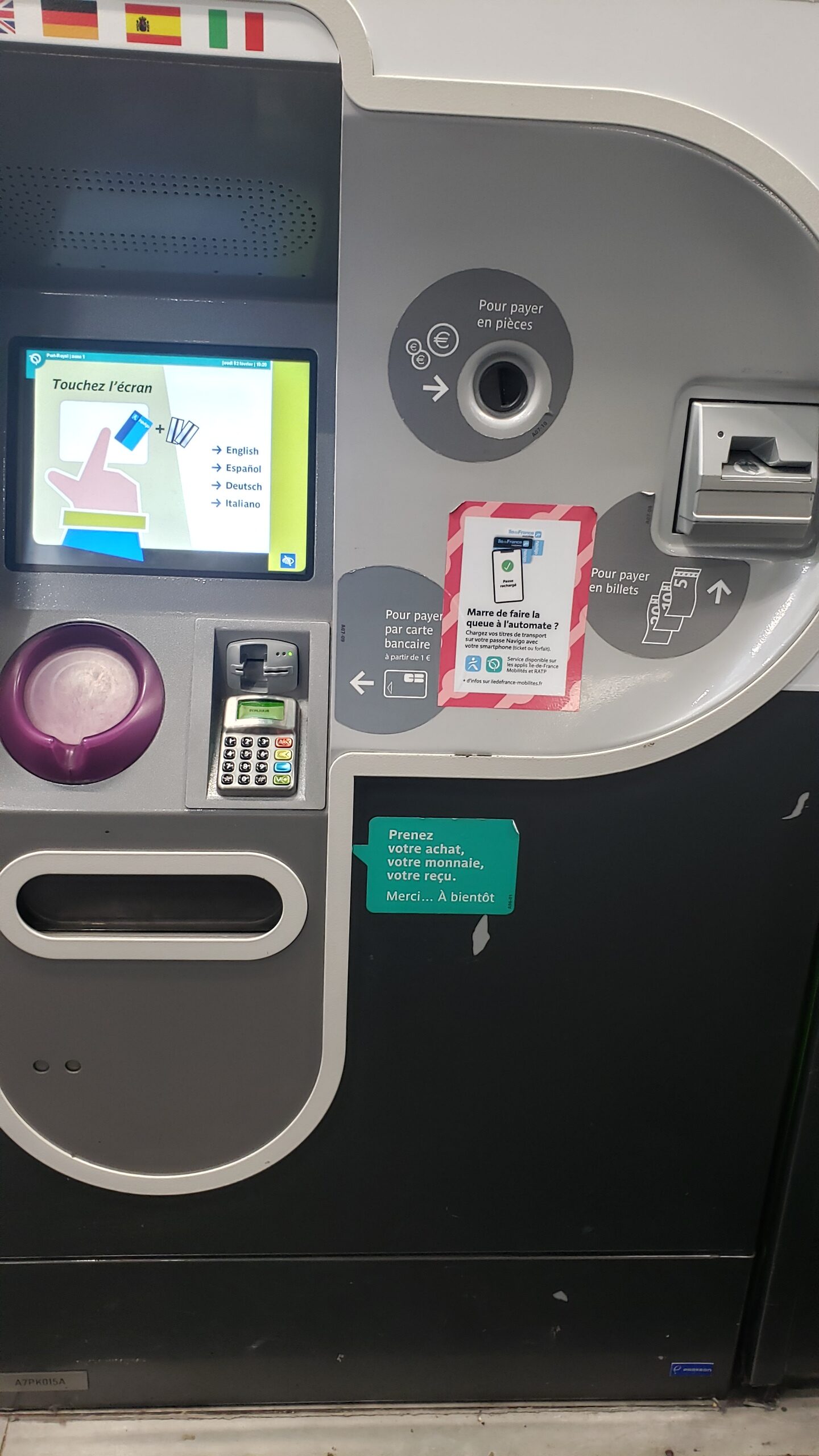 Here is one of the older machines without a touch screen.  Instead there is a roller device (rouleau) under the screen that is used to move the highlighted selection up or down. You can see that I've chosen "English" by rolling down, for example.  Once you've gotten to where you want to select, you push the silver button on the right that says "validez ou acceptez ici."
If you are more comfortable in English, choose the word "English," then choose "you don't have a Navigo pass, to get to the screen to buy paper tickets."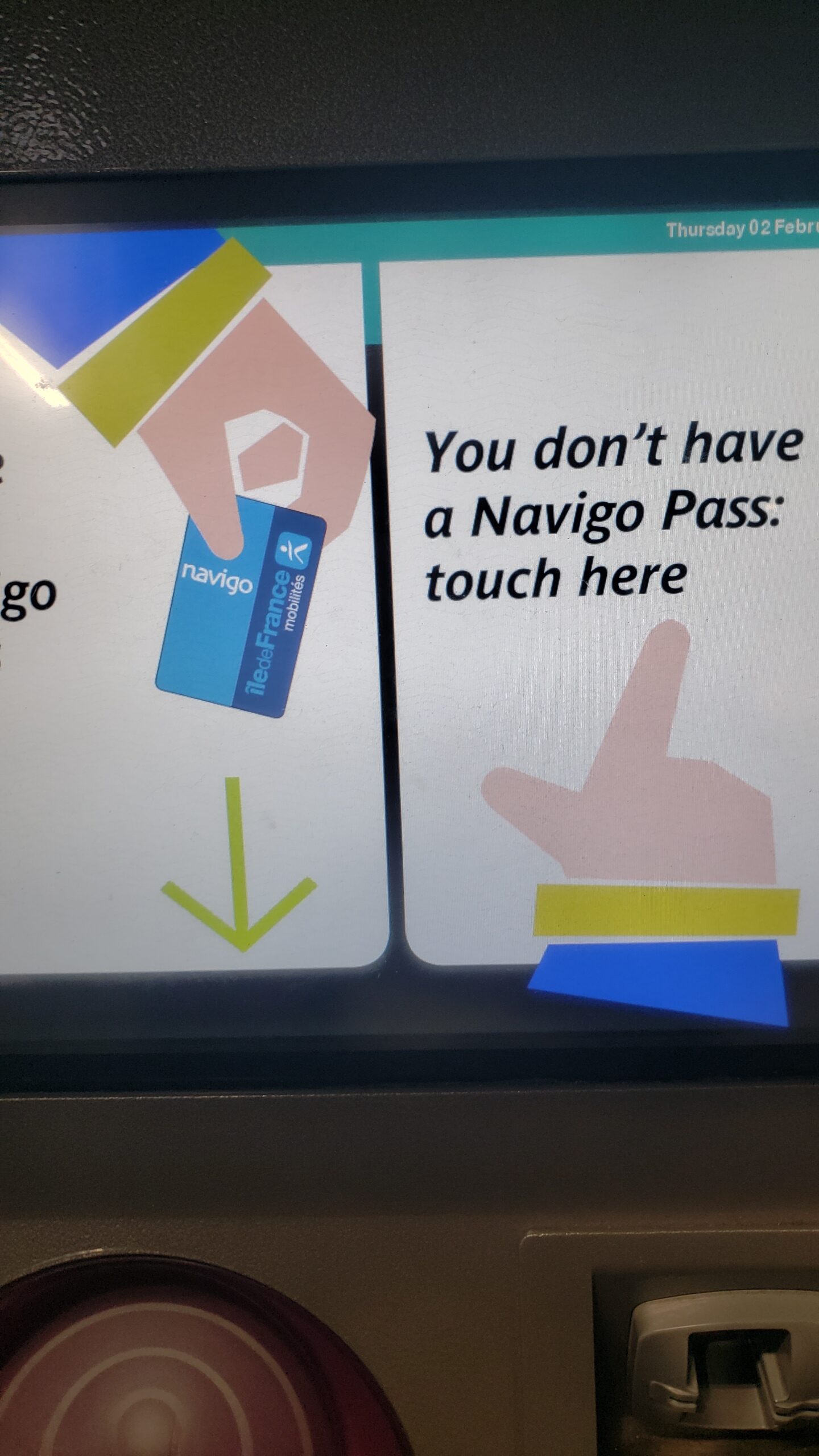 Then choose "tickets for Paris region valid from this station." If you are out in the suburbs buying a ticket to come back to Paris, the machines there will give the option to buy a ticket back to central Paris. In that case it doesn't require you to choose a specific station.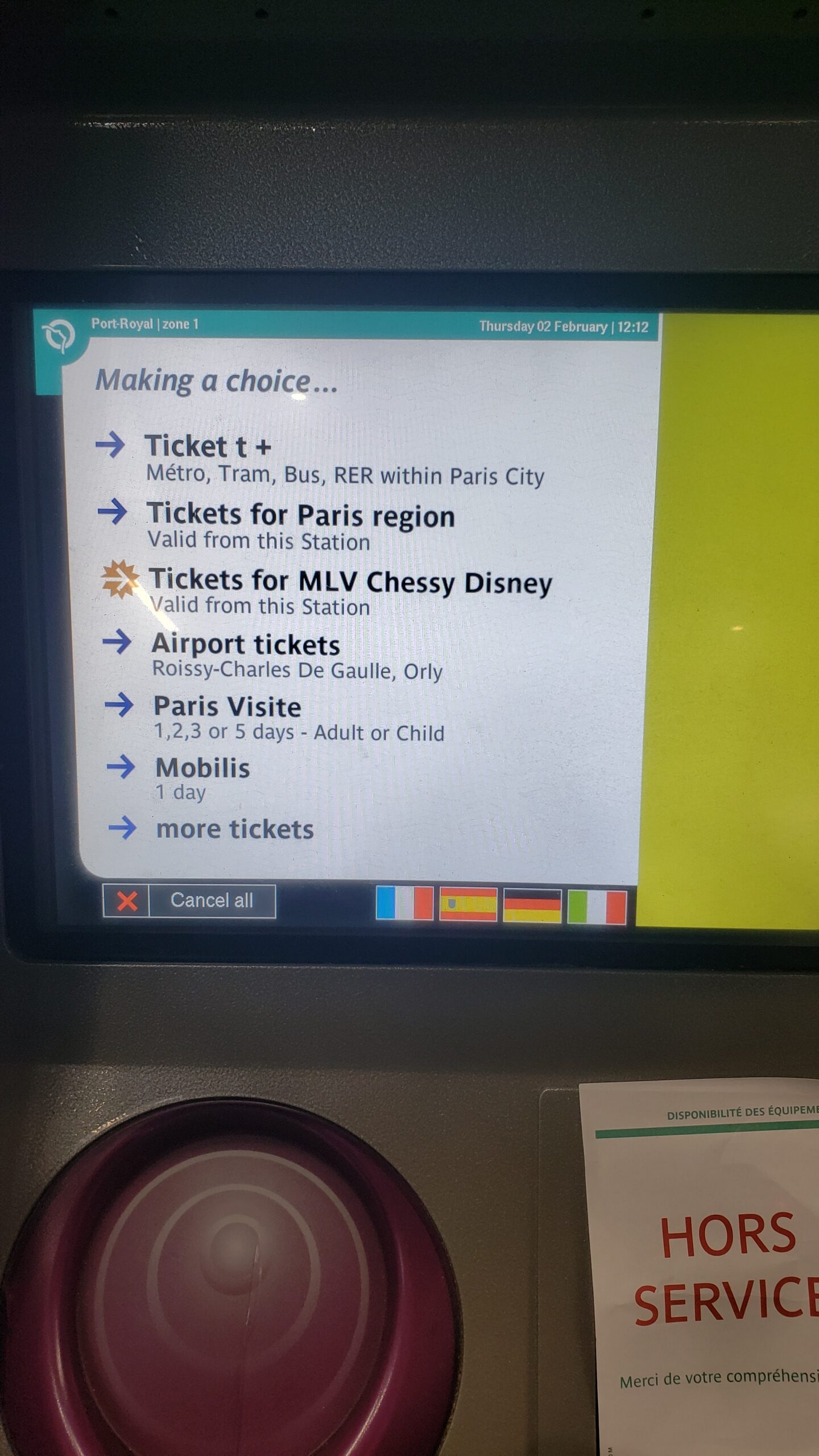 You then type in the name of the station that you want to go to from where you are. In this case, I put in Provins, which is a town with just one station.  For Versailles there are multiple stations and you must specify which station.  You are buying a ticket to a station, not a town. After entering PRO, you can just tap the word "Provins" to select this destination. If you are using one of the roller machines, you will select the first letter and then get a list of all available stations that start with that letter.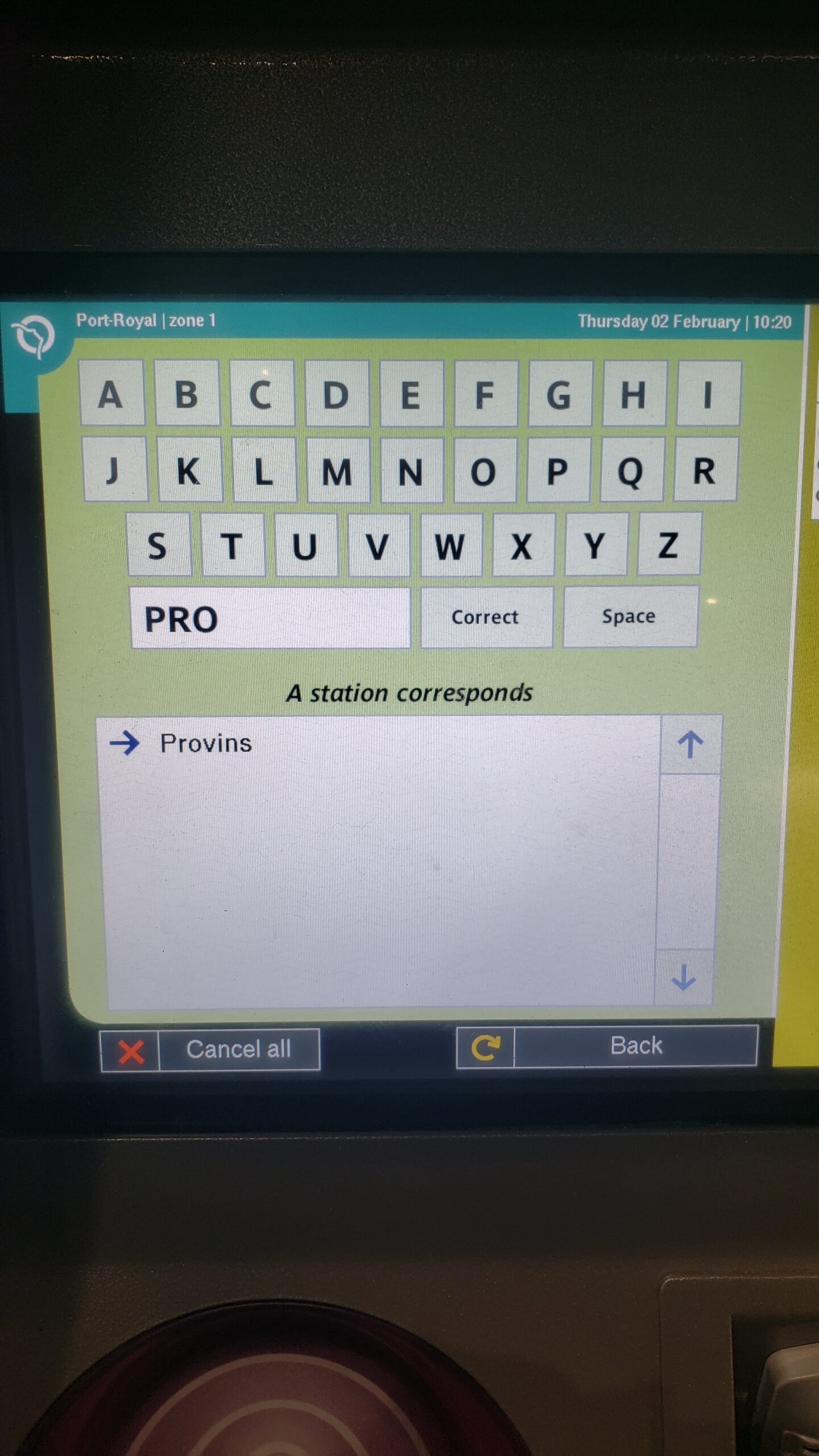 Next you can choose full fare for an adult or reduced fare for a child. If you want both, start with one and then later you will have the option to add more tickets to your purchase. I chose full fare.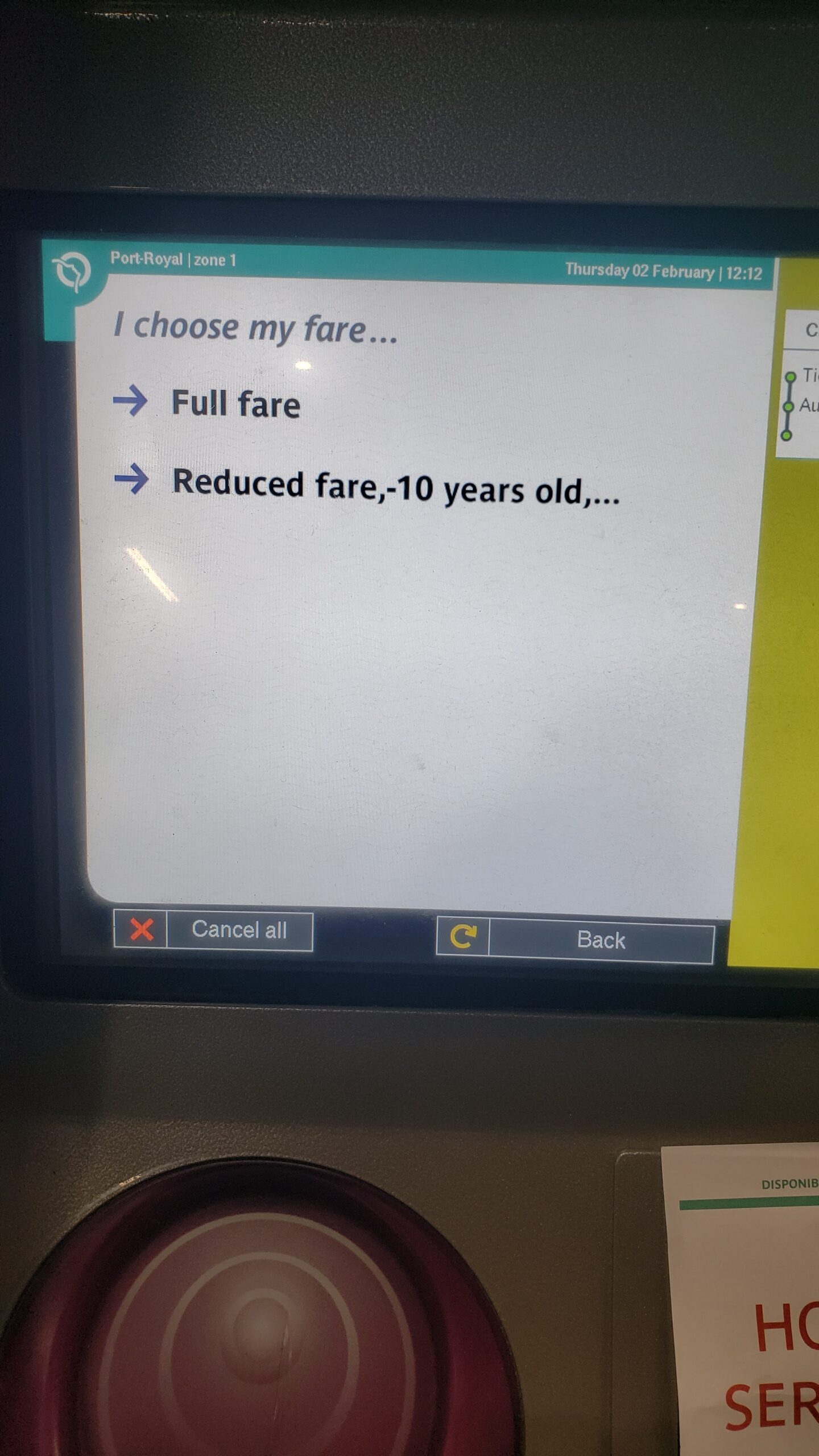 The next screen gives you an option for the number of tickets at that fare level. So if you have multiple adults in your party you can choose the number here.  The book of ten tickets saves you money, but all of those tickets are tied to the specific origin and destination that you have selected. They are designed for people who live in the suburbs and want to travel a specific route multiple times. They are not generic the way T+ tickets are. The official website (https://www.transilien.com/fr/page-tarifs/ticket-origine-destination ) says that origin-destination tickets can be used either way, so that if you have a group of five adults you could theoretically buy 10 tickets and give two to each person, one for each way.  But I have never tried this. I just buy my return ticket at the other station to come home.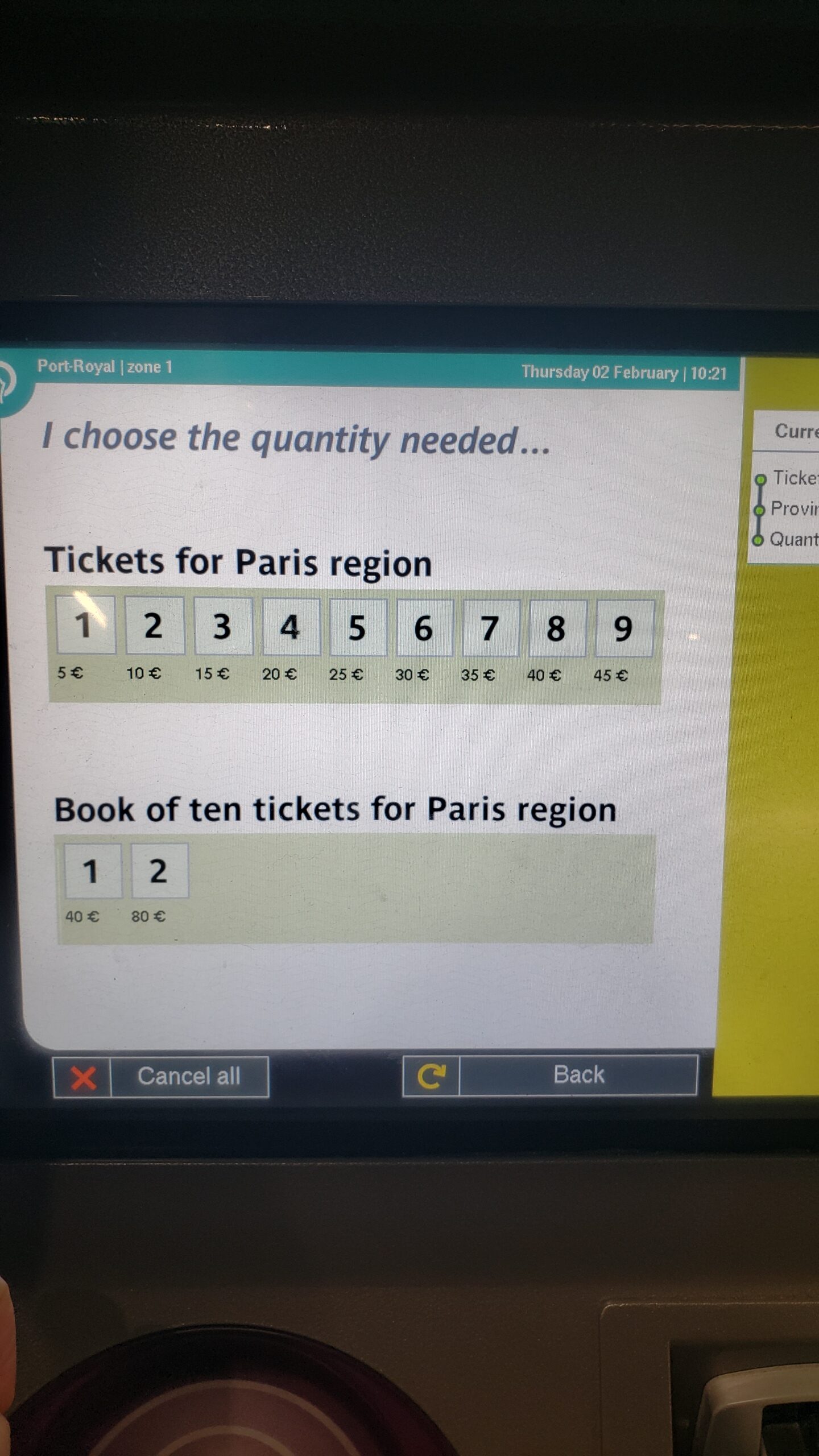 You then have the option to "validate" to go to the payment screen, or "next purchase" to add more tickets.  The tickets can be purchased in advance and used a different day, so if you know that you are going to do a different trip starting from the same station, you can buy the ticket now.  You can also add a child ticket (under 10) at this point.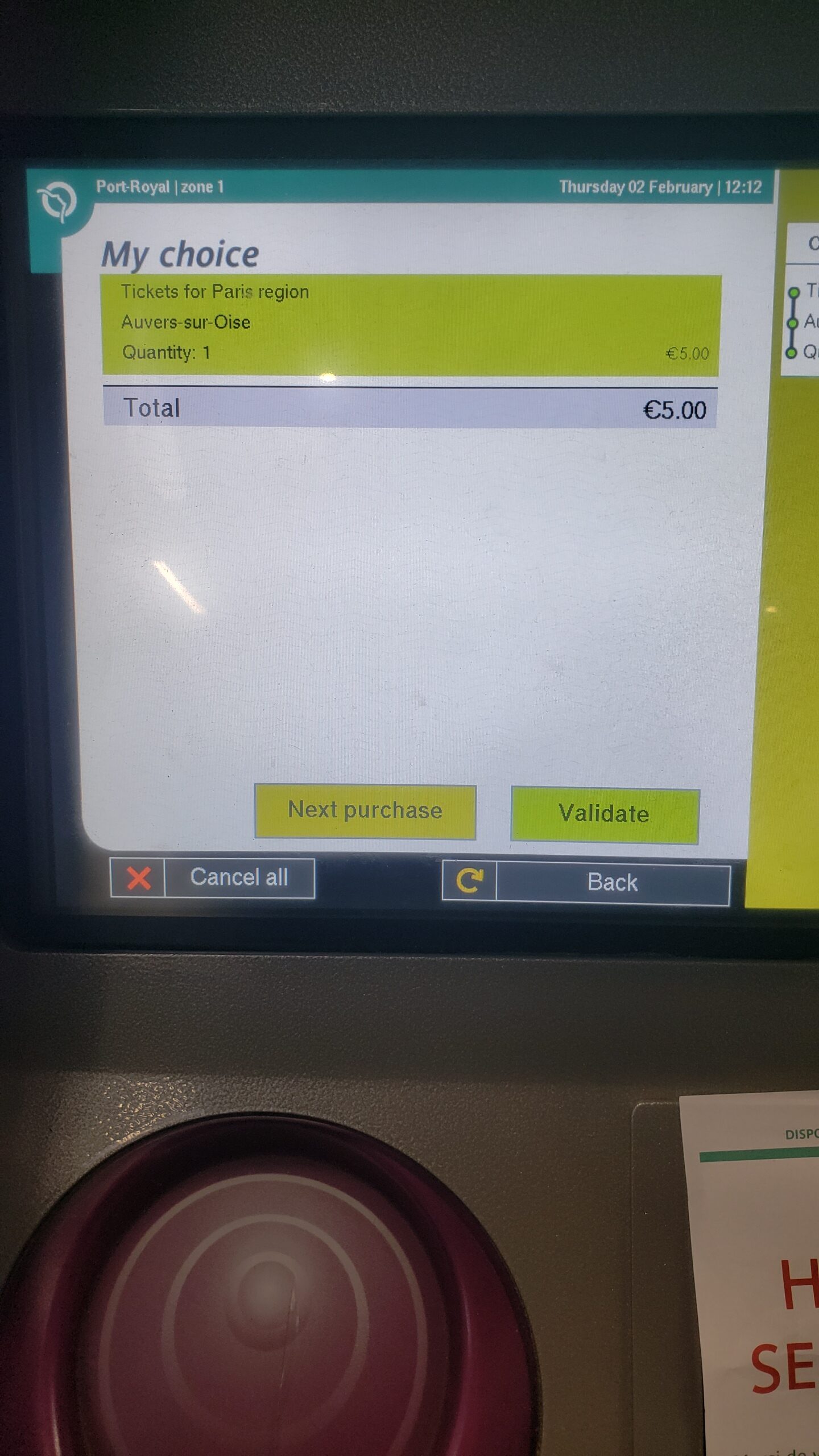 After you have paid, the tickets are dispensed behind a clear panel below the screen.  They are small rectangles of stiff paper, with a magnetic strip on them.  They will have the origin and destination printed on them, so if you have purchased multiple tickets, you will know which ticket to use for which destination. Be careful not to store them next to anything magnetic as they can be demagnetized. For instructions on using the tickets, skip down to the next section.
Screenshots of the Bonjour RATP app:
If you would like to load a pass directly onto a Samsung phone, and swipe the phone rather than a card, choose "on my phone," then "buy ticket" then the pass that you want.  In all of these cases you can use a credit card to buy through the app. The T+ tickets loaded which you can see on my phone can only be used within the Paris city limits. If you choose the weekly pass, zones 1-5 are the only option. For the 1-day pass, be sure to choose zones 1-5 if you want to travel in all IDF zones.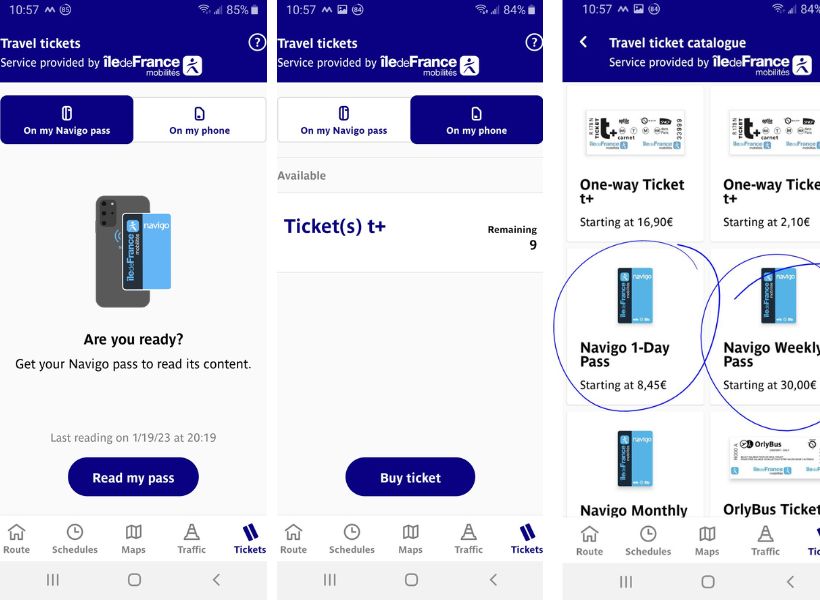 Please be aware that the weekly and monthly passes are for a calendar week (Mon to Sun) or month.
If you would like to load a Navigo card (such as the Navigo Decouverte) with a weekly or daily pass, hold it to the back of your phone and use the app to buy the pass. From there the screens will be similar to the above.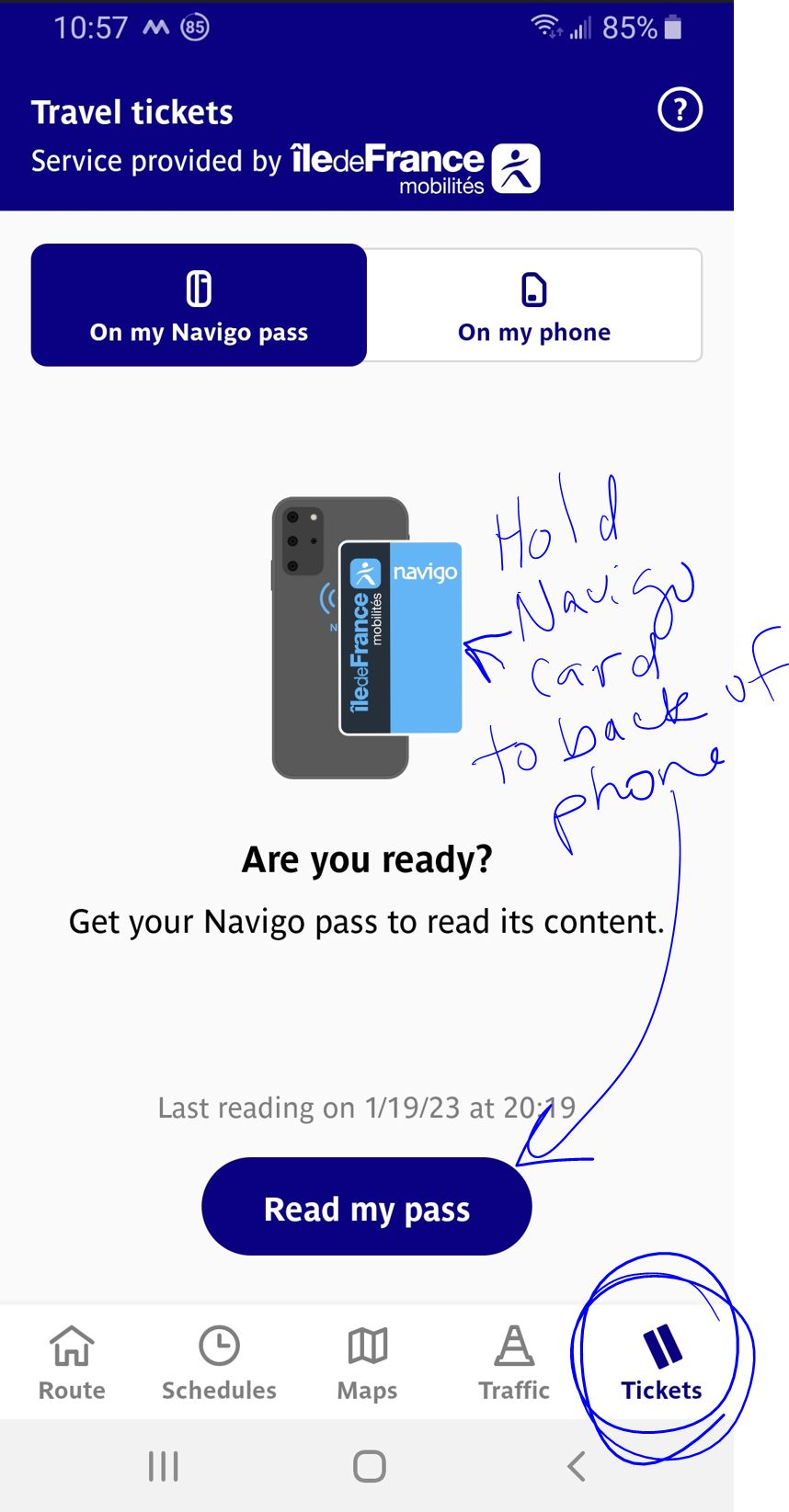 Using your pass or paper ticket
In order to get to the platform to catch the train, you will need to pass through one of these gates.  Active gates have a green arrow (not a red X). As you step up to a gate, there will be a ticket control machine at your right hand. If you have the daily/weekly/monthly Navigo pass, you touch the Navigo card or your phone to the purple circle on the top, until the machine dings and the gates open.  If you are using a paper ticket, you place it with the printed side up (magnetic strip down) in the slot in the front of the machine, and it pops up at the top of the machine.  Be sure to save your ticket as you will need it to get out of the station at the other side.  There will be a gate where you place your ticket in a similar slot and it will let you out just as it let you in. There are also people who can ask you for your ticket along the way to make sure that you didn't jump a turnstile to get in.  Once you have put your ticket into the machine to start your journey, it's good for two hours.  You may need to scan your ticket again, for example if you have a connection that switches you from the metro system to the RER system.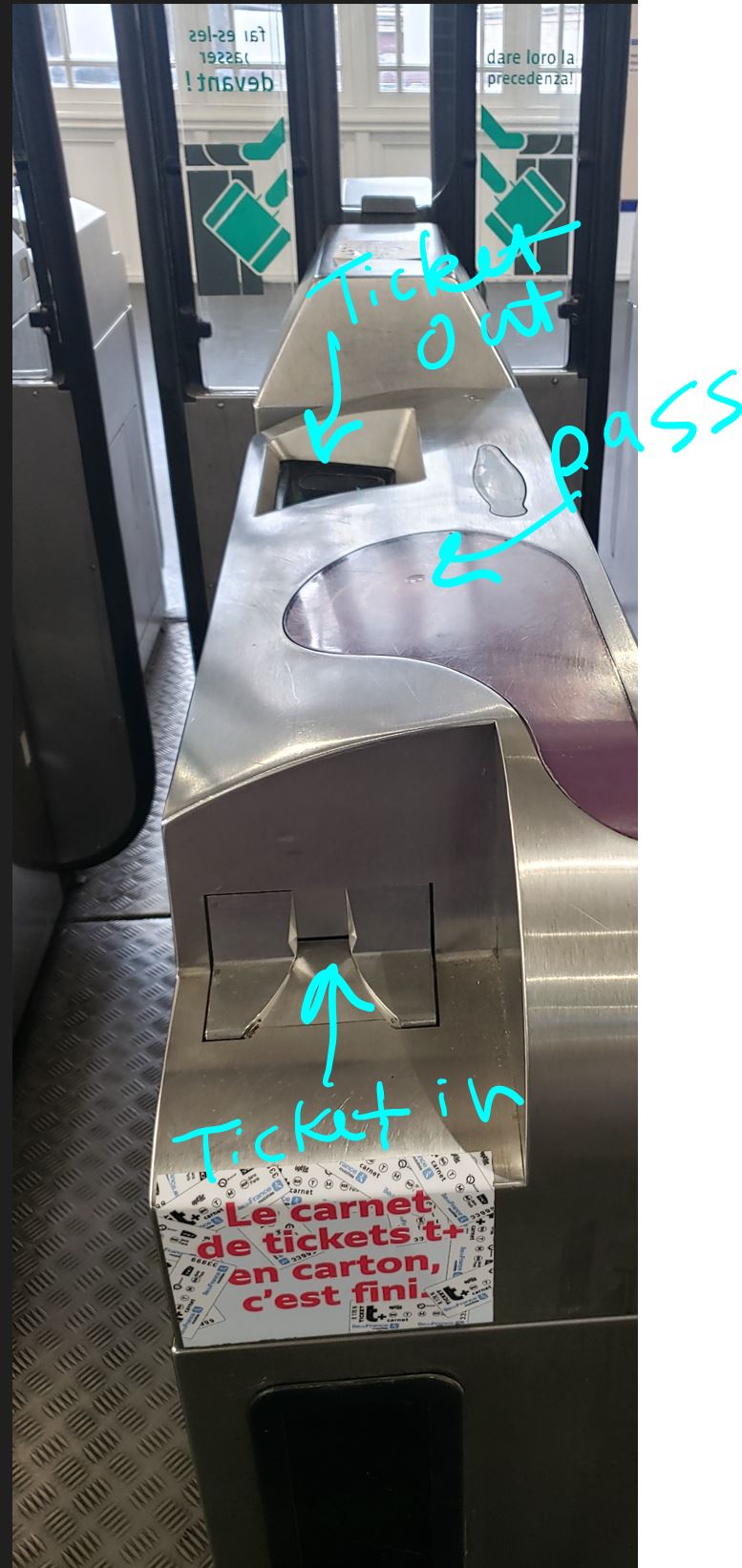 You will now face a choice of two platforms, going in opposite directions.  There will be signs that tell you which destinations each is going to, so choosing one is not hard.
Once you are on the correct platform, you need to make sure you get on the right train, because multiple trains use the same platform when the line branches.  For example, starting from within Paris on the RER B line, I can choose the platform to go north or south, and if I choose the north-bound platform, there are some trains that take the CDG airport branch and others that take the Mitry Claye branch.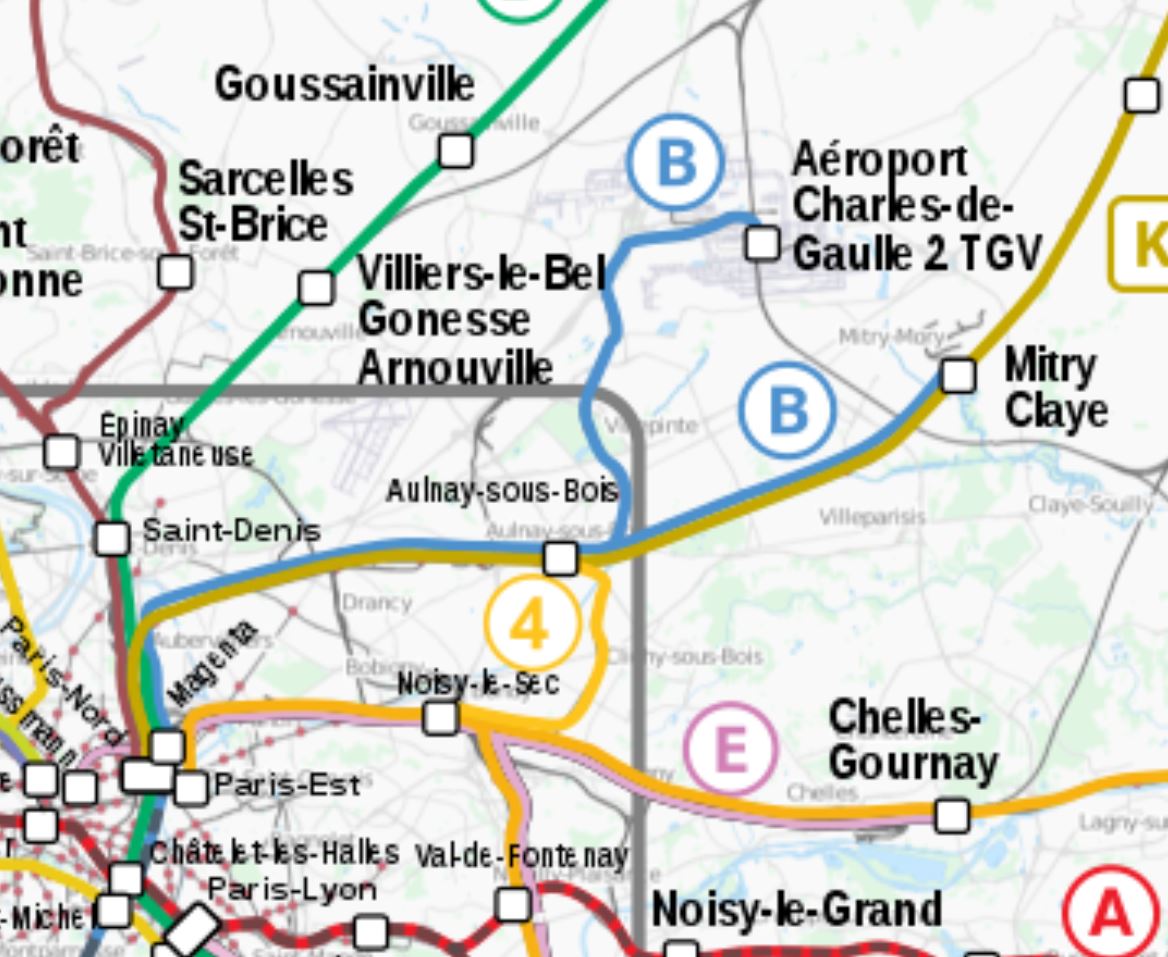 So once you are on the platform, look up for a sign like the one below.  In some stations, they have older signs with lights next to the name of the stations served by a given train, but once you understand that the purpose of these signs is to tell you which trains going to which branches are coming soon, it's pretty self-explanatory.  In this case, if you wanted to go to Mitry-Claye, you would have to wait 10 minutes and let two trains go by.  The airport trains have different four letter codes to the left (ERIC, EPAF) which means that they stop at different suburb stations along the way, but all end at the airport.  If I'm going to the airport, I just take the next airport train rather than trying to figure out which one is the express.  If you want to go to one of the obscure suburban stops on the way, you need to look at the overhead sign (not pictured here, because I didn't actually go down on the platform today) that has a list of all the destinations of the next train.  You can also just look into the train when it arrives and make sure that the desired destination is lit up on the sign showing where that train is going. These lighted signs are inside the train just above the doors.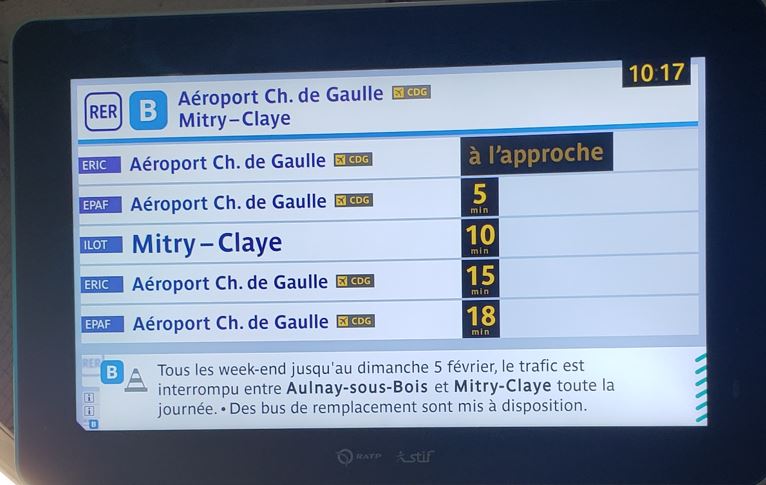 If you need to change trains, keep the letter of the train you want in mind and once you get to the connecting station, follow signs to that train.  If you are changing RER to another RER, it will usually be close, but metro to RER or regional Transilien usually requires more walking and also scanning your ticket again, in a similar machine with a gate that opens upon scanning.
Here is a map of the entire regional train system overlaid on a map of the region: https://fr.wikipedia.org/wiki/Transilien#/media/Fichier:Transilien,_carte_de_synth%C3%A8se.svg
And here is a stylized map showing all of the branches more clearly: https://www.ratp.fr/plan-rer
Subscribe to the Podcast
Apple
Google
Spotify
RSS
Support the Show
Tip Your Guides
Extras
Patreon
Audio Tours
Read more about this guest-notes
Episode Page
Show Notes
Transcript
Category: France How To