Categories: First Time in Paris, Loire Valley
Discussed in this Episode
Check out the town of Blere
Biking in the Loire Valley
One-way bike rentals with OuiBike
Stop at train crossings
Don't speed at all or you'll get a ticket
Eat at French meal times
JOIN US IN FRANCE
Finding my roots, biking in the Loire Valley & Paris!
By Nicole Morin-Scribner
August-September, 2022
Brie-Comte-Robert
Back in 2019, Valeda Scribner and I had a trip to France all planned & booked. Of course, we know how COVID disrupted so many lives and plans. Valeda was determined that the question was not IF but WHEN we would still take this trip. We decided to try again, and I still can't believe we had the phenomenal experience we had last week. For starters, my original ancestor Noël Morin, left Brie-Comte-Robert in the 1630s at the age of 16 to establish himself in Quebec. This town is only about 30 miles from the Paris airport! Since 2003, I had kept a newspaper article about a Morin family who made the journey that included a picture of where Noël Morin had lived way back then. I had always dreamt of going there myself. Well, last week we did! We even "brought along" my 2 matantes who have been a strong foundation in our big Morin family. The woman now living in that home saw us and when we told her our story, she invited us in! Although many changes have been made over the years, the beams in her kitchen are still original. The Eglise Ste-Etienne has been there since the 1200s. What a privilege to have this experience!!!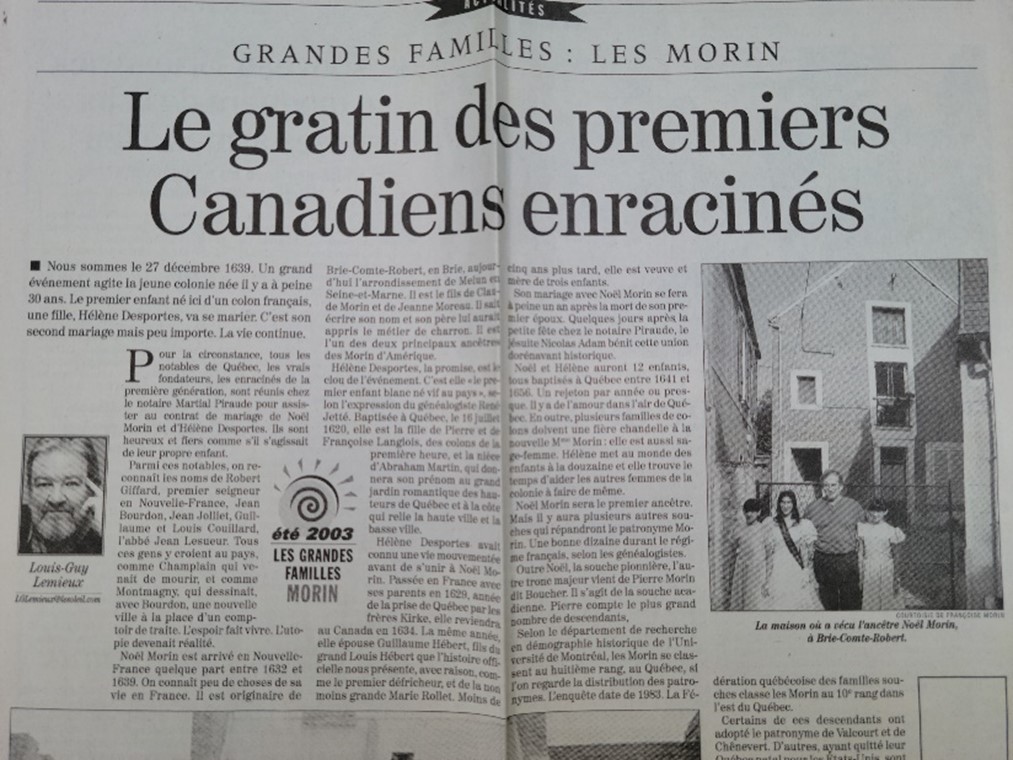 I wonder what Noel Morin would think if he knew that 10 & 11 generations as well as about 400 years later, his descendants would make the trip to see his where he came from.
One way rentals:  Our experience with needing to rent a vehicle & bikes that we would pick up at one location in the Loire Valley and return in another.  Thought this would be simple.  It wasn't!  We needed the vehicle upon our arrival at CDG on Friday to get to Brie Comte Robert.  We had already decided on Amboise as our base, but the closest place to return the car we rented was in Blois.  We found out they close at 12:30 on Saturday, so we planned to drive to Chambord and finish our visit in time to return before closing.  I had also explored about a half dozen bike companies as we wanted to bike from Blois to Amboise on Saturday and bike to Chenonceau the next day.  Most of the companies said they could not do that (some said unless I was staying at one of the designated places.) Ouibike was the only one that said, "No problem!"  They were there to deliver the bikes at the rental car location right on time!  I had emailed their representative, Mustafa Baba a few times and he always promptly responded.  It was like meeting a friend when he delivered the bikes!  He then very conveniently came to pick them up at our AirBnB once we were done with them.
Notes on driving:  Motorcycles are CRAZY!  Weaving in and out of traffic.  Be wary of speed limits.  We were very careful but saw a flash in one place where the speed quickly reduced & we got a ticket.  Good news was it was only 25 euros.  It's my understanding that tickets are given for only a few miles over the limit!
Biking in the Loire Valley:  A couple of the most memorable biking excursions I've had!  We biked from Blois to Amboise (40 km-25 miles) one day and Amboise to Chenonceau (28 km or 20 mil round trip) the next.  Some highlights…some things we learned (check open hours!)…unexpected discoveries (Bléré)…great trails (use their designated trails, not what shows up on Google maps)  Tourist Information Office has those helpful maps…be careful at train crossings!
Amboise:  LOVED it!  The bridge is a perfect place to watch sunsets.
Castles:  Views of the Chateau Amboise from "Le Shaker" Most scenic spot to sip on cocktails!  Chambord:  huge, amazing architecture (how could they possibly build such ornate buildings back then?  Appreciated learning about the role it played in the preservation of French artwork and masterpieces during World War II.
Chaumont:  Had hoped to bike up to the front of the castle just to see the outside when going from Blois to Amboise.  Unable to do that.  They do not allow bikes on the grounds (they do have a place to park them)  We were able, however to see the back of it from the bike path along the river.
Chenonceau:  Great, relatively easy ride from Amboise to this castle!  We were on the trail that goes along the backside of the castle, which provides a good view.  Based on our plans for the day, we did not visit the interior.  I think it would be great to bike to the front entrance of the castle and get the full experience.
Amboise:  Not as over the top as some others, but interesting and great views from the top!
Taking the train from Amboise to Paris.  Very comfortable.  May not need to get the first class, reserved seats but might be a good idea depending on day of the week and time when you get on, it appears they sell more tickets than there are seats.  I saw some people having to stand for the 2-hour ride.  Also, be prepared to get on/off FAST.
Restaurants we really enjoyed:  4 saisons (Amboise); Le Petit Bistro (Blois); La Charbonette (Bléré); Le Bouclard (Montmartre area), Le Compass (rue Montorgeuil, Paris) and Au Bourguignon du Marais (Paris);
Market Day!:  Brie-Comte-Robert, Blois, Amboise & open markets in many areas like the one on Rue Cler.  AND Patisseries!!  (like Patisserie Carette in Paris & Boulangerie Pré in Amboise)
The Eiffel Tower and strategies to make the most of Trocadero:  We enjoyed the Trocadero area by getting takeout sandwiches from a nearby restaurant, avoiding lines & bought a bottle of wine.  We then followed your strategy of taking a Bateau Mouches at 8:30, near sunset on the half hour (consider sitting on the left hand side of the boat, top level and near the front).  We cruised the Seine while sipping our wine and watched a beautiful sunset.  When the Eiffel Tower lit up, we were still a bit of a distance away, but got off the boat at 9:30, giving us time to walk towards Trocadero to get an unobstructed view of the "sparkle show" at 10.
We had purchased tickets for a guided tour to the top of the Eiffel Tower.  We received an email a couple of weeks ahead of time that they could not take us to the very top.  We decided to go on our own.  We had reserved tickets for 9:30am & to take the stairs.  We got in line early (it opens at 9) but nothing was moving.  They ended up having a delayed start at 10.  We were amongst the first half dozen people to get to the top of the stairs on the 2nd level.  It is a bit arduous but doable.  The elevator option meant being in a very crowded space.  We then discovered that there are 72 names engraved on the Eiffel Tower…including Morin (physicist)!  We were able to google and find out the story behind those names.
Getting around Paris:  We stayed in the Marois.  Really liked it there but its at a distance from many places typically visited.  We did A LOT of walking, which was ok with us.  I live in a state where there isn't even one subway, so it's not my preferred method of travel.  However, we did take a subway from the Orsay to Montmartre.  Very clean & easy.  Learned that tickets are sometimes available at the metro station across the street.  I also used an ebike for the first time!  That was a viable option though you need to be careful if not familiar with biking.  There is almost as much bike traffic as motor vehicles!
Things I didn't like: Huge commercial advertisements draped over the side of entire beautiful architectural buildings!  Certain sections of the Montmartre area (cheap & watch out for hustlers) as well as the Moulin Rouge area (like another Bourbon Street!)
Museums:  We went to the Orsay and l'Orangerie.  Recommendation to get tickets in advance and go around 1pm helped.  We decided not to go to the L'Ouvre as so overwhelming.  Other 2 are more relaxing and can have better chance of experiencing the art.  Actually, my favorite museum was the free Musée Histoire de Paris Carnavalet in the Marais area.
Nightlife:  My daughter and I like to dance!  Found lots of places where people were just hanging out, but not much dancing opportunities.  Might have been than some places closed for vacation in August?  Did go to a cool, intimate jazz club called Le Duc Des Lombards.  Saw Pierrick Pédron and some really talented musicians.
Scheduling:  Highly recommend having some definitive plans/reservations, but leave room for "downtime" and to just explore.  Took a lot of stress off on some days where we had reservations at 1pm, so slept in and took the time to walk through neighborhoods & stop for a leisurely meal at a café on the way to our appointed time.  Our last day in Paris was unscheduled and we decided to spend it walking around the Marais, going to the spots recommended in your podcast.  Very helpful!!
General observations: 
Where are the people in the villages?  You go down streets and all you see are walls, hedges & fences.
Didn't get a chance to speak French very much!  In so many places, they addressed us in English when they heard my daughter & I speak English.
Crossing streets: is there a hefty fine for vehicles that don't stop at pedestrian crossings?  EVERYONE stopped to let us cross!!  Don't try this in Paris, though.
Thanks for the insight on how to order coffee!  My daily routine is to have a HUGE cup of coffee that I gradually sip over an extended period of time.  If I would order coffee and get "the thimble", I would have been lost.  I made do with my regular "café crème"!
WC: I knew what this was, but why?  What French word is this an abbreviation for?
If you go when it's really hot, make sure you check to see what there is for ventilation/air conditioning.  We went when the weather was ideal…80's in the daytime and 60's at night.  We were able to open windows (they don't do screens) which can be an issue if you are on the ground level or in a noisy area.  These same places would have been stifling if it was really hot, even at night.
Books that added interest to my trip:  Sixty Million Frenchmen Can't Be Wrong by Jean Benoit Nadeau and Julie Barlow.  This couple from Quebec moved to France and share very helpful insights about French customs & language.  Gave me a whole new appreciation for how the history of this country has impacted their approach.  A powerful example is having a different perspective regarding my Quebec French vs Parisian French.  [p.34 "Until the French Revolution, France was a divided patchwork of nationalities.  They all spoke different languages…even 100 years ago, a lot of the French still spoke regional languages …Paris effectively bulldozed regional differences after the Revolution to create a common French identity." ] Led to building systems that require and value PRECISE language.
I also read "All the Devils are Here" by Louise Penny.  Although this is a work of fiction, it is based in Paris and made me seek out the St. Germain neighborhood, the National Archives, Rodin's Gates of Hell, Rue des Rosiers and the historically significant Hotel Lvtetia.
Leonardo da Vinci by Walter Isaacson.  I knew about his significant presence in history but this book had me totally awestruck!  Gives some insight as behind the Mona Lisa.  Of course, some of his masterpieces are at the Louvre, and he also lived the last years of his life in Amboise.
Bringing "the Matantes" with us.  I mentioned at the beginning that we brought along our two aunts.  Matante Monique and Matante Rita Morin were 2 of the 13 children in my dad's family.  They never married and were the touchstone of the Morin family.  They took care of my grandparents in their old age and meticulously treasured all of the family pictures and keepsakes.  Even though we moved to the US and they lived in Quebec, we stayed in close contact through the years as did other members of the extended family.  They have since passed, my aunt Rita missing 100 by a month and a half due to COVID.
Many of my father's brothers and sisters had large families of their own.  I haven't even met many of my cousins, who now have expanded to additional generations.  We are spread out all over the place, some in the US but most still in Canada.  My sister had created a "La Famille Morin" Facebook page to serve as a common point to keep in touch.  One thing we all share is our connection to "les matantes".  We got the idea that they would have really appreciated making this trip, especially with our visit to the homestead of Noel Morin, who originally started this big extended family.  I took a picture of my aunts, laminated it and we brought it with us everywhere we went.  We kept taking pictures of them in different locations during our visit.  We had so much fun doing this and kept imagining them getting a big kick out of this: the Matantes bike riding, then getting tired and hopping into my daughter's backpack; the Matantes at the Eiffel Tower; the Matantes at the Orsay, not being familiar with famous Impressionist painters but appreciating the painting of a woman hanging out the wash on the clothesline;  the Matantes having a croissant at a sidewalk café or being surprised by a dessert flambé.  Their faith is also very important to them, so we included them visiting the Sacre-Coeur Basilica in Montmartre.  Upon returning from our trip, I posted the stories from their France adventure along with pictures. Its very rewarding to see how it is appreciated by my extended family.  This is beyond anything my matantes ever imagined and they would LOVE this!!
Subscribe to the Podcast
Apple
Google
Spotify
RSS
Support the Show
Tip Your Guides
Extras
Patreon
Audio Tours
Read more about this guest-notes
Episode Page
Transcript
Categories: First Time in Paris, Loire Valley