Category: Solo in France
Discussed in this Episode
Dinner Cruise on Le Calife
Audio Tour at the Orangerie
Petit Palais
Sacré Coeur
I landed at CDG on June 18th late morning.  I made it to my hotel -Petite Beloy – in the St Germain neighborhood by noon.  I think you recommended this hotel in one of your podcasts. It was great.  Not luxurious but just what I liked at a good price & on your walking tour route.   By the way, I had listened to 4 of your Paris walking tours a month or so before my trip so I had a good idea of where I wanted to go in my short 1 1/2 days in Paris.
There were some things I wanted to do but I had to make choices about what I could do in my limited time. The day I landed in Paris it was 100 degrees F.  But the humidity wasn't bad (where I live in the southern US the high humidity drives the heat index up miserably so I wasn't too bothered by Paris at 100˚)   After dropping my luggage at the hotel I made my way to Luxembourg Gardens and spent an hour or so walking through.  I had a late lunch at a café a short block off the park called Bread on Roses. The store sign was in English so I wondered if they kinda catered to tourist but there seemed to be plenty of locals buying bread and pastries too. My meal was good.  I had a smoked salmon sandwich and a really tasty peach iced tea that really hit the spot on a hot day.
After lunch I walked back through the other side of the park toward St Sulpice.  There was a vintage market going on in the court yard in front of the church which I enjoyed browsing through then I walked through the church.  I then walked to the Saint-Germain-des-Pres church & neighborhood. There was going to be a concert of some kind in the church that evening that I would have liked to attend but I already had dinner reservations.  I re-listened to parts of your walking tour as I walked.  Then I went back to my hotel to check in & re-charge my phone.
In your trip review you highly recommended a portable phone charger and I have a couple of them at home but had opted not to bring one.  Big mistake.  During my whole trip every time my phone's battery started getting below 30% my anxiety would start creeping up.
Anyway, that afternoon I left out walking parts of your Latin Quarter tour.  I wanted to go into the Pantheon but I think on a Saturday it required tickets to enter so I'll do that on my next trip.  After walking through St. Genevieve church I walked toward the river and kinda did your walking tour in reverse around Notre Dame and Sainte Chapelle.  I did this because I had a dinner reservation for a river cruise on a boat called Calife that docks on the east side of Pont des Arts.
The dinner cruise was great.  Small group, nice music, and really good food.  As you know, the sun doesn't set in Paris in June until 10 PM.  Right around 10 we were cruising by the Eiffel Tower whose lights were just coming on.  I got some great photos but the 'sparkling' light show didn't happen until the 11:00 hour.  At the end of the day I had walked 9 miles according to my phone's app.
The next morning it was misting rain so the temperature had dropped to a more pleasant range.  I left out from my hotel walking toward the Louvre.  I grabbed a pain a chocolate at a typical bakery (so good).   I walked through the Place du Carrousel and down through the Tulleries.  There were very few people out at this hour on Sunday morning.  I had a 10 AM reservation for the Orangerie.   I spent a couple hours there – the audio guide made it in particularly nice to enjoy.
I left out of there, across Place de la Concorde to Petite Palais.  I had heard on another podcast that there is a nice café inside Petite Palais AND admission is free : ).  I had a nice lunch at the café in the center courtyard.  There is great artwork in Petite Palace.  Enough for me on this day.
I realized that my dad would have loved Paris because it seems every door & light post is adorned with a voluptuous naked woman. ha, ha.   I left there and walked across the Alexandria bridge. I wanted to go see the gardens of the Rodin museum because I thought I had heard admission to the gardens was free.  This was not the case but admission was only like 13 €.  However, most of the gardens were fenced off because they were getting ready for a music concert I think.  I breezed through the museum pretty quickly.  Sculpture is nice but not what I wanted to spend my time on today.
I should have rented an e-bike at this point but didn't.  I left there headed toward Montmartre neighborhood.  I walked through a few of those covered galleries on my way.  I got a crepe at the base of Sacre-Coeur and sat in the grass among a lot of other people. Everyone seemed to be enjoying themselves & it was nice. I walked through the Basiclica & lit some candles.  I thought I remember you saying that the regular church members don't really like all the tourist coming in but this was THE busiest church I went in of the dozen I did go into on my trip.  My favorite this afternoon was when I walked out of the Basilica it was about 5:45 & the bells were ringing in the tower.  Call to chapel, maybe?
I then walked through the neighborhood.  At this point the battery on my phone was getting low so I didn't dare try to listen to the audio tour but I did go by the sculpture of the guy trapped in the wall & made it to the square with all the artists.  I really enjoyed watching the artist sketch children.  They are really good.  I didn't ask, but how much does that usually cost?
I then walked down the hill toward the river.  I had scoped out a restaurant I wanted to eat at but it was closed when I got there.  I stopped at a not-so-special café & ordered the plate du-jour.  It was just OK.  I walked by the opera house where there was a small crowd on the steps dancing & enjoying themselves.  I wanted to tour the opera house but when I tried to buy a ticket on-line weeks before it was not offering tours on this day.  Something to do next visit ; ).
As I was walking down the Avenue de l'Opera a thunderstorm was threatening to rain.  I found a nice café' to sit in while the little rain passed over.  I bought a coke & found a plug to charge my phone. ; )   I made it back to the river just in time to see the Eiffel Tower do the 'sparkling' light show at 11:00PM & got a good video of it.  When I made it back to my hotel I had walked 15 miles on this day & I had a blister on my pinky toe to show for it.
The next day I took a taxi to the train station & an InOui train down to Provence.  I was a bit anxious about catching this first train.  It was easier to do than I expected but I did mess up a little. I had purchased a1st class seat & my ticket said I was in car 2.  So, the first car I walk to has a big '2' on the side of it. That's where I sat.  Later that week I realized that 1st class is different and the '2' I saw meant 'second class'.  Oh well.  I got where I needed to get.  If someone had come around checking tickets they would have let me know my mistake but no one checked tickets on this trip.
I had rented a car at the Aix-en-Provence station.  That was no problem except that my car was parked partially up on a curb very, very close to a fence & another car.  I was leery that I would hit the fence when trying to get the car off the curb but I did fine. Driving was surprisingly easy.  I was using Google maps to get to a public parking spot near the city center in Aix.  This all went well until the directions started routing me through very narrow one-way streets that I could tell were really meant for foot traffic.
I encountered the metal pylons that blocked access & that freaked me out a bit until I figured out that you have to drive up to them & a censor was triggered & they would sink into the ground.  My anxiety was getting pretty high but I finally located a public parking area and, lucky for me, it was very near the old city center where I wanted to do the walking tour. Whew.  I picked up a map from the visitors' center and did the Cezanne walking tour around the old town. It was nice.  I had driven through some of the route on my erroneous quest for the first parking lot.  I had heard that the produce in Provence was really something so I bought a peach & banana at one of the stores. The peach WAS amazing.  So juicy.
I left out of Aix headed for my B&B just outside of Avignon.  My route took me right by the Palace of the Popes in Avignon.  I had scoped out a pizza place I wanted to eat at for dinner in an area called Les Angles.  When I got to the pizza place it was closed but there was another restaurant across the street – an Italian place called La Strada which was really good.  The servers didn't speak English but we made do.  My B&B was in a small community called Estrezargues.
The B&B was excellent.  La Maison de Marie or House of Mary. She doesn't have a website & does not take credit cards.  You have to e-mail her to make a reservation.  Her place was an oasis of serenity.  She had a lovely back yard with a pool and trees that were laden with ripe apricots.  Each morning the breakfast spread was served on her patio and included the most wonderful apricot preserves to go on my croissant. The spread included a variety of breads, fig preserves, yogurt and fresh strawberries.  I had strawberries like this at another B&B later in the week too.
They were smaller than what we generally get in the US but so much more flavorful.  I don't drink coffee so she had me a canister of cocoa, sugar, & brought me a small pitcher of warm milk.  I felt like a princess.  I lingered on her patio that first morning. This B&B is situated on the ridge overlooking a valley of vineyards. At night you can see the lights of Nimes in the distance.  There is of course a church nearby that chimes every hour.
I drove down to the church to take a look at it.  There was a board near the church with a map & explanation of the many hiking paths that criss-cross all through this community. No time for that this trip. I finally left out headed to kayak down the Gardon River. The 20 minute drive to the canoe/kayak place was beautiful.  The river trip was so relaxing and beautiful.  I did catch up to a group of teens & pre-teens that seem to have been on a school trip.  They were having a really good time singing & laughing & splashing.  Of course the climax of this trip is the Pont de Gard which was just amazing.  I would definitely do that again.
It was mid-afternoon when I left the river.  I got back to the B&B & showered & headed to Avignon.  Some weeks before leaving on this trip I had researched music events (your suggestion I think).   On June 21 there was going to be a music festival all over France.
There was a website detailing all the events in each city.  Avignon was going to have about a dozen different music concerts this night.  I picked out a jazz concert to go to.  I found parking pretty easy near Palace of the Popes & did some walking around the old city.  I walked by one concert of African drums that had already started.  My concert actually took place in a park at the very top of the hill near the Palace of the Popes.  It was a great concert of gypsy jazz.  It was a very intimate venue & the tiny café nearby was serving food and adult beverages.  It was an amazing way to end an amazing day.
The next day I left the lovely B&B & headed toward Sault & the lavender fields.  The drive from Avignon to Sault was just lovely with lavender fields abloom as well as orchards of various fruit trees.  I made it to Sault in time to experience about an hour of their Wednesday market.  I found an ATM & got some more cash (using the ATM was easy, no issues, thank goodness).   I bought some nice lavender lotion, and apricot jam in a little store.  I was able to grab a sandwich for lunch before a brief thunderstorm rolled over the town.
I had wanted to rent an e-bike to ride around but the rain made me re-consider that.  I was able to find diesel just out of Sault to fill up. To my relief I had no problems with using my credit card for this.  At some point on my trip I realized that one of my credit cards wasn't being accepted.  I'm sure I had notified them I was going to be in Europe.  My debit card & my American Airlines Mastercard were no problem to use the whole trip.
I had a horseback ride booked for this afternoon so I made my way toward the equestrian center just outside Forcalquier.  It was a gorgeous drive.  I stopped a few time to take pictures of the blooming lavender fields & the perched villages.  I love the countryside.  I made it to the equestrian center just in time for my ride only to be told it had been cancelled due to the thunderstorms in the middle of the day.  It was beautiful weather at 4:00pm but the ride was still cancelled.  No worries & he did give me a full refund.   I made my way to Forcalquier where my next B&B was.
This B&B was also really nice.  It was an old mansion behind a high wall & gate.  Villa Saint Marc is its name.  I would recommend you call ahead to get the code for the gate.  The room keys are actual skeleton keys.  The lady of the house was very nice.  Her English was limited but her husband spoke very good English.  He recommended a couple of café's for dinner.  After settling in my room & changing clothes I left out walking the little town/village.  I just loved this village.  It also had a walking tour marked with little medallions in the sidewalk.  I think I picked up the map at the church in the center of town.  I think that church dated back to the 12th century.
I walked by a fountain with a sculpture of Joan of Arch (I like her).  At the very top of the highest hill in town is another church – it's called the Citadel.  It is a pretty good hike up the hill but the views are worth it.  There is a bell tower (corillian chimes) up there that I would love to hear.  I walked down from the hill a different route to get to the café that had been recommended – L'Aigo Blanco.  It was surprisingly busy for such a small village.  My salad & vegetable lasagna was really good & I had a nice glass of rose' with my meal.  I ended the evening sitting on the terrace of my B&B admiring the view of the village, its lights, & the sound of the church bells chiming the hour.
The breakfast the next morning was delightful.  They even scrambling me eggs cooked to order. I left out that morning heading for Casis on the coast of the Mediterranean Sea. I chose to avoid the freeway as much as I could & enjoyed the leisurely drive through more vineyards & farm fields. I have easy parking across the street from a beach.  After checking out the beach & cliffs to the side of the beach I walked down to the port to get some lunch.  I chose a small café that had an impressive display of shrimp, oysters, & clams out front.
I ordered a combo of shrimp & oyster as well as a delicious sangria.  I found the shrimp in particularly tasty.  This café does not take credit cards.  I had plenty of euros but there are ATMs nearby too.  I did a little looking around the shops before heading to the calanques.  It was a bit of a hike to get to the calanques but it is a beautiful walk.   There were some daredevils jumping into the water from high on the cliffs at a few different points.
I made it to Calanque de Port Pin which was great for swimming.  There were a fair number of people there enjoying the water & weather.  I waded in up to my waist.  If I hadn't been afraid to leave my phone & car keys on the bank I would have really enjoyed a real swim.  I spent a few hours here.  It was a nice place to spend the afternoon.  I just wished I had brought a book to read.
My hotel for this night was just north of Casis – La Cremaillere.  It was a well maintained, old hotel.  The room keys were also skeleton keys.  There was a nice restaurant on the first floor but I didn't eat there.  After showering I headed back to Forcalquier because I had inadvertently left Villa Saint Mark with their room key!  So, I made the hour drive back to return the key but had dinner again at L'Aigo Blanco.  This time I had some kind of cut of beef with a wonderful Dijon mustard cream sauce & potatoes.  I skipped the Rose' tonight since I was driving but had a yummy desert.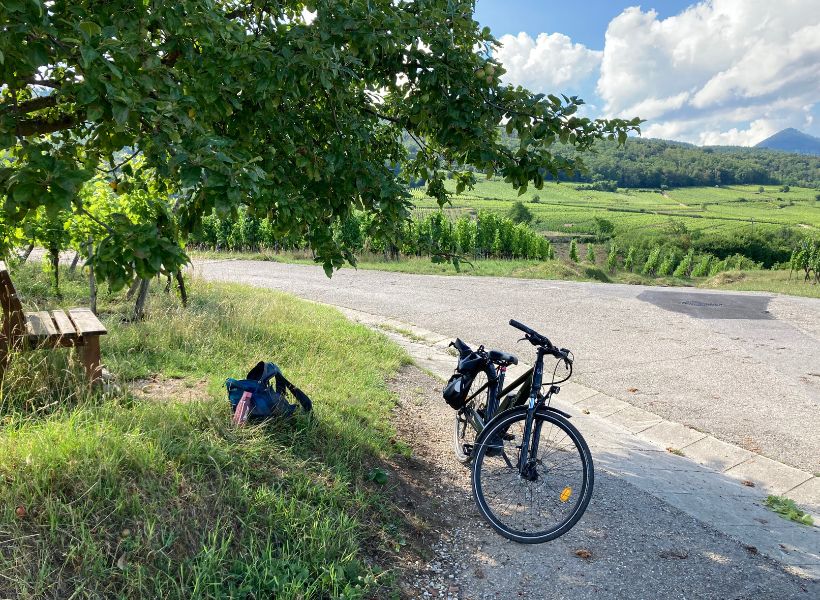 The next morning I returned my car in plenty of time (filled it up with diesel too).  This morning I figured out the difference between 1st class train tickets & 2nd class.  Because this train station was so much smaller than the one in Paris it was pretty easy to figure out what platform I needed to be on.  It was a lovely train ride north through Lyon then Dijon the Colmar.  I had to change trains in Colmar for a local train that stopped in Selestat.
I was picked up in the afternoon by a jovial Frenchman that didn't speak English.  I used Google translate for a few sentences & we did just fine. I arrived at the equestrian center in the mountains of Alsace where other guests were having a before dinner aperitif & cheese.  I met Dennis who was a semi-retired attorney from California. This equestrian center was on the rustic side but the people were all super nice & their chef was excellent.
After a dinner filled with laughter (2 of the guests were from Holland & spoke excellent English; one of the guides who was French had spent a few years in the U.S.) I was shown to my apartment.  It was a nice, modern, & large apartment.  For the next 3 days I rode a lovely bay mare through forests, across fields, and through tiny villages. IT was a wonderful time with really nice people.  Two of the ladies I rode with were German but lived in France.  They spoke excellent English & we had lots of good conversations.
The owners of the equestrian center did not speak English but several of the guests did as well as a couple of the guides.  It was an amazing experience that I can hardly wait to do again.  On 2 of the afternoons the chef had big, freshly baked pretzels as part of the after-ride refreshments. One evening the dinner was freshly baked pizzas in from their pizza oven. Actually, they didn't call them pizzas.  The crust was super thin & they called them by another name.  You may know what it is. I was here from Friday night until Monday afternoon.  After the all-day ride on Monday I was shuttled back to Selestat where Dennis & I caught a train to Colmar (just a 11 minute train ride).
I was in Colmar for 3 nights.  As you know, Colmar has a lot of German influence.  I really enjoyed Colmar.  I stayed at a hotel called Paul & Pia which was a 7 minute walk down the sidewalk from the train station.  This hotel was great.  It had a Spanish or Mexican theme for its décor.  The rooms were simple but modern & very clean.  The breakfast spread each morning was excellent.
The city center was just a 10 minute walk away.  Dennis & I set out for dinner that night aiming for a restaurant I had found on-line.  However, when we got there at 9:00 we were told the kitchen was closed but we could have drinks.  We walked around just a bit and found a nice Italian restaurant for dinner that first night.  The first morning, after breakfast I found a good laundromat about a 10-15 minute walk from the hotel.   I felt very accomplished to have nice, clean laundry to start the week with.
A spent that afternoon walking through Colmar and, yes, they have a walking tour complete with little medallions in the sidewalk to help guide you on the way.  I picked up a map at the visitors' center.  I had not done much shopping on this trip thus far (only the lotion & jams I had picked up in Sault).  I did some shopping on this day.  Storks are the thing around Colmar.  There are lots of crockery kitchen ware stores.  I bought a pie dish & some kitchen towels.  I also found this store that specialized in truffle flavored foods.
I bought some truffled olive oil (in tins) & truffled cashew, & truffle pistachios.  They had pastas and all other kinds of food stuffs.  The name of the store is Signorini Tartufi.  I called it a day early this day. I had a light dinner in my room including a half of a cantaloup and a basket of cherries I had picked up in a market.  Oh my gosh! The cherries and cantaloup were sooooo tasty!. According to the app on my phone I had walked 5.5 miles that day.  I spent the evening watching a movie in my hotel room.
The next day, Wednesday, I rented an e-bike.  Actually, it was part of the special hotel package I had booked.  I packed some snacks & a couple of water bottles in my daypack/bookbag & headed out to ride through the vineyards.  I first biked down to the replica of the Statue of Liberty which is in the middle of a roundabout just outside of town.  I then made my way through farmland & vineyards to the little town of Ribeauville.
Ribeauville is an excellent village for walking & shopping.  I also listened to someone practicing their organ-playing in an abbey.  The abbey gates were locked but I could hear the music very well.  Munster cheese is kind of a big thing is this area but I decided I didn't care for Munster cheese – not to even smell it on someone's pizza at an outdoor café.  I was able to get some charge on my phone at the tourist office (I was in particularly dependent on Google Maps cycling through the countryside).
The bike ride through the vineyards & charming villages was great but even with the electric assist some of those hills kicked my butt.  I made it back to Colmar & had a very delicious dinner at the café next to the cathedral (the restaurant I had wanted to eat at the first night in Colmar). The name is L'Amandine. It's not fancy but the food is really good & has a great location especially for people watching.  The Paul & Pia hotel has a large storage room for bicycles.  You can even charge your e-bike if you have a charging cable (I didn't get that from the rental place).
At breakfast I saw my friend Dennis again.  He had secured train tickets (with the help of the local visitors' center) to Carcasonne where he would do another week of horseback riding. I think a strike with some of the airport workers in France had started this day. I returned my bike & packed up.  That day I was traveling by train to Aachen, Germany.  My train didn't leave until 2:00PM but I was able to hang out in the hotel lobby until I was ready to walk to the train station.
I really like traveling by train.  In Aachen I had tickets to an international horse show for 2 days. The first morning I walked around the old town area including the very beautiful Aachen Cathedral where the remains of Charlamagne are entombed in a golden coffin.  I took trains from Aachen to Amersterdam from where I flew home on July 3rd.  (there's a story there but I won't go into it here)
This trip was over 2 years in the planning.  I had originally planned to go the summer of 2020 when a good friend was living in Belgium.  She has since moved back to the US. I thought I might be able to make it happen the fall of 2021 but it just didn't fall into place. I kept listening to your podcast as well as others and getting more prepared.  I even got a subscription to Babel to try to learn some French but that didn't work very well for me.  Your podcast helped the most with learning a few phrases & just know to ALWAYS start with Bonjour – even when you were in a bit of a panic at the train station. Ha, ha.  I don't think my friend Dennis understands this concept.
One thing that I was pleasantly surprised with is that the French people tend to speak rather softly.  Even the big, bulky guy at the bike shop spoke softly.  I adored this.  So pleasant when compared to too many folks in the Southern U.S.
I loved my trip so much I'm seriously considering planning a week in Paris over Thanksgiving this November. I loved doing this solo even though my first day of driving in Aix-en-Provence made me think I had bitten off more than I could chew.  I got past that.  By my 5th day in France I felt very empowered by traveling alone.
Subscribe to the Podcast
Apple
Google
Spotify
RSS
Support the Show
Tip Your Guides
Extras
Patreon
Audio Tours
Read more about this guest-notes
Episode Page
Transcript
Category: Solo in France