This post contains affiliate links, meaning I get a commission if you decide to make a purchase through my links, at no cost to you. Please read my disclosure page for more details.
Categories: France How To, Health & Safety
Discussed in this Episode
Les Gets ski resort in the Alps [31:31]
Activate Find My Phone on your Apple or Android phone [40:15]
Dare to try "scary" French foods [43:55]
Planning for a French Immersion Week [50:36]
May 1st in France [51:09]
Yves Saint Laurent Exhibits in Paris [52:58]
Update on the French Presidential Election [53:43]
Annie's personal update [54:20]
To Go, or Not to Go… and What Happens When You Go?
Things to consider before you decide to go:

What will you do if you test positive in France? Can you take time off work/school? Do you have the money to stay in a hotel? Are you at high risk for serious disease?
What are the entry requirements for France or other countries you're visiting?

France was PCR or Antigen test 48 hours prior for us
Can you get the test you need? We had to pay $139 each for PCR tests because we could not get a lateral flow test on Christmas Eve.
What are the entry requirements to return home?

Can you find a test for your flight home?
If your flight is canceled, your test can become invalid (must be 1 day before departure)
Are you OK with all of the requirements once you get there?

Masking ALL THE TIME.
Passe Sanitaire for entry to just about everything

Things to think about once you're there

France isn't wide open, so you need to check EVERYTHING

Some venues closed or reduced hours due to staffing
Some sites have reduced access (e.g. d'Orsay)
Seating is limited in many restaurants
Everything takes longer to get into

Line for Passe Sanitaire, line for security, line for tickets
Less staff = longer waits (Tour Eiffel had one elevator)
Flexibility is critical

Things are going to be closed (e.g, several Metro stops on NYE)
Mandates are going to change (e.g., added outdoor mask mandate)
Things will not go as planned (e.g., no Passe Sanitaire in Les Gets)
There are still tourists there… just not as many Americans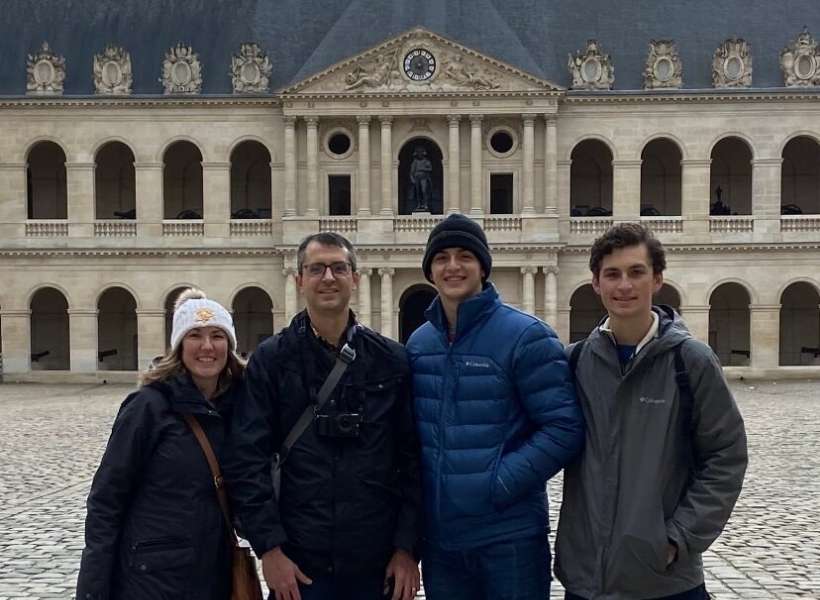 Our trip – once we got to France, it was wonderful!

Les Gets – skiing, transfer from GVA, rail from Bellgarde to Paris
Paris – PSG tour, Louvre, Tour Eiffel, Musee d'Orsay, Les Invalides, Seine boat ride, Arc de Triomphe, Tuileries Christmas Market, Sainte-Chappelle, Sacre Coeur, Montmartre
Normandy – Utah Beach, Pointe du Hoc, Omaha Beach, American Cemetery

Things I wish I had known

There is no good way to know what the entry requirements will be

By plane, the requirements are fairly straight-forward
By train/car, there are conflicting reports and nobody really knows
Passe Sanitaire Issues

Les Gets had one pharmacy and it couldn't figure out how to do it
Smaller towns may have no idea what you're talking about when trying to convert (Paris was fine!)
Does your vaccination card work? Some say yes, some say no.
You can eat outside most places, and many are heated
Glasses and masks outside are never fun – I knew this but had forgotten!

Things I Learned from the Podcast

Episode 368 was very helpful!

The Christmas market at Jardin des Tuileries was amazing!
We were near some of the passages mentioned
We visited Rue Saint-Honoré – and did some shopping!

Episode 335 on Napoleon made Les Invalides a much richer experience
The episodes on the French Alps helped, even though we stayed in 1 place
Episode 161 on French phrases was critical – I had been studying French for four years prior to this trip, but I wrote down these phrases and practiced them
 Resources Used:
https://apply.joinsherpa.com/travel-restrictions
Sherpa
Used to determine entry requirements for various countries based on your country of origin, passport, and vaccination status
Ski-Lifts
Used to setup transfer from GVA to Les Gets and from Les Gets to Bellegarde
https://thetourguy.com/tours/paris/paris-covid-test
The Tour Guy COVID Test Reservation
Used to pre-pay and make appointment for our pre-departure test in Paris
https://citywonders.com/paris-tours/normandy-tour-from-paris
City Wonders Paris-to-Normandy Tour
This was the tour we booked to Normandy from Paris. The tour picked up and dropped off at the Palais du Chaillot (M: Trocadéro). The tour included bus transportation, lunch, and admission to one of the museums (which was refunded due to its closure).
Bonjour RATP App
We found this to be far better at mapping directions for the Metro than Google Maps. Google Maps was fine for walking, but for using public transportation, I highly recommend Bonjour.
TousAntiCovid App
Used for the Passe Sanitaire. We used this frequently to get into just about anything. Note that you cannot screenshot your pass: you will need to use the app every time. We also carried the paper copies we were given by the Pharmacy in case of dead batteries or app problems.
Hotels:
https://www.hotel-lesgets.com/
Chamois d'or Hotel & Spa
This was our lodging in Les Gets. It was centrally located to shopping, restaurants, and skiing. They also offered ski gear rental through the front desk that was very affordable. They were wonderful about answering our questions by email in the months leading up to our visit.
https://hotel-opera-maintenon.com/en/
Hôtel Opera Maintenon
This was our lodging in Paris. It was in the Japanese district (Arr. n1, M: Pyramides) and near a lot of wonderful Japanese restaurants. It's a short walk to Rue de Rivoli and Musée du Louvre. The pharmacy that issued our Passes Sanitaires was a two minute walk right around the corner.
https://www.hilton.com/en/hotels/cdghitw-hilton-paris-charles-de-gaulle-airport/
Hilton Paris Charles de Gaulle Airport
Having tried to navigate the RER B line on departure day before, we decided to transfer to the Hilton at CDG the night before to have an easier airport transfer the next day. The Hilton is a short 5 minute walk from the RER train station, and the same station provides a free train to all terminals. Our room was setup with 4 beds and plenty of toiletries upon arrival. There is a restaurant at the Hilton and takeaway pizza at the nearby Ibis, plus a grocery in the train station.
Other Locations:
Pharmacie Victoire Opéra
26 Rue des Petits Champs, 75002 Paris, France
We had our vaccination certificates converted here. The pharmacist spoke English (and understood my passable French!), knew exactly what we needed, and had all four passes created in 10 minutes. Price was 36e each.
https://en.psg.fr/stadium-tour
Parc des Princes Paris Saint-Germain Stadium Tour
The home of PSG (M:Porte de Saint-Cloud), this was a fantastic tour for football (soccer) fans! You are left to tour on your own, information is presented in English and French, and photos are encouraged. We all agreed that this was one of our favorite activities.
https://www.musee-armee.fr/en/your-visit/museum-spaces/national-hotel-of-the-invalids.html
L'Hôtel National des Invalides and Le Musée de l'Armée
This isn't on most tourists' list of things to do in Paris, but we really enjoyed it. We walked up and bought tickets (which we did for no other place!) and found very few other people there. Highly recommended, especially for history buffs!
Restaurants We Enjoyed
Le Musset
169 Rue St Honoré, 75001 Paris, France
This was our first meal in Paris where we stopped on a whim and agreed that it was probably the best meal we had. Le canard confit was excellent, as was l'araignée de bœuf.
Boulangerie Eric Kayser
This is a chain of boulangeries, and the location near our hotel became our daily breakfast spot. Great coffee, good pastries, and excellent desserts!
Pizzalino
795 Rue du Ctre, 74260 Les Gets, France
Reasonably-priced pizza with a myriad of topping choices, this was right across from Chamois d'Or. The wait was long around French dinner time, but around American dinner time, the wait was very short.
Le DAC
https://www.facebook.com/Le-DAC-105323538131805/
412 Rue du Ctre, 74260 Les Gets, France
Some of the best croissants and pain au chocolat that we had in all of France. Great coffee as well!
Babalou
https://restaurantbabalou.fr/fr
4 Rue Lamarck, 75018 Paris, France
Excellent pizza place in Montmartre!
Subscribe to the Podcast
Apple
Google
Spotify
RSS
Support the Show
Tip Your Guides
Extras
Patreon
Audio Tours
Read more about this guest-notes
Episode Page
Categories: France How To, Health & Safety