Categories: French Customs & Lifestyle, Off the Beaten Track in France
Discussed in this Episode
[00:04:39] Travel to France during Covid
[00:05:53] The Advantages of staying near Porte Maillot at the Hyatt Regency
[00:07:28] Sébillon Restaurant
[00:09:20] Getting the Health Pass for France
[00:10:46] The Apple Store on the Champs Elysées
[00:12:07] Getting lost in Paris
[00:13:32] Train to Bordeaux and a walk along the Garonne
[00:16:08] Driving to Bergerac and stay at a beautiful Maison d'Hôtes
[00:21:51] Why choose a B&B over a hotel
[00:22:54] Spending a few days in Bergerac
[00:25:36] Bergerac to Domme
[00:27:49] The market in Sarlat
[00:29:21] Getting all "ducked-out"
[00:32:24] Covid rules enforcement in France
[00:33:14] Driving to Sancerre
[00:35:00] Château de la Bourdaisière near Tours in the Loire Valley
[00:40:00] Reading French restaurant menus
[00:40:29] Why is wine so cheap at everyday French restaurants?
[00:45:12] How to ask for restaurant recommendations from French people
[00:48:53] Thank you patrons and donors!
[00:49:57] This week in French news and pandemic news
[00:54:54] French tip of the week
We did not experience any meaningful Covid related issues during the three weeks that we were in France.  Even though we applied for the Pass Sanitaire the day it became possible to do so about 45 days prior to our trip, we didn't receive it until a week after our arrival.  We used our CDC Cards successfully for our three nights in Paris, but did chose to get tested prior to taking the train to Bordeaux so that we would have the 72 hour Pass Sanitaire.  The decision to do so was to provide us peace of mind for the train and to allow us to travel seamlessly.  The QR code did in fact provide that.
Staying in Paris near the peripherique
How did Covid affect your trip?
You only spent one night in Bordeaux, why is that?
Tell me about your 3 nights in Bergerac
What about Domme?
Chateau de la Bourdaisiere near Tours
Aubigny-sur-Nère
After leaving Paris, we spent a night in Bordeaux, drove to Bergerac for three nights at Clos D'Argenson, spent two nights in Domme at Hotel L'Esplanade and then drove to Sancerre for nine nights.  We left Sancerre and enjoyed two nights at Chateau de la Bourdaisiere near Tours and then took the train to Paris to spend a final night prior to flying back home.
This may sound a bit strange, but last year was the first year this century that we did not visit France.  Covid did affect our mindset in that we chose not to use the Metro while in Paris.  Normally we visit small museums, but didn't do so this year although we did go to the Pompidou Center to see the Georgia O'Keeffe exhibit at the end of our trip.  By then we were very relaxed about Covid in France and appreciated the way it was managed.
While in Paris, we like to stay at the Hyatt Regency Paris Etoile.  Granted it is chain hotel at the Plais de Congres, but we like the location as it is near the Peripherique and therefore has easy taxi access to or from CDG or for rental car trips.  We find that area not to be inundated with tourists, there are a lot of excellent dining choices and the Bois de Boulonge is a great place for us to get our daily exercise or treks done.  It is also a wonderful place to see the residents of Paris at leisure.
We had been to Bordeaux before and while it is a beautiful city with a magnificent river front, we probably should have avoided staying there and just driven to Bergerac from the train station.  We did so the next day.  We throughly enjoyed Bergerac and absolutely loved staying at Clos D'Argenson.  The hosts we very hospitable, breakfasts were excellent and creative, our wonderful accommodation was large and included a sitting room and very large bathroom.  Bergerac has access to a lot of hiking trails and we were able to spend one morning hiking along the river and another hiking on one of the Chemin de Compostelle variants.
Domme is beautiful hill town and L'Esplanade was an excellent place to stay.  We stayed there about ten years ago and wanted to return.  The views of the Dordogne River and Valley from our room and hotel were exceptional.  Domme is somewhat lacking in dining choices, although that wasn't an issue as the hotel has an excellent restaurant.  We went to Sarlat for market day and enjoyed that experience and then went to La Roche for lunch.  We had planned to hike a portion of the Chemin de Compostelle variant that followed the river, but didn't get to it.  Perhaps "vacation" mode had set in.
We did our usual routine when we settled in at Sancerre.  It was wonderful to spend time with our friends there and live like locals for a while.  Quite frankly, I wish we had spent more time there.  The village is like a second home, we have made many friends and our familiarity with area allows us a certain comfort level.  The village is an excellent place for us to improve our language skills as most locals don't speak much English and those that do, tend not to although they will if one needs assistance.  A noticeable change to Sancerre is the addition a few more tasting rooms or wine shops near the Place and the closure of  few of the commercial establishments away from the Place.
Christine found the Chateau de la Bourdaisiere in a France Magazine article.  We were intrigued by the description of their gardens and domain and decided to stay there for two nights.  We are glad that we did and Christine wants to stay there again when we come back to France in late May next year.  While it was late in the season, a stroll through the tomato garden with 600 plus varieties and their dahlia garden with over 400 was enjoyable.  They have 1K, 3K and 5K walking trails through the domain and quite a bit of interesting "forest art" where they have created unique sculptures out of tree trunks and limbs. The village of Montlouis-sur-Loire is small with a few local restaurants, but we did have a serendipitous find for lunch one day.  Breakfast and dinner are available at the Chateau.
We had a good trip and would encourage others who may be hesitant to travel to France to put aside their concerns and go.
Aloha from Hawaii,
Carl et Christine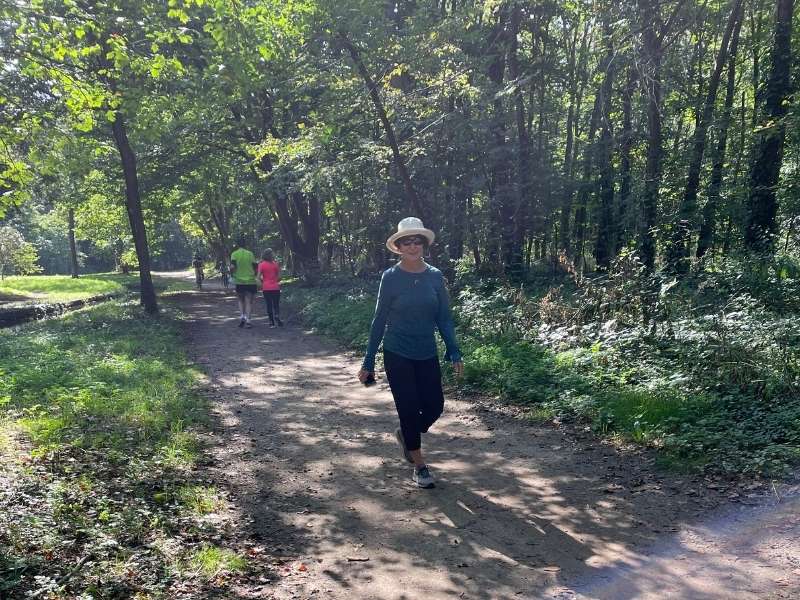 Subscribe to the Podcast
Apple
Google
Spotify
RSS
Support the Show
Tip Your Guides
Extras
Patreon
Audio Tours
Read more about this guest-notes
Episode Page
Transcript
Categories: French Customs & Lifestyle, Off the Beaten Track in France