Categories: Montpellier Area, Moving to France
Discussed in this Episode
What's a Maison de Maître?
Tournissan
I moved to France when I was 9. My parents bought a holiday house in Goult, Vaucluse when I was little and then after their separation my mum wanted to spend a year living in France. We packed up the car, the puppy and the cat and moved just after New Year's. Our holiday home was just that, a home for the lovely hot summer months. It had little to no heating so to begin with my mum and I shared a bed that we put in the sitting room where the fireplace was. I went to the village school, spending my mornings in Maternelle and my afternoons in CE2. I could only speak a few words when we arrived.
By the time our year was up, we were settled in our new lives, I was bilingual and my mum decided we should stay. She has lived in France for 31 years now! We moved to L'Isle Sur La Sorgue so I could go to College there. And then I moved to Avignon for Lycee and University.
After University I decided to move back to the UK to try it out. A few years later, on a boat on the Thames, I met my now husband James. We moved in together, got married quickly and decided to try and start a family in Dubai, UAE where James got a job. We had our 2 girls there.
Building a family really made me want to connect with my French roots again. Of course I had been visiting France throughout those years: my mum lived there, then my dad married a French woman and moved to France, my brother settled there with his family, and all my childhood friends were there. But I really wanted my girls to be bilingual and understand the strong bond I had with the country. I have spoken French to them since they were born, they went to a French nursery in Dubai and in Toronto, Canada where we lived for a year.
We moved back to the UK for our eldest to start school. I contacted the French embassy and got a list of the French schools in the UK and we got her into the only free bilingual school in the UK. From Reception (Moyenne section Maternelle) to then European Baccalaureate (it is now the International Baccalaureate because of Brexit). It's full immersion with half the week in English and half the week in their stream language – French.
The school has French summer holidays – 9 weeks – so we pack up and go to France every year. We dreamt about buying a house there. We looked near where my mum now lives Vence, Alpes Maritimes but it was too expensive and it didn't feel like home to me. We looked in the Vaucluse but it was too expensive. So we started expanding our search west, looking near my dad who lives in Beziers.
One evening I was on leboncoin, I had really expanded west… all the way to the Spanish boarder and I came across the most stunning house. A mid 19th century Maison de Maître in the Aude. It was really cheap so I was convinced something was wrong with it and carried on scrolling. But I kept coming back to it. Looking again and again at the features. I researched the area, looked at other houses for sale nearby and finally as it was like an itch I couldn't scratch, I emailed the estate agent asking for more information. She was lovely and helpful and told me all about the history of the house, why it was for sale and confirmed that it really was as beautiful as it looked!
I booked a viewing, a return flight and 1 night stay in a B&B in Carcassonne. As I drove up from the motorway through the little villages into the Corbieres hills and it reminded me of Provence, driving from Goult to Apt. Empty and slightly rugged, wines as far as the eye could see, roads lined with plane trees and I felt like I was home.
The house was stunning. Nearly all original features remained on the ground and first floor. The second floor had been 'modernised' in the 70/80s. The roof was ok. The house had been empty for over 30 years and it didn't smell.
I was in love.
A few weeks later my husband flew out to see it. He had a less romantic view than me but could see that it was a once in a lifetime opportunity and that if we took it slow we could make it into something truly amazing. We offered at the end of May and after the most straight forward and easy purchase, we owed it by September. We even got a massive key which I think is what most people hope for when they buy a house in France!
It hasn't been the easiest 18 months since, Brexit and Covid-19 have definitely taken some of the shine off it all but we are hoping to start work this spring. And we are looking forward to making it a family home.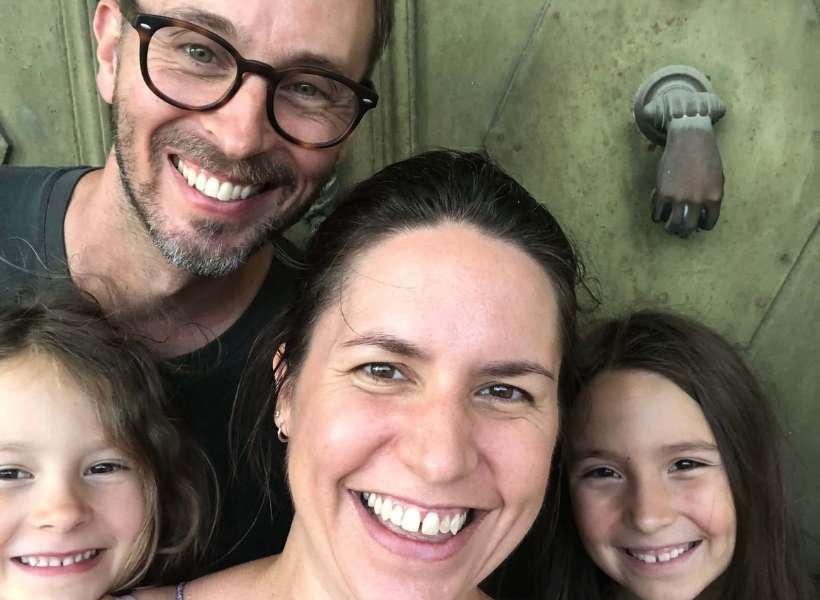 Subscribe to the Podcast
Apple
Google
Spotify
RSS
Support the Show
Tip Your Guides
Extras
Patreon
Audio Tours
Read more about this guest-notes
Episode Page
Categories: Montpellier Area, Moving to France