Categories: Montpellier Area, Moving to France
Are you dreaming about growing roots in the southwest of France? Georgia Broome does and tells us all about it!
Welcome to the Join Us in France Travel Podcast where we look around France so you can best enjoy France as a destination. We talk about French culture, history, gastronomy and everything it takes to have a lovely experience in France.
Today Annie Sargent brings you a conversation with Gerogia Broome about growing roots in the southwest of France. Georgia lives in England right now, but she grew up in France and has been on the lookout for a place of her own in France. She fell in love with a house she saw on-line, jumped on the opportunity despite the fact that this "maison de maître" needs a lot of TLC.
Follow Georgia's adventures on her Instagram account.
Growing Roots in the Southwest of France
Our story begins with Georgia already owning the house and having the big metal key as big as her hand in her possession. This is an old house with an old key! The house is in the Aude (department number 11) in Occitanie in the southwest of France. It's up in the hills in the little village of Tournissan, not far from Lagrasse which is a famous village that gets quite a few visitors each year.
The home is a "maison de maître" (a master's house). It's not as big or as fancy as a chateau but this type of house features the high ceilings, the big rooms, the marble fireplaces, big stairs, and generally speaking beautiful architecture.
Georgia found it on Le Bon Coin and fell in love with it and kept checking on it to see if it was still available, but she didn't mention it to her husband until she bought a plane ticket to Carcassonne to go see it in person. Seeing it only renewed her determination, and even Brexit and Covid didn't stop her!
They are hoping to start renovations summer 2021 and have started to hire workers for various tasks. There are all sorts of funny details about this house, such as the fact that the stairs are still numbered in charming old French handwriting. There is a secret passageway leading to the house behind it as well. Georgia found out about all of these things from the family that owned it and kept it for generations. Who knows, they might find a ghost next!
Georgia speaks very good French because she grew up in France. Being able to read the papers and understand subtleties of what's going on was very valuable. Georgia's daughter are also bi-lingual.
Vaucluse vs. Aude
The Aude is a lot like the Vaucluse was 20+ years ago before all the developers. Prices are lower in the Aude, there are more properties of character available. The climate is similar in both areas. There are a lot of outdoor sports opportunities in the Aude. Overall they pace of life is slower and calmer in the Aude. There are a lot of lovely villages and hilltop Cathar castles. The gastronomy is lovely in both departments.
Offering Asking Price in France
In a French real estate deal, if you offer to pay the asking price, your offer must  be accepted. The house Georgia bought had been empty since the 80s so it was priced to sell. Once you've made an offer, you sign the "compromis de vente" and then you sign final papers a few weeks later. It can take months, but it can also be all done in 2 or 3 months if all parties cooperate and understand one-another.
In this case they knew what worked and what didn't work in the house (and not a lot worked), the necessary inspections had been done, it was all out in the open, there were no surprises. The previous owners had removed the water counter so they didn't have to pay for taxe d'habitation, so they had to start all over again with a lot of things.
In a negative note, a French man expressed interest in the house as well, but he was too late the "compromis de vente" had already been signed. He still carried on about how disgusted he was to see this house old to an English family and even left a note at the house expressing his displeasure. On the other hand, the people of the village (the only ones that matter in fact) were lovely and welcoming, so it's all water under the bridge.
The real estate agent was happy to hear that their purpose was to grow roots in the southwest and not simply to put the house up for rent on Airbnb. Too many foreign buyers renovate these older homes (because they have the cash to do so) and then all they do is put the house on Airbnb. This makes it difficult for local renters to find newly renovated houses to rent year-round.
Fixing Up an Old House in France
Their house is on the main drag of the village, it has a "remise" (which is bigger than a garage), but it doesn't have any garden. They plan on adding a patio area on the roof eventually.
They hope to have one section of the house habitable by the end of 2021 and from there work on extensive renovations. Luckily for them there was no junk left in the house.
There is a school in the village but it is split between several villages with a bus system. But their girls attend a French-speaking school in the UK, so they are getting French language skills in the UK as well. But Georgia isn't sure when they'll move to France permanently at this time. They may only move in their older years.
They're hired workmen from recommendations either through people they met in the village or one craftsman recommending someone for another trade. Georgia learned how to draw up electrical plans on YouTube and they are now waiting for the electrical counter to be moved. And they are managing all of it at a distance.
They shipped furniture and some stairs before Brexit came into effect to avoid paying import duties.
Brexit and Covid Complications
They bought the house before Brexit went through which was probably good, but UK citizens can't travel to France right now due to Covid. Georgia doensn't have a carte de séjour right now. But they've been able to do everything to do with taxes and such online.
Brexit and Covid have introduced a lot of complications and uncertainty for English people both in France and for Europeans who lived in the UK.
Advice for People Looking to Buy Property in France
Le Bon Coin is a wonderful resource.
Find an estate agent you trust and remember that they can approach the seller for a home they don't list in their agency.
Know what you're buying into: termites, lead paint, asbestos, be on the lookout for those problems.
Tradesmen are expensive in France, more expensive than in the UK.
Promptly setup to pay local taxes on-line so you don't incur any penalties.
You can use TransferWise to move money around, and you can also use them before you have a bank account in France because they can give you a RIB (relevé d'identité bancaire which are your bank details).
Don't read all the negative stories because you'll talk yourself out of doing anything that way.
Ask around for recommendations on workmen.
Links You'll Need if Buying a Property in France
FOLLOW US ON:
Discussed in this Episode
What's a Maison de Maître?
Tournissan
Subscribe to the Podcast
Apple
Google
Spotify
RSS
Support the Show
Tip Your Guides
Extras
Patreon
Audio Tours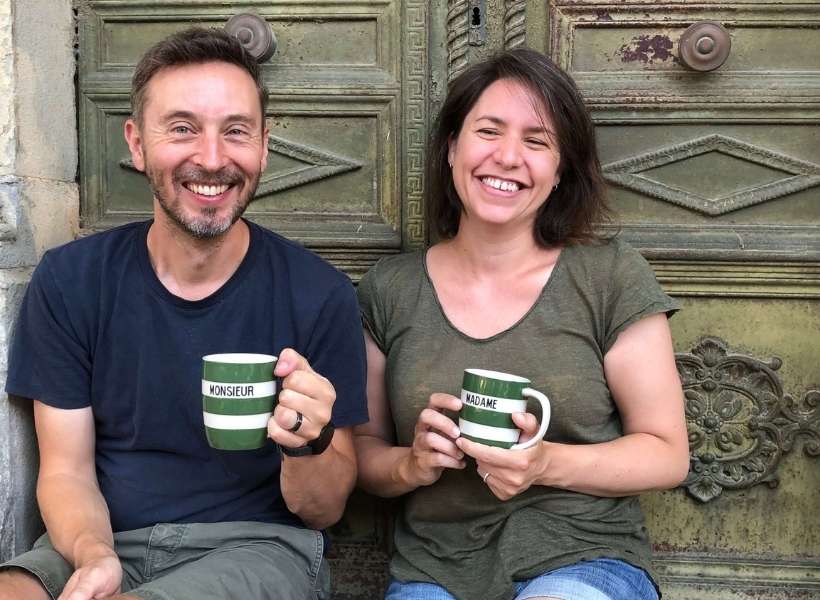 Read more about this episode
Guest Notes
Categories: Montpellier Area, Moving to France