Categories: Burgundy Area, Family Travel, Loire Valley, Paris
Discussed in this Episode
[3:49] Booking a private transfer instead of a taxi in Paris
[6:20] Apartment rental in Paris
[7:44] River Cruise in Paris
[10:03] Storing suitcases in Paris
[12:54] Bike tour of Versailles
[18:39] Disneyland Paris
[20:20] Walking tour with David Blanc in Paris
[22:44] Tips for visiting the Catacombs
[25:05] Amboise bike adventures and how to visit the Loire Valley easily
[30:16] Spending Bastille Day in Paris
[32:46] Nintendo Switch Guides in the Louvre for kids
[33:30] Taking the train for a visit to Beaune and doing a private car tour of Burgundy (Flaviny-sur-Ozerain + Fontenay Abbey + Chateauneuf du Pape)
[36:49] Going all the way to the top of the Eiffel Tower
[37:54] Taking the Eurostar
[44:55] Do you need "Skip the line" tickets?
10 nights France July 2017
Joanne Scott and family from Sydney, Australia
Joanne Scott – A Week in Paris with Kids
Saturday 8 July 2017
Details
Reflection
-Arrived 2pm in Paris – flight from Genoa, Italy.  Booked a transfer through Suntransfers

– met owner of apartment in Paris around 3:30pm (booking on Booking.com). All very easy. Apartment near corner Rue de Rivoli and Pont Neuf

-2 bedroom apartment in 1st arr plus fold out bed for couch in the living room. So we effectively each had our own room.

-Went to a nearby supermarket to stock up.

-5:45pm booked 1 hr river cruise. Vedettes du Pont Neuf leaving from Pont Neuf Jetty

-Transfer was disappointing as they were an hour late and I had to make calls through the transfer company to track down the driver.

– Had I listened to your podcast before I left, then I would not have booked a transfer.

I would have simply grabbed a taxi. Price comparable.

-Always a good idea with kids to think about meals and fitting in a supermarket run.

Unfortunately, the checking in and supermarket run took a little longer than I had planned, so we were rushing to get to the cruise. Allow more time than you think you need for these kinds of things.

-Cruise a great idea to sit and relax and see the big sights. Well worth it!!

-Would have loved to have done one after sunset to see Paris at night but with kids and late sunset, that really wasn't an option
Sunday 9 July 2017
Details
Reflection
-8:45am – met our tour guide for a Bike About Tours Versailles Bike Tour, outside Notre Dame. They walked us to the train station and caught a train with us to Versailles.

-Collected bikes near the station and then rode to Versailles.

– About 15 -20 of us from memory. Only a few other kids.

-Taken to the markets to buy what we wanted for lunch. Given tips about the best stands for the best produce, and left to roam free. We met an Aussie (now living in Dubai) travelling on her own and we bought cheese, wine, meats, olives etc to share with her, and visa versa.

-Then rode around the gardens. Went to Mary Antoinette's Estate etc and other places other than the main chateau.

-Picnic lunch by the canal.

-At about 4pm the tour ended. Returned the bikes.

-We then went into the Chateau with the Aussie that we met, and the paid gardens/ fountain area. Spent about 3 hours there and then caught the train home.

-A long day but well worth it. A highlight of our trip.

-Tour guide was amazing – great at discussing history and had the kids and us captivated. Such a wonderful way to see what we would never have tackled on foot as simply too far.  Great balance of guide and free time.

-So fun to be cycling along with a baguette hanging out of my basket. Very quintessential.

-Great to go into the chateau at the end of the day – virtually no queues (although still a lot of people inside).

-This was an absolute highlight for us!!

– Didn't realize until he was leaving us at 4pm that the guide wasn't taking us back on the train to Paris.  I had assumed that they took you back too.

-Getting the train back on our own was a little intimating as we had just followed the guide's lead as we went and not really paid too much attention to how to get there. But we managed.
Monday 10 July 2017
Details
Reflection
Up early to catch the 41 minute train (about 7:30am from memory) to Mane La Valee for Disneyland Paris.

-Caught from Chatelet Les Halles (which was the station just around the corner from our apartment), so that worked well.

-Train very easy.

-Bought one pre paid fixed day ticket for each of us just to the main park.

-Spent the whole day there.

-Got back to Paris at about 9.30 pm – which was later than planned. Kids didn't want to leave, so we ended up having a bite for dinner there.

-Kids loved it. We have never been to Disneyland and I wasn't overly excited about going but the kids were. We're not really Disney fans.

-Kids had an amazing time! Great to see their enjoyment so it made it worthwhile.

– I went on some rides, but realized that I'm not as young as I used to be. Had to sit for a while after the rollercoaster!

-Weird to see everyone in Mickey ears when we walked in, and then before you knew it we were caught in the buzz and were looking to buy some too!

-Food is average takeaway, but you don't go there for the food.

-Kids loved so much so we are going back in 2020, but this time staying at Disneyland for 2 nights.

-Train back to Paris was easy enough, but it does add another hour or so into your day when you are already tired.

– I would say – don't let the train trip from Paris put you off going if it's on your wish list. It's simple.

-There was a fair bit of queuing for the big rides. I'd look into the fast pass for next time, as you can now -purchase (which wasn't an option when we went)
Tuesday 11 July 2017
Details
Reflection
9:30am – met David Blanc who did a Paris on Demand Walking Tour. Booked through Toursbylocals before we went.

Went for 2.5 hours for memory

-David was great. He was a French history teacher who was doing some walking tours to supplement his income.

-He walked us around le Marais, Place des Vodges, the islands, Luxemborg Gardens. Very informative and moving – as he was telling us about jewish persecution and was showing us plaques from the war.

-Took us to the best Falafel shop on Rue des Rosiers (L'as Du Fallafel) – we had to have one. It was an enormous flat bread sandwich with yummy ingredients – and not what I pictured . Daughter loved it especially.

-Had ice cream from Il Saint Louis.

– Took us to his favourite chocolate shop and bought the kids macaroons. Very sweet gesture.

– A really lovely way to see Paris.

-I had booked a Catacombes skip the line ticket for us that afternoon with an audio tour. You could show up anytime in the afternoon that particular day (through Get Your Guide).

-We went mid afternoon. Train there and bus back.

-We collected our pre-paid tickets from a tobacconist right nearby.

-Huge lines way around the block when we arrived and we were going to give it a miss if that was the security line.

-Went up to the front to ask and we were ushered straight in past the line of people.

-I think it took an hour or so to go through.

-Definitely recommend a walking tour with someone who can give you some information about what you are seeing. We got so much out of it. My husband kept saying how much he enjoyed the walk with David.

-I'm sure your audio tour would also be great for this purpose!!  Much better than just wandering around on your own.

-I do recall it being a bit of a struggle getting up and out the door in time, even for a 9:30am start. Kids and I were tired after 2 huge back to back days.

-I booked a 9:30 tour thinking that it would allow a slow start to the morning, but from memory it was getting up to an alarm and racing out the door – so not a relaxing start.

-The Catacombes was great and I would thoroughly recommend it. But I would not have thought it was worth it if you had to queue for hours to get in.

-when we were getting our audiopacks, an angry tourist was abusing the ticket office for having to wait 4 hours in line. Not worth a 4 hour wait.

– Buy the skip the line tickets online in advance. Very easy to do.  I don't understand how tourists get caught up in these long lines if there an online option to skip the queues. A little online research can save you from a big headache on the day.
Wednesday 12 July 2017
Details
Reflection
– 7:20am caught train from Austerlitz to Amboise (1 hour 44 mins). Tickets pre-purchased.

-9:22am – arrived in Amboise

-Train very easy – although a little bit of  a walk from the station to the town.

-Had brunch at a cafe then rented bikes for a bike ride to Chateau Chenonceau

-We had no information or maps, just a brief brochure from the bike shop. Owner didn't speak English.  Simply followed signs and hoped we were riding in the right direction. Each carrying a backpack.

-Took about 3 hours to get there. Mostly flat and through forest, but we had no idea where we were going and crossed our fingers for the best.

-Spent about 1.5 hours there. Had pre-purchased tickets with audio tour. It was beautiful.

-My husband and son cycled back, but went with us first to leave us a Blere train station. My daughter and I caught the train from Blere to Amboise via Tours (2 trains).

-My husband and son beat us back.

-Checked into Le Clos de Amboise, which was a beautiful hotel/chateau with a pool.

-Had a swim (all to ourselves)

– Then had an amazing dinner at Amorino in Amboise. Best meal we had whilst in France.!!

-Although I tried to do a lot of online research about riding to Chateau Chenonceau, there was no a lot of information.  Google maps said the ride was about 15km, so I thought very doable. What I had read said that this was an "easy ride".

-Our smart watches indicated that we rode about 27 km just to get there.  So we must have gone the scenic route or google maps was down main roads. My daughter's bike was too small for her and she really struggled, but by the time we realized we were well on our way and decided to keep going (with no idea how far it would actually be). So, it was a tough ride for her.

– In hindsight I think I may have been using cycle blogs as my research tool – – which was not good as I hadn't been on a bike for over 20 years!

-Taking bikes up and down stairs at train stations is not an easy task. So be prepared if you are taking bikes on the train.

If I did it again, I would give the biking a miss – but my husband and son would both disagree with me on that.
Thursday 13 July 2017
Details
Reflection
-10:30am check out from Amboise hotel, and head back to the train station

-11:20am train from Amboise back to Paris.

-1:20 arrived in Paris and back to the apartment for a rest

-Went for a walk in Paris that afternoon, bought ice creams etc. A relaxing afternoon.

-Amboise is a beautiful town. I wished we had more time just to potter around there.

-I wish we had time to visit Chateau d'Amboise.

– A one night stay, combined with a full half day plus of bicycling, was a rushed visit.
Friday 14 July 2017
Details
Reflection
-Bastille Day.

– A bit of a lazy start to the day.

-We made a conscious decision to stay away from crowds and not go to the Champs Elysee.

-Saw some flyovers and as we were heading to the Louvre mid-morning along Rue de Rivoli, watched the end of the parade (had no idea it came down that way). Crowds were ok.

-Went to the Louvre late morning. Free entry, but had pre-purchased the Nintendo switch audio guides which were very good. A bit of a line but not too bad.

-Focused just on Mona Lisa and the Egyptian exhibit, so only there for about 3 hours all up – which was a good amount of time.

-Left and went to Angelinas for hot chocolate for afternoon tea.

-Then back via the apartment to grab a backpack to head to other accommodation that evening, which had a view of the Eiffel Tower fireworks from our window.  – First Hotel (7th arr.)

– There were a bunch of cafes right nearby. So we had dinner and then back to the hotel.

-Went early to bed as all tired and set the alarm to watch the fireworks at about 11pm. Definitely worth it.

-Focusing on only a few parts of the Louvre worked really well with kids.

-We had a long wait to get into Angelinas. Not sure if it was worth the wait. Kids didn't really like the hot chocolate or the pastries that we ordered.

-Accommodation was great. It's not an area that I would want to base myself in if visiting Paris for the first time, but it was perfect for our purposes.

-I had considered doing something that evening and maybe seeing a fire station ball, but there is no way that our kids would have had the stamina to stay up until 11pm to do that and watch the fireworks. Going to bed and then waking to see it from our bedroom window was a smart way to do it with kids.
Saturday 15 July 2017
Details
Reflection
-7:37am Train from Gare de Lyon to Beaune,

10:23am – arrived in Beaune

-Stayed in an apartment booked on Booking.com which worked well. Only a few blocks from the centre

-Local markets were on and we bought some yummy cheese, olives, salami etc.

-Midday – checked in

-1:45pm – 5pm Bourgogne Evasion Bike and Wine Tours, half day bike tour. A great half day tour, cycling through the vineyards around Beaune and learning about wine in the region. Kids were the only kids but I don't think they minded.  The tour company had grape juice so they shared a non alcoholic drink with us.

-Beaune is lovely. . I would have liked to stay longer and have a meal and people watch. But having said that, I also wanted to see what we saw.

-We also didn't get a chance to visit the hospice. Didn't even try given what else we had on.

-At the time, I could probably have given this bike tour a miss after the prior bike ride that we had gone on. I would happily have instead spent a leisurely afternoon wandering around Beaune, having a nice meal out and maybe visiting the hospice.
Sunday 16 July 2017
Details
Reflection
-9:30am met Tracy Thurling at our apartment for an all day Private Medieval Burgundy Tour (booked through Tours by Locals).

-Tracy took us around for the day in her car. We visited Abbey Fontenay, Chateau de Chateaunef and Flavigny-sur-Ozerain (where the movie – 'Chocolat' was set and partly filmed) -saw the crypte, church, window of chocolate shop in the movie and little shop where they sell the anis lollies,

-Returned about 5pm.

-Quiet evening and an early night.

-This was a definite highlight for me of the trip.

-Everywhere that Tracy took us was great.

-I chose the tour because I really wanted to go to Flavigny after watching the movie Cholocat.

-The kids loved the little shop in Flavigny and trying all the anis lollies to work out which ones to buy.

-But probably my favourite part was having lunch in the farmhouse building run by the local farmers commune, where you queue up at the counter with a tray (like in a cafeteria) and order your lunch and dessert. Invaluable to have Tracy with us as little English spoken. But it was a great experience, having great home cooked food with mostly locals. I have reflected on that since we came back, so that has formed my view of how I want to travel next time.
Monday 17 July 2017
Details
Reflection
-9:15am – train from Beaune back to Paris.

-12 noon – arrive at Gare de Lyon in Paris.

–Back to the apartment for a rest.

-caught the bus to the Eiffel Tower for 5:30pm booked visit to the very top. Loved going up to the top.

-Really wanted to go to the top, as when my husband and I last went to Paris there was a strike on so we couldn't go up.

-Lovely way to end the visit.
Tuesday 18 July 2017
| | |
| --- | --- |
| Details | Reflection |
| 9:15am – arrive at Paris Gare Du Nord to catch the Eurostar to London | – a bit of queuing and waiting (as train was running late) but overall the Eurostar was a great mode of transport to England. |
My top 5 favourite experiences in order?
Bike tour of Versaille
Day travelling around Beaune by car, and in particular lunch in Flavigny
Walking tour through Paris with a local (David)
Fireworks from our hotel room on Bastille Day
Probably all of the rest together, although it was fun to see the kids have so much fun at Disneyland
Our children's favourite experience?
Probably Disneyland.
Overview of my reflection
Don't underestimate the ability of children (particularly tween aged children) to be engaged in what you are doing.
You can have full days with kids, but you do need to get them to bed at a reasonable time if they are to keep up with you. Full days means early dinners (by French standards) and pretty much nothing at night, unless you all want to have terribly tired and grumpy kids the next day.
Children do need some downtime.  Factor a bit of that in.  Going back to the apartment between organized events was good for us. So, the kids could chill out before the next adventure began. They probably would have liked a bit more of that – but they didn't complain.
Would I do that trip differently if I did it over again? No – as it was our first big trip together to France and you really want to see as much as you can in the short amount of time that you have.
Would I tweak what we did? Yes –
Taxi from Paris airport on arrival, not a transfer
No bike riding to Chateau Chenonceau for me and my daughter – although my husband and son loved it. I'd find another way to get there.
Had I known about the length of the ride to Chateau Chenonceau, I wouldn't have booked the bike tour through the vineyards a few days later. Enough bike riding had by me in the Loire Valley! I would have left time to wander around Beaune.
Will I do our next trip differently? Yes. Our  next trip will be very different. A much slower pace and more people watching/ eating etc rather than visiting tourist sites. The craziness of this first trip has given me permission to slow down next time. I want to soak up the culture rather than ticking items off a 'to do' list.
General tips:
Buy an audio tour if you can for wandering around (like yours Annie!) or find a local to take you. It makes a huge difference to your experience. It think you can get more out of that experience, particularly with kids, than buying tickets to a tourist destination like a museum.
Get data for your phone, so you have maps etc. and access to live apps for public transport. You will use it.  It's not that expensive if you buy a local sim for a short period.  I purchased 2 sim cards with data and calls online before we left, and that was really easy. That allowed us to split up if we wanted to, but still be able to contact each other (like when we split up in the Loire Valley cycling versus on the train).
If you are going somewhere which is renowned for having lines, do your research. If you can buy online to skip the line, do it as its worth it.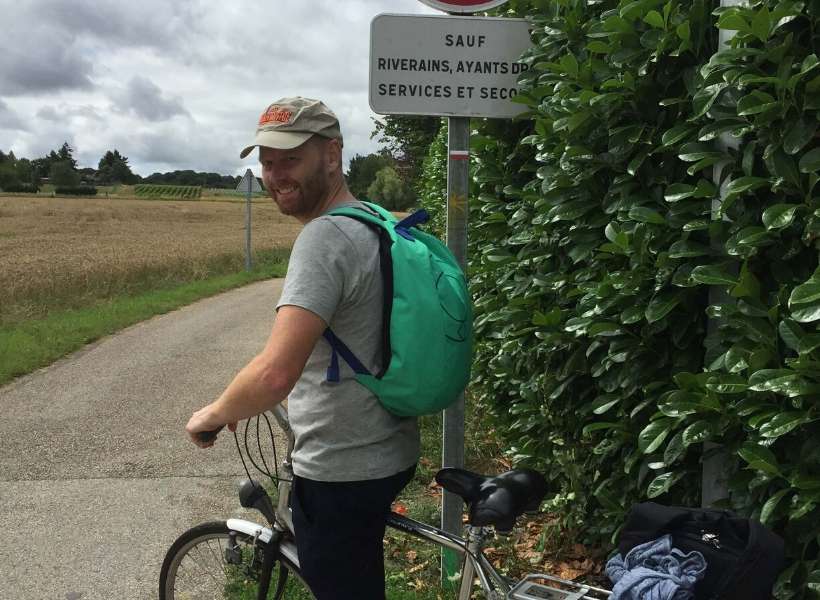 Subscribe to the Podcast
Apple
Google
Spotify
RSS
Support the Show
Tip Your Guides
Extras
Patreon
Audio Tours
Read more about this guest-notes
Episode Page
Transcript
Categories: Burgundy Area, Family Travel, Loire Valley, Paris