Categories: Family Travel, Paris
Discussed in this Episode
Museum fatigue [9:24]
Musée de l'Orangerie [10:41]
Decorative Arts Museum (Musée des Arts Décoratifs) [12:05]
Musée des Arts Forains [13:14]
Petit Palais [24:32]
Circus Bakery [25:52]
Compagnie Française des Poivres et des Épices [29:09]
Tuileries Festival [33:45]
I've been listening to the show for a little over a year, and used it to prepare for certain aspects of the trip. The episodes I found particularly helpful for our trip were: First time to Paris, traveling in August, national holidays, and the ones on Paris transportation.
What We Did and Why
 Monday
Arrived in Paris, my parents had booked a car through AAA travel, as that was what they were most comfortable with. Considering how little I slept (thanks to my kiddo) this ended up being quite a luxury. We arrived at Hotel Melia Notre Dame, which my parents chose. The rest of us were looking into AirBnBs, but that is something that my dad was uncomfortable with. I could never afford Hotel Melia without my parents, and it was beautiful and the staff so incredibly kind and helpful. It's a half a block from the river and directly across from Notre Dame.
Because our rooms wouldn't be ready for several hours, we walked to the area around Centre Pompidou because my brother wanted to see some of the street art around the area. Then the childless-couple continued to Saint Chapelle while my family took naps in the lobby. After we checked in, we went to the Musee Cluny to see the tapestries and then on to Luxembourg gardens. Our family loved the boat racing! Finally we ended with dinner in the neighborhood.
Tuesday
Grandparents: Saint Chappelle, Joined us for the hop on hop off boat.
Childless Couple: They took the RER to Versaille for a bike tour. They had an amazing picnic and the guides gave them insider tips on how to see a few rooms without the crowds. This was their favorite experience of the trip. late night wild ride on a pedal cab to Eiffel Tower for lights.
Us: Saint Chapelle, Hop on Hop of Boat. Got off at the Trocadero and walked. Stumbled upon the Petit Palais and saw it was free, so went in for the restrooms – stayed for the beautiful courtyard and cafe! Then we returned to our hotel for a rest, and took an uber to le Deux Margots, the starting place of our 3-hour chocolate and pastry tour in Saint Germain through Original Food Tours.
 Wednesday
Grandparents: Hop on Hop off bus, Montmartre
Childless Couple: Catacombs, Louvre after 6pm
Us: Ubered to Professional Photo shoot, metro to Musee Forains, Ile de le cite for crepes and ice cream dinner.
Thursday
Grandparents: Musee d'Orsay
Childless Couple: Sacre Couer, Top of Arc de Triomphe, Tiger Bar
Us: Musee l'orangerie, Museum of Decorative Artes, Tuileries Festival, drinks in the hotel, Montparnasse Tower
Favorites
Musée des arts forains
Musee de l'Orangerie Kids Area
Bike tour of Versaille
Le Petit Palais courtyard
Treize Bakery Paris by Luxembourg gardens for the Teapot Gin
Tiger Bar
Shop: Compagnie Française des Poivres et des Épices
Chocolate: Henri Leroux
Ile St. Louis
Tell us what you wish you had known before you went and/or what you wish you had done Differently.
Mainly, I would have made more dinner plans. I had a general idea for each day, but wanted to stay flexible for food. However, where we were staying was packed with tourist traps, and we were often too tired to think about where to go by the end of the day. I would NOT go to the Tuileries Festival.
General travel advice: Know the expectations of everyone before you go. Plan for meet ups at the end of the day or for breakfast to check in.
Grandma: Be flexible, allow people to do what they want to do. Book another small walking tour early in the trip.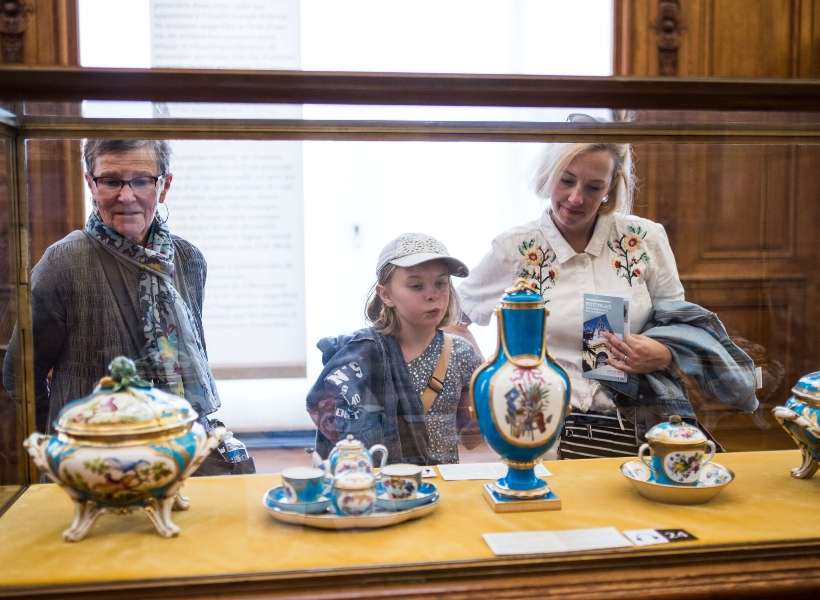 Subscribe to the Podcast
Apple
Google
Spotify
RSS
Support the Show
Tip Your Guides
Extras
Patreon
Audio Tours
Read more about this guest-notes
Episode Page
Show Notes
Transcript
Categories: Family Travel, Paris