Categories: Family Travel, Normandy & Brittany
Here is the general outline of our days with notable restaurants:
Days 1-3: Paris
1: walk from Promenade Pereire to l'Etoile to the Louvre
2: Bassin de la Villette, lunch at Paname Brewing Co, Parc de la Villette
3: Jardin d'Acclimatation, travel to Bretagne via Chartres
Days 4-8: Bretagne
4: Dinan
5: Quiberon coast walk and beach at Arche de Port Blanc, alignements de Carnac
6: Auray and Vannes (lunch at Chez la Mère 6 Sous and Kouign Amann from Maison Georges Larnicol)
7: Saint Malo and ferry to Dinard
8: lunch in Saint-Pierre-de-Plesguen at Au Resto de la Place, Mont St Michel
Days 9-13: Normandie
9: lunch in Saint-Lô at Sucré Salé, Pointe du Hoc, D-day encampments along coast
10: parachute by DAKS over Normandy (my father and husband). It was very disorganized so my mother and I stayed in Caen for shopping and cathedrals.
11: D-day. Lots of roads closed and Presidents eating right next to our apartment. We weren't sure if we would be able to leave or come back. Drove towards coast and after many roadblocks ended up at Luc-sur-mer, then over to Juno Beach.
12: American Cemetary, Overlord Museum, Arromanches
13: Caen chateau area and drive to Freneuse, dinner at La Table du Maroc
Days 14-16: Paris
14: Villennes-sur-Seine, Ile de la Cité, Quartier Latin, les péniches on Quai des Célestins
15: breakfast at Florence Kahn, Memorial de la Shoah, Marais walk, lunch at La Favorite, Atelier des Lumières, dinner at Nos Ancêtres les Gaulois and scooter ride
16: shopping in Les Halles, St. Eustache, husband took daughter to Luxembourg gardens so I could climb Pantheon and walk Quartier Latin by myself, dinner at La Maison de Gyros at #21 Rue de la Harpe, my favorite kebabs in the world
17: uber van to airport. 5 people, 4 suitcases, multiple other bags: 73€
Favorite moments:
1) D-day festivities in Normandy. The vehicles, the costumes, the planes flying overhead. Stuff everywhere, we were constantly running into magical moments! Everyone with a love of history, a family connection, tons of stories to hear. Favorite places were Arromanches, Overlord Museum, pointe du Hoc.
2) Mont St Michel. We sat on the front row of a marignote to the island and got a free tour from the driver all the way there. None of my family had been and they were amazed. I had been but this time was a whole different experience because of the changes in the road to the island and the timing to miss the crowds. We also heeded the advice of watching the tides 2 hours before high tide and timed it to come out of the abbey at the perfect moment to see the tides rush in (I had picked this day to visit because of the highest tide coefficient of our visit: 84)
3) I asked everyone and we all agreed on 1 & 2. These were the answers for 3: port Blanc beach and coast walk, alignements de Carnac, and Atelier des Lumières
Wouldn't do again/ would do differently:
-Dinan with a stroller/baby to tote was too much for us while still acclimating to time change
-More time dedicated to D-day events, would have cut some of Bretagne and stop in Freneuse (we didn't end up going to Giverny anyway)
-Fewer moves between lodgings. We stayed 6 places. A lot of time was wasted packing and cleaning to try to save time/ long rides in the car. The thing about this region of France is there is always something to see from the car.
-Traveling with a 17 month old is waayyyyy harder than traveling with a 9 month old or 1 year old. She just wanted to run and we ended up doing all kinds of kid-related stuff we swore we would never do and only ate out twice.
-We bought Atelier des Lumières tickets ahead of time but didnt buy Canauxrama or Giverny tickets because we wanted to be able to be fluid with our plans. The night before, we couldn't get tickets to either online. Don't know if this was because it was sold out, or too close to the date of use, but we didn't want to travel all the way there to try to buy tickets at the office if it was sold out.
Notable lodging:
Caen airbnb, hosted by Christine, who has 3 listings. 2 bedroom, very clean, comfortable, lots of amenities, free parking in courtyard.
Freneuse airbnb, hosted by Virginie. Cottage in her garden with lots of outdoor amenities, including warm pool and trampoline. They lived in the UK for 5 years, both speak English perfectly. https://abnb.me/iT86XCmPxX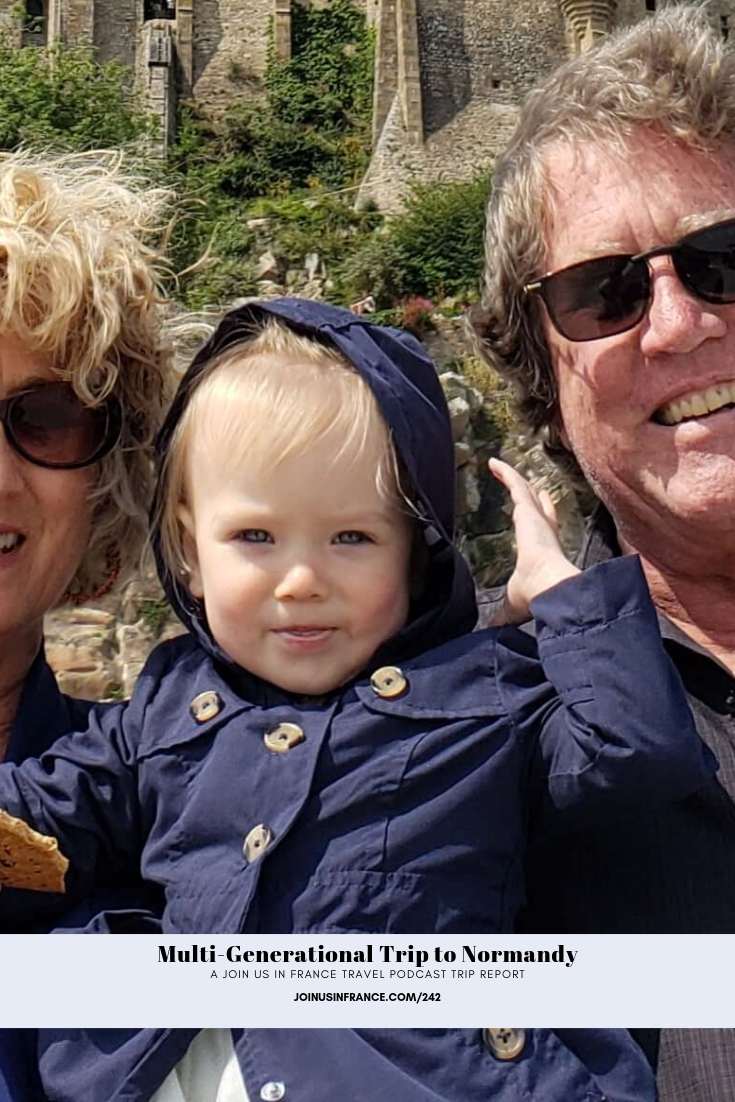 Subscribe to the Podcast
Apple
Google
Spotify
RSS
Support the Show
Tip Your Guides
Extras
Patreon
Audio Tours
Read more about this guest-notes
Episode Page
Transcript
Categories: Family Travel, Normandy & Brittany