Categories: Day -Trips from Toulouse, Off the Beaten Track in France, Toulouse Area
This episode features our frequent and very popular guest Elyse Rivin. If you enjoy her episodes, please consider supporting her on Patreon.
Today Elyse and Annie share tips about a visit to Rodez in the south west of France. Rodez is in the Aveyron department, near our home in Toulouse.
Rodez is a couple of hours away from both Toulouse  and Montpellier and it's a place we know well. Elyse gives us a nice review of the Soulages Contemporary art museum, the Haras National de Rodez, the Fenailles Museum and its amazing collection of menhirs. And, of course we discuss the local food specialty called aligot, which we love--a little too much in Annie's case 😉
There is so much to do and see around there that you could really spend a few nights based in Rodez and take day trips to places like Belcastel, Estaing, Najac and other gorgeous villages nearby. We will do episodes about those places at some point.
Not to Miss in Rodez
You will spend some time walking through the lovely medieval town. It's not very big, you can wander for about an hour and you'll see most of it. There are cafés and restaurants everywhere. We can't recommend any that stood out, the ones we tried were fine.
Notre Dame de Rodez Cathedral
Musée Fénaille and its collection of menhirs from the neolithic period
La Maison d'Armagnac in the old town (pictured at the top of this page)
Episcopal Palace
Musée Soulages
Eglise Saint-Amans
Haras National de Rodez
Rodez in the Aveyron Department
The Aveyron is one of the bigger departments in France as far as area is concerned. It is quite rural and agricultural. It is also hilly, the herds of cows get beautiful views!
Rodez is about 55,000 people and is a dynamic city with a lovely medieval city center, perched on top of a hill. As mentioned in the introduction, there are many scenic villages in the Aveyron, many with castles on top of a hill. You should not miss Belcastel, Najac and Estaing.
If you've already explored Provence, the Dordogne, you should consider visiting this part of France next. It is never crowded and everyone is friendly and happy to welcome visitors.
The Ségala, Scenic Hills West of Rodez
As you drive from Toulouse to Rodez, the hilly scenery you'll see as you get close to Rodez is totally enchanting. When I drove this road with my sister-in-law, she kept on pulling out her phone to take videos of the hills! She said "last one!" and soon enough she just had to another one! It's that scenic.
As you make your way across the Ségala, you may see some fields that look like wheat, but they are really rye. The name "Ségala"means "mountain of rye".
When you arrive in Rodez you'll see that the city is on top of a hill, but the city itself is pretty flat. This part of France can be cold and wet in the winter. This means streets will be mostly deserted because this is southern France, we hide indoors when the weather is bad! But in the spring, summer and early fall it is absolutely perfect weather most of the time!
Beautiful Red and Pink Sandstone
This part of France has a lot of red and pink sandstone. Many medieval houses and churches use this stone. We're so used to seeing cream limestone all over France that this is a striking feature of this area.
Notre Dame de Rodez
The Cathedral has the tallest church tower of any church in France and when the sun is shining the inside has a lovely pink hue to it.
We know that this Cathedral was designed by a man called Jean Deschamp and his son who also built the Cathedral of Narbonne and Clermont-Ferrand in the 1200s. He was from the North of France originally, which explains why the Cathedrals in those cities are more like Northern Gothic than churches in Albi or Toulouse.
Once you get to the area where the Cathedral is, the area quite flat. But if you arrive by train, you will be dropped off at the bottom of the hill. There are buses that can take you to the top!
The Soulages Museum
This museum opened in 2014. Pierre Soulages is celebrating his 100th birthday. He is still alive and still painting. His work 100% abstract is based on luminosity and the reflections of the light, mostly in black hues.
Many people come to Rodez just to see Pierre Soulages' work. He is the most important French artist living today. Mr. Soulages donated 500 of his pieces to the city, and in this museum you'll see everything from his earliest works to his very recent pieces.
The museum building itself is worth a visit and the views from there are really nice. But if you don't like contemporary art, this may not be for you. The gourmet restaurant inside is beautiful too, but quite expensive.
Local Food Specialties
You must try Aligot (mashed potatoes with cheese). Aligot will stick to your ribs, but it is so good!
The other local specialty is called "les tripous". It is made of veal stomach, it is not for the faint of heart and neither Annie or Elyse will eat it. But, if you like to lived dangerously, why not? We've done a whole episode about strange French foods (listed below), some visitors love them!
This is not wine country, but fear not, you'll find all the wines from the Languedoc at any restaurant or grocery store.
They also produce walnuts in the area, not as famous as the ones in the Quercy. You can get "croquants" with walnuts and if you buy some, eat them right away or you'll have nothing but crunchy bits at the bottom of a bag.
FOLLOW US ON:
Discussed in this Episode
Aveyron
Aubrac
Ségala
Soulages Contemporary Art Museum
Haras National de Rodez
Fenailles Museum
Local food specialty: aligot
Belcastel
Najac
Estaing
Most Beautiful Villages in France
Subscribe to the Podcast
Apple
Google
Spotify
RSS
Support the Show
Tip Your Guides
Extras
Patreon
Audio Tours
If you enjoyed this episode, you should also listen to related episode(s):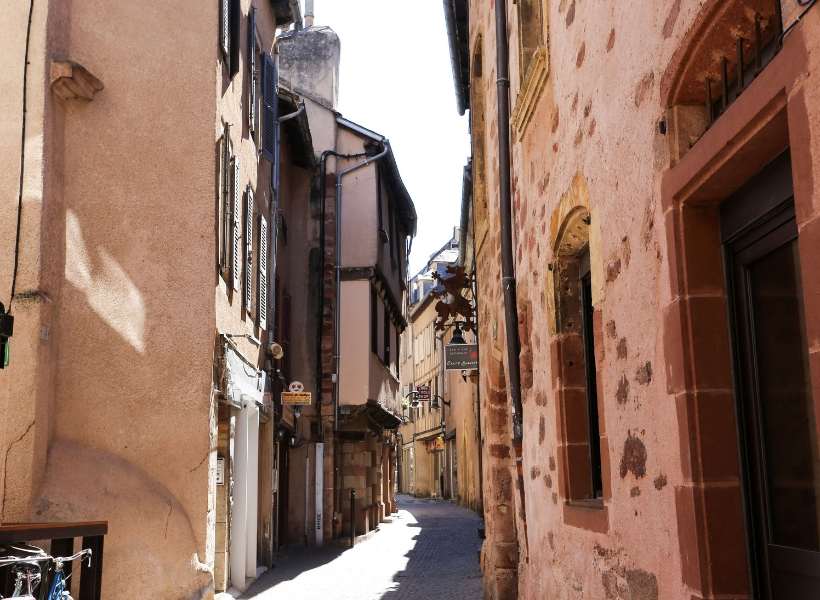 Let's Review
Rodez won't blow your mind the way Albi would, the city center is smaller anyway. But it's well-worth a visit, especially if you can stay a few nights and also visit the most beautiful villages of France nearby. We particularly loved Belcastel both for its beauty and the friendly folks who welcome you there. So, as always, we encourage you to explore more of France and enjoy all the local flavors.
Categories: Day -Trips from Toulouse, Off the Beaten Track in France, Toulouse Area