This post contains affiliate links, meaning I get a commission if you decide to make a purchase through my links, at no cost to you. Please read my disclosure page for more details.
Category: Loire Valley
This episode features our frequent and very popular guest Elyse Rivin. If you enjoy her episodes, please consider supporting her on Patreon.
In this episode of the podcast Annie and Elyse talk about the lovely city of Tours in the Loire Valley. Because the word "tour" in French means tower, you might think that the city of Tours is full of towers, but it's not!
Tours is only 270 kilometers from Paris and you can get there on the TGV train, which means you can easily visit it from Paris. Tours is at the confluent of the Loire and the Cher and it is one of the most important cities on both of those rivers. The metropolitan area of Tours has around 340,000 people, which makes it a medium-sized city for France.
A Brief History of the Lovely City of Tours in the Loire Valley
Tours has an interesting history. The medieval city center is small, but entirely preserved, which is not the case in many French cities. Much of the city center of Tours is listed as a World Unesco Heritage site.
The city was founded by Augustus the Roman emperor. Under the Romans Tours was a walled city that stretched on both sides of the city. Saint-Martin-de-Tours is the one who Christianized and evangelized the area.
Saint-Martin-de-Tour
The stained-glass windows in the Saint-Martin-de-Tours Cathedral in Tours are worth a visit. They are magnificent both in terms of imagery and the very deep blue of the windows. This is comparable to what you'd see in Chartres, medieval stained-glass windows that are still pretty much intact.
Martin-de-Tour started the concept of monastic life. He had been a Roman soldier and aristocrat and had spent a good part of his life in war. Then he converted to Christianity and started preaching. Then he wrote about the value of spending one's life in meditation and prayer and living away from other people.
Martin went to a village near Tours now called Candes-Saint-Martin where he started the first monastery in France. This is also where Martin is buried, so it also became an important site of pilgrimage.
The Loire and Cher Rivers
Under the Romans and in the early part of the Middle Ages, the wealth of a city often had to do with the ability to navigate the rivers to export locally manufactured goods. Because Tours had two rivers, it was always a wealthy city.
Tours as the Capital of the Frankish Kingdom
In the earliest parts of the country of France, Tours was the capital of the Frankish Kingdom. France as we know it didn't exist yet, of course, but Tours was always an important city.
Charlemagne was at the head of the Frankish Kingdom which extended from the Atlantic and included much of Germany today. It's hard to imagine how he ruled such a big empire with so many peoples and languages. But Charlemagne established the first administration that was in charge of collecting taxes.
Battle of Tours-Poitiers in the 700s
All French people have been taught in school that Charles Martel pushed the Sarrasins (who were Muslims) away and wouldn't let them go any further up than Poitiers. This is part of the great historical novel French people like to tell.
But more recent historical research has shown that Charles Martel was mostly motivated by greed and a desire to pillage everything he could. It so happens that he also scared off the Sarrasins and pushed them back towards the south. So, it's complicated!
Joan of Arc Prepared her Expedition in Tours
In the 1400s Joan of Arc prepared her expedition to get rid of the English while based in Tours. You can see the "Maison Jeanne d'Arc" in Tours, she played an important role in the history of the city.
How Long to Spend in Tours?
Tours is a gorgeous city that you can probably see in a day and a half, possibly two. The atmosphere is wonderful in Tours too. You can still see the old tower built by Gregoire-de-Tours in the city center of Tours.
You can probably walk from one side of the city center to the other in 15 minutes. But there are 160 houses in Tours that are from the 1400s through the 1600s which makes for a lovely city center.
Not-to-Miss in Tours
Place Plumereau is fantastic! The whole area is pedestrian, there are lots of restaurants, lots of locals out for the evening, and it's gorgeous too! It's a big square where the center goes down like a sunken living room, there are cafés and restaurants all around, and it's filled with people, mostly young people.  This is the center of life in Tours so long as the weather cooperates.
Cathédrale Saint-Gatien de Tour
Quartier Saint-Martin
Quartier Saint-Julien
Quartier Saint-Gatien
Walk along the river
Musée des Beaux Arts de Tours, the building by itself is interesting to see.
Near Tours: Loches Château
Tours As a Great Place to Base Yourself Out Of to Visit Loire Valley Chateaux
There are some great hotels in Tours not far from Place Plumereau. These are a good choice to base yourself out of when visiting Loire Valley Chateaux. It's important that you stay in the city center because you'll be able to enjoy the city life. Park your car at the hotel (you'll probably need to pay for it), use it to go visit Chateaux and do the rest on foot while in Tours.
Hôtel l'Adresse (right on Place Plumereau, could be a little loud!)
Tours As a Gourmet City
In Tours you'll find great fresh water fish, great white wines, crawfish, Sandre fish, local cookies. It's a great food city! This free magazine highlights some of the best in Tours in 2019. In French but the photos speak for themselves!
FOLLOW US ON:
Discussed in this Episode
Tours
Saint-Martin-de-Tour
Joan of Arc
Place Plumereau
Quartier Saint-Martin
Quartier Saint-Julien
Quartier Saint-Gatien
Musée des Beaux Arts de Tours
Loches Chateau
Subscribe to the Podcast
Apple
Google
Spotify
RSS
Support the Show
Tip Your Guides
Extras
Patreon
Audio Tours
If you enjoyed this episode, you should also listen to related episode(s):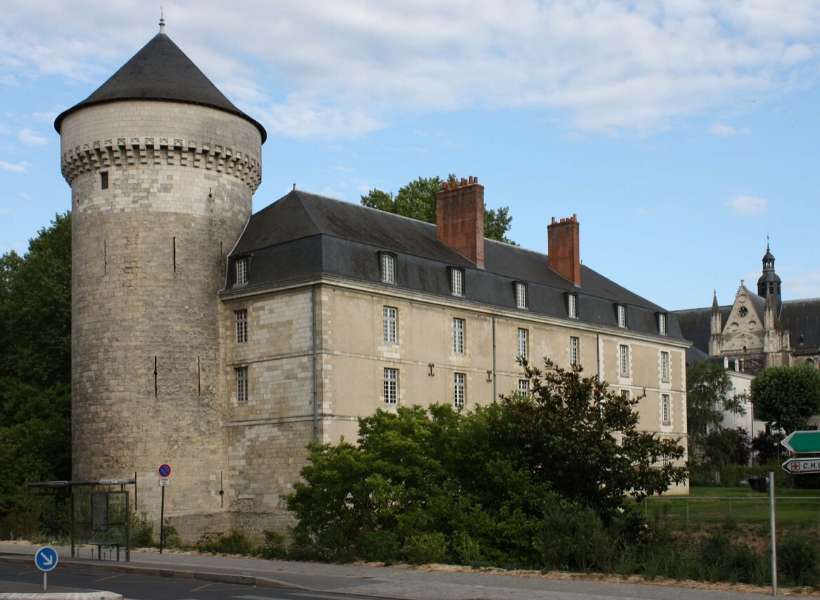 Category: Loire Valley