This post contains affiliate links, meaning I get a commission if you decide to make a purchase through my links, at no cost to you. Please read my disclosure page for more details.
Categories: French History, Loire Valley, Off the Beaten Track in France
This episode features our frequent and very popular guest Elyse Rivin. If you enjoy her episodes, please consider supporting her on Patreon.
On today's episode Elyse tells the story of her scenic drive along the Loire River between Angers and Saumur. One of her stops was at the Fontevraud Abbey where Eleanor of Aquitaine and her son Richard the Lionheart are buried. I spent a few hours myself at Fontevraud and really enjoyed it, we explain what makes it so great in the episode.
This is also a great itinerary for cycling! Although, in that case you'd probably have to stop somewhere for the night. But there is no lack of great villages to choose from! Or you could stay in a troglodyte house which they have in this area! I'm not so sure about those, but they would be worth a stop for sure!
To be clear, our emphasis today is not on the Loire Valley Chateaux but on the Loire river and the beautiful towns and cities you will encounter as you explore the area.
This drive would take a whole day because as we'll see there are a lot of places that are worth a stop, and you could do it in either direction going east or going west. Please note that there is no public transportation to do this, you'll need either a car (see below for our favorite car rental provider) or hop on a bicycle.
A Scenic Drive along the Loire River
The Loire River is the longest river in France and under the kings of France it was a Royal River which means the kings set up tolls along the way.
Elyse and her husband chose to drive along the "levée". The construction of that levee started in the 1100s in order to protect the area from the large floods that would happen naturally in this area. The area is very flat and very rich.
When you do this drive you are really driving on top of the levee.  If you're going East, you'll have the river to your the right and lovely villages to the left. They started at Angers.
The Loire Valley is Great for Cycling
If you want to do a cycling vacation in France without killing yourself, the Loire Valley would be a good choice. It is mostly flat and there are a lot of places you can stop for meals and drinks and places to sleep.
Even though the area is flat, it is not boring landscape. There are a lot of tiny islands in the middle of the river where birds nests, etc.
Saint-Mathurin-sur-Loire and Les-Rosiers-sur-Loire
Great small villages for a coffee stop. It is very pretty. Some of the houses there go back to the 1500s and 1600s. Rosiers-sur-Loire comes from "roseau" which means reed. Both v
The flat bottom boats are called "toues" or "foutreaux" in the Loire. A similar boat in the Dordogne would be called "gabare".
Both have pretty churches and both have a lot of flowers in the village. They are about half way between Angers and Saumur.
The Royal City of Saumur
The city of Saumur is famous for its horses and Cadre Noir. The horse training facilities per se must have moved away, but they still do horse shows and demonstrations in Saumur.
Saumur was a Royal City within the Royal Domain which means there were restrictions imposed by the King in the city as well as the river.  This had to do with taxes and who could do what, etc.
Saumur is a city and a great place to base yourself out of to explore the area.
There are troglodyte houses in the cliffs around Saumur as well as many interesting things as outlined in the link above.
The Fontevraud Abbey aka Fontevraud-l'Abbaye
This is where Eleanor of Aquitaine is buried, and so is her son Richard the Lionhearted. She died in 1204 and this is where she was buried when she died. The Abbey is remarkable but the village is in the middle of nowhere, surrounded by grapevines.
This is one of the first Abbeys in France that had both men and women and was ran by an Abbess. This was important the Eleanor of Aquitaine and this is why she chose to end her life there.
The polychrome recumbent (gisant in French) is the original, but her body is no longer there. It was removed during the French Revolution and we don't know where to bodies were taken.
Candes-Saint-Martin
This is a must-see, it's really scenic and was one of the finalists for a most scenic villages in France TV show. It didn't win but it was close. This village lies where the Loire joins with the Vienne. This is where Martin-de-Tour was buried. We will talk more about him in our episode about Tours.
There is a great promenade along the river in this village, you can walk right along of the river and it is absolutely wonderful. However, it is not a busy place, don't expect much life there in the middle of the winter!
Tours and Langue d'Oïl
The area around Tours is where reportedly the French language started. The French we speak today is close to the "langues d'oïl" of long ago.
A Little Bit of French Language Nerdliness
"Le Loir se verse dans la Loire" (The Loir empties into La Loire).
"Un fleuve" is a river that empties into the sea or the ocean.
"Un ruisseau" is a small river.
Book Your Car in Advance Especially if You Need an Automatic!
Renting an automatic is not as difficult as it used to be in France, but depending on the place where you'll pickup they may or may not have a car that suits your needs. Shop for your rental car in advance!
More to See along the Loire River
Cadre Noir is still just outside of Saumur. And not only can you see horse shows, you can tour the training facilities and stables.
There is an organic restaurant in Candes that is worth a visit. It is on the main square just outside the Abbey.

Another village you should not miss is Montsoreau. It is a little larger than Candes, and has a wonderful open air market on Sundays.

East of Montsoreau on the way to Saumur there is a

mushroom restaurant in one of the Troglodyte caves.

One village on the north side of the river further east you should also visit is Langeais. It is built at the base of the Chateau of the same name, and is just gorgeous, with a little stream running through it.

Some of the old sleeping quarters at Fontevraud have been converted into a hotel and restaurant that looks really nice (but we haven't tried).

The troglodyte village at Rochemenier is now a museum of sorts. The  troglodyte restaurant Les Caves de la Genevraie is good!

Lovely hotel in one of the scenic villages along the Loire, for those of you who don't want to stay in a big city.
FOLLOW US ON:
Discussed in this Episode
The Loire Levee
Fontevraud Abbey
Fontevraud-l'Abbaye
Angers
Saumur
Saint-Mathurin-sur-Loire
Les-Rosiers-sur-Loire
Candes-Saint-Martin
Montsoreau
Langeais
Troglodyte village of Rochemenier
Subscribe to the Podcast
Apple
Google
Spotify
RSS
Support the Show
Tip Your Guides
Extras
Patreon
Audio Tours
If you enjoyed this episode, you should also listen to related episode(s):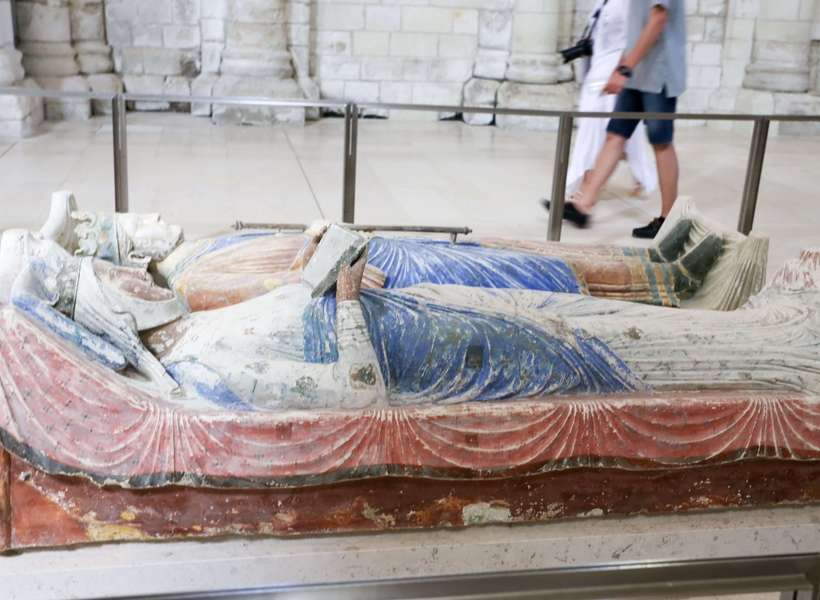 Read more about this episode
Transcript
Categories: French History, Loire Valley, Off the Beaten Track in France