This post contains affiliate links, meaning I get a commission if you decide to make a purchase through my links, at no cost to you. Please read my disclosure page for more details.
Categories: Day -Trips from Toulouse, Toulouse Area
This episode features our frequent and very popular guest Elyse Rivin. If you enjoy her episodes, please consider supporting her on Patreon.
So many people who have done trip reports with Annie Sargent have mentioned Rocamadour as one of their favorite places in France! And she's  been there about a million times growing up in Toulouse because it's a favorite for locals too. So it was high time to do a proper episode dedicated to Rocamadour where we explain why it's so amazing.
For those of you who are new to the podcast and haven't heard it mentioned so much, this is a really scenic village where much of the village and the church were built hanging on the side of a cliff. It's incredibly scenic and still an important place of pilgrimage. Resident tour guide Elyse Rivin will explain that in the middle ages in this part of France the ability to retreat into the cliffs was vital.
There is a lot to see around Rocamadour as well and we go into the best there is to enjoy around there as well: le Gouffre de Padirac and La Forêt des Singes because the two that come to mind first.
The largest city in this area is Cahors in the Lot and it is only about 30,000 people. When you're in Rocamadour you're not far from the Dordogne and the Haut Quercy. You can visit this as a day-trip from Toulouse, but it's really perfect as a week-end getaway to the countryside. This is a selection of hotels we'd consider for Rocamadour. You need a parking lot because there isn't much in terms of street parking. And, if visiting during the warmer months, you also need a swimming pool to keep the children happy and to cool off at the end of a long day of walking the up and down the hilly streets of Rocamadour.
The Name Rocamadour Speaks for Itself!
Rocamadour is a ROCK for sure. But it may have been about saind Amadour as well. So, this is the rock of a saint and there was a hermitage there long ago.
Best Place to View Rocamadour
It's great to see the cliff-side village from a distance. The one every photographer can get (because there's a small parking lot)  is called L'Hospitalet, a tiny village you drive through when arriving from Toulouse. There is also a restaurant with a view. But it's best to park the car and walk a bit. When in Rocamadour you'll walk, there's no other way to do this. But there is an elevator to save you some of the steps. Look for the signs.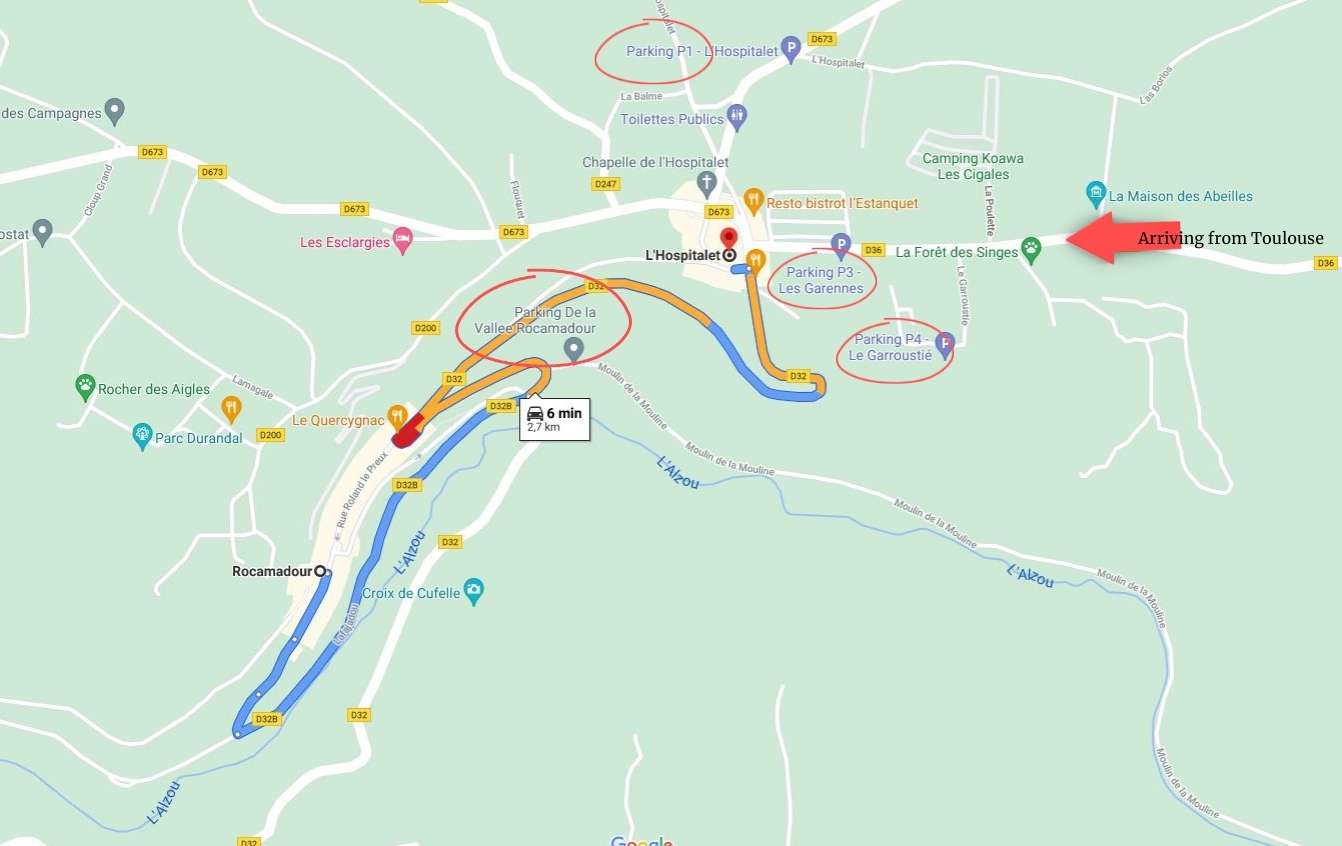 There is a chateau at the top of the rock, that's where they chateau is. You can park near the top or near the bottom. You won't be able to drive through the middle. There is an elevator to help you go up and down and there is a small fee for that but it's worth it.
A million and a half people go to Rocamadour in a normal year, so there are also a lot of tour buses. In Annie's opinion it's more spectacular than the Mont-Saint-Michel, but it's not as famous.
Rocamadour for Pilgrims
Rocamadour is an important place of pilgrimage for devout Catholics who were supposed to go to Rome, Compostelle, Jerusalem and Rocamadour. There are still facilities for pilgrims to this day. I am not finding any websites for pilgrims in English, but here's a good one in French. There is a festival of sacred music every year and
Modeled After the Hierarchy of Life in the Middle Ages
Rocamadour was established around the year 1,000. On the ground level you had the workers and peasants. They needed access to the fields and the river (L'Alzou) so this was best for that class. Today this is where you find all the shops and souvenir places.
In the middle level you had the church and chapels where the religious class lived. You can visit the sanctuary which consists of several chapels. Notre-Dame chapel has a black virgin (which are big in the Southwest).
And on top (that you can drive to today) you have the castle, the warriors and Lords. You can visit the chateau which was destroyed and rebuilt and still looks grand, but you can't visit much of it.
Most of the action for visitors happens at the bottom and middle levels, but you can park at the top, enjoy the view and go down on the elevator.
What to Visit Around Rocamadour
There are too many to name them all, but in Annie's opinion if you're visiting with kids it's important to stop at La Fôret des Singes, Gouffre de Padirac. Reserve your tickets in advance here for Padirac.
Le Rocher des Aigles
La foret des Singes
Parc Durantal: equestrian show, jousts, fights
Parc animalier Gramat (20 minutes away): meet and feed bears, wolves, lynxes. Meet the care taker at 8:30 and go along his morning routine.
Parc animalier Gramat (20 minutes away): meet and feed bears, wolves, lynxes. Meet the care taker at 8:30 and go along his morning routine.
Padirac is 20 minutes away: underground river in a cave and you visit it in a cave
Rocamadour Aventure: accrobranche thing
Sarlat-la-Caneda is an hour away to the west
Cahors is also an hour away to the south
Gourdon is not far either and it is famous for its open-air market
Parc animalier Gramat: meet and feed bears, wolves, lynxes. Meet the care taker at 8:30 and go along his morning routine.
Chateau de Bonaguil, 90 minutes away.

FOLLOW US ON:
Subscribe to the Podcast
Apple
Google
Spotify
RSS
Support the Show
Tip Your Guides
Extras
Patreon
Audio Tours
If you enjoyed this episode, you should also listen to related episode(s):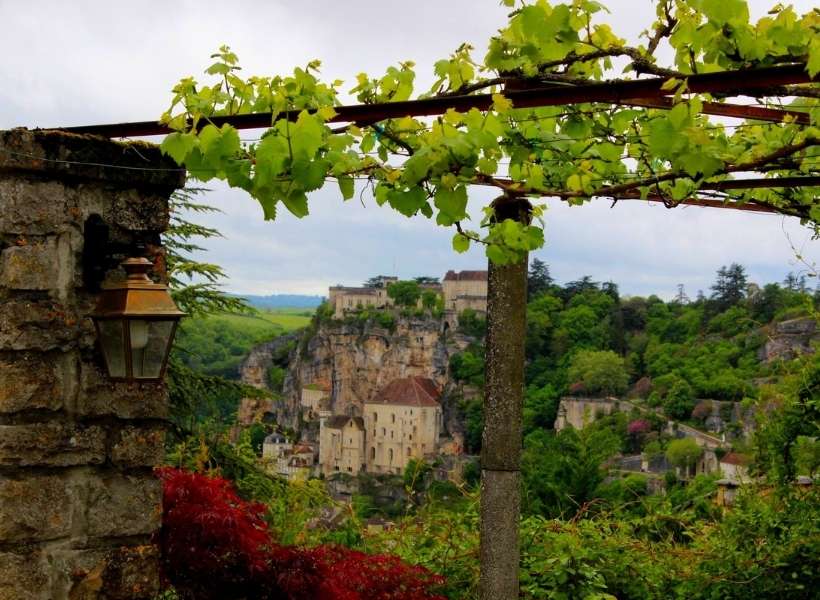 Categories: Day -Trips from Toulouse, Toulouse Area