Categories: Loire Valley, Normandy & Brittany
This episode features our frequent and very popular guest Elyse Rivin. If you enjoy her episodes, please consider supporting her on Patreon.
Nantes is about 50 kilometers from the Atlantic on the Loire Estuary.  It is really easy to get to Nantes on the TGV from Paris. The Nantes Metropolitan area has over 600,000 inhabitants and it's also a big university town. It has been voted as one of the most agreeable cities to live in by French people and Annie agrees, it's a great city!
However, the joke is that in Nantes it rains 10 days out of 7, but when Annie was there it was sunny and lovely. There's a great tram system in Nantes and all the lines intersect around Place du Commerce.
The city center has a large pedestrian area that is closed off to most cars. Taxis can drive through the pedestrian area, so if you need to choose between a Taxi or an Uber, Annie recommends you get a taxi.
There is enough to keep you busy for 2 or 3 days. Not to miss: Chateau des Ducs de Bretagne, Les Machines de l'Ile with the big elephant
Les Machines de l'Isle in Nantes
The street theater company Royal Deluxe started in Toulouse in 1979. The idea was to make giant street puppets. They make oversized machines that represent different animals that parade in the streets. The original Royal Deluxe didn't get the support they needed from the city of Toulouse, so they moved to Nantes.
Nantes was an industrial city where they built large ships. They have buildings called Les Chantiers Navals that were empty. Les Machines de l'Ile occupies some of the buildings that used to be dedicated to ship building.
You can enjoy the machines without paying a penny if you go when the elephant is walking around. But visiting their hanger is fun because you can see several other machines. You can also ride the elephant.
Les Chantiers Navals
The whole area of the former Chantiers Navals is nice to visit, there is a nice installation by Daniel Buren called Les Anneaux and it is quite spectacular. There are also giant yellow cranes in this area that were leftover from ship building days.
Passage Pommeraye
Passage Pommeraye is also a must-see. It is a fancy mall area, very ornate, fun stores including a fun Harry Potter store. It was built in 1841-1843, so earlier than Art Deco, definitely very ornate and beautiful. In many ways more ornate than the covered passages in Paris.
Follow the Green Line
All through the city there is a green line on the ground that will take you to all the interesting places in the city. It's a nice walk and it's nice that you don't need a map or anything.
Jules Vernes Museum
Jules Vernes was from this area and there is a nice little museum dedicated to him. Annie didn't have time to go to it because time was too short, but that would be so much fun!
Festivals and Carnavals
Carnaval de Nantes: one of the biggest Carnavals in France.
Festival du Cinéma Espagnol in March.
Folle Journée which is a day in January when they have classical music at different venues through the city.
Restaurants Annie tried in Nantes
We ate at L'Entrecôte because we love a good steak-frites. This was exactly the same as other Entrecôte where we've eaten.
We also had a nice meal at Le Lion et l'Agneau (a Michelin Bib restaurant that Annie reserved a couple of weeks early).
La Cigale is a gorgeous Belle Epoque restaurant where it's hard to get a table. Pro Tip: go between 3 PM and 5 PM and see if they'll sit you because even when you have a reservation you end up waiting for an hour outside!
A Brief History of Nantes
Nantes was not part of the Kingdom of France until the 1491 when Anne de Bretagne married a Charles VIII.
The Edict of Nantes was signed by Henri IV and it gave religious freedom to everyone and established religious tolerance for all in France. But the people of Nantes were not OK with this edict and fought it for a long time.
Nantes established the triangular commerce and "le code noir". Ships went from Nantes to the coast of Africa to the French Caribbean.  Nantes was the most important city in France when it came to the slave trade. Approximately half a million Africans were shipped out in boats that came out of Nantes.
All of this did not end until 1831 because even though the French Revolution had made slavery illegal, Napoleon started it up again and it wasn't stopped again forever until Louis XVIII. For more on the history of Nantes, click on the Show Notes button below.
FOLLOW US ON:
Discussed in this Episode
Pedestrian area in Nantes
Taxi vs Uber in Nantes
Merveilleux de Fred
Not enough time for the Jardin des Plantes
L'Entrecôte
Le Lion et l'Agneau (Michelin Bib)
La Cigale
Berlingots Nantais
Les Petits Lu cookies
Anne de Bretagne
Edit de Nantes
Le Code Noir
The Triangular Commerce
Subscribe to the Podcast
Apple
Google
Spotify
RSS
Support the Show
Tip Your Guides
Extras
Patreon
Audio Tours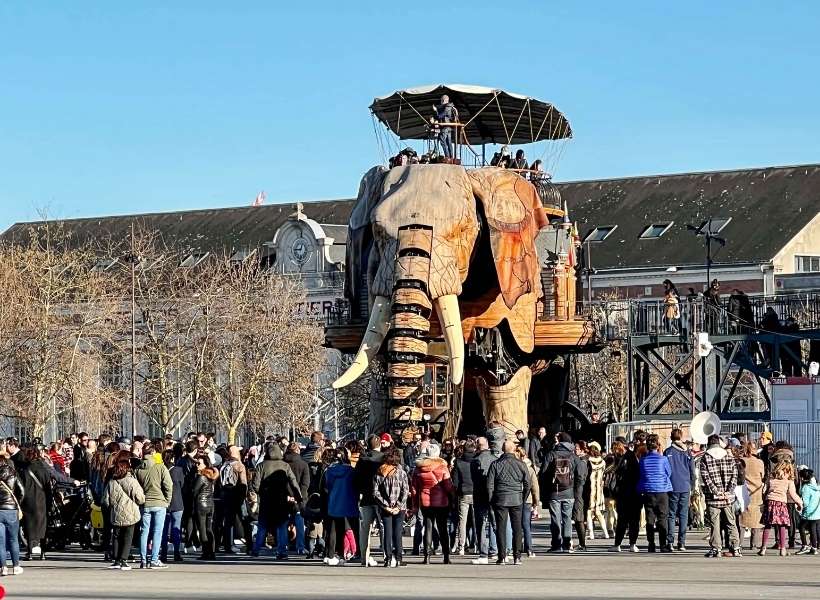 Read more about this episode
Show Notes
Categories: Loire Valley, Normandy & Brittany