Category: Moving to France
Patty and her husband are actively looking for a place to call their own in France and they are leaving no stone unturned, as you will hear when you listen to this episode.
Because they have a goal to move to France within 5 years, when they come to France they don't look for the best tourist attractions. Instead, look for places where they might want to live. They travel to get the feel of a place and they also usually visit the nearby attractions.
Header photo: this is the village of Montolieu, village du livre et d'art near Carcassonne, France.
Looking for a place to call your own in France
Their search lead them to the Rhone Valley, Burgundy, the Aude and the Ariège. These are the sort of beautiful places they'd like to retire to eventually. Places that are not touristy, with charm and character, affordable prices, and easy access to a city and services.
French Immersion with Join Us in France
After my chat with Patty Annie will share a scary personal update, travel tips and news and AT LONG LAST! Some details about the French Immersion / Join Us in France Reunion I am planning for all of you who would like to join me in France May 21 through May 27, 2023 in Toulouse. I'll be emailing everyone on my email list about it as well. If you're not on the email list, subscribe here.
Montolieu, village d'art et du livre
Limoux "carnaval" where there is something going on related to "carnaval" pretty much every weekend January through April. They also have a piano museum but it was closed when they went.
Abbey of Saint Hilaire where they claim they made the first sparkling wines.
Quillan, where a lot of British people retire to. Quiet in the winter.
Carcassonne, most Americans know the board game called Carcassonne, but it's a real place. Do the audio tour that you can get at the entrance of the walled city, it's really well done. If you'd like a fancy meal in Carcassonne, go to La Table de Franck Putela, 2 Michelin stars. BTW, nobody dresses up for fancy meals any more in France. You can go in jeans and t-shirt.
Narbonne. The beach in Narbonne is not great, Annie recommends you go to Valras-Plage instead.
Mirepoix, gorgeous square with a nice summer festival in early August.
Foix with the large medieval castle, but it is a sleepy town. They have costume demonstrations, they operate the trébuchet, they do demonstrations, great for people who are into Medieval Castles.
Ax-les-Thermes and the Trois Domaines ski resort for snowboarding. Large and inexpensive ski area, but the skiing season is short because there isn't a lot of snow. There are also thermal baths where you can spend a couple of hours for 20€ and a free thermal pool in the middle of town where you can stick your feet in.
Castelnaudary. A great stop on the Canal du Midi but Patty didn't like it so they left.
Cavillargues near Avignon, they stopped there because they have friends who live there. Their friends made Rouille de Seiche for them, a tomato and garlic cuttlefish recipe.
Uzès, the Occitan town that looks like Provence. Golden limestone everywhere, beautiful. It is famous for its market twice a week and the Musée Haribo, candy museum.
A stop in Lyon at Café Comptoir Abel, one of the oldest "Bouchon Lyonnais" to enjoy a Salade Lyonnaise with frisée salad, bacon and poached egg.
Lons-le-Saunier and the Laughing Cow factory
Chalon-sur-Saône, cute city, large Sunday market. Don't miss the Nicéphore Niépce Museum of photography.
Baume-les-Messieurs, lovely medieval town. The town is in a valley surrounded by cliffs, with an Abbey, a waterfall hike, very scenic. Fantastic restaurant called Le Grand Jardin. Worth going out of your way to see it.
Using tools to practice your French
The best way to enter the Louvre and why
La Grotte Cosquer, replica of a painted cave to open in Marseille
French immersion and Join Us in France Reunion, May 21 thru May 27, 2023 in Toulouse
Fire at Annie's house
FOLLOW US ON:
Subscribe to the Podcast
Apple
Google
Spotify
RSS
Support the Show
Tip Your Guides
Extras
Patreon
Audio Tours
If you enjoyed this episode, you should also listen to related episode(s):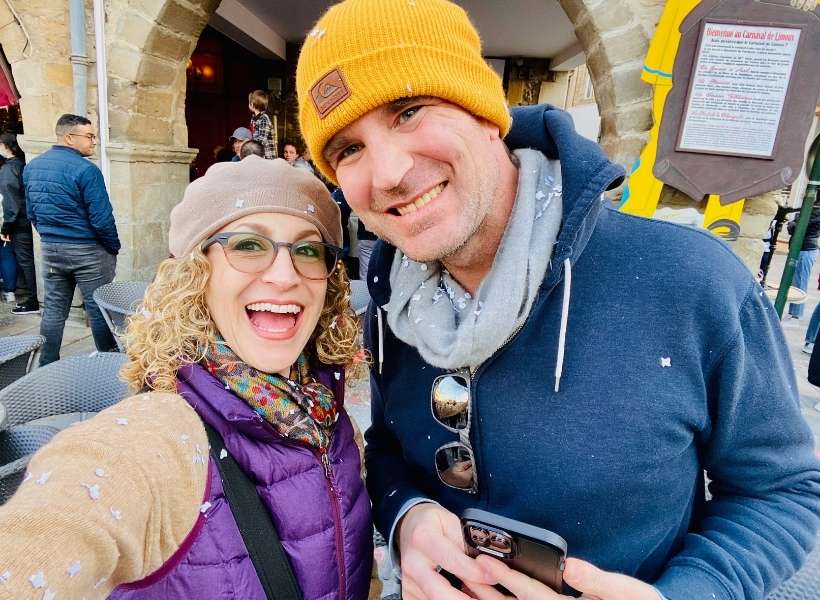 Read more about this episode
Transcript
Guest Notes
Category: Moving to France