Categories: Bordeaux Area, French History
This episode features our frequent and very popular guest Elyse Rivin. If you enjoy her episodes, please consider supporting her on Patreon.
Today's episode with Elyse Rivin is all about Lafayette, the Hermione and the arsenal of Rochefort in the West of France.
The newest way to get a Passe Sanitaire for visitors to France is outlined in this document. More about this on Annie's newsletter.
About Rochefort
The permanent home of the Hermione is in Rochefort, at the Arsenal de Rochefort 35 miles south of La Rochelle. There is also a lovely resort town on the Atlantic called Royan nearby. The city of Saintes is nearby as well.
The town of Rochefort is similar in style to La Rochelle, but it was built from scratch to be an arsenal town by Louis XIV. It soon became very important strategically.
It takes a half a day to visit the Hermione in Rochefort, but you could easily spend a week exploring this whole area of the Charente-Maritime. Also worth visiting in Rochefort is the Musée National de la Marine and the Corderie Royale where they made ropes for all the ships they build in the area. They build a "radoub" or "refit" in Rochefort to make ship-building possible.
The Hermione
The Hermione was build by an association as a replica of the frigate used by the Marquis de Lafayette. This is a great visit to do with children as you can see everything inside and talk to the young docents who volunteer because they are passionate about this ship and the history. You can also see how they made this ship and the history of making this replica.
When you exit the frigate and the museum you get into a park area where you can picnic. There are also restaurants. It's a lovely way to spend a day or at least part of a day.
The Hermione is from a class of ships called Concorde that were designed as warships. The purpose of these ships was to go up against the British fleet which was superior for a long time. Both France and Britain had lots of colonies in those days and getting to those colonies fast was always a major goal.
The Hermione is an impressive ship with 3 masts, large black canons sticking out of holes. It is a sight to behold, especially from the outside. The canons are not functional because if they were the ship would have to be the property of the French Navy and that is not the case. The Hermione was built in 1775 and 1776.
The original Hermione ran aground in the Loire river in 1793 and was retired as a warship. But it was well documented and they were able to rebuild it in the 1990s. The replica was finished in 2012 and has attracted a lot of attention to French-American history since then.
Gilbert du Motier Marquis de Lafayette
A young man by the name of Lafayette showed up in Rochefort and he came from a long line of navy men. This was an enlightened family that was politically in favor or a Republic, against slavery, pro reform. Young Lafayette had met Benjamin Franklin and could speak some English.
At age 20 he was made captain of the Hermione and he set out to give aid to the Americans who were fighting against the British. He went directly to Georges Washington and spent 6 years helping him fighting for American liberty.
When he came home to France he got himself involved in French politics. He was hoping for a Constitutional Monarchy and was vocal against slavery. He had to flee France in 1792 because he was a nobleman and he was in exile until 1804. The Austrians put him in jail because they were afraid he'd foment revolution in Austria too!
He had children and lived until 1834 and he became a politician. When Napoleon came into power, Lafayette was horrified when Napoleon restored slavery. His whole life he remained a great proponent of the ideals of Franklin and Washington and all the Revolutionaries.
FOLLOW US ON:
Subscribe to the Podcast
Apple
Google
Spotify
RSS
Support the Show
Tip Your Guides
Extras
Patreon
Audio Tours
If you enjoyed this episode, you should also listen to related episode(s):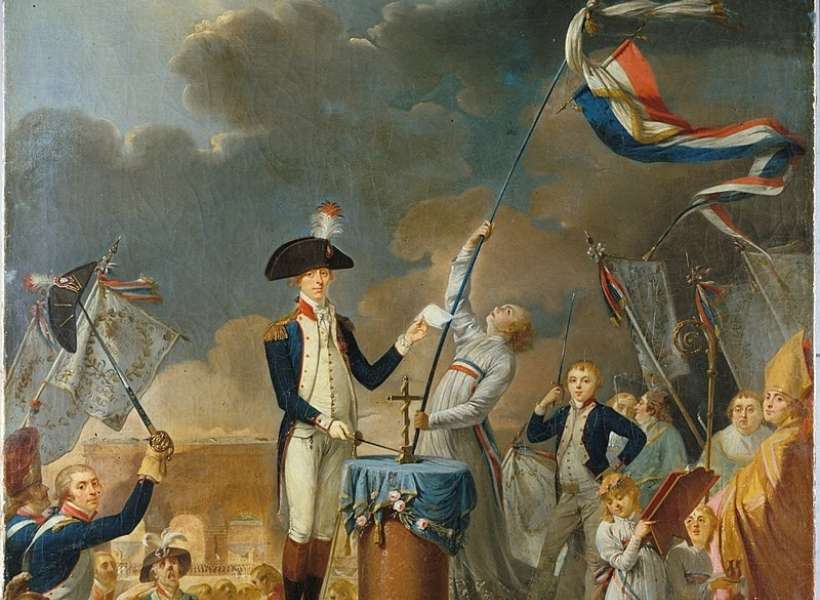 Read more about this episode
Show Notes
Categories: Bordeaux Area, French History